10 Must Have Upgrades for Your Remington 870 Shotgun
If you are a novice gun owner with a Remington 870 then you might not realize how many upgrades and accessories are available for your shotgun. You should take advantage of these upgrades instead of sticking with the factory version of your shotgun because they can help make the shooting experience more pleasant and increase your accuracy at the same time.
One great upgrade you can make is with a tactical follower. If you look at the magazine follower that comes with the factory model of the Remington 870 shotgun, you will notice that it is cheaply made and breaks very easily. This is why owners of the Remington 870 keep complaining about feeding problems with their gun. In the early models of the 870, it had metal followers that did not break because they were strong and reliable. But now the newer models use cheaper parts to cut down on costs. So you should replace the factory made follower with a stainless steel tactical follower in order to ensure you have reliable feeding.
An upgrade you probably wouldn't have thought of is replacing the safety button on the Remington 870. The factory safety that comes with the shotgun is rather small and many owners complain that it is hard to disengage it fast under stressful circumstances. By replacing this small safety button with an oversized safety button, you will be able to quickly disengage the safety feature and fire your shotgun when you need to in a stressful situation. On the flip side, you will also be able to make sure the safety is turned on when you are in situations where you don't want to fire the weapon. This is important to consider, especially if you are a beginner.
Finally, the most popular upgrade for the Remington 870 is replacing the fore-end and stock with newer ones. The factory forend and stock usually come in one size only and they may not be suitable for all gun owners. Instead, you will want to replace these features with ones that accommodate a specific size that you are comfortable with. Not only that, you might also want to choose newer material as well. Many of these shotgun models come with wooden stocks, but you may find that rubber stocks are more comfortable when aiming the gun at something.
What Upgrades do You Have on Your Remington 870? (Poll)
You can select several answers.

Loading ...
10 Must Have Upgrades for Your Remington 870 Shotgun
I receive lots of questions about Remington 870 upgrades. And one of the most popular questions – what are the must have upgrades? What upgrades are the most important for the Remington 870?
It is easy to buy one of the many Remington 870 upgrade kits but it is more fund to search for the upgrades that you like most. There are many upgrades and mods to make a home defense, tactical or hunting shotgun. Make sure that you choose the best upgrades that add useful features. But remember that it is easy to buy too many upgrades and accessories and your shotgun will become tacticool :)
You can find cheap and expensive Remington 870 upgrades. The prices are different in many shops and internet boards.
Here is my list of the ten top upgrades for the Remington 870:
1. Non-MIM Extractor
There are two types of extractors that most firearms could have in them. There are MIM extractors and non-MIM extractors. MIM stands for metal injection molding. If an extractor is non-MIM, then it means it's a machined extractor. The purpose of an extractor for a shotgun is to remove the used shells after the ammunition gets fired. A lot of the newer shotguns, like the recent versions of the Remington 870, use MIM extractors. This kind of makes some people upset who are old school and prefer the non-MIM extractors instead. Well, don't worry because you can easily take out the MIM extractor in your weapon and replace it with a non-MIM extractor. You just need to have basic knowledge about taking apart your weapon and upgrading the part that you want to upgrade.
So, why do so many gun owners dislike the MIM extractor? The biggest complaint they have about this extractor is that it breaks very easily and becomes unreliable after a short amount of time. The non-MIM extractor, on the other hand, is more durable and has no problems when extracting the shells. The best part is that it won't cost you very much money to replace your MIM extractor with a non-MIM extractor because the part is extremely cheap. Most gun stores will only charge you around $15 for a non-MIM extractor. Plus, it is easy to install it if you follow a few simple steps. Once the upgrade has been made, you'll notice how much more reliable your shotgun is with the non-MIM extractor versus the MIM extractor.
To perform the installation of the non-MIM extractor, you have to first make sure your shotgun does not contain any ammunition in it by checking the chamber and magazine tube. Then, take apart your shotgun and remove the bolt. Place a flat headed screwdriver into the area between the extractor and plunger of your weapon. Pull back on the extractor to depress the spring and then rotate the extractor to lift it out. Place the non-MIM extractor part in there and push it in while rotating it until the sound of a snap is heard. Now just reassemble your weapon, place new ammunition into it and test it out on a target. The extraction of the shells should now seem flawless. You should no longer have to worry about shells getting jammed in your weapon and causing it to malfunction.
Machined extractor is one of the must-have upgrades for your Remington 870. It insures reliable extraction of fired shells. Police version of the Remington 870 utilizes non-MIM extractor too because it is more reliable. Factory Remington non-MIM extractor is out of stock everywhere, so you will have to buy Volquartsen extractor which is even better.
Related Posts:
–Remington 870 Non-MIM (Machined) Extractor and Volquartsen Custom Extractor
2. Tactical Flashlight for Shotgun
Light on a is one of the most important upgrades that are required for a home-defense or tactical shotgun. Adding a tactical flashlight to a shotgun – is one of the first advices that all firearm instructors give.
One of the most popular upgrades you can make to your shotgun is adding a tactical flashlight to it. The word "tactical" is generally associated with law enforcement or military because it defines upgrades that benefit their particular line of work. Of course, you can still be a private shotgun owner and purchase a tactical flashlight upgrade too. The benefit of a tactical flashlight should be obvious. If you are frequently using your shotgun in dark environments or terrains, then it will certainly help by allowing you to shine a light directly in front of your path. Since you need to have both hands on your shotgun while you're pointing it, the only way to shine a light is to have a flashlight attached to your weapon. That way, the light will shine in whichever direction you're pointing your shotgun. This helps for both navigational purposes and being able to see your target clearly before shooting it so you don't have any accidents.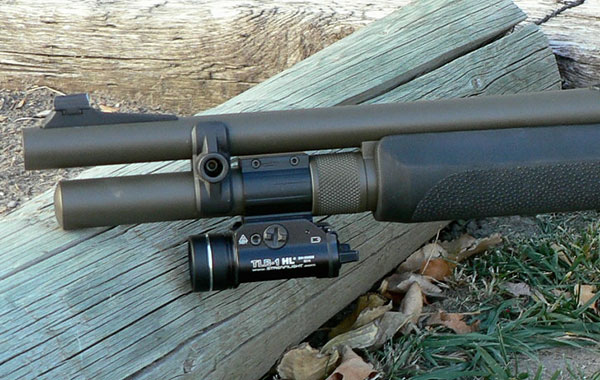 Tactical flashlights can be mounted to your shotgun using a clamp with a Picatinny rail. You likely won't have to buy the clamp separately because most tactical flashlights come with clamps specifically designed for mounting those flashlights. Some tactical flashlight models get mounted onto the side of your shotgun and others are integrated to the bottom of your shotgun's forend. You may find that having the tactical flashlight attached to your forend is better because the light shines straight in front of your weapon rather than to its side. On the other hand, some people don't like having the light in the same place where they have to pump the weapon with their hand. The choice is really up to you since some gun owners prefer one over the other.
Once you install your tactical flashlight, you will be able to use it either day or night. Then you will no longer after to worry about staying out late while you're hunting in the woods or shooting at targets. If you're a law enforcement or military officer, you can maintain your safety during all hours of the day by being able to see your enemy from afar. This also includes going into dark buildings and searching for suspects as well. Some tactical flashlights even have red dot technology integrated into it for assisting the shooters further with their aim.
If you have flashlight on your shotgun you can use it day and night. If you can't identify target, you can't shoot it. I recommend choosing one of the following options:
CDM Gear Clamp (with Rail) or Elzetta Flashlight Mount and TLR Flashlight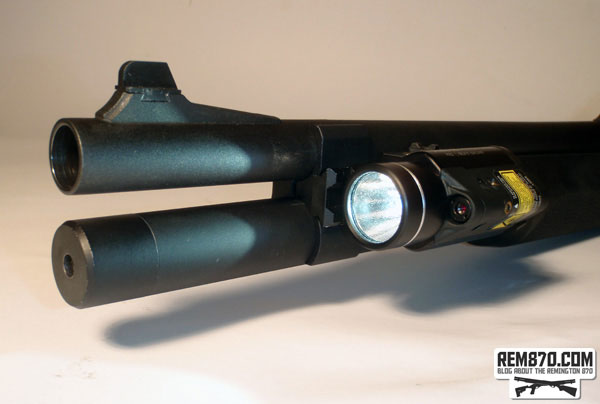 Streamlight TLR-2 Flashlight/Laser combo
I have installed it using CDM Gear BMT clamp with picatinny rail. I think this is the best way to attach Streamlight TLR-2 or Streamlight TLR-1 to Remington 870. I really like this flashlight/laser combo, it is lightweight and easily attaches to a rail. TLR-2 is low profile and doesn't stick out much. Streamlight TLR-1 which doesn't have laser is even smaller. Stremalight TLR-2 has lots of great features.
The TLR-1 HL Weaponlight from Streamlight is one of the best light sources that you could add to virtually any weapon. It gives you a 800 lumens of bright light which is enough to brighten any room or dark environment. It features wide beaming lights that give you the ability to brighten up any large space. If you need to see what animal or person is near you in the woods at nighttime, this is the accessory that you will want to add to your weapon.
The TLR-1 HL Weaponlight can attach to any weapon that has Picatinny rails or any handgun that has the same kind of rail as the one found on a Glock. So you can use flashlight both on your shotgun and handgun. Some of the handguns that are compatible with the TLR-1 HL: the Beretta 92, Smith & Wesson TSW, and the Smith and Wesson 99.
Two CR123 lithium batteries (3-volt) are used to power the TLR-1 HL Weaponlight. You can store them for up to 10 years. The lifetime of the light should last up to 50,000 hours.
You will be able to just mount the Weaponlight right onto your weapon with minimal effort. Even if you are not a gun expert, you can easily figure out how to attach the light. With the rail grip clamp system, you don't need any tools to attach the Weaponlight. You can simply attach it quickly with your hands and detach it just the same. This is perfect for amateurs or anyone who doesn't like the complication of having to take apart weapons.
If you use your Remington 870 shotgun for tactical or hunting purposes, then TLR-1 HL Weaponlight will give you so many advantages. Not only will you have a powerful light source so that you can see what you're shooting at, but you also won't have to worry about damaging the Weaponlight either. The outer seal of the light is constructed with machined aluminum, making it durable and lightweight. It is also built with C4 LED technology and is resistant to shock or heavy impact. In fact, the light is even waterproof. It could be submerged for 30 minutes in up to 1 meter of water.
There are several versions but all of them are good and will give you more than enough light to see your surrounding environment very clearly.
Recommended Product:
Surefire Forend Light for Shotguns
Surefire Forend Light – is one of the popular choices of the light for a tactical shotgun. It is well-known, it is reliable and compact.
The Surefire forend light for shotguns is a specially designed "forend weapon light" which integrates the light and the forend together into one unit. This is different than a tactical flashlight which gets mounted onto the forend. The Surefire forend light is an upgrade for your shotgun's existing factory installed forend. This means you will have to know how to disassemble your weapon and replace the forend that is already installed. The Surefire forend features a forend made of durable polymer with a light source built in that can shine a bright blinding beam of light in front of it. There are also switches on the forend to make it easy for the shooter to control the light. With the Surefire forend, you'll never have to worry about mounting your tactical flashlight ever again.
Surefire currently has two forend light upgrades available; one for the Remington 870 and the other for the Mossberg 500/590. The Remington 870 forend light is a LED light which contains a maximum output of 600 lumens and a minimum output of 200 lumens. You could use the light for an estimated three hours without the quality of the light diminishing in any way. If you put the light on high the whole time, expect it to only last for about 1.5 hours. Once the light goes out, you can easily replace the batteries inside of it with two CR123A batteries. A package of two typically costs about $13 at your local hardware store. As for the Mossberg 500/590 forend light, it contains the same specifications as the Remington forend light. The only difference is that it's made for the Mossberg shotgun model rather than the Remington. The bezel ring which contains the light inside the forend is 1.37 inches in diameter. The same goes for the bezel ring on the Remington as well. While this may seem small, it casts a pretty bright light that allows you to see what's in front of you perfectly.
The cost of the Surefire forend light is currently priced at $395 for each on the Surefire website. This might seem like a lot but don't forget you are getting two upgrades for the price of one. You are getting a durable polymer forend that is easy to grip and a powerful light that shines brightness even in the darkest of night. If you are an avid shotgun user that likes to hunt at night or simply wants protection in case an intruder breaks into your home at night, the Surefire forend light is the best upgrade you'll ever make to your shotgun.
This forend is one of the best but the most expensive choices when you want to install flashlight on Remington 870.
Surefire forend is bright, reliable, compact and very easy to use.
Recommended Product:
3. Tactical Magazine Follower
As you may know, it is important to have a reliable magazine follower because this is the part of a firearm which pushes the shotshells inside of the magazine tube. That way, the rounds can be feeded on the carrier and to the chamber as soon as the shooter works the forend. Behind the magazine follower is also a spring which is responsible for providing tension to the follower as it moves the shotshells in place.
Magazine followers can be made out of either plastic or metal. If you purchased a factory Remington 870 shotgun, for example, then it probably came with an orange plastic magazine follower which is not very sturdy or reliable. This means you'll want to take out that follower and replace it with one that is more sturdy and reliable, such as a tactical magazine follower. The benefit to using a tactical magazine follower is its tail helps improve how the follower feeds ammunition into the breech. Plus, the tail prevents any kinking from taking place with the spring. The only downside is the tail of the tactical magazine follower takes up a little more space than the average follower.
Some tactical magazine followers are made of metal in order to ensure their durability and reliability. They can be the best magazine followers in a combat situation. For example, the Remington 870 Tactical follower comes many different colors, they may have a hole on the head. This makes it easier for the shooter to check their empty magazine simply from using their finger or their own sight.
The good news is the typical price of a tactical magazine follower for a 12-gauge firearm is less than $10. If you go with a follower made out of stainless steel, then it may be $20 or $30. But in the end, you will still get the same level of quality with the $10 magazine follower as long as it's graded as a tactical follower. Tactical means that the follower is reliable enough to where law enforcement and military officers are willing to use them in dangerous situations which involve them risking their lives.
Brownells Stainless Steel Magazine Follower
When you hold it in your hands you feel that it is heavy and reliable, it is thick and made of stainless steel, it is even thicker than Vang Comp Systems follower. Looks good and works well, I didn't have any malfunctions during the tests. Brownells Magazine Follower has grooves and will work with Remington 870 shotguns which have dimples but don't have extension.
The follower of a shotgun magazine moves the shotshells after each shot is fired. It relies on a spring compression system to give it the pressure that is necessary to do this. When you purchase a Remington 870, 1100 or Remington 11-87 shotgun, it already comes with a factory follower built into it. But a lot of Remington owners do not like this follower because they feel that it is not dependable or durable. So, they often look for a better alternative.
For this reason, more Remington shotgun owners are replacing their factory-made follower with the Brownells 12-gauge stainless-steel follower. This original follower is compatible specifically with the Remington 870 shotgun and the Remington 11-87 shotgun. It is constructed with stainless steel which means it will not break even after the years of use and thousands of rounds fired. You can actively shoot with this follower for many years and it should still last for a long time. There won't even be any rust problems to worry about either.
Since the stainless steel is so bright, you can easily look to see how many shells are remaining in your magazine tube. Also, you can choose aluminum followers of different colors. The follower does not even weigh that much either because the sides are slotted for the purpose of reducing its weight. Despite this, the follower retains all the strength it needs to move the shotshells along in the magazine tube.
This Brownells stainless-steel follower is compatible with magazine tubes of all shotguns even if they have dimples. It is only compatible with the 12-gauge Remington 11-87 or 870 shotguns. This part is made in the United States, so you can be sure of its high-quality design and construction.
If you are someone who needs to shoot their shotgun quickly, then you will benefit from this follower. Since it is more reliable, you don't have to worry so much about problems with the cycling process within the magazine. You can just pull the trigger of your shotgun and then expect the cycling action to proceed properly with each pump. If you are using your weapon in a tactical situation, then you will appreciate this reliability the most. It also comes in handy for hunters who need to shoot at their prey before they get away.
Brownells Stainless Steel Magazine Follower is very good alternative to Vang Comp Systems follower. It is machined, it is stainless, it is thicker than Vang Comp Systems follower. It will last forever.
Recommended Product:
Vang Comp Systems (VCS) Stainless Steel Magazine Follower
One of the oldest and the most popular aftermarket followers for shotguns.It is simple, reliablea nd perfect for tactical or home defense shotguns. It has two slots, so it is compatible even with Remington 870s with dimples in magazine tube. Not the best choice for a competition shotguns with longer (10-12 rounds) magazine tubes. Longer followers are preferred choice for competition shotguns.
Related Posts:
Remington 870 Followers Overview (Vang Comp Systems, CDM Gear, SBE Precision, GG&G, S&J Hardware, Scattergun Technologies, Choate, Nordic)
4. Oversized Safety Button
A lot of shotgun owners prefer to replace the standard factory Remington 870 safety because it is rather small and in a stress (combat, self-defense) situation it maybe difficult to quickly disengage it. Oversized safety button enables you to disengage safety fast ensuring that you will be able to use your shotgun when you need it. This is very important, especially in stress situation. Also, oversized safety button is much more easier to find when you wearing gloves.
Safety buttons are often overlooked by new shotgun owners until they are in a situation where they have to disengage it quickly. Often times, shotgun users will see a target and then quickly try to shoot it without switching off their safety mechanism first. If the safety is on, then it will prevent the weapon from firing. This would be even more serious if a law enforcement or military officer were using a shotgun and could not disengage their safety fast enough because the safety button was too small for them to push quickly.
Remember in a combat situation, it is very easy to feel stress and anxiety. These feelings can often impair a person's concentration when it comes to menial things like pushing a safety button. That is why the safety button needs to be huge so that a nervous shooter can easily disengage the safety and shoot their enemies when they have to respond quickly to their actions. The same philosophy can be applied to people who use shotguns for home defense too. If an intruder breaks into your home, you may only have a few seconds to disengage your weapon before the person points their weapon at you. By having an oversized safety button, you'll be sure to reach the button quickly so you can have your firearm ready to shoot in case you need to do so.
Let's take a look at a Remington 870. The factory standard safety button that comes with a Remington 870 is rather small for pushing when you're under pressure. If you were going to upgrade this button to an oversized one, then something like the Wilson Combat Jumbo Head Safety would be a wise choice. This button works great because it is big enough to disengage quickly and it doesn't stick out of the gun so much either. If you have a Knoxx recoil reducing stock on your shotgun, this safety button is compatible with that too.
There is an old saying that it is better to be safe than sorry. If you are just somebody who goes out hunting with your shotgun, then you may not feel like an oversized safety button is worth the money. But even in these situations, you may only have a few seconds to shoot your target before it runs away out of your sight. For less than $20, it is surely a good investment to make for a Jumbo Head Safety for your shotgun.
Wilson Combat (Scattergun Technologies) Dome Head Safety Blued
New safety button which is extremely good and comfortable to use. It has perfect size and enables shooter to make shotgun ready as fast as possible. I like it even more than the old version from Wilson Combat. Perfect choice for tactical or home defense shotgun.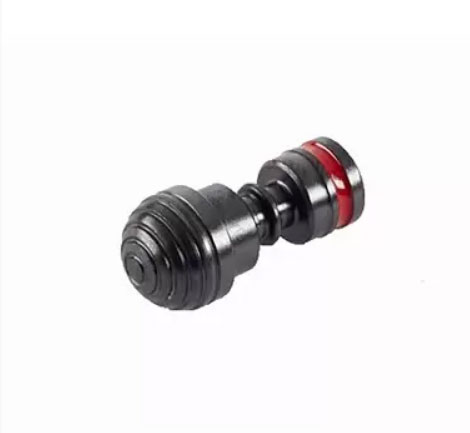 Wilson Combat (Scattergun Technologies) Jumbo Head Safety
Very good safety button for Remington 870. Works great and can be easily disengaged. It doesn't stick out much and big enough to be quickly disengaged. The quality of this safety button is very good. This is the only one oversized safety which can be used with Knoxx recoil reducing stocks.
This button was developed by Scattergun Technology and it is designed to make it easier for users to activate and deactivate the safety mechanism on their Remington 870 shotgun. As the name indicates, this safety button has a "jumbo head" which means it is much bigger than the factory safety head. As a result, you will be able to easily push the button with your finger without any struggle to find it whatsoever.
If you are not a gun professional with experience in disassembling weapons, do not worry about it. This is a drop-in installation process which means you just need to remove the old button and then drop this Jumbo Head Safety button in its place. The Tactical Response Jumbo Head Safety has undercut grooves which make it easy to install, locate, and use. If you like to wear gloves when you're out in the field, you will still be able to push this Jumbo Head Safety button without any problems.
The Tactical Jumbo Head Safety is constructed from 4140 steel. This makes it durable enough to withstand any tough environmental conditions that you may be putting it under.
Recommended Product:
Related Posts:
Remington 870 Safety, Wilson Combat (Scattergun Technologies), S&J Hardware, Vang
5. Stock and Forend
The stock and forend are the two most notable parts of any shotgun or rifle. The stock is the end of the firearm which faces the shooter's direction. It is primarily used to help the shooter aim their weapon and give them stability so they can shoot it with as much accuracy as possible. The forend is the long part of the shotgun that is between the muzzle and the receiver. This is where the shooter's weak hand normally goes while their main hand is on the trigger area. If it is a pump action shotgun, then the forearm is the part that you pump back and forth to extract the used shell from the chamber and then load a new one into it. Both the stock and forend parts are often sold together because they are typically made of the same material from the same manufacturer. That way, the shooter can experience the most reliability with their shotgun when they are shooting it.
If you are purchasing your Remington 870 stock and forend separately, then you need to pay attention to a few key features in order to ensure they are compatible with you as a shooter. For the stock, you'll want to examine its length and make sure that it can press against the front of your shoulder comfortably when you go to aim with your Remington 870. If the stock is too long or too short for your body, then it will be virtually impossible to aim with accuracy. As for the material used in their construction, you can choose from wood, laminated wood, injection molding, metal, or hard-laid composites. Everyone has their own preference when it comes to the material. Some may prefer lighter materials versus the heavier ones like metal. The choice is up to you.
The attributes of a good Remington 870 forend are similar to the attributes of a good stock. Not only will you want to pay attention to the material it's made of, but you'll also want to make sure the size of the forend is compatible with your weapon as well. Check with the manufacturer of the forend because they will usually tell you if their forend can be attached to your particular weapon. Plus, pay attention to how easy it is to grip the forend that you are thinking about purchasing. If you are using a pump action shotgun, you'll need to be able to grip the forend firmly so you can pump it quickly and fire additional shells.
Standard Remington 870 stock and forend are designed to fit most of the shooters. But we are all different. It is important to find the stock and forend that fits you.
I recommend Hogue stock and forend because they are affordable and quality made products. Material and texture of the Hogue stock and forend are unique and assure excellent feel and a non-slip positive grip. Hogue rubber finish is much better than plastic on other stocks/forends.
Another good stock and forend set for Remington 870 is made by Magpul. Be sure to check the stock by Mesa Tactical as well.
Magpul Stock and Forend for Remington 870/Mossberg 500/590
Magpul – Shotgun SGA Buttstock
If you own a Remington 870 shotgun then you may not be happy with the factory stock that comes with it. Perhaps the ergonomics of the stock make it difficult for you to aim and shoot your shotgun accurately. You'd probably prefer a spacer system which gives you the necessary length of pull that you need to shoot the shotgun well. This kind of versatility is what every shotgun owner wants.
The Magpul SGA buttstock is a special upgrade that will turn your ordinary Remington 870 shotgun into a tactical shotgun with a state-of-the-art accessory system integrated into it. Whatever mission or purpose you are using your shotgun for, this stock can be custom fitted to suit that purpose. This makes it perfect for military or law enforcement officers to use on their missions.
Since this is a Magpul buttstock, it uses the same kind of durable polymer material that you'd find in the Magpul AR-15 stocks. This material will make the shotgun feel lightweight while still retaining its superior durability. It doesn't matter what the environmental conditions are outside either. You could be fighting in a combat zone or hunting in a rainstorm and your stock will remain intact.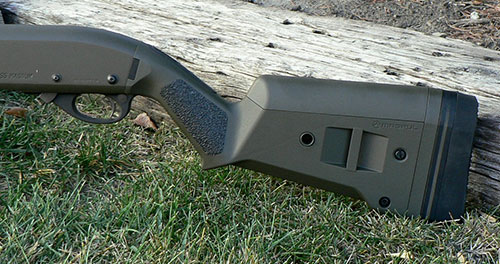 The Magpul SGA buttstock is easily configurable. It features a spacer system which allows you to adjust the length of pull from between 12 ½ inches and 14 ½ inches. The adjustments can be made in 0.50-inch increments between these two sizes. This will make it easier for any size shooter to gain more comfort with their weapon. The grip of the stock has been improved to resemble a pistol grip, making it even easier to hold with just one hand. The buttpad on the end of the stock absorbs the recoil of your shots.
The cost of the Magpul SGA buttstock for the Remington 870 is $104.45. There are a variety of color options available for this buttstock, including Dark Earth, Orange, and Gray. In addition, there is another version of the Magpul SGA buttstock that is compatible with the Mossberg 500/590 shotguns instead. This buttstock version is also priced at $104.45 and comes in Black, Flat Dark Earth, Orange, or Gray. Both versions have the same customization options available for them. Some options available include cheek risers and a slot for attaching a sling to the weapon.
Recommended Product:
Magpul – Shotgun MOE M-LOK forend
The basic 12-gauge Remington 870 pump action shotgun features a factory manufactured forend which could definitely be improved. The forend is the area underneath the barrel that you hold with your hand. This gives the weapon more stability as you point and aim it at your target. If you cannot hold your weapon firmly and steadily, then it will throw off your shooting accuracy. That is why many Remington 870 owners are looking to upgrade their factory forends with the aftermarket forends.
When you add the MOE M-LOK forend to your Remington 870 shotgun, it will be a very simple installation process. There is no need to use any complicated tools or gunsmithing devices. All you need to use is the wrench which comes with this forend. This will basically be a drop-in installation which means that you can just place the new forend onto the weapon after you remove the old one. This whole thing should not take more than a couple of minutes for an amateur to do.
Once you complete the installation, the results will speak for themselves. You will have hand stops on the front and rear which make it easier to manipulate your weapon in a hurry. The extended length is suitable for people of all different sizes to get comfortable with. If you currently own any M-LOK accessories or wish to purchase them, there are M-LOK slots on this forend which are also compatible with these accessories.
If you like your Remington 870 to have modularity, then adding the M-LOK forend will be just what you need. You will be able to use your shotgun for a variety of different purposes, such as home defense, hunting, competitive shooting, military use, or law enforcement use. In case you are not familiar with the M-LOK product line, it is owned and operated by the famous firearms accessories manufacturer named Magpul Industries.
There are multiple color options available for the M-LOK forend, including orange, black, flat dark earth, and gray. The material of the forend is reinforced polymer, which is a lightweight and durable material. No additional weight will be added to the weapon after you replace your old forend with this one. You'll still be able to maneuver quickly while the weapon is held in your hands.
Related Post:
5 Best Aftermarket Stocks for Remington 870
6. Magazine Extension
Most gun owners have been situations where they're shooting at their target but then run out of ammunition rather quickly. This could happen with any weapon whether it's a pistol or a shotgun. Although, the one bad thing about shotguns is they don't hold very many shells at one time. Fortunately, you can purchase a Remington 870 magazine extension upgrade to increase the shell capacity of your shotgun, or most other firearms that you possess.
Of course, the magazine extensions for a shotgun are going to look different than the magazine extensions of a Glock, for example. If you were to upgrade your Remington 870 shotgun with a magazine extension, then you would be adding a tubular magazine extension to the existing magazine tube of your weapon. That way, you will be able to fire a few more rounds than you normally would before having to manually reload your weapon. As for a pistol like a Glock, this magazine extension would be a small piece that goes underneath the magazine to extend its length and allow for it to hold a few extra rounds. Although the shape and structure of these magazine extensions may be different, their basic purpose is the same.
There are often a variety of magazine extensions available for each kind of weapon. Many tubular extensions for Remington 870 shotguns can hold anywhere between one to six extra shells in them. The more shells it can hold, the longer the extension tube is going to be on the weapon. Sometimes it may even stick out as far as the barrel itself if it is long enough. But don't worry because the magazine extensions are often lightweight and don't really impact the handling of the weapon.
The price of a Remington 870 magazine extension is anywhere between $100 and $200. It is only worth the money if you use your weapon frequently and have a reason to fire a lot of ammunition within a short amount of time. Police and military officers, for example, may find Remington 870 magazine extensions to be worth the money. Of course, they would likely be issued these magazine extensions by their superiors so they won't have to worry about purchasing them. But if you are a private citizen who likes to go target shooting then you may find it more convenient to have a higher capacity of ammunition in your firearm at any given time. Then you won't have to spend extra time reloading your weapon in case you need to use it quickly.
Related Post:
Magazine Extensions for Remington 870 Shotgun (Nordic Components, Choate, TacStar, Remington, ATI)
7. Receiver Mount Shell Holder (Sidesaddle)
When you grab a shotgun, all ammunition you have is in shotgun and on shotgun, so it's important to have receiver mount shell holder. Sidesaddles are very popular and you can find them on many police, tactical or home defense shotguns.
I recommend getting Mesa Tactical sidesaddle. This is the most durable and reliable sidesaddle available on the market today. Mesa Tactical sidesaddle is made of aluminium which makes it indestructible. It is low profile and looks fantastic!
One of the good features of this shell carrier is that it doesn't hide the serial number.
There are many different versions of this sidesaddle. There are 4-round, 6-round and even 8-round shell carriers. Some of the sidesaddles have rail on the top to mount red dots or optics.
This is the most expensive shell carrier but it is worth the price. There are less expensive sidesaddles and they work just fine but made of cheaper materials like plastic.
Receiver mount shell holder (sidesaddle) is a must have upgrade for Remington 870.
Recommended Product:
Related Post:
SideSaddles for Remington 870, 12 Gauge, Reviews: Mesa Tactical, TacStar, Vang Comp Shell Carriers
8. Sights
Better sights are very important because you use them every time you shoot. It is good idea go get Tritium sights because they glow in the dark for years.
This set is very sturdy and well made. I have tested them in day light and they were very good and easy to use. Of course they don't glow in the daylight as light gathering sights but easily identifiable thanks to the white ring around tritium tubes. Also, Ameriglo sights glow in the dark thanks to the tritium elements (which will be glowing for 12 years). You can choose several colors for your sights, I have front dot of the green color and yellow dots on the back sight. You can choose all green elements if you want. These sights are little higher than standard ones but I like it.
Related Posts:
XS Remington 870 Pedestal Big Dot Tritium Sight
9. Barrel
You can get this and many othe shotgun barrels on Brownells
Many of them out of stock because of high demand.
The most popular barrel for homedefense is the Remington 870 18″ bead sight barrel. It is short, simple and inexpensive. Short barrel enables you to easily manouevre around the house. It is possible to change the factory bead with light gathering or Tritium one.
This barrel is universal tool which is good for almost any purpose. Of course, longer barrel will be better for hunting and ghost ring sights will be better for home defense. But 18″ bead sight barrel enables you to do almost all tasks. It is good choice for beginners or for people that want to have only one shotgun for home defense and for week end clay shooting.
Barrel which is shorter than 18″ usually requires special license.
Long barrel is the best choice for hunting and clays. It enables shooter to use chokes and have that birdshot pattern which they need.
Related post:
Remington 870 Barrels
10. Carrier Latch Spring
Carrier elevates the shell and it will be held there until the bolt can push it into the chamber. Carrier dog spring upgrade upgrade ensures positive feeding when using heavier rounds.
Carrier dog spring upgrade is very simple. It is as important as extractor replacement. Many custom Remington 870 shotguns have better carrier dog spring. Carrier dog spring upgrade can be done at home without special tools.
You can get heavier carrier dog spring on Brownells. It can be out of stock due to the high demand.
11. Bonus Upgrade: Tactical Picatinny Rail for Additional Accessories
This is small bonus for those who have read the article till the end :) Many Remington 870 owners want to install red dot (holographic) or optic sight on their shotgun. You can do it two ways: drill and tap the receiver of your shotgun or get rail which can be isntalled without gunsmithing.
There are many different rails available. You can choose Remington 870 rail with sidesaddle and even heatshield or simple rail without any additional features.
Some of the ghost ring sights can also be installed on picatinny rail.
Recommended Product:
12. Bonus Upgrade: Red Dot Sight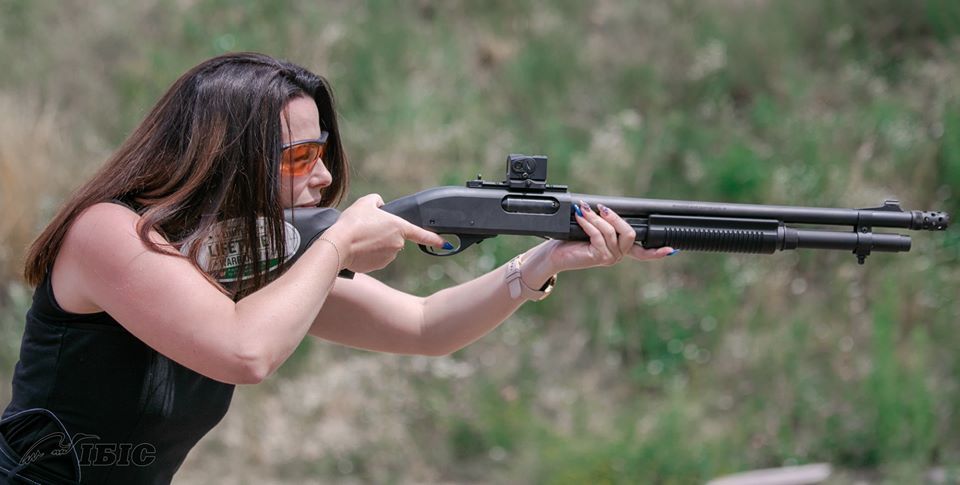 Shotgun is mostly used on short distances, that is why you can see red dot or holographic non-magnifying sight on a shotgun more often than optic sight. Typically, red dot, reflex and holographic sights are designed for fast target acquisition usually within a 100-yard range, which is suitable for both hunting and tactical situations. Many shooting experts recommend that you shoot with both eyes open especially in a tactical situation. Red dot sights allow shooters to keep both eyes open because of the dedicated focusing of the sight. The shooting eye is not strained when using the sight.
Read full article here: Best Red Dot Sights for Shotgun
13. Bonus Upgrade: Police Metal Trigger Group
The Remington 870 Express contains a polymer trigger group assembly that most gun owners are familiar with. However, the look and feel of this trigger group could be a whole lot better. Not only that, but a polymer trigger group is believed to be less durable. That is why more Remington 870 shotgun owners are upgrading their existing shotguns with a police metal trigger group assembly instead. This particular metal trigger group is the same one that you'd find in a real Remington 870 Police shotgun. What is so great about this trigger group assembly is that it's made out of metal, which means it is more durable and more reliable than the OEM polymer trigger group that comes with the Remington 870 Express. It also has a much better look and feel as well. Some people think that it's made of steel but it is made of aluminum.
Remington 870 Police Metal Trigger Group
Remember that a quality trigger plate assembly is important to have when you're shooting a Remington 870 shotgun. If you are not comfortable with how the springs of your current trigger assembly function, then you are not going to shoot very well with your shotgun. Increasing the comfort level that you have with your weapon is essential in order to become a better shooter. And if you are a law enforcement or military officer, it is even more critical that you have a trigger group that you feel comfortable with. You may also want to learn more about carrier latch spring and sear springs for the Remington 870.
Now you might be thinking that you could just purchase a Remington 870 Police shotgun and get all the best metal parts in it at once without having to upgrade. The problem is these guns are a lot more expensive to purchase than the Remington 870 Express. It would be a lot easier for you to just purchase the police metal trigger group separately and then just upgrade your existing 870 Express with it. The police trigger plate assembly can be purchased at virtually any sporting goods store for about $116.99. The best part is the trigger group is manufactured in the United States. That way, you know you're getting a high-quality component that wasn't just made quickly off the assembly line.
Remington 870 Police Metal Trigger Group Installation
To install the trigger assembly, you'll need to first make sure your weapon does not have any ammunition already loaded into it. This means that you need to check that the both magazine tube and the chamber is clear. Now, all you really need to do is push out the two pins from the receiver that are holding the trigger group inside it. Then, put in the new police metal trigger group in its place and reassemble the Remington 870.
Recommended Product:
Remington 870 Metal Trigger Group with Gold Trigger
Remington 870 metal trigger group is also made of aluminum but has the same carrier latch and sear spring as non-Police versions. The main difference is gold colored trigger. It looks really interesting, especially on competition or hunting shotgun.
The coating of metal is differnt from the Police trigger group. It is very smooth compared to rough coating of the Police trigger group:
Recommended Product:
14. Bonus Upgrade: Timney Remington 870/1100/11-87 Trigger Fix
$89.99 looks like a high price for the sear and three springs and I was rather sceptical about Timney Remington 870/1100/11-87 Trigger Fix. But now I think that this is very interesting and useful upgrade which enables shooter to be more accurate.
Timney Remington 870/1100/11-87 Trigger Fix installation is easy and takes just 10-15 minutes. Timney sear and spring replace original factory sear and spring for a smoother and adjustable trigger pull.
Three different weight springs included:
Blue – light pull weight.
White – medium pull weight.
Red – heavy pull weight.
Also, wrench included to fine-tune the pull.
Timney Remington 870/1100/11-87 Trigger Fix will be very useful for most of the shooters. It is so good to easily control and be able to adjust trigger pull. This is especially useful upgrade for those who shoot slugs often. Also useful for competition shooters. It improves shot grouping and accuracy because of a more controlled trigger pull.
Related post: Timney Remington 870/1100/11-87 Trigger Fix Review and Installation
Recommended Products: