Best Tactical Shotgun Slings, Mounts and Swivels
There is a debate and there always will be a debate about whether you should have a sling on your home defense weapon. Some believe a sling on a home defense shotgun or rifle is akin to having a holster for your handgun believing no gun should be without either one. Then others believe a sling will snag on door handles and furniture while you rush to the sound of smashing doors or glass. Before deciding, you should consider what a sling's actual purpose is and how it may be used in a tactical situation. To be less confusing this article will purposely leave out the uses for slings in a hunting situation.
Tactical Carry
Your weapon will need to be at the ready at all times. The military trains soldiers to carry their weapon at port arms if there is reason to believe there is an immediate threat but as of yet has not been identified. The weapon is carried diagonally across the chest with the barrel pointed toward one or the other shoulder depending on if you fire left or right-handed. One hand is grasping the hand guard/forearm, the other is grasping near the trigger guard, and a simple moment puts your trigger finger in position. Then it is simply a matter of target acquisition. In some cases, you can have a weapon slung and still maintain the port arms position. This does take some maneuvering but can prevent you from dropping the weapon if you need to use both hands.
Most tactical weapons will have a sling, but some shooters will bind the sling tight, taking the slack out with a "ranger band" (heavy black rubber band) and when you need the sling simply tug on the sling to remove the band. You want to maintain the sling's size so you do not have to adjust every time to remove the slack.
Make your own ranger bands by cutting one-inch sections out of a bicycle inner tube. The rubber bands will last for years before dry rotting and are non-reflective.
Shoulder Slung When Defending Your Home
If you are startled, awake at night and realize an intruder is in the home you will carry your weapon at the ready (port arms) or the barrel will lead through doorways and around corners. You cannot do this if the weapon is slung on your shoulder. Shoulder slung weapons are not weapons at the ready. Additionally, if carrying the weapon at port arms or leading with the barrel, your sling is hanging and banging. Slings do give an opponent a place to grasp the weapon, and once again, a hanging sling can be caught on objects.
It is not likely you would need a sling as a shooting aid while defending your home unless there is a prolonged siege. Slings can be wrapped around the forearm to steady the weapon for shooting, but for quick return fire when an intruder suddenly enters the home, a sling is not useful.
When a Sling Is Useful for a Home defense Weapon
While seemingly to take forever most firefights are quick with the intruder either neutralized or retreating from the area. However, if you have to take the fight outside or to switch to a handgun because you do not have time to reload a sling will secure the weapon to your person so you have it when ready to reload if needed. You may also need to grab small children or others and will need both hands free. You should never place your weapon out of reach so having it shouldered will ensure you have it.
The only way to make a decision is to practice with a sling and without. Learn the various ways you can shoulder a weapon and bring it to bear quickly using a sling. There are various slings available that have quick detachment couplings and in some cases, you can sling the weapon in the ready position.
4 Best Tactical Shotgun Slings
There are many slings available on the market and here is list of the slings which author had a chance to test.
Magpul Multi Mission Sling MS1 on Remington 870 Shotgun
Hunting or duty shotgun is a different story. You may carry it for a hours and you will be tired holding it in your hands all the time. I have already had several posts about different slings:
Magpul MS1 Sling is very simple and high-quality sling with interesting features. This is two-point sling with slider which enables you to make quick adjustments.
Magpul MS1 Sling doesn't have any connecting hardware. I have attached it to the Remington 870 Magpul SGA Stock via sling loop and using quick detach swivel on CDM Gear MOD-C Flashlight Clamp. This sling can be attached in many other ways.
It is available in black, coyote (sling in this review), ranger green and gray colors.
All buckles are made of plastic which looks sturdy. You can adjust sling easily. The sling itself is made with heavy webbing. It enables to carry a shotgun comfortably in many ways. Magpul MS1 Sling is going to be useful for hunting, duty or tactical shotguns.
Coyote color of the Magpul MS1 Sling matches the FDE color of the Magpul SGA Stock and MOE forend for Remington 870.
This is very simple and reliable two point sling which will work for years. Recommended.
Price: $33.20
Magpul MS2 Gen3 Sling
This versatile sling is designed to allow shooters retention of their weapon for numerous tactical situations. The one point attachment allows shooters greater maneuverability for direct action or you can use a two-point attachment for greater stability. This sling allows you to transition into various shooting positions without tangling the sling or inhibiting your motions. Makes switching shoulders easier for shooting around corners, under vehicles or over any type of cover to minimize your exposure. This item is made in the USA.
Because of the heavy duty polymer that the attachments point are made of there is less noise, "metal on metal" and less wear and tear on the weapons metal parts as well. The new claw like attachments on the Magpul MS3 hold secure and allow the sling to lay flat instead of crimping up like older models did.
The webbing is 1 ¼" versus the standard 1″ on previous versions of the sling, which makes the sling more comfortable and does not "bite" into the shoulders as thinner webbing would.
In a firefight/tactical situation, the new MS3 sling by Magpul will allow the shooter to transition from a one-point attachment to a two-point attachment. A two point application would be "patrol or scout mode" where the weapon is slung on the shoulder. Once a threat is identified then you transition to a one-point, ready to engage a target from whatever position. Certain military and law enforcement teams train shooters to shoot accurately from either shoulder, which is necessary to shoot around corners and other obstacles.
The clips to engage/disengage the sling is smaller and may be difficult to operate, especially with gloves on. Practicing with any piece of equipment is necessary and any new item you install or use with your weapon must be tested in a controlled environment. You cannot wait until you are engaged with a shooter to begin practicing with a new piece of equipment.
The Magpul MS2 Gen3 Sling is a useful upgrade for owners of shotguns or rifles. If you currently carry your shotgun or rifle with your hands while out hunting or target shooting, then you're going to exhaust more of your energy. A handy sling like this one will keep your weapon securely next to your body while letting you remain hands-free. Just remember that it is a bad idea to have a sling on your home defense gun.
The versatile design of this sling was meant for more than just carrying your weapon. The swivel and attachment features of the sling will give you the maneuverability and stability options that you would want to have in a tactical situation. At the same time, you will have superb durability and flexibility with the weapon because of the locking hardware that helps you control your weapon better in tense environments. Those who want more maneuverability can go with the one-point clip attachment and those who want more stability can use the two-point clip attachment. It is very quick to switch from one-point to two-point, and vice versa.
The Magpul MS2 Gen3 sling is made of 100% nylon material. This is lightweight material that won't add any additional weight to your weapon. At the same time, it will remain durable as you take it through tough environmental conditions, whether it's bad weather or a tactical danger zone. The webbed nylon is also wear resistant and made to be comfortable due to its anti-chafing properties. This means you will never have to worry about getting red sores on your skin after having the sling rubbing up against your body for long periods of time. But if you ever find the sling is too tight against your body while you have a two-sling attachment set, there is an adjustment slider that you can use to remove some of this tension and make yourself more comfortable. You only need to use one hand to perform this action too.
There always has been and will continue to be, a discussion among shooters on the benefits of a sling on their weapon. In years past slings were made of rope or bits of twine found laying about and the only purpose it performed was to be able to hang the weapon on a tree branch to keep it out of the mud.
Slings today are used to help the shooter better engage the target by offering stability and security. Giving up your weapon to transition to another weapon is not an option in a firefight; you need the ability to shoulder your weapon securely if you need to transition to a handgun for example. You always want to maintain control of your weapon even if you have fired it dry.
Having the proper sling means, it will not tangle and allows you transition from alert to "ready to fire" if your weapon is shouldered. Anyone that has practiced home defense drills knows that you will be shooting around corners and over countertops so having control of your weapon is essential.
The price of the Magpul MS2 Gen 3 sling is between $47 and $50 on most websites. The standard color is black but you can also find them in other colors like coyote brown, ranger green, and gray. Each sling already includes "Symmetrical Paraclips" which you can easily use to shackle the sling to your rifle. Inside each Paraclip there is an optional lock bar in case you want to keep the lever closed securely.
Price: $47.45
Blackhawk Inc. Shotshell Sling Review
Blackhawk Inc. is a company that is well known for their quality tactical clothing and equipment. Shotshell sling is made of sturdy 2 inch nylon and very well made. This product combines shotgun bandoleer and sling. It holds 15 rounds tight and reliably. But it is easy to takem them out of the loops.
The idea is the same as when using sidesaddle. When you grab your shotgun in the night, you only have ammo that is in your shotgun or on your shotgun. Sidesaddle enables you to have 4-8 rounds; sling enables you having 15 rounds on your shotgun.
But there are several disadvantages when using Blackhawk shotshell sling. First, it is very heavy and your muscles are going to be tired when holding your shotgun with shotshell sling installed for a long time. The only way to use it comfortably is to have sling over your shoulder. You will need to practice with it to use it effectively.
Another disadvantage of a sling on a home defense Remington 870 shotgun is that it can hung up on doorknobs and furniture. I often see how 2-point and 3-point slings became uncomfortable when loading a shotgun, when walking through imitation of building or even can come in the way of sights.
You can use standard sling swivels (not included) with very easy to use steel spring hooks. It is easy to attach and remove this Blackhawk shotshell sling.
Great shotshell sling for the money. Costs just 19 bucks. Looks good, works good but rather heavy with 15 shotshells loaded, so you will need to get some practice to use it effectively.
Price: $15.99
Specter Gear CQB Sling For Remington 870
Bought Specter Gear CQB Sling For Remington 870 with Magpul SGA Stock. The coyote color of this sling matches the color of Magpul SGA Flat Dark Eart (FDE) stock. Forward sling mount adapter included. It installs between magazine extension and magazine tube. It's kind ironical that you can't use Specter Gear CQB Sling For Remington 870 with Magpul SGA Stock with standard Magpul forend. Magpul Remington 870 forend is little longer and you won't be able to slide forend forward with front sling adapter installed. So if you want to use Specter Gear CQB Sling For Remington 870, you have to choose different forend.
This sling is ambidextrous and easy to install. It has GG&G front sling adapter included. It can be used as 2-poing or 3-point sling.
Specter Gear CQB Sling For Remington 870 with Magpul SGA Stock is looks like high-quality product which will last for years. I recommend it for Remington 870 owners with Magpul stock, just remember, that you won't be able to use Magpul forend with this sling.
Grovtec Sling for Remington 870
Shotgun slings are useful when you want to carry around a shotgun without having to hold onto it. The sling acts like a loop on the bottom of the shotgun and you just throw the loop over your shoulder to carry the shotgun around. This comes in particularly handy when you are out hunting or are getting ready to shoot something at any given moment. But in addition to carrying it around, slings also offer support when shooting the shotgun. You might not need this support with birdshot ammunition, but if you are using slugs then it will be very helpful in getting off a good shot.
I often hear questions about sling for Remington 870. The cheapest and the easiest way to attach a sling to your Remington 870 is to get sling swivels, front sling attachment (Magpul, S&J Hardware, Choate etc.) and Grovtec Utility 48×1 Nylon Sling.
Sling is handy during hunting or when you need to carry a shotgun for a long periods of time. Sling for home defense is rather controversial question. Everybody decides this themselves.
Some people prefer to have a sling on their Remington 870 shotgun and this post is for them.
Grovtec 2-point sling is very simple and cheap. It costs just $9.99. You can't beat it for that price. It is one inch sling which looks reliable. Buckles are made of metal. Very simple solution for those who need 2-point sling.
If you don't have magazine extension you can get Grovtec magazine cap sling swivel set. It is cheap and looks like a high-quality product. Instructions are clear and you will be able to use them in a minute.
2-point sling is classic sling for those who like simplicity.
I really like the Grovtec sling because it is simple, inexpensive and high-quality product for Remington 870 or any other shotgun.
Price: $9.99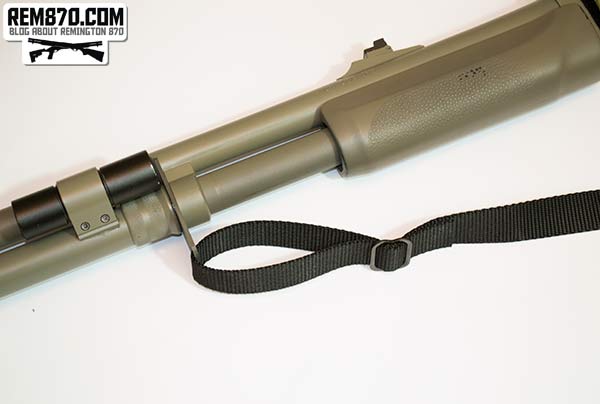 Remington 870 Sling Swivels
Thanks to Leaf for sending me photos of Remington 870 sling swivels. Many Remington 870 owners ask me about recommended sling swivels. You can get Remington sling swivels as Leaf did or chose one of the many alternative ones.
Sling Swivels enable 870 to accept a sling. Fits all Remington Model 870.
Remington 870 Forward Sling Mount by Magpul
The Remington 870 is a great pump action shotgun. Sometimes users will want to attach a sling to their shotgun for a couple of reasons. Either they'll use the sling to help give them stability while they're aiming or they'll simply use the sling to carry the shotgun on their backside while they're not using it. The only problem is the Remington 870 does not come with an adequate forward sling mount so you can attach a sling. Therefore, you'll have to purchase the sling mount or sling swivels separately. But that's okay because these forward sling mounts are not expensive and they have a long lifespan.
With all the mounts to choose from in the marketplace, there is the sling mount made by Magpul. When you first look at their mount, you'll probably think it is made out of plastic because of how well designed and crafted it is. But the truth is their sling mount is made out of metal, which gives it great durability and strength to endure tough environmental conditions. Plus, it ensures that the mount won't snap off after continuously using it. As for the fabulous design that it has, the sling mount allows you to change directions and get into a left or right position very easily.
The extension and barrel of your Remington 870 shotgun will be protected thanks to the silicone pads that are included with the mount. If you were to use the clamps right on the extension and barrel without putting pads on them first, it could result in scratches on these areas of the weapon. You probably don't want that, right? So, these pads will come in handy for this reason. You won't find too many other clamp manufacturers who offer pads with their clamps. The only mounts that also come with pads are the CDM Gear clamps.
Special silicone pads included to protect your barrel and extension:

There are many sports goods retailers which sell the Magpul forward sling clamp, such as Brownells. The average retail price for it is about $28.45. Not only is it compatible with the Remington 870, but it is also compatible with the Mossberg 500 and 590 as well. If you have these shotguns too then you can use the mount for any of them.
Magpul Forward Sling Mount for Remington 870 is a cost-effective upgrade for your Remington 870 that will give you lots of benefits in return. Highly recommended!
GG&G Shotgun Sling Mount Review: Advantages and Disadvantages
The mount is especially designed for tactical operations. The mount places the rear sling attachment in front of the user. This allows shooters to shoulder their weapons quickly without becoming tangled. The mount also allows a single point attachment, or it can be used with a front sling mount for a two-point sling installation. The loop on the mount allows you to attach up to a 1 ¼ inch wide sling. The rear mount is installed directly behind the receiver in front of the butt stock.
The material is hard-coated anodized in matte black. The right hand model HK-style clasps for the Remington 870, 1100, and 11-87 positions the sling on the left side of the stock. The Ambi model for the Remington 870, 1100 and the 11-87 accepts other clip on sling fasteners. The "Rem Front Mount" positions the sling on the right side for Remington shotguns with external-retention type magazine caps.
The mount as stated is designed for tactical use, but of course can be used in any shooting situation. Control of the weapon and preventing tangles is important in a combat situation. Many shooters do without slings for various reasons but one reason is that most slings and mounts because of the inherent design allow it to become tangled easily. With the GG&G Shotgun Sling Mount, tangles are not a problem.
Why do you need a single point sling attachment? You can mount your shotgun in a tactical situation on either shoulder so when making fast entries you can swing through doorways much easier allowing moving around corners easier and faster. This helps to prevent letting others know of your position because the weapon's barrel is sticking out from the corner. The mount works well when wearing body armor.
The mount attaches in minutes is rugged and does not snag on objects. But it protruding enough to be a hindrance in home defense especially. Once mounted it adds to the looks of the weapon and after tests of the mount in a tactical training show that catching on objects is not a concern.
Many shooters simply cannot get used to a sling and this is because they find it takes critical time to shoulder the weapon or to bring the weapon to bear from the shouldered position. In hunting or combat situations you cannot always carry the weapon at port arms you must be able to sling the weapon at certain times. Slings are critical and having the right mount is important when transitioning from your shotgun to a sidearm. Without a sling, you would have to abandon the weapon to bring a sidearm into use. This is unacceptable in most cases.
Some shooters may not want a sling or claim it is a hindrance simply because they do not fully understand the need for one or do not know how to utilize a sling and mounts properly. Having both hands free and still being able to control, your shotgun in a tactical situation is crucial.
Ver nice, simple and inexpensive upgrade for your Remington 870!
Sling Swivels for 2-Point Sling for Remington 870
There are a lot of different slings available for Remington 870, one-point, 2-point, 3-point slings, slings with bandoleers, etc. Some shooters prefer to have classic 2-point sling on their shotgun. Standard Remington 870 shotgun can be upgraded with sling swivels. There are many different sling swivels available on the market.
Here are photos of standard sling swivels for 2-Point Sling for Remington 870:
Ambidextrous Quick Detach Sling Plate for Remington 870 Shotgun from S&J Hardware
This is review about Ambidextrous Quick Detach Sling Plate for Remington 870 Shotgun from S&J Hardware:
This is a high-quality product which is easy to install and use. I have installed it in 5 minutes and it was ready to use.
This sling plate has lots of advantages. It is ambidextrous, you can attach a sling from the left or from the right side. Quick Detach swivel is included. This sling plate will be convenient for both left handed and right handed shooters.
This is the best choice for a shooter which wants to use a one-point sling on a shotgun. One-point sling allows you to use hands or switch to a secondary weapon.
Two-point and three-point slings have to be attached using both front sling attachment and rear sling attachment. One-point sling is easier to use because it is attached using just one sling plate.
It is very well made product, all edges are rounded, coating is really good too. Quick Detach swivel works perfectly.
I think that sling is a must have for a home defence shotgun that is why I had a three point sling on my shotgun. But now I have chosen a one-point sling which is lightweight and easier to use. Also, it doesn't require disassemble of a shotgun to install or remove it.
Ambidextrous quick detach sling plate for Remington 870 Shotgun is very good choice, I really like and recommend it.
This is very useful tactical accessory for your Remington 870 because it allows you to have a sling and quickly remove it if needed.