The Best Remington 870 Upgrades for Hunting – Updated 2022
Remington 870 is the most popular pump-action shotgun in the world. It is used by police, military, special forces and regular people. They all use Rem 870 for different purposes, from door breaching to home defense and hunting. There are many variations of the Remington 870 that you can choose.
The Remington 870 is adored because of its dependability and affordability. While some hunting shotguns tend to cost upwards of one thousand dollars, you can get a Remington 870 Express shotgun for under $500.
Remington 870 is easy to customize for different purposes. A lot of people hunt with 870, so I receive a lot of questions about the best and must have upgrades for hunting shotgun.
You need to understand that there are different types of the game and you need to change chokes, ammunition and some upgrades for particular type of the game.
Although any Remington 870 could be used for hunting, the Remington 870 Wingmaster is the preferred shotgun for hunters. It is an American classic that has been manufactured by Remington for over 60 years and it still holds up strong against the modern day shotguns. You have the option of choosing between a 12, 20 and other gauges.
Turkey Hunting Remington 870
Photos of turkey hunting Remington 870 from Al Clark:
This my turkey gun. Rem 870SM 23″VR polished barrel dressed out with a Pure Gold .670 choke, Hogue forearm and Black Hawk Knoxx stock, Burris Fast Fire II, competition spring and Avery sling. This BOOM STICK is devastating on turkey's!
Remington 870 Barrel for Hunting
Let's start with the most important part of the hunting shotgun – the barrel. Longer barrel is a must have for hunting shotgun. It enables hunter to shoot targets at much longer distance. Another necessary feature which hunting barrel needs to have is a Rem Choke (removable choke system). Hunters often use chokes depending on the game they hunt.
There are two types of barrels which you can get for you Remington 870. The barrels made by Remington and aftermarket barrels made by Carlson's. There were good feedback about Carlson's barrels from one of the readers of the blog.
JonSEAZ:
"I recently bought one of these barrels and an array of Carlson screw-in chokes. At this point, I could not be any happier with it. A very nice barrel, inside and out. The one I received fit my 870 perfectly; the exterior finish flawless; the chrome-lined bore nicely done; the threading cleanly cut and the chokes screw in and out nicely; overall, a very nice barrel which now allows me to play with different chokes on a nominally defensive shotgun.
Carlson's Remington replacement barrels are threaded for the Remington 870 standard Rem Choke system. One choke and choke tube wrench included but you will have to buy additional chokes separately.
Carlson's makes following barrels for Remington 870:
Rem 870 12ga Vent Rib, 24″, 3″ chamber, MOD Choke, S-Matte
Rem 870 12ga Vent Rib, 26″, 3″ Chamber, MOD Choke, S-Matte
Rem 870 12ga Vent Rib, 28″ Barrel, 3″ Chamber, MOD, S-Matte
Carlson's barrels are much cheaper than Remington barrels.
Remington manufactures wide range of barrels for the model 870. There are barrels of different length and with different features.
There are even special Remington 870 barrels for Turkey hunting
Barrel, 23″, Rem Choke, Vent Rib, Matte Black, Turkey (fits 870 SuperMagnum):
870 Express Barrel, 12 GA, 21″ Turkey Extra Full Rem Choke
Other Remington barrels come in different lengths:
Barrel, 28″, Rem Choke, Vent Rib, Mid-Bead, Wingmaster
Also Cabela's has many other variants of Remington 870 barrels: http://tinyurl.com/zhf5lat
Sight
Good sight is critical for a hunting shotgun. Modern light gathering sights are very popular. The gather light and help hunters to make accurate shots.
There are sights from different manufacturers and with many interesting features: http://tinyurl.com/jfvqgog
Magazine Follower
Aftermarket magazine follower ensures reliable and smooth feeding.
Remington 870 magazine followers are made by many manufacturers, they avaialble in almost and color and material: Remington 870 Followers Overview
Magazine Plug
Legislation requires hunters to have shotgun which cannot have more than a total of three shells in the magazine and chamber combined. That is why you need to have plug. You should have received plug when you bought your Remingtonm 870. But if you don't have it you can always get one cheap: http://tinyurl.com/h53nhf3
Chokes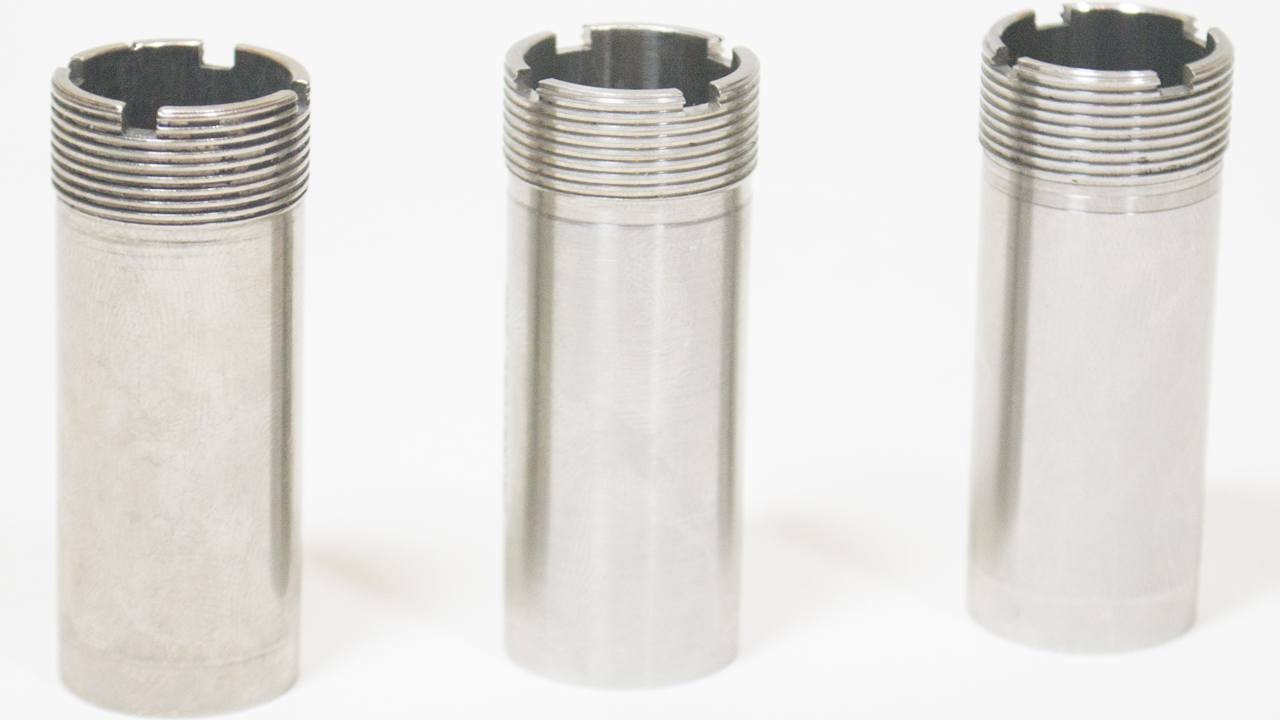 The choke in a shotgun is designed to shape how the shot spreads after you pull the trigger. That way you can gain more accuracy with your shots as well as better range. The choke is placed in the bore of the shogun barrel, which is at the muzzle end. There are a two ways a choke gets installed into a shogun. The screw-in chokes, which are easily replaceable and there are also fixed chokes that integrated into the shogun barrel so that it is a part of the bore without being replaceable. So which ones are the best to use? Both are acceptable.
Set of chokes is a must have for any hunter. They enable you to be flexible and hunt different types of the game.
Read more about chokes: Shotgun Chokes Explained
You can get chokes separately or as a set: http://tinyurl.com/hm32ty9
Timney 870 Trigger Fix
The trigger fix is ideal for hunting. Timney Remington 870/1100/11-87 Trigger Fix will be very useful for most of the shooters. It is so good to easily control and be able to adjust trigger pull. This is especially useful upgrade for those who shoot slugs often. Also useful for competition shooters and hunters. It improves shot grouping and accuracy because of a more controlled trigger pull.
Related post: Timney Remington 870/1100/11-87 Trigger Fix
Safety Button
Oversized safety will allow you to disengage the button more easily, especially if you are wearing gloves or are in a stressful situation where you may lack focus and concentration.
Bigger safety enable you to shoot faster and have more chances of hitting your target.
Related post: Remington 870 Safety Buttons
Scope Mount
Many hunters prefer holographic (red dot) sights or optics. There are many ways to mount a red dot scope on a Remington 870.
You can either drill and tap receiver to install rail or buy mount which can be installed without gunsmithing.
Red Dot Sight and optic sight make hunting much easier and more resultative.
Stock
You can also upgrade the stock to a recoil-reducing, synthetic or stock with rubber coating. That way you will have better control over your shotgun while you are shooting it. This will come in handy in situations where you will be shooting repeatedly like when hunting. If you plan to spend all day outside hunting deer, turkeys, ducks, birds, or anything else you may want to shoot, then you need a weapon that can be used in the nick of time without any setbacks.
You can choose one of the many variants available on the market.
Related post: 5 Best Aftermarket Stocks for Remington 870
Sling Swivels
Sling swivels enable 870 to accept a sling. Some aftermarket magazine caps replaces original cap. Rear swivel stud screws into the butt of the shotgun's stock. Then you can attach sling with quick detachable swivels.
Sling
Sling is a necessary thing for hunting shotgun. You going to carry your Remington 870 for hours and it is rather difficult without a sling. Of course 1-point tactical slings are not good for hunting. You need classic 2-point sling.
Related posts:
Magpul Multi Mission Sling MS1 on Remington 870 with SGA Stock and Forend
Blackhawk Inc. Shotshell Sling Review
Specter Gear CQB Sling For Remington 870 with Magpul SGA Stock Review
Cheap Sling for Remington 870
Holographic sight or optics
Holographic sight is an alternative to classic iron sights. It allows much faster aiming showing just one red dot on target. It also has some disadvantages which make use of holographic sight on shotgun questionable: additional weight, additional picattini rail and a high price.
Red dot and optics are especially important when shooting slugs. They make hunting much easier. A lot of hunters like and use them.
You can choose many different variants, they have a lot of differences and it will take hours to understand all the nuances.
You can find many holographic or optic sights on Brownells: http://tinyurl.com/j7wlmnn
Remington 870 for Hunting
My friend sent me photos of his successful hunting with Remington 870. Enjoy!
What to take with you hunting?
There is no doubt that people still love to hunt. Even Former Vice President Dick Cheney loves to hunt, although it may not be a good idea to be his hunting partner. Before you go out hunting, it is important that you take some essential items with you. Besides your rifle and ammunition, you will want to wear a reflective vest. That way if another hunter is out at nighttime with their flashlight and hunting rifle, the light from the flashlight will make your vest light up. This will indicate to the hunter that you are a human being and not some kind of animal, like a deer. Failure to wear a reflective vest could result in you getting accidentally shot at nighttime, or even during the day in some cases. And of course, don't forget to bring a flashlight yourself because you won't want to end up shooting someone else accidentally either. You may not be as lucky as the vice president to get away with it.
Another major accessory you will want to bring is a water resistant backpack. This backpack will hold any electronic devices you bring on the hunt, such as a Smartphone. That way if it rains the device will stay protected in the backpack. You can also store your ammunition and gun accessories in there for safe keeping. If you plan on being out in the woods for a long time then you might want to pack a few meals and some wet wipes. The wet wipes will not only come in handy for cleaning your hands after eating, but they can also act as toilet paper for wiping your anus if you have to release bodily waste as well. After all, there is no sense in holding it in if you are out all day.
Finally, if you plan on taking your prey back with you then it will help to have plastic wrap and ropes to carry the bodies back. If you have access to a wheelbarrow then that will be even better, but if you are deep into the woods then this is unlikely going to be the case. So with the plastic wrap, just completely cover the animal with the plastic. That way the blood of the animal won't be sensed by any dangerous animals in the woods, like bears. Next, tie the ropes around the prey and drag it back to your camp or rest area. Make sure to bring a tent if you plan on staying outside overnight. This is all you really need.
Remington 870 for Hunting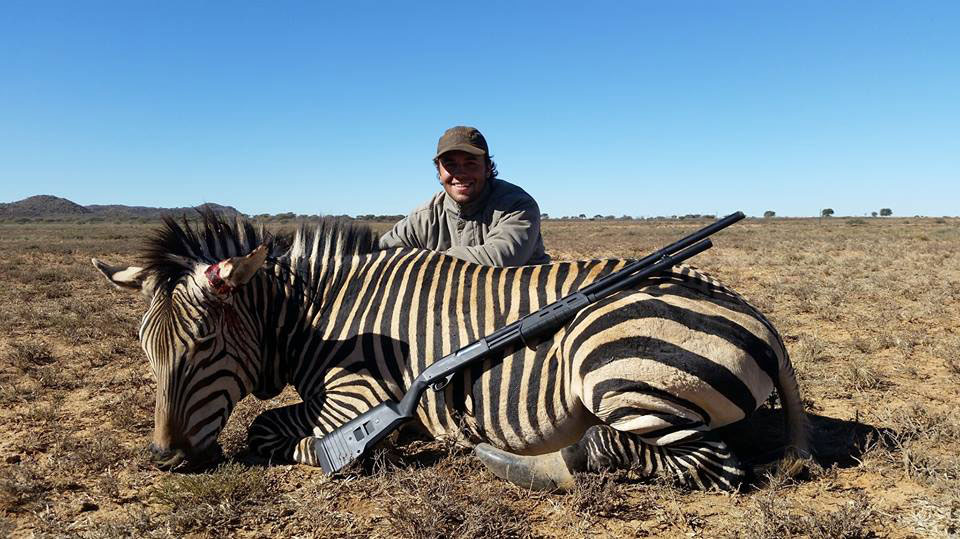 What other upgrades for hunting Remington 870 can you suggest? Please leave a comment.