Best Glock and PCC Magazines – Real Review and Experience
Glock handguns, as well as Pistol Caliber Carbines (AR9 platform), are really popular around the world. Glock has legendary reliability and was chosen as a service handgun by law enforcement agencies and thousands of professionals worldwide. It is also one of the favorite handguns for everyday carry for regular people.
I use Glock magazines mostly with my Pistol Caliber Carbine (PCC), Inter Ordnance M215 9MM ML-15. This carbine is made in the USA, it is inexpensive, and I really like it.
Glock handguns work with magazines of almost any manufacturer while PCC may have malfunctions with some of them. That is why I want to share my experience with Glock magazines in this article.
Glock Magazine Spring
Spring is extremely important for reliable feeding. Some magazines come with spring, which should be replaced immediately. Hopefully, it is easy to order spare magazine springs online.
Two of the best magazine springs are Glock factory springs and Wolff extra power springs. They both work well and ensure reliable feeding. You can't go wrong with any of them. I don't have experience with other springs because Glock and Wolff perfectly cover all my needs.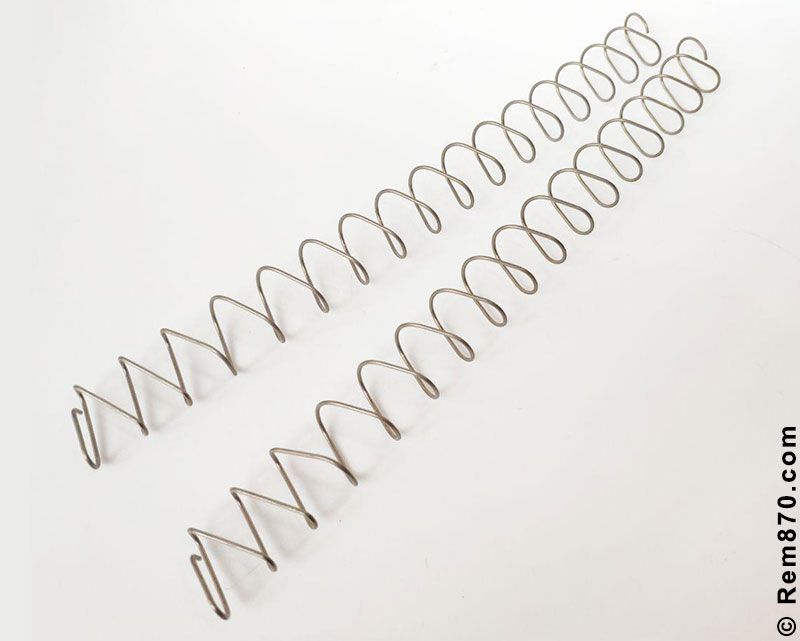 A good magazine spring can make any aftermarket magazine more reliable. This is true for both Korean KCI Glock magazines and the ETS Glock magazines. My PCC had problems with ETS Glock magazine, which were all fixed with the magazine spring's replacement. ETS magazine works perfectly with Glock factory spring.
KCI magazine has a pretty weak spring, which works well initially, but I highly recommend replacing it with Wolff or Glock factory spring.
Glock Magazine Follower
Of course, this part is also important. And there is no better option than Glock factory magazine follower. Get it for aftermarket magazines to improve reliability. They are inexpensive, and their replacement won't take much time.
High Capacity Magazines and Restrictions
Some countries and some states in the USA restrict ownership of high-capacity magazines. Be sure to check local regulations to avoid possible problems.
I hope that restrictions will be cancelled because there is nothing more stupid than to regulate magazine capacity. Criminals don't follow the rules, so the laws affect only law-abiding citizens.
Original Glock Factory Magazines – Best Choice
There are many aftermarket magazines, but factory Glock mags are still the best. They have a steel body with a polymer jacket. One of the good features of the Glock magazines is a round count indicator. You always know how many rounds are loaded to a magazine.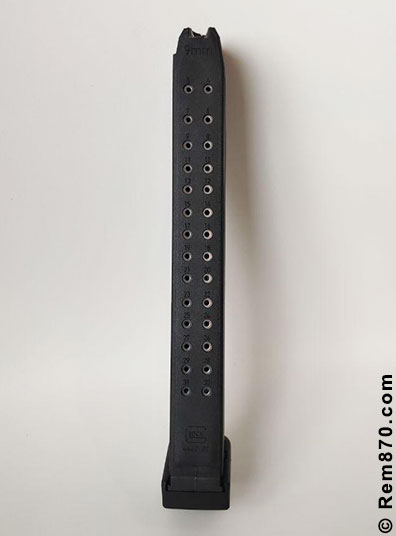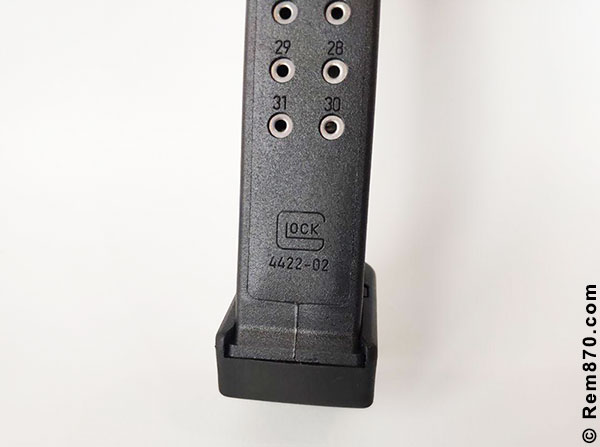 $27.99 for 10 or 17-round magazine and $39.99 for a 33-round magazine. Factory Glock magazines are worth the price.
Advantages:
Metal body
Reliable feeding
Disadvantages:
None
ETS (Elite Tactical Systems) Clear Glock Magazine
I received this magazine together with the purchase of my Inter Ordnance carbine. First of all, it is made of very thin plastic. I didn't try to destroy it but not sure that it can withstand the same abuse as Magpul magazines, which were driven over with a car. I am not sure why they made Glock magazines that thin, I have an MP5 magazine from ETS, and it looks much more reliable and made of a thick polymer.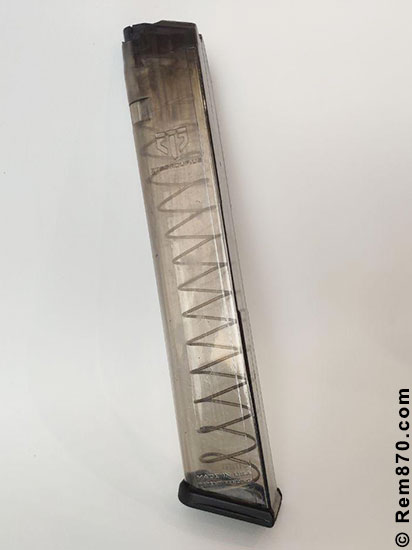 Magazine spring should be replaced for reliable feeding because I and shooters from my shooting club had malfunctions with the stock spring. The follower works properly, but my friend was able to break it during dry fire training.
But I really like how it looks and that it's easy to see how many rounds you have. The magazine is good for training and Instagram photos, but I'd choose a Glock factory stock for competitions or home defense use.
Priced from $17.99 for 17-round magazine to $23.99
Advantages:
Translucent body
Price
Disadvantages:
Magazine Spring
Follower
Feeding
Korean KCI Glock Magazine
The main advantage of this magazine is its price. 33-round Glock magazine for $13.99? Sounds like a bargain!
It looks like a copy of the factory Glock magazine. It has the same construction with a steel body and a polymer jacket. KCI Glock magazine even has the same round count indicator!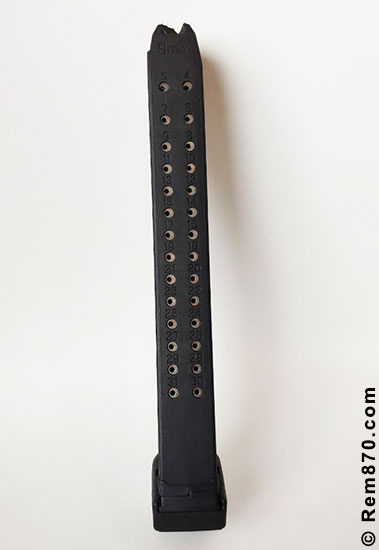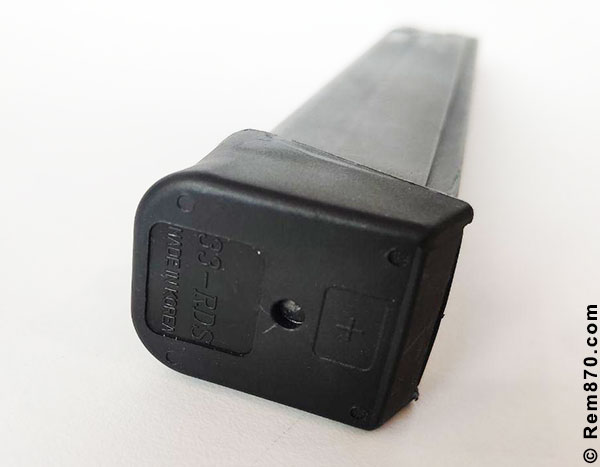 Magazine spring should be replaced to improve reliability, as I wrote earlier. Some shooters even replace the standard follower with a Glock factory follower.
This is a good and inexpensive magazine for training, but it is better to have several Glock factory magazines for important competitions or home defense.
Advantages:
Steel body
Price
Disadvantages:
Magazine Spring
Magpul Glock Magazine – Not Recommended for PCC
It works well with handguns but not recommended for Pistol Caliber Carbines. For some reason, it doesn't feed ammo reliably and brakes really soon. I am not sure why because AR-15 magazines from Magpul works perfectly and the best on the market (in my opinion).
It's a good choice for handguns but not for PCC.
Advantages
Works well with handguns
Disadvantages
Doesn't work properly with PCC
ProMag Glock Magazine – Not Recommended for PCC
We have too many problems with ProMag magazines and Pistol Caliber Carbines in our club. Not recommended.
Glock Magazine Extensions
The more ammo we have, the better. And it is possible to add more rounds to your magazine. Just get one of many base pads for Glock factory or aftermarket magazines.
Magazines for handguns are usually equipped with small magazine extensions (+4). Pistol Caliber Carbines often have really big (+10 or even +20) magazine extensions.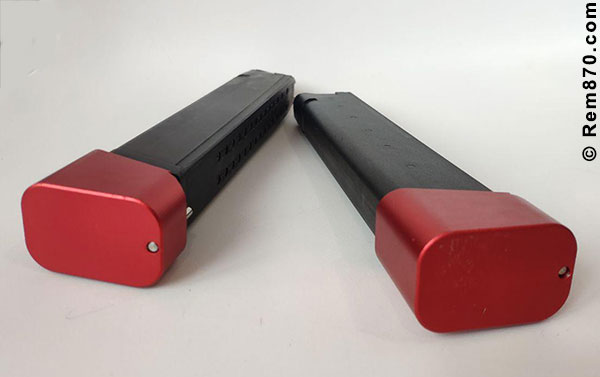 Many companies manufacture them: Taran Tactical, Taylor Freelance, DAA, and you can even get some really affordable base pads on AliExpress.
Base pads not only enable you to have more rounds but also makes reloads faster because the magazine falls off the magwell faster because of the weight of a base pad.
AliExpress.com Product – Tactical Magazines Base Pad Kit Fits For IPSC, USPUA, IDPA Magazine Extension For GLOCK 17, 22, 34, 35With + Spring
ETS Elite Tactical Systems CAM Universal Speed Loader Magazine Loader
It's not difficult to load a Glock magazine, but if you shoot Pistol Caliber Carbine, then you may need to load several 33-round magazines, and that takes time. That's why there are several types of magazine loaders available on the market.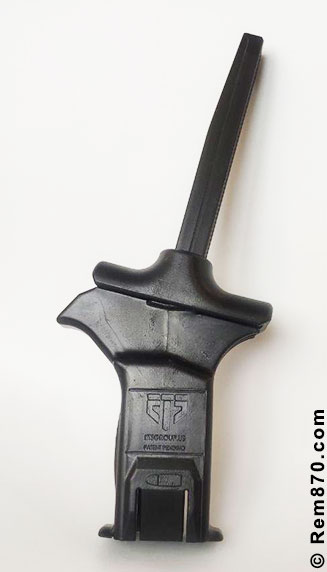 Each manufacturer has his own construction, and you may choose one of many. While one of them enables you to load rounds one by one, the ETS Speed Loader enables you to load ten rounds at a time. Honestly, it doesn't always work smoothly but still helps you to load magazines faster.
Some loaders enable you to load cartridges one by one but with the help of a special tool.