Must Have AR-15 Upgrades
List of the must have AR-15 upgrades.
M16A1 Information
Weight:
Rifle M16A1, without magazine and sling – 6.55 lb
Rifle M16A1 w/sling and loaded magazine – 7.96 lb
Length:
Rifle w/flash suppressor – 39.625 in.
Barrel – 20 in.
Barrel with flash suppressor – 21 in.
Mechanical features
Rifling – RH twist, 6 grooves, 1 turn in 12 inches
Method of operation – gas
Type of breech mechanism – rotatingbolt
Method of feeding – magazine
Cooling – air
Trigger pull – 5.5 to 8.5 lb
Firing characteristics:
Muzzle velocity (approximate) – 3,250 fps
Muzzle energy – 1,300 ft-lb
Chamber pressure – . 52,000 psi
Cyclic rate of fire (approximate) – 800 rds/m
Maximum rate of fire:
Semiautomatic – 45/65 rds/m
Automatic – 150/200 rds/m
Maximum range – 2,653 meters
Maximum effective range – 460 meters
Battle Arms Development INC. – AR-15/M16 Ambidextrous Safety Selector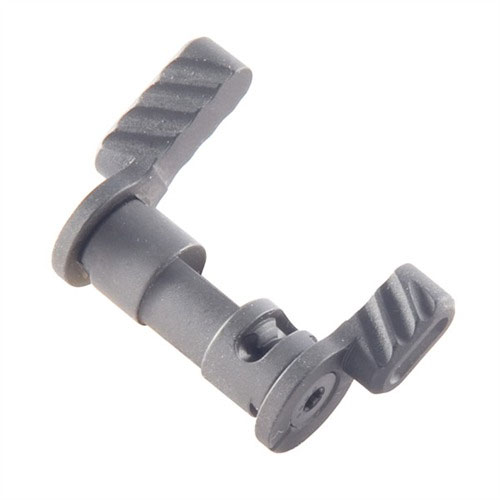 Why Choose it: Faster Transition from Safe to Fire, Good for Left Handed Shooters
Manufactures Specifications and Description
A deeply grooved, oversized lever for operating with either hand, this heat-treated and machined steel safety selector has oversized levers on both sides of the receiver for ambidextrous operation. The large surface area allows you to operate while wearing gloves, and stops the fumbling around while in a shooting position and for operating in the dark. The deep grooved, no-slip pads let you operate the safety even when under stress or in wet conditions. The lever can be customized by putting the larger pad on either side or by adding high-visibility paint.
Mounting hardware is included and individual levers include Standard, Short, Thin, Short and Thin, Hybrid and Crank. The short throw shortens the distance to 45ᵒ instead of 90ᵒ.
• Available with a Matte Black finish
• Original Ambidextrous Safety Selector also available in Cerakoted in Flat Dark Earth
The lever is ideal for tactical and self/home defense weapons, target shooting, competitive shooting and for hunting.
It is easy to install and can be operated with gloves on in wet/snowy conditions. The new safety lever improves the looks of the weapon, is well built and rugged.
Highly recommended by left handed shooters, they do not have to roll the rifle over anymore. The crisp sharp action leaves no doubt as to the position of the lever. The offhand safety allows for a tactical feel when using the "short thin". This reduces unnecessary movement when in a shooting position where any movement could reveal your position.
Your stress level is high enough in any tactical situation and then having to wonder where the safety selector is without having to fumble or move the weapon will help reduce stress and worry. A simply finger movement now allows you to verify the position at any time. You can actually feel the position of the safety lever. Users in law enforcement use the device for training weapons and tactical carry weapons for right and left handed shooters.
The Ambidextrous lever gives you the ability to engage the safety with the trigger finger and some users have indicated this should be a mandatory safety feature for all AR models from professional to recreational shooters.
You are going to like the positive click unlike some stock safety levers, which seem to glide into place and you then have to feel around to verify the position.
The Battle Arms Development INC. – AR-15/M16 Ambidextrous Safety Selector can be set up in various ways and you can choose the lever and position that best suits your shooting style.
You may not need an ambidextrous safety selector but this should not prevent you from upgrading because this lever adds a positive feel and look to your weapon. It leaves no doubt in your mind about safety on or off. The end cap allows it to function as a standard, single sided safety selector.
Safety is your number one priority especially when in a home defense situation. Even without gloves stress can and will make it difficult to think and even though you have practiced for hours engaging and disengaging the safety. Having added functions makes it that much easier when in a tactical situation.
Recommended product: Battle Arms Development AR-15 Ambidextrous Safety
Bravo Company – AR-15/M16/AR-Style .308 BCM Gunfighter Charging Handle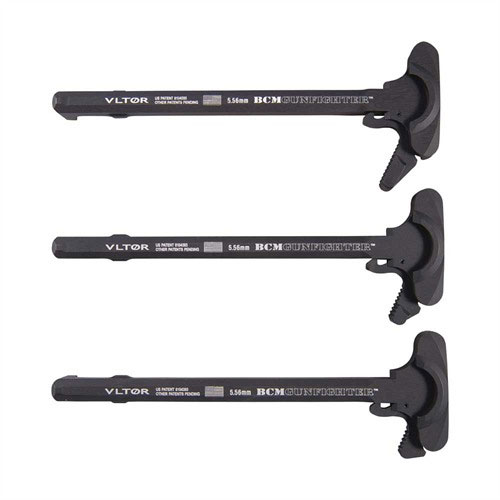 Why Choose it: Improves Function and Speed, More Reliable
Description and Specifications
This unique latch/charging handle reduces wear and tear and prevents breakage. It is a heavy duty, charging handle with an innovative, oversized latch that distributes the pull force evenly. The force is across the entire handle for a smooth and fast operation with the support hand and stops the roll pin from breaking. Made of machined billet aluminum it is reinforced with extra metal strengthening the stress points allowing it to stand up to hard use.
A medium length or extended latch or large that is ¼" longer for a "can't miss" grasping surface. The charging handle features a latch on both the left and right-handed sides.
The AR-15/M16/AR-Style .308 BCM Gunfighter Charging Handle is ideal for tactical, personal and home defense weapons and is used on hunting and competitive shooting weapons.
This item overwhelmingly improves the functionality of the weapon. It is easy to install, safe and rugged. It is well worth the money for this exceptional upgrade to your weapon.
The handle/latch allows a shooter to use it even when wearing gloves and improves function and speed. If you are wet and cold, wearing gloves, the grip and pull force is important.
Charging handle is strong and well designed. There is no play or sloppiness and overall it has a professional feel and gives the shooter more confidence in his or her weapon. The new handle/latch makes it easy to get a good grip even for "lefties".
New shooters find that manipulating the charging handle is one of the more complicated mechanical movements to master. The AR-15/M16/AR-Style .308 BCM Gunfighter Charging Handle makes this task much easier to complete. Shooting is about mechanics, metal attitude, instinct and natural coordination of the shooter.
If you cannot master the mechanics, you will never become an advanced shooter. Upgrades and today's technology allows shooters to advance so their natural talent can help them become better shooters.
Uses have indicated they have tried latches other than Bravo Company's AR-15/M16/ BCM Gunfighter Charging Handle and have found the oversized ones were loose and of lesser quality. One pull with the Gunfighter Charging Handle and you know it is a quality product. Shooters must have confidence in their weapons and with the components that make up the shooting experience. Worrying about failure or being annoyed at sloppy pieces not fitting right adds to a shooters stress level.
Even though it is more convenient for left-handed shooters, it does take getting used to according to some users. Some tend to pull the handle at an angle, which may mean it can stick. Therefore, it may require some practice before you take your weapon on a hunting trip or to the firing range. Extended handles are easy to use with gloves, and slings.
Recommended product: Bravo Company – AR-15/M16/AR-Style .308 BCM Gunfighter Charging Handle
Timney AR-15 Drop in Trigger Module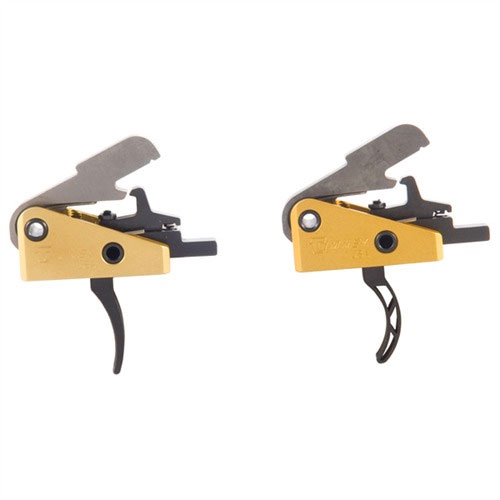 Why Choose it: Smooth Trigger Pull, Better Accuracy
Manufactures' Specifications
Now you can have a super-smooth pull and a crisp let off in minutes with this self-contained module. It is ready to install in your small-pin AR, so get ready for a smooth, crisp single stage trigger that feels more like a bolt action than a combat rifle trigger. You can install it yourself it is completely drop in, no gunsmith, fitting or modifications needed.
Components are lightweight aluminum alloy housing. Hammer is wire-EDM machined from S7 tool steel. The AR-15 Drop in Trigger Module installs using your rifles' original hammer and trigger pins. The new exclusive design prevents pin walkout.
The AR-15 models available in a fixed factory set of 3, 4 or 4.5 pounds pull weight and are available with a standard solid trigger shoe or a "skeleton" shoe that is lighter weight.
SPECS:
• Hammer – S7 tool steel, natural color, Teflon-Nickel coated
• Trigger/Internal Components – Hardened A2 tool steel, black oxide finish
• Housing – 6061 T6 aluminum, gold anodized finish
• Fits rifles with .154″ diameter hammer/trigger pin holes
• Will not fit Colt-manufactured AR-15s with sear block
Having confidence and knowing your equipment will not fail and performs the same way each time is critical. For a shooter that cannot master their trigger pull may find out now that they can with the AR-15 Drop in Trigger Module. It performs every time and breaks with a crisp snap like a fine crystal rod snapping in two.
Get better groupings and break the habit of jerking the trigger. No more "creeping", stay on target through the entire process because once the trigger breaks you still have your point of aim. New shooters will try to anticipate the break, will get ahead of themselves and simply cannot follow through because the break feels different each time.
Light pull and fast reset for those that shoot competitively or for those that may find themselves in a tactical situation where milliseconds count. Send rounds down range as fast as you can pull the trigger because the reset is as solid and crisp as the break.
Installation by anyone that has taken apart their weapon before and has a few simple tools is 15 to 20 minutes. Follow the instructions carefully and you will not have any problems installing your new trigger module.
Change a 6lb sloppy pull to a crisp sharp 3 pound pull in 15 minutes. New trigger module provides a consistent and stable shooting environment every time.
It is always recommended that you dry fire your weapon using snap caps before you load live ammo. This will give you a feel for your new trigger. If you are going from a six-pound pull to a three-pound pull of course, it will require less pressure. Practice with shooting gloves while using snap caps so you can become accustomed to the pull.
Recommended Product: Timney AR-15 Drop-In Trigger Module
Magpul CTR Buttstock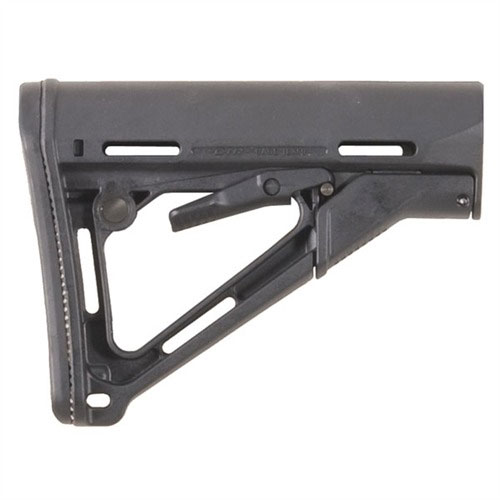 Why Choose it: Better Ergonomics
Description and Specifications
The locking system eliminates "play" because the Buttstock has a friction lock that virtually eliminates movement between the buffer tube and Buttstock. Every shooter loves that solid feel when they bring their weapon to their shoulder. Having any kind of wobble or movement is unacceptable.
A spring loaded hand lever allows essentially "on the fly" adjustment for length of pull. The stock is nylon polymer so it is not affected by heat or cold, and is reinforced at the stress points. The stock also accepts a variety of ambidextrous sling attachments such as web slings, single point and push button sling mounts. This upgrade is one that will not be obsolete the minute you have it installed.
It will fit buffer tubes that accept four and six position collapsible stocks. However, buffer tube, carbine buffer, receiver extension nut and carbine-length action springs are not included.
SPECS:
• Impact-resistant nylon polymer
• Black, Dark Earth, O.D. Green or Foliage Green
• LOP adjustment range, 3½" (8.9cm). Mil-Spec – 67⁄8″ (17.5cm) OAL, 5¼" (13.34cm) high
• Fits mil-spec 1.14″ O.D. carbine buffer tubes
• Commercial – 71⁄8″ (21cm) OAL, 5¼" high
• Fits 1.17″ O.D. commercial carbine buffer tubes
Put the CTR Buttstock on your tactical, hunting or home defense weapon. Use it for competitive shooting and for target practice as well.
Stock is solid and holds up if you have to clear a severe jam or failure, and have to strike the butt plate on the ground/deck. It has rounded edges so less areas that can chip off if you do have to strike it and no noise when readjusting the pull.
You may have to adjust the stock in a tactical situation while covering/concealing and noise is the last thing you need. Imagine you seek cover and have to remove a heavy coat or even armor then all of a sudden your pull length changes, you need to be able to adjust for this silently and quickly.
Being able to adjust the pull at any time without tools is an important selling point. In a tactical situation, you will be putting on body armor. Being able to adjust the pull to accommodate for armor or bulky cold weather clothing in the field is ideal. For those that may not know what their pull length is the CTR Buttstock is perfect to set your length and then measure that length for future reference.
The added recoil pad can help reduce felt recoil, which you may or may not notice but the point is many shooters tense for the recoil and if they believe it will be less, then it will be and the habit of flinching or tensing can be eliminated.
This stock is perfect for training weapons where more than one person may be using it, law enforcement and other tactical units can benefit from this product because it can be easily adjusted to accommodate multiple shooters in training.
Recommended Product: Magpul CTR Buttstock
Magpul MOE AR Grip Plus, Black
Why Choose it: Better Ergonomics
Specifications and Description
A reinforced polymer body construction offers a comfortable grip with "wrap-around" rubber over molding, giving shooters maximum control of their firearm in any type of shooting situation. The hard polymer bottom edge reduces the chances of snags or damage to the grip. Optional storage cores for stowing gear and a basic grip cap.
This item is made in the USA. All mounting hardware is included.
You are going to like the storage core, where you can place sight adjustment tools and spare batteries for laser/red dot sights. The molded rubber grip is ideal for shooting in wet conditions.
The angle of the grip reduces hand fatigue and fits hand much better without any discomfort when gripping for long periods. Factory grip on some models is made of hard plastic making for an uncomfortable grip and once replaced with the AR Grip Plus you will have a better shooting experience.
You will have more control of your weapon because of the rubber grip. Shooters with smaller hands will be able to easily handle weapon in any situation because of the wrap around molded rubber.
The new grip enhances the look of the weapon as well because it is obviously made of quality material whereas the factory grip was hard plastic and you could tell it was not as good of quality material as the new grip.
There are factors that can change rapidly that have an effect on your shooting capabilities such as poor weapon maintenance, faulty parts and the shooters attitude. Practice is important as well as having an open mind and allowing your attitude to advance along with technology. If you are open to innovations and are willing to make changes, you will find your shooting capabilities advancing as well.
Recommended Product: Magpul MOE AR Grip Plus, Black
Magpul – AR-15/M16 Enhanced Triggerguard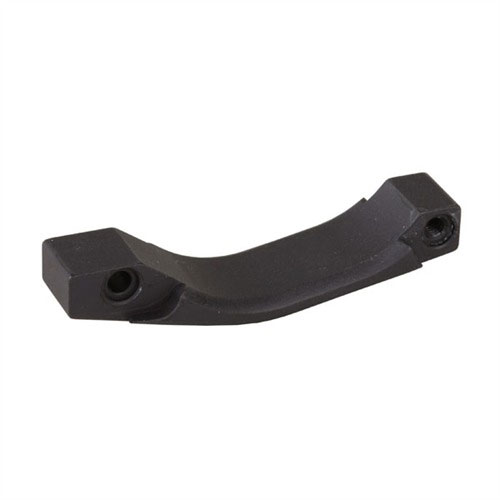 Why Choose it: Better Ergonomics
Specifications and Description
• Trigger is accessible even when wearing gloves
• Aluminum trigger guard replaces factory guard
• No more having to drop the trigger guard in cold weather in order to get to the trigger
• You now have an oversized opening that is held in place with standard roll pins and set screws
• Works with most grips so no need for gap plug
SPECS:
• Aluminum, matte black fits AR-15/M16 rifles and includes a roll pin and set screw
Ideal for tactical and self-defense weapons and can be used for competitive shooting, target practice and hunting.
Added room is just right for when you are wearing shooting gloves. Not too much, space, just enough. Easy to install and adds a tactical look to the weapon. You can access the trigger with gloves on in the winter time if you have AR-15/M16 Enhanced Triggerguard.
Installed in minutes without any additional modifications. Removing or otherwise modifying your trigger guard can cause safety issues. That is why it is important that you upgrade/modify with the correct parts. Removing the trigger guard in cold weather to make the trigger more accessible can lead to accidental discharges.
It is important you use the proper tools and techniques to remove the roll pins. You can cause damage so make sure you are familiar with the procedure, and have the proper tools and skills needed. You should not have to modify your weapon or the trigger guard to make it fit and removing the pins are quite easy with the right size punch and hammer.
New trigger guard is tougher that the factor installed one. More comfortable without any sharp edges and there does not appear to be any casting seams.
In a home defense situation, you must have confidence in your weapons. Even through you are not likely to charge out of the bedroom wearing gloves the added space allows you to "fumble" somewhat because you are under stress.
Inexperienced shooters have stated that in certain combat situations they could not find the trigger to fire. If you are in a stationary shooting position you likely have your finger along the guard but when you have to shoulder your weapon to fire, you want to know nothing is getting in the way.
Recommended Product: Magpul – AR-15/M16 Enhanced Triggerguard
Magpul B.A.D. Lever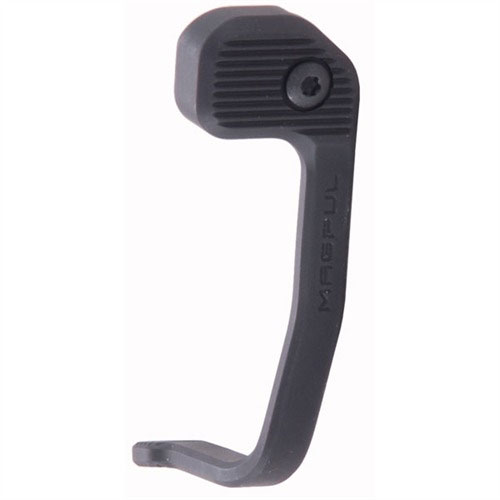 Why Choose it: Improves the Speed and Efficiency
Description
• Improves the speed and efficiency of the AR15/M16 bolt catch
• The design has addressed reloading and clearance shortcomings of the AR15/M16 by extending a paddle to the right side of the weapon
• Made in the USA
• Allow manipulation of the bolt stop from the fire control/ready position with your right-hand trigger finger
• Easily attaches to the existing bolt catch paddle via one screw
• Torx® mounting screw with Nyloc® Blue patch prevents back out under recoil (Torx wrench included)
Made from Milspec-Anodized aluminum the B.A.D. lever attaches to the standard AR15/M16.
It helps reload faster and clear jams, as well as, giving the shooter more overall control. The B.A.D. Lever allows you to lock the bolt back and release the bolt without ever having to remove your shooting hand.
Literally having controls at your fingertips means when in a shooting position you can operate your weapon without having to move. Target discipline is important and if you have to take your eyes off the target, you are immediately at a disadvantage. With a little practice, you will find your reload times are faster. They are faster because it requires less action on the part of the shooter.
Magazine changes are a snap because you can hit the magazine release and bolt carrier release with the same finger, no more fumbling around with the weak hand to find the release and losing your sight picture.
Experienced shooters know the importance of maintaining their natural point of aim and cheek weld and the more movements you have to make means a greater chance of losing your sight picture.
Once you have the B.A.D. Lever installed, it will take some practice. There is a learning curve because up until you installed the lever there was a certain way of doing things, "manual of arms" if you will. Your hands and fingers have been trained to do certain things so it will take some getting used to, but once you do, you will wonder how you ever got along without this lever.
The Magpul lever runs from the bolt release paddle to the inside front of the trigger guard. Your trigger finger has plenty of room even if you are wearing shooting gloves. As all of you know unless you are ready to fire, the trigger finger lays along the outside of the trigger guard. When first viewing how the lever is installed you might think that the lever would inhibit your trigger finger from transitioning to the trigger itself. This is not the case however; there is room for your shooting finger to move into position without snagging on the lever.
The bolt locks by lifting up on the lever with your shooting finger as the charging handle is pulled back with the weak hand. The bolt is then dropped by pushing down on the lever with your trigger finger. This means you never have to move your head or shooting hand, every movement can be accomplished without having to move your eyes off target.
Recommended Product: Magpul B.A.D. Lever
Read also:
List of the Best AR-15 Upgrades
Top 5 Tactical Accessories for AR-15
Best AR-15 Rifle Scopes for Dynamic Shooting (IPSC, 3-Gun)