5 Best Aftermarket Stocks for Remington 870
The stock of the shotgun is truly the most attractive part of the weapon. Not only is it the most noticeable when you first see the weapon, but it also provides the shooter with certain benefits which help their stability and accuracy. Obviously, not all stocks are made of the same material or cut into the same size. There are all kinds of sizes, materials, and shapes with the stock choices on the market these days. You just need to be able to figure out which stock is going to be comfortable for your body type and preference. However, if you are upgrading another shotgun by replacing its factory stock with a better-quality stock, you have to make sure the new stock you purchase is compatible with the model of your shotgun. Otherwise, the stock won't be able to fit properly onto the receiver. Sometimes, it is recommended that you purchase a stock from the same company that made your shotgun because this will increase its chances of being fully compatible.
Stocks usually come in two forms these days. Either you'll find one that is crafted out of wood or you'll find one made of reinforced polymer that is overmolded with rubber. Both types of stocks have their pros and cons, so it is really up to the shooter for them to determine which stock is better. If you are someone who likes the classic-style look to your shotguns, then you'll want to choose a wooden stock. But if you prefer the more modern conveniences of having a lightweight stock that is durable and easy to grip, then an overmolded polymer stock may be a better option for you.
Some of the most popular gun accessory manufacturers in the world make stocks for popular shotguns like the Remington 870 and the Mossberg 500. The best stock makers out there include Hogue, Magpul, Mesa, Blackhawk and others. Chances are that no matter what the make and model of your shotgun are, you'll be able to find a stock for it that was made by one of these companies. Their product listing pages should tell you all the shotgun models their stocks are compatible with. In addition, you'll learn about all the specific features of the stocks that other competing stocks may not have. Also, most stocks come with matching forends that are made from the same material. So, if you plan to upgrade your shotgun's stock, then plan on upgrading its forend too.
The more choices we have the better. But it becomes more difficult to choose the best option out of the available ones. I have chosen the best aftermarket stocks for Remington 870. Let's see what advantages they give you.
Hogue Overmolded Stock for Remington 870
The Hogue Overmolded Shotgun Stock comes with matching forend sets so you can customize your shotgun properly. What is great about this particular stock is that it is made of fiberglass reinforced polymer on the inside and contains an overmolding of rubber on the outside. This combination of materials provides the shooter with a stock that is easy to grip, extremely durable and lightweight all at the same time. The rubber grip also contains pebble-texture features to make it even easier to grab and hold. There is virtually no way that your shotgun will ever be able to slip out of your hand if you are gripping this stock. It doesn't matter if your hand is sweaty or if it's raining or snowing outside. This stock can sustain the impact of all environmental conditions while giving the shooter complete peace of mind when they are holding and aiming their weapon.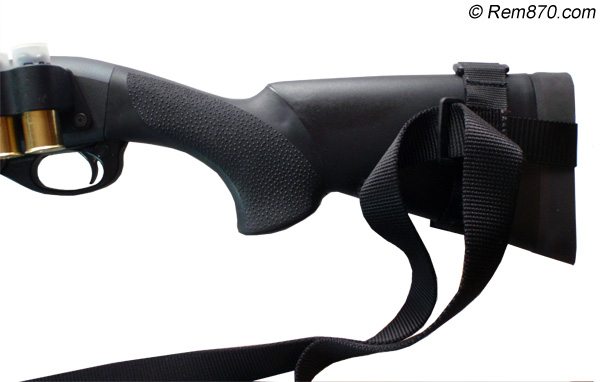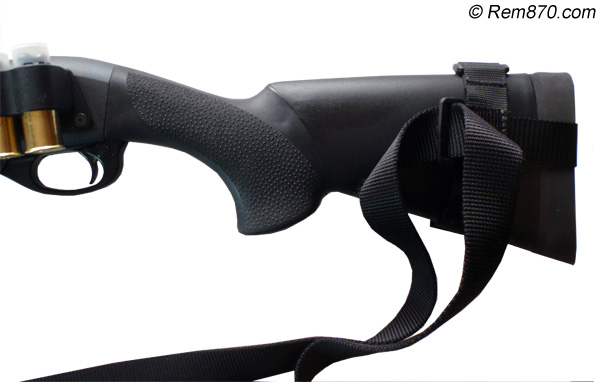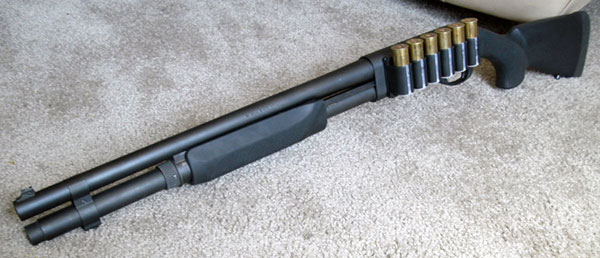 The Hogue Overmolded Shotgun Stock is available for a variety of shotgun models including the Winchester 1300, the Remington 870, and the Mossberg 500/590. However, the components and forends that come with the Hogue Overmolded Shotgun Stock are only compatible with 12-gauge shotgun versions only. Most people have 12-gauge shotguns though so this probably won't be an issue for you. Also, there are two lengths of pull available for this stock. You can choose between the standard length of pull that is set by the factory or the special "ShortShot," which provides a 12-inch length of pull that is suitable for small-sized shooters or those who're wearing body armor like Kevlar. Other notable features include a sling swivel stud and a recoil cushioning butt pad. These are extra features which will help you maintain your stability and accuracy even more.
The price of the Hogue Overmolded Shotgun Stock is about $70. This is a pretty decent price for a stock that contains all of these added features to it. If you were to go with an old-school stock made out of wood, you wouldn't have rubber moldings to make the shooting experience easier for you. Besides, the stock is a very important feature of any shotgun so you shouldn't be afraid to invest a little bit of money into purchasing a quality stock upgrade for your weapon. And don't forget, the forend that comes with the stock is also overmolded with rubber and is just as comfortable to grip as the stock.
Why you should consider buying Hogue Overmolded Stock for Remington 870:
1. Unique rubber finish and texture.
2. Simple design.
3. Affordable price.
4. Short LOP stock available.
Read more: Hogue Overmolded Stock for Remington 870 Review
Magpul SGA Stock for Remington 870
The Magpul SGA Stock and MOE forend are two upgrades you'll want to add to your Remington 870 shotgun. When they first came out in 2011, it didn't take long for owners of the Remington 870 to learn about them and replace their existing OEM stock and forend with these two newer parts. Once they did, they quickly learned how high quality they were and why the reputation of Magpul is justified when it comes to their gun accessories and upgrades. Although Remington had their own stock and forend available for their 870 shotgun model, they soon realized that more shotgun owners were starting to prefer the Magpul stock over their own. That is why Remington created a new version of their 870 model called the Remington 870 Magpul Edition. This particular version contains the Magpul stock and forend already built into the weapon.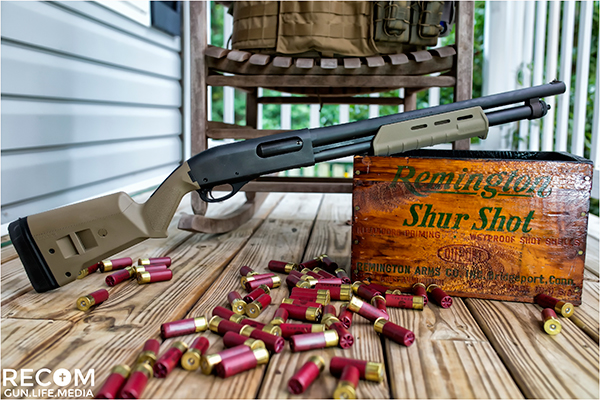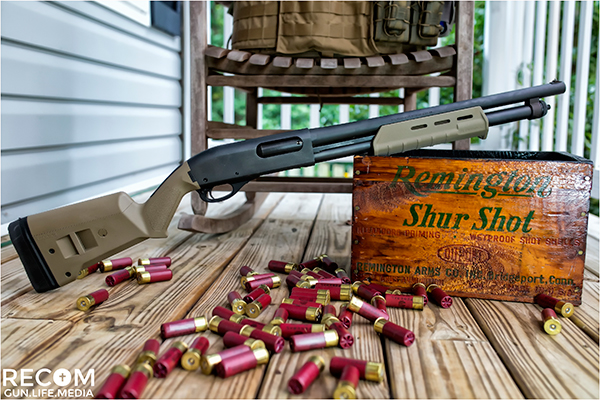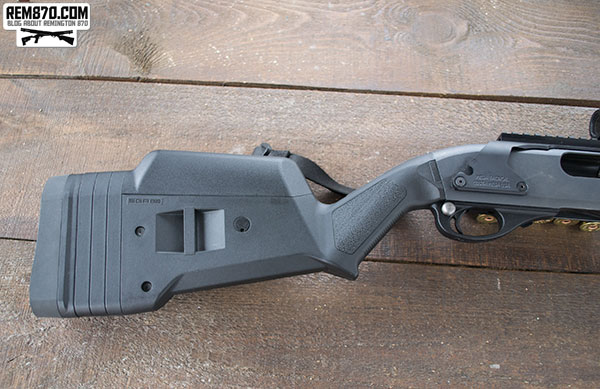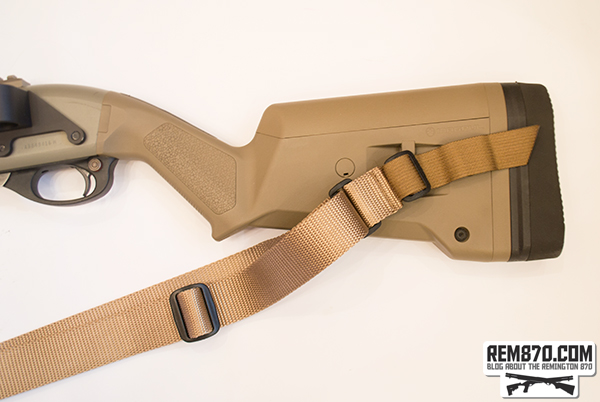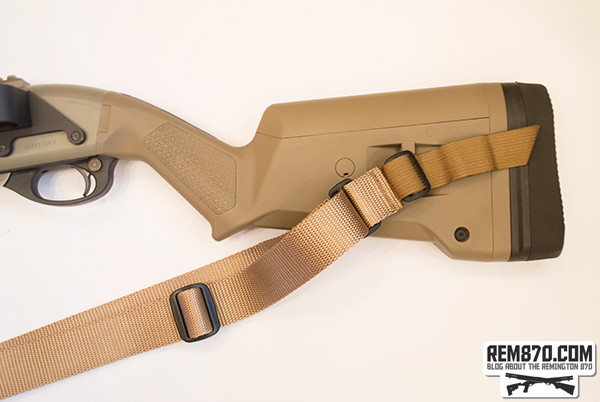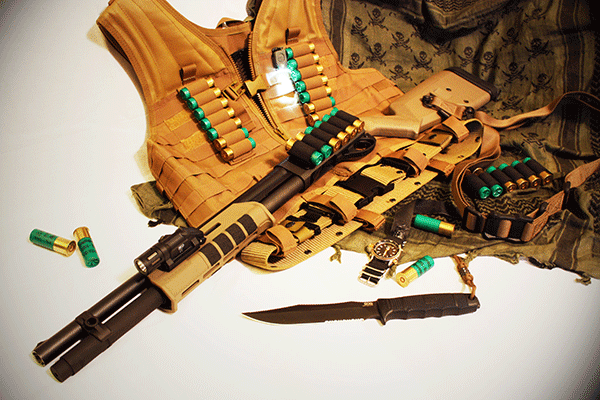 So, what is it that makes the Magpul stock and forend worth purchasing? For one thing, they are modularly designed which means they are easy to customize for a variety of purposes. In other words, there is a whole range of accessories that you can add to them. For example, if you wanted to extend the length of pull then you can use spacers. Also, if you want to add a sling to your shotgun then you can do so with the forward sling mount feature. But no matter what accessories get added, you will quickly discover how easy it is to use the Magpul stock because there are not a lot of small parts or tiny screws that you'll have to deal with like you would with other stocks. Once the Magpul stock is installed, it will be sturdy and reliable.
The Magpul stock and forend are available in all sorts of colors such as gray, orange, flat dark earth, and black. It should only take you about 5 minutes to install the stock and about the same amount of time to install the forend. Once you go to test out the grip of the stock, you'll notice how easy it is to hold because of its half-pistol stock grip which will almost make you feel like you're holding a real tactical rifle rather than a shotgun.
The price of the stock is around $105 and the price of the forend is only about $30. These are pretty affordable upgrades to make for your shotgun when you consider that they're the two most important parts of its exterior.
There are lots of different accessories available for this buttstock:
-Sling mounts (classic and quick detachable)
-Cheek risers (2 types)
-Butt adapter (enables installation of any aftermarket butt pad for Remington 870)
Why you should consider buying Magpul SGA Stock for Remington 870:
1. Unique design, you either love it or hate it.
2. Pistol grip incorporated into classic stock is very comfortable
3. Many additional accessories.
4. Spacers enable you to adjust the length of pull.
5. Compatible with AR-15 stocks and pistol grips
Read more: Remington 870 Magpul SGA Stock
Mesa Tactical Telescoping Stock for Remington 870
The Mesa Tactical Telescoping Stock is compatible with the Remington 870 and Mossberg 500 shotguns. Although the factory stocks that come with these weapons may seem okay, they are nothing compared to the Mesa Tactical Telescoping Stock and all the features it contains. For one thing, you can add an optional recoil reduction system so that you have more stability over your weapon when you fire it. This will increase your accuracy and make you an overall better shot as a hunter or target shooter. If you are using your shotgun for military or law enforcement purposes, then your enemies won't stand a chance when you've got this stock on your weapon.
The Mesa Tactical Telescoping Stock features bolt-on replacement for the Remington 870 which gives it the same kind of adaptability as the collapsible M4 carbine stock. As for the telescoping aspect of the Mesa "five position" stock, your length of pull adjustments will be super quick which is convenient for those who need their stock to adapt quickly to their tactical clothing or armor. Now, when you go to install the stock onto the receiver of your shotgun, you'll get to use the receiver adapter bolts that come with the stock. These bolts will go on the rear of the receiver, which is the location that the stock goes. All the mounting tools and hardware that are needed to mount the stock onto the receiver will be included.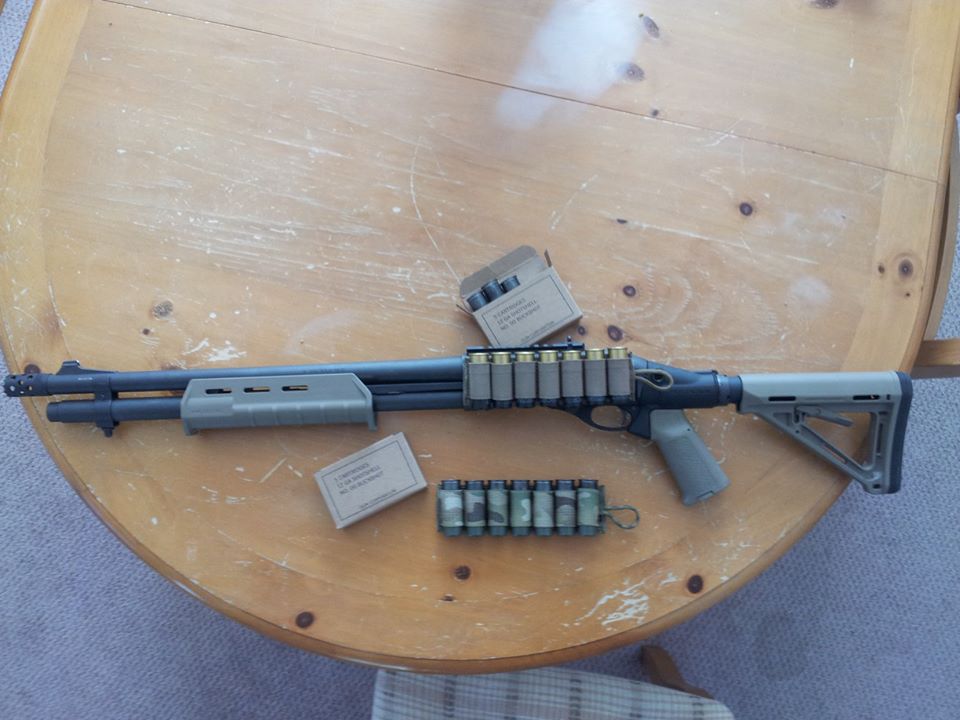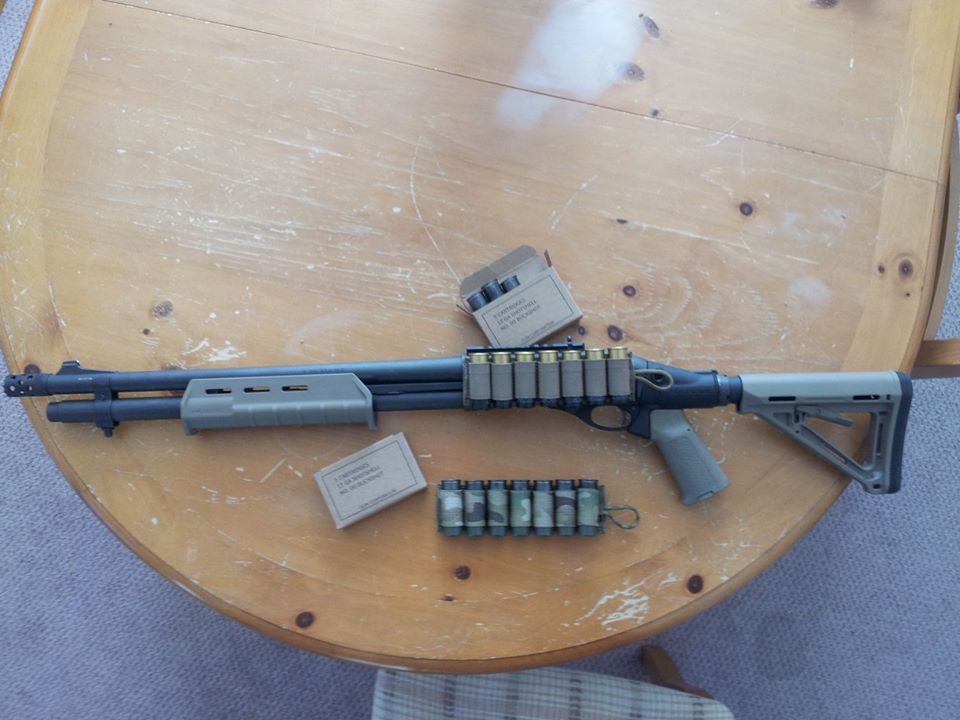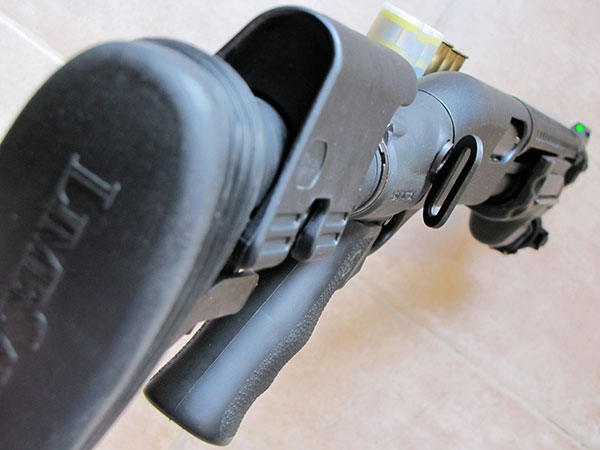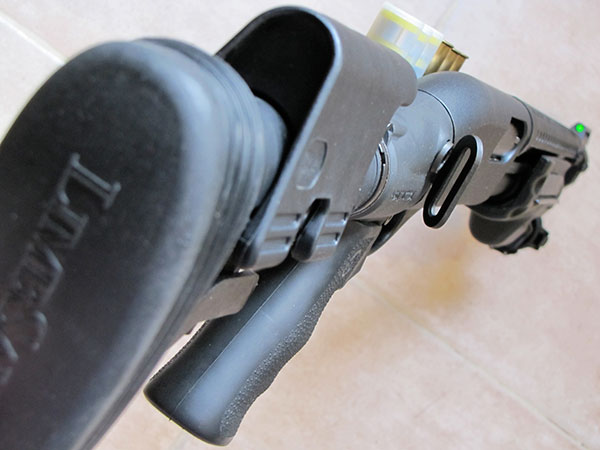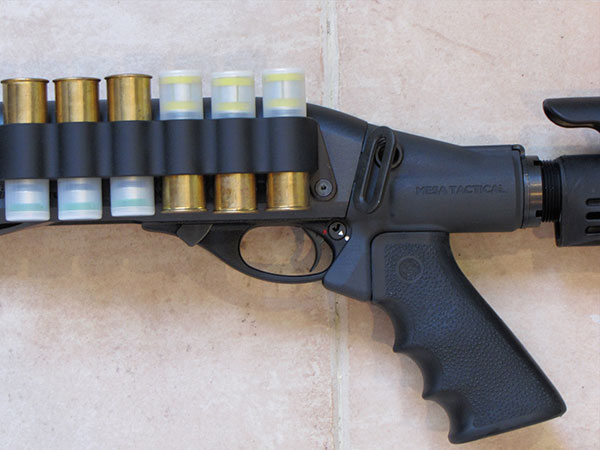 The material of the stock is made of a synthetic composite which makes it both durable and lightweight at the same time. Also, the Mesa stock can fit a 12-gauge and 20-gauge version of either the Remington 870 or Mossberg 500, depending on which buttstock conversion kit you purchased. Since this is a tactical stock, it is meant primarily for law enforcement or military use. You'll understand this when you see the low position ability of the stock as well as its pistol grip. Most old-fashioned stocks don't even have pistol grips, but they are very useful with shotguns because it makes it so much easier to stabilize them with your hand. And since the length of pull is adjustable between 10.5 inches and 13.5 inches, you'll surely find a position that is comfortable for you while aiming and firing the weapon.
The cost of the Mesa Tactical Telescoping Stock is $179.99. If you choose to purchase the stock kit which includes the recoil reduction system, it will cost $289.99. It may be worth it for you to spend this kind of money on a stock upgrade if you are going to use your shotgun in life-threatening situations.
Why you should consider buying Mesa Tactical Telescoping Stock for Remington 870
1. Design which is similar to M4 stocks.
2. Stock is adjustable.
3. Receiver adapter is made of aluminum.
4. Hogue overmolded rubber pistol grip.
5. Recoil-reducing version of the stock is available.
Mesa Tactical Urbino Tactical Stock for Remington 870
The Mesa Tactical Urbino Stock is the perfect stock for law enforcement or military officers who frequently wear body armor when they're holding their shotgun. The short length of pull included with this stock will make it easy for you to shoulder the stock and then maneuver it while you're wearing body armor. In addition, this is a pistol grip stock which means it has a pistol-like handle for you to grab with your trigger hand in order to increase the stability and accuracy of your shots. There is also a removable cheek riser that can be adjusted to five different positions. The importance of this cheek riser is so you can position your head properly when trying to look through an optical device that you've installed onto your shotgun.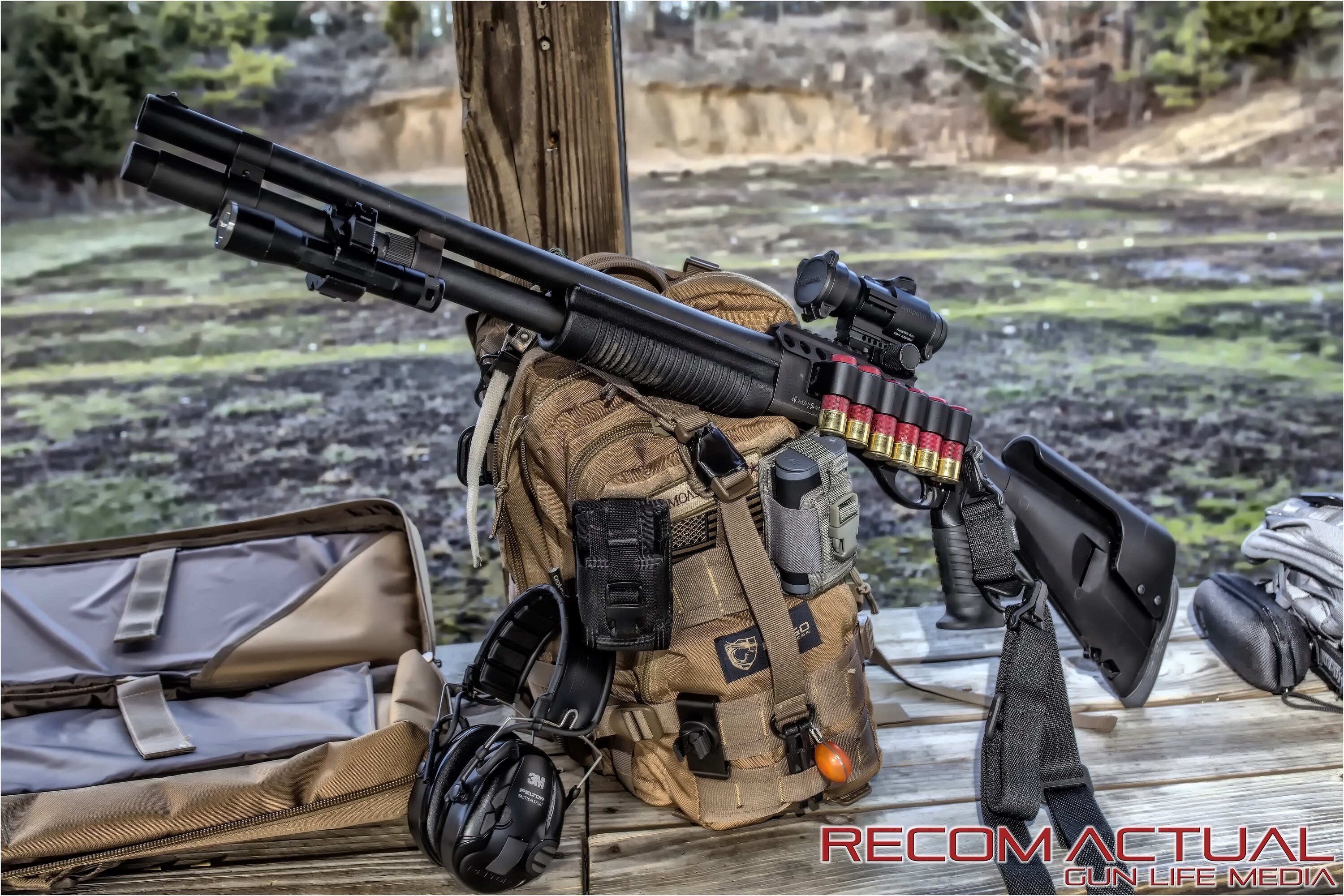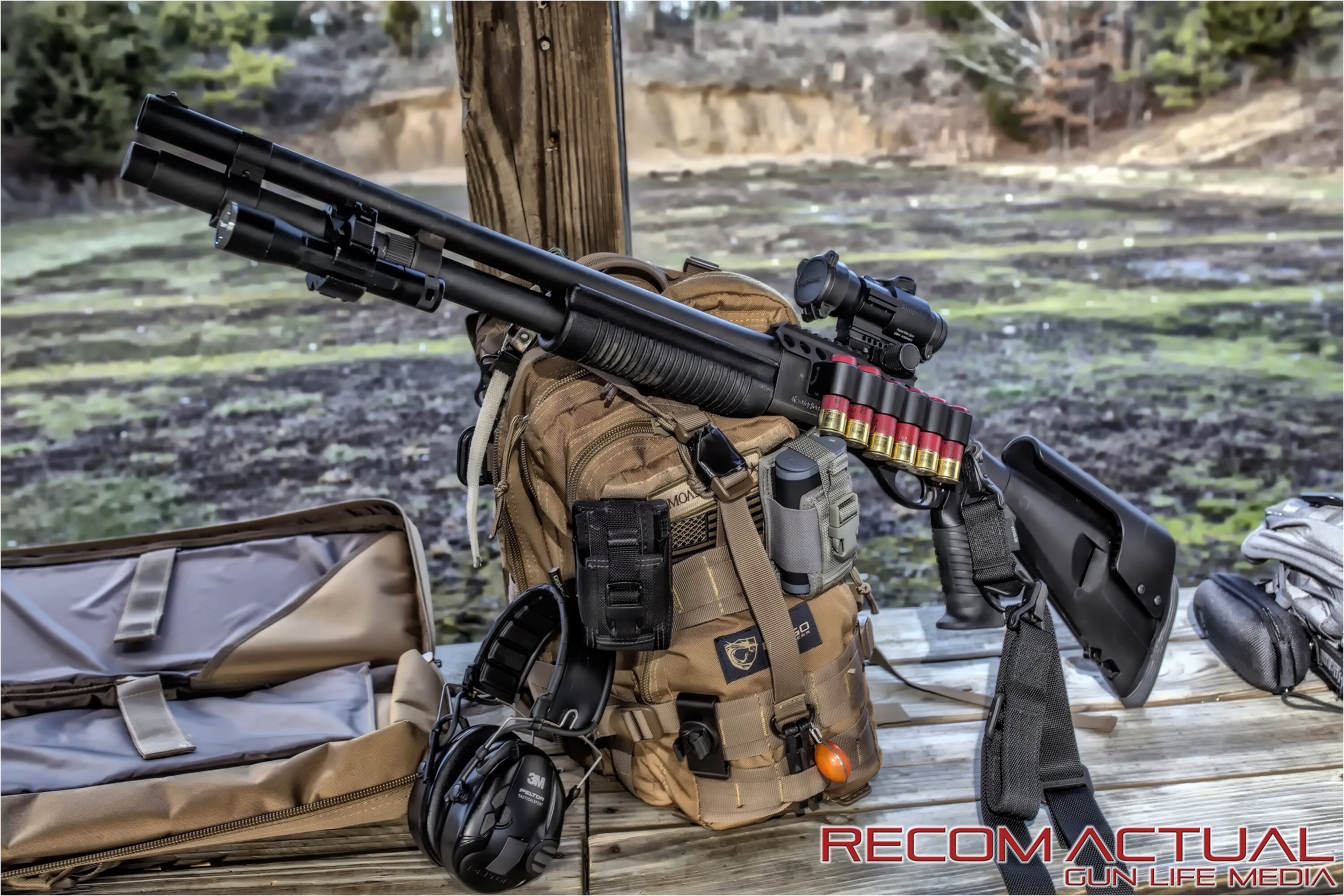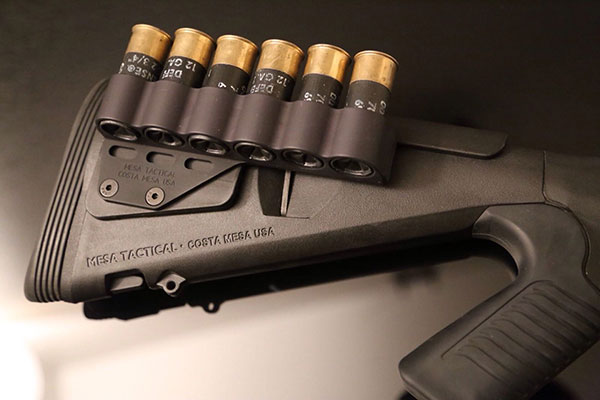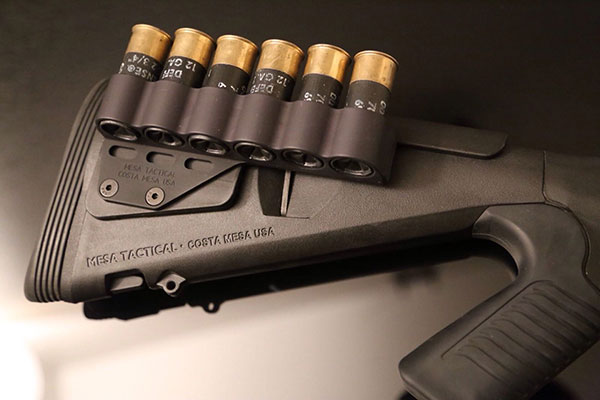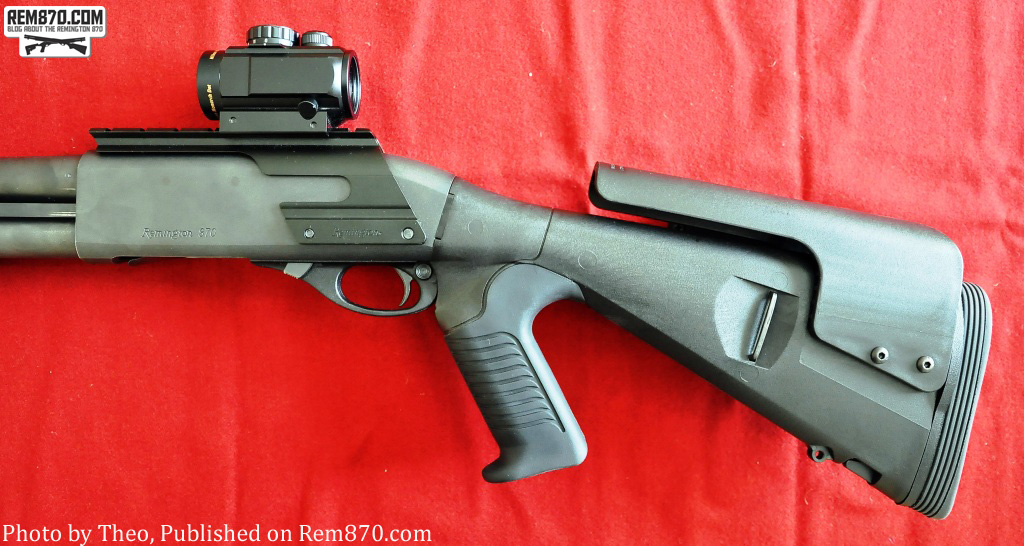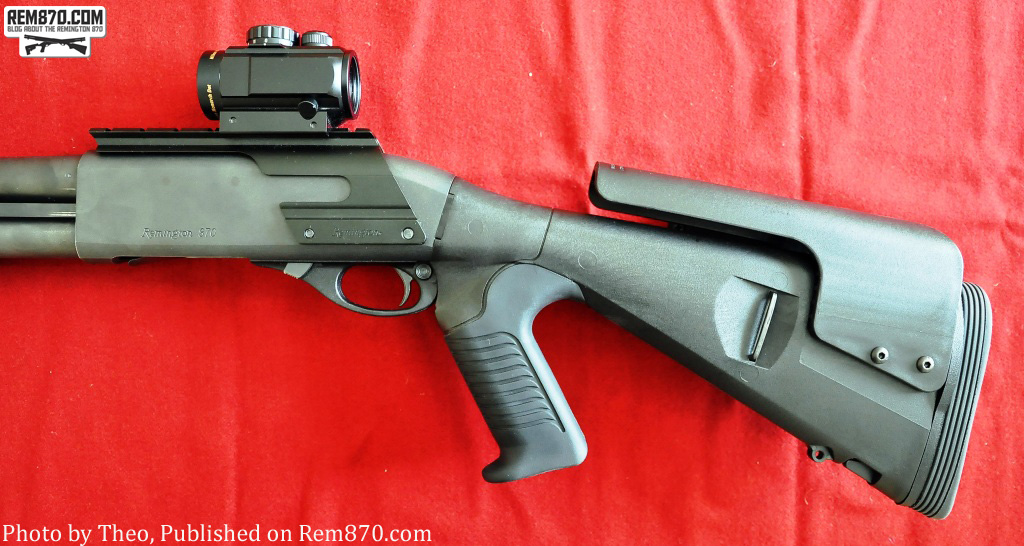 The Mesa Tactical Urbino Stock is made from fiberglass reinforced nylon polymer. This is basically a lightweight manufactured plastic that is durable and easy to carry on your weapon. In addition, there is shock absorption padding that helps reduce the recoil that is normally experienced after you fire a shotgun. Although the pistol grip will increase the shotgun's stability, this shock absorption padding will help keep your hand in place during recoil. Not only that, but the Limbsaver recoil pad that is included will reduce the recoil that you feel too. If you want to add a sling, there is a 1.25-inch sling loop slot in the rear for you to attach a sling too. There is also a stud underneath for the use of a QD sling swivel. Best of all, the stock can withstand all kinds of weather conditions that would normally cause your grip to slip.
There are three particular shotgun models that the Mesa Tactical Urbino Stock is available for; the Benelli M1014, the Mossberg 930, and the Remington 870. The price for the stock ranges between $144.99 and $174.99, depending on the stock you purchase for one of these weapons. The one big similarity between them is they are only compatible with a 12-gauge version of these shotgun models. Keep that in mind in case you have a shotgun that is not a 12-gauge. Other than that, the stock will be very simple to install and instructions are included with it in case you have questions on the installation process. Whether you are using this stock with your shotgun for law enforcement purposes or recreational purposes, it is an investment you won't regret making because your shooting experience will be improved tremendously.
Why you should consider buying Mesa Tactical Urbino Stock for Remington 870
1. Simple design with pistol grip.
2. Short LOP.
3. 5-Position cheek riser.
4. Ambidextrous sling plate included.
5. Limbsaver recoil pad helps reduce felt recoil.
Read more: Mesa Tactical Urbino Stock for Remington 870 Review
Blackhawk! Knoxx SpecOps Recoil-Reducing Stock for Remington 870
The Blackhawk! SpecOps Stock is a Generation II shotgun stock that is compatible with the Remington 870 and Mossberg 500 shotguns. The stock can be adjusted to seven positions so it should be able to fit virtually all types of shooters who use it. If you want to attach a sling to the stock, there is a quick-detach sling swivel and a sling plate built in which can accommodate left or right handed shooters. But the most impressive thing about the Blackhawk! SpecOps Stock is its two recoil-compensation systems, which are there to reduce the amount of recoil that the shooter feels by as much as 85%. There are also rubber grip inserts you can use which are interchangeable. These grips will make it so much easier to keep a firm hold on your weapon in all environmental conditions like rain, wind, and snow.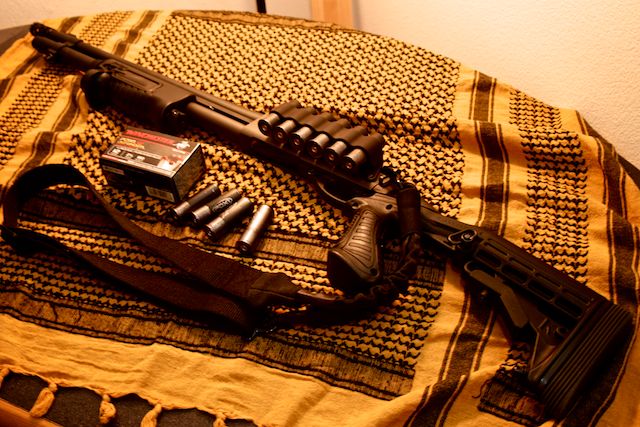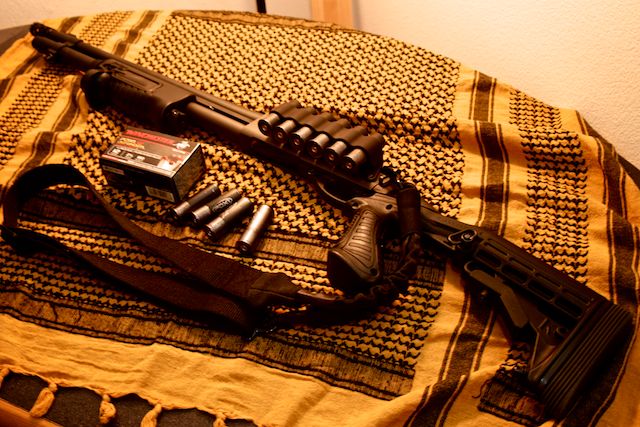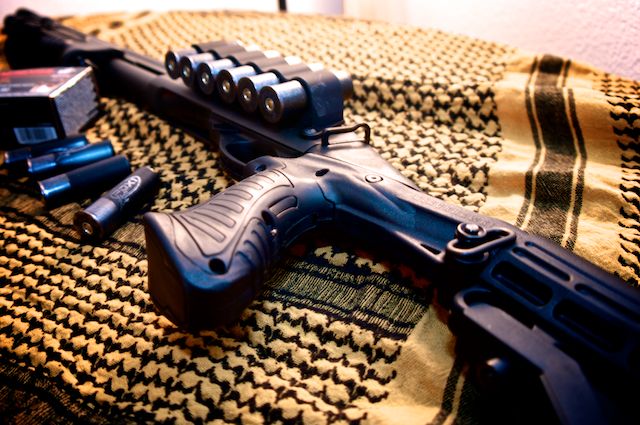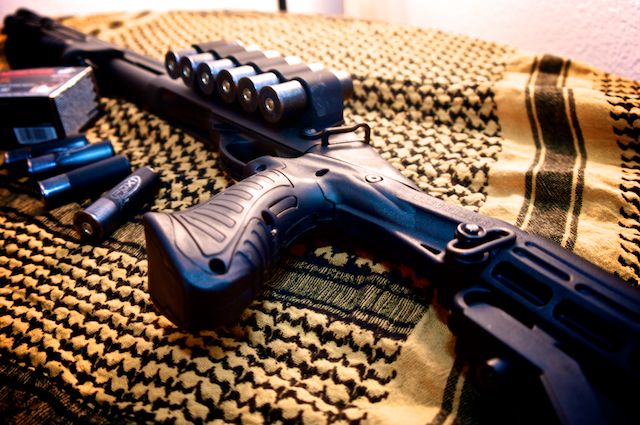 The Blackhawk! SpecOps Generation II Stock is constructed using alloy and polymer. This is what allows the stock to be durable while being lightweight at the same time. The seven positions you can adjust the stock to range from 11.15-inches to 15-inches. It is very quick to make this adjustment so if you are in a combat situation, then it will take hardly any time to prepare yourself. The stock even has a variety of skin choices to choose from, for those who care about the appearance of their stock. You can get the Remington Black, Mossberg Next G1 Camo, Remington Next Camo G1, or the Mossberg Black. Also, don't worry about the forend either because when you purchase this stock, it will come with a matching forend that is made from the same material. Is a very good forend too, which makes it easier to grip and then pump when you're in a hurry.
The price of the Blackhawk! SpecOps Stock is $129.99, whether you are choosing the Remington model or the Mossberg model. You can purchase it right through the Cabela's website and receive free shipping. However, just remember that this stock is only compatible with the 12-gauge version of the Remington 870 and Mossberg shotguns. If you have a different gauge, then the stock isn't going to fit properly. Most likely, you already have a 12-gauge shotgun so this probably won't be an issue for you.
The only disadvantages are:
1. It is compatible only with Wilson Combat oversized safety and will not work with other ones.
2. Stock has moving parts.
Why you should consider buying Blackhawk! Knoxx SpecOps Recoil-Reducing Stock for Remington 870
1. Recoil-reducing stock.
2. The stock is adjustable.
3. Additional accessories available.
4. The most affordable recoil-reducing stock.
Read more: Knoxx SpecOps Stock, Forend and PowerPak Review (Photos and Video)
Speedfeed Pistol Grip Shotgun Stock
The Speedfeed Pistol Grip Shotgun Stock is compatible with the Remington 870 and Mossberg 500 shotguns. What is particularly fascinating about the Speedfeed shotgun stock is the pistol grip feature that it provides the shooter with. This pistol grip will enable you to hold your shotgun like a tactical rifle because of its pistol-like handle. Not only will this make it easier for you to aim your shotgun, but your accuracy and stability will be better as well. The straight-line design of the stock will give you further control over the recoil of your weapon. If you are a new shotgun user or simply someone who prefers convenience in their shooting experience, then add the Speedfeed Pistol Grip Shotgun Stock to your shotgun because it will make shooting so much easier.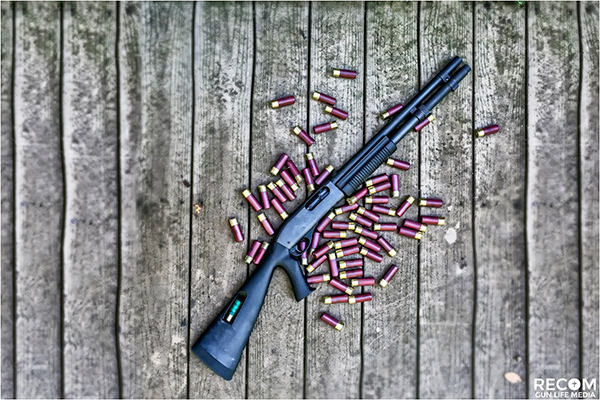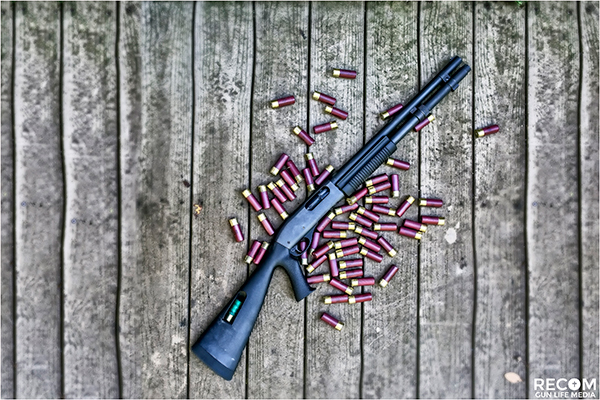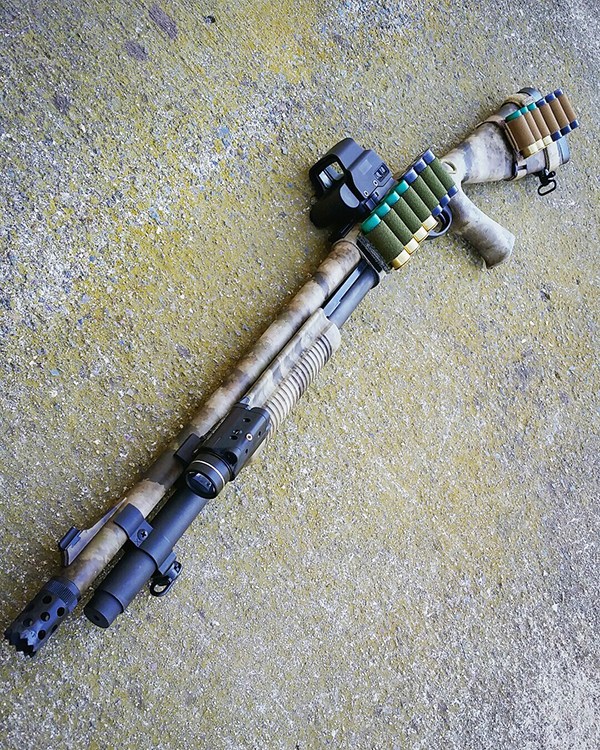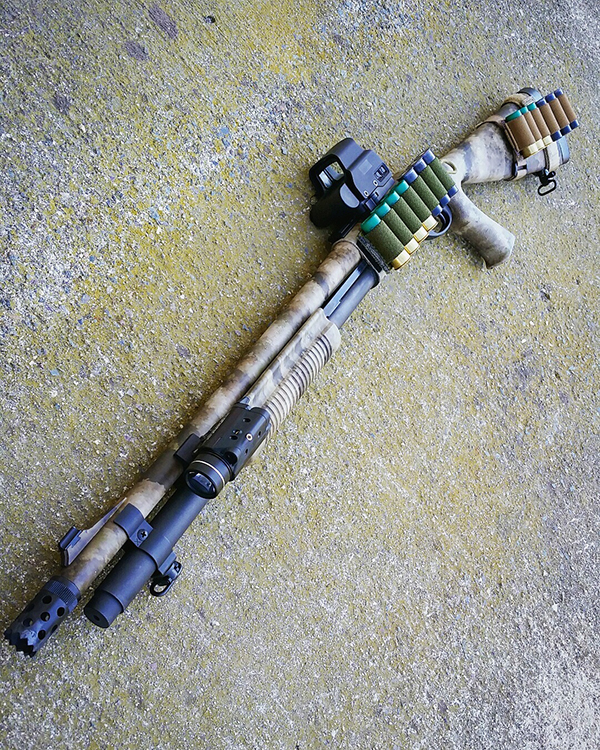 The Speedfeed Pistol Grip Shotgun Stock is made out of poly-resin material which makes it both lightweight and durable. Not only is this stock easy to handle and maneuver with, but it features rubber recoil pad which reduces recoil and absorbs the energy that comes from each shot you make. But, that's just the beginning of the awesome features this stock has. There is one unique feature found in a Speedfeed stock that you likely won't find in other shotgun stocks on the market. Firstly, you have to understand that there are actually three separate design models of the Speedfeed stock and each one has something unique about them that the others don't have. For example, the TAC III design of the Speedfeed contains a small storage area inside of it for storing shells. The TAC IV design is simply all solid and the TAC IV-S design is sized for shooters who are smaller and usually wear heavy tactical gear or body armor. Therefore, you have a tremendous amount of variety to choose from with the Speedfeed stocks.
The purchase price of the Speedfeed Pistol Grip Shotgun Stock is $109.99. As a bonus, it comes with a matching forend for your shotgun as well. This is a special forend that is short and made specifically for law enforcement use. In fact, the stock is more convenient for law enforcement use than it is for recreational use, although you can still use it for that too. Just note that if you are using a Mossberg 500 shotgun, then the stock will only fit a gun that has an action slide that is 7.75 inches.
Classic Remington 870 Wood Stock
When it comes to old-fashioned buttstocks for a Remington shotgun, nothing beats the classic high-gloss wood stock. One notable benefit of the wood stock is that it can fit the most popular Remington shotgun models on the market today. These include the Remington 11-87 (12-gauge), the Remington 1100 (12-gauge), the Remington 12 (12-gauge) and the Remington 870 (12-gauge). As you can see, there are plenty of popular Remington shotguns that are compatible with this stock. Just make sure you have a 12-gauge version of the shotgun because that is the only kind of shotgun that this stock will fit with. But chances are you already have a 12-gauge because that is the most common gauge amongst shotguns.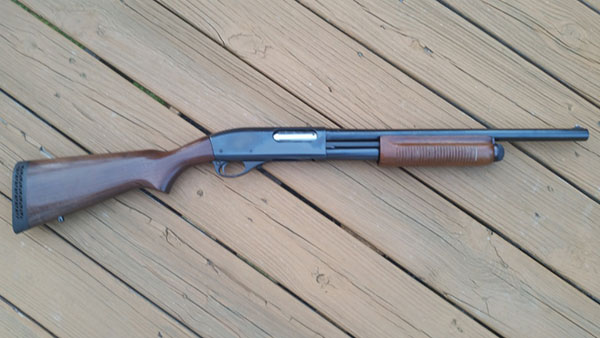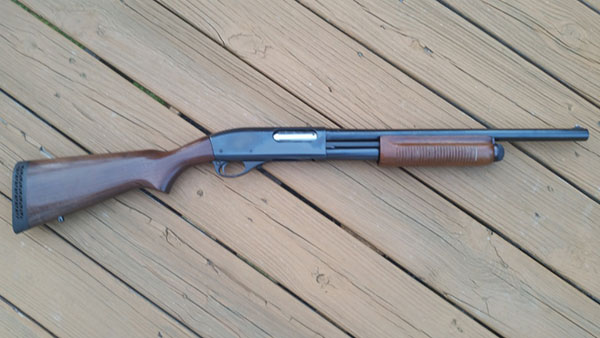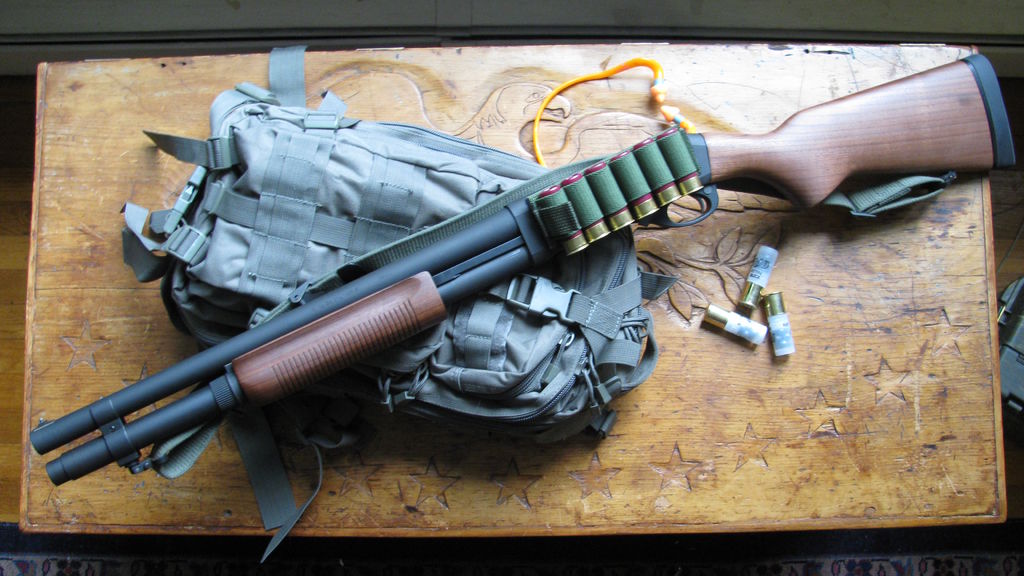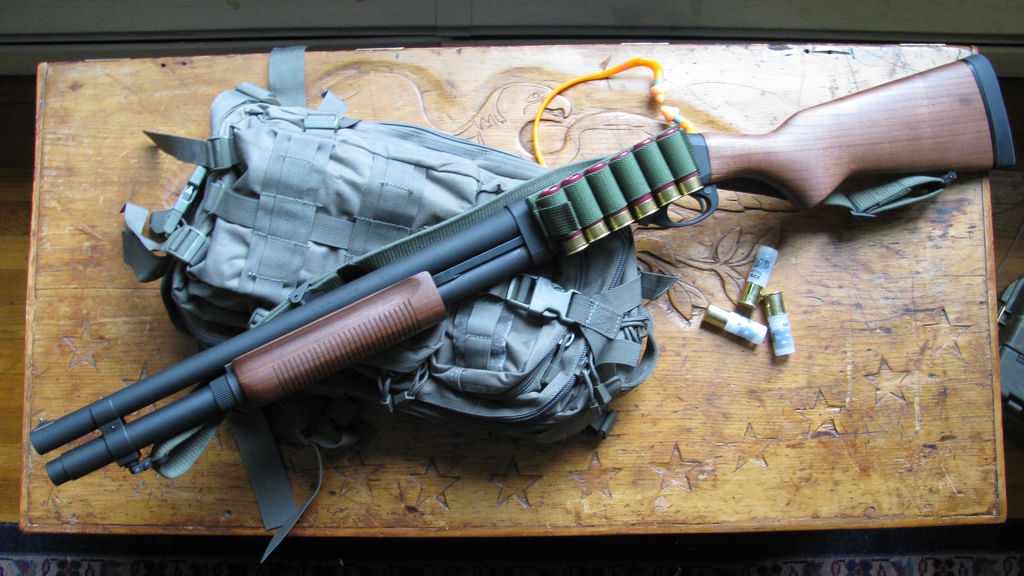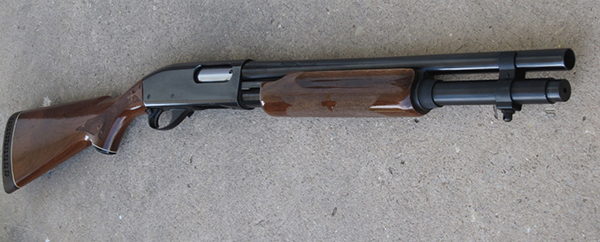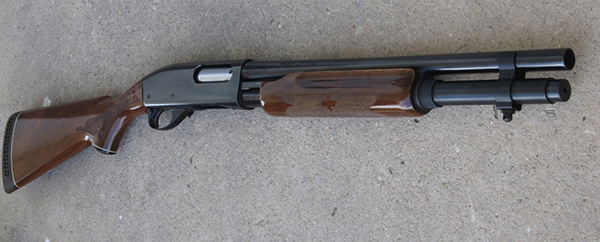 The price of the wood stock is $194.99. This might seem like a lot of money but don't forget that you are cutting a stock made of specially crafted wood that was sanded and polished. Although this might not have the pistol grip that can be found with newer stocks on the market, the wood stock can still provide your shotgun with a classic sportsman look. Obviously, you probably wouldn't want to use this stock if you were a law enforcement or military officer because it is less durable. But if you are a hunter or target shooter that doesn't mind using patience and skill, then you will fall in love with this stock for sure.
Don't be discouraged though because there are some modernized upgrades to the wood stock that you may like. For one thing, it does have a recoil butt pad to help reduce the normal recoil that you'd get from shooting your weapon. The length of pull with the weapon is 14-inches with the butt pad included on it. Since it is a wooden stock, there is no way to adjust the length or position of the stock. So, if you are wearing heavy armor or tactical gear, then you might find this stock to be a little bit uncomfortable when trying to aim your shotgun. However, that's why the wood stock is not meant to be a tactical stock that is used by law enforcement. It is really a fashionable stock more than anything else. If you were to hang your shotgun on the wall or show it off at the shooting range with the wood stock on it, you'd definitely have the most attraction shotgun in the whole place.
You can find many variants of the Remington 870 wood stocks on Brownells: http://goo.gl/7ygB8T
How to Choose Stock for Your Shotgun
If you own a shotgun and are not happy with its stock, then you can always upgrade the stock by purchasing a new one and replacing your old one with it. But before you purchase a new stock or another shotgun, you need to know the measurements of a stock that will be a comfortable fit for you. The whole idea behind choosing a shotgun stock is to choose one that allows you to be comfortable while you're aiming the weapon. That way you don't have any distractions or make any sudden movements with your body to try and adjust yourself while the target is in front of you.
So how do you figure out the stock size that is right for you? Well, there are a few ways to go about doing this. The easiest way is to use what is called a "try gun." This is a special type of shotgun that has an adjustable stock to it. You can make the stock longer, shorter, or increase the height on top. These weapons are designed for people to get a feel for which stock adjustment gives them the most comfort. After you find an adjustment that is suitable, you measure the stock to see what the size is. Usually, these try guns are available at gun shops which have gunsmiths in them. A gunsmith will have the right tools to measure the stock properly after it has been adjusted. You'll practically get a prescription for the stock that is just right for you based on the measurements that were done. Then you just take those measurements and find an existing stock that matches those measurements.
Aside from the size of the stock, you also should pay attention to the material in which the stock is made from. The two most common stock materials are laminated hardwood and molded plastic. The wood stocks contained layers of hardwood that get glued together while under pressure. These are the classic stocks that are pleasant to look at more than anything else. But the synthetic stocks often provide a lightweight alternative that makes it easier for users to handle the weapon. Since they are made of plastic, they are often cheaper than hardwood too. Therefore, you should test out each type of stock to get a feel for which material you're more comfortable with. Some people prefer the wooden stocks because they like it to be heavier while others don't. Choosing stocks is all about experimentation but once you find the right stock you'll never want to let it go.
What stock do you use? Please leave a comment.
Proper Length of Pull, LOP
There is length of pull and there is your length of pull. Length of pull is the distance from the trigger face to the butt plate when nestled or "socked" into your shoulder. The standard length from the factory on most but not all shotguns is between 13.25 and 13.5 inches. Youth and certain tactical models will have a shorter pull length right "out of the box".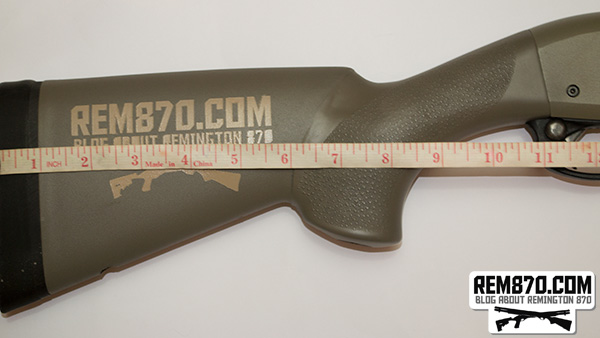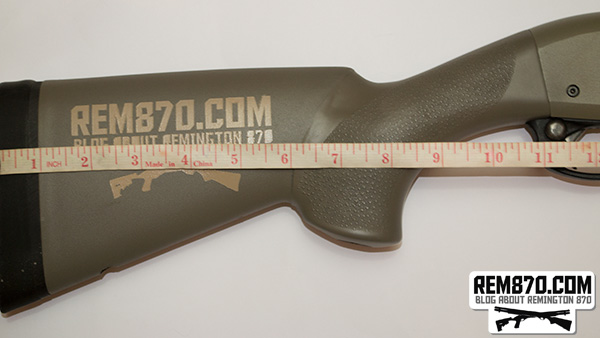 Eleven and one half inches from center and end of plate to trigger face.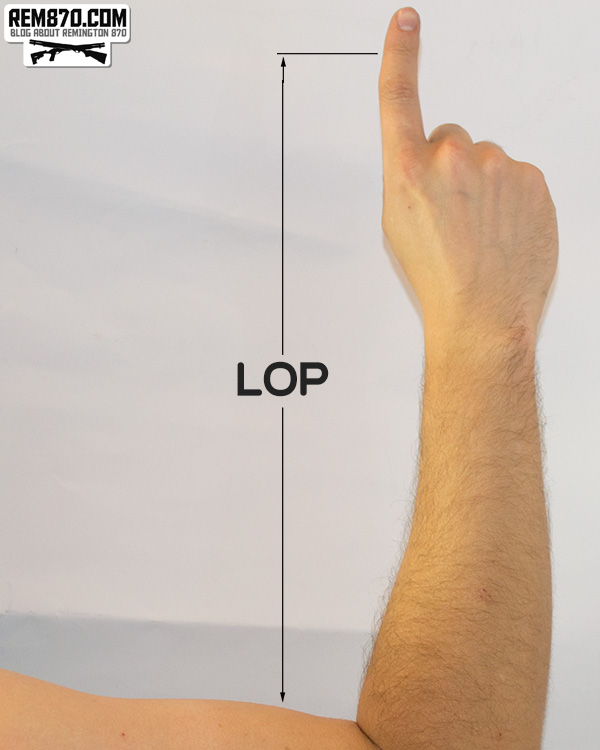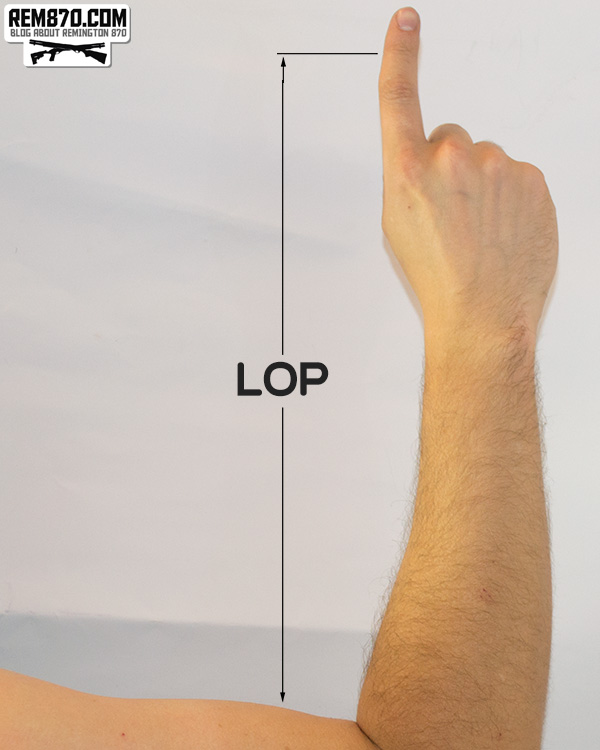 The above-depicted photo is usually considered the standard way to measure your own pull length. Some experts recommend this and others say it is not an accurate depiction of actual pull length because of muscle mass in shoulders and biceps that will have an effect. Some even recommend holding the weapon in this position with the trigger finger on the trigger and butt plate resting on the bicep. This is not recommended however because the weight of the weapon will depress the bicep unless heavily muscled and may cause a misrepresentation of actual pull length.
You Know Your Pull Length Now What
You bring the weapon up and it still feels wrong. Your elbow is supposed to provide bone-to-bone support for more accurate shooting versus allowing muscle to hold the weapon steady. Muscles will tremble when weight is applied no matter how strong or developed you think they are. Your accuracy will suffer if the elbow joint is not tucked in tight where is can be supported by the body. Having a pull length that does not suit your particular body style will affect your shooting. You will never achieve your natural point of aim unless you can find the proper pull length for your body.
Heavy clothing and body armor will affect the pull length so if you routinely wear armor or padding in the shoulder area (heavily muscled) your pull length will be roughly ¼ to ½ shorter.
Neck cramps and eyestrain can be the results of improper pull length. You have to be comfortable when shooting, and you must be able to find your cheek weld each time you raise the weapon to a firing position. If you have to squirm and adjust every time, you will never become an advanced shooter. In some circumstances, having to "play around" with positioning can have dire consequences.
Options you have is to change out butt plates to either increase or decrease the pull length or fit a custom stock to the weapon that allows for pull adjustment. An adjustable stock is ideal because you can then adjust for armor and heavy clothing. If you only target practice or sport shoot and never expect to have on armor or heavy clothing fitting different butt plates would be a less expensive fix.
Some may recommend that you cut the stock to decrease the pull length. This is not recommended unless you have experience with this type of procedure. The angles have to be precise and typically, you will only get one opportunity to get it right.
Seek help from a friend so your measurements can be verified and measure with the weapon shouldered and use the illustration above as a guideline.
Recommended reading: Remington Length of Pull Spacer Kit
Stock Removal & Installation Video – Remington 870
Good video by Synchronizor:
"Many 870 owners wish to change the stock on their shotgun to better fit them, the application, or just their idea of "cool". 870 stocks are not usually very complicated, and basic instructions are easy to find, but there are a lot of little lesser-known details that I often see causing confusion and problems for inexperienced owners, and there are a number of extra steps and tricks that aren't repeated much outside the circles of gunsmiths and armorers, but are worth knowing about.
This video will cover the removal and installation of 870 stocks & grips in detail. It will explain the purpose of the stock bearing plate and when it should & shouldn't be used, receiver sizes & stock interchangeability, and stock fastener lengths."