Remington 870 Buyer's Guide to Variants and Models
I wanted to write this article for many years now. There are numerous variants of our favorite Remington 870, and it is a little difficult to choose one for a beginner. I receive lots of questions about different versions of the 870 and which one to choose.
So, this article is based on my 10 years of experience owning the Remington 870 and writing articles about it. I had an opportunity to test almost every modification of the shotgun, and now, I want to share the details and differences between them with you.
There are many variants of the Remington 870 shotgun. This article was written to help you to choose the best one which suits your needs the most.
One platform
All Remington 870 shotguns are based on one platform. Whether you buy the budget 870 Express or the more expensive 870 Police, they all use the same platform. There are differences between them, but they're related to their parts, coating, furniture, sights, etc. You can buy and upgrade those parts yourself if you want.
One of the biggest advantages of the 870 is its steel receiver. It is made from a solid block of steel, which is what makes the Remington 870 so strong and reliable. This is the only shotgun in the world that is made of steel. I have put over 40,000 rounds into two 870s, and they still work perfectly. I only had small problems, such as a broken firing pin spring.
Another advantage of the most popular pump-action shotgun in the world are all the aftermarket accessories and upgrades available for it. They are available from many manufacturers, and each year, we see new ones being introduced to the market.
You can use 870 for almost any purpose, from hunting to home defense.
Difference between Remington 870 versions
All Remington 870 versions are built on one platform and receiver made of a solid block of steel. This is the heart of the platform. But still, there are many small differences you need to know about. Some of them are just cosmetic, but some of them are more important. Let's find out about the small but very interesting differences which may help you to choose the 870 version which suits you better.
Remington 870 Tactical with a One-Piece Magazine Tube
There is the 870 Tactical version with a one-piece magazine tube. This eliminates the joint between the magazine and magazine tube extension. This was done to add more reliability to the shotgun. The joint is a weak point where the spring or follower may get stuck. This problem isn't common, but there is always the chance that something could go wrong. This is especially true with a standard magazine follower. Aftermarket magazine followers are more reliable than the factory ones.
That is why the barrel nut on some of the Tactical versions are in a different location, so you will need a spacer (F402819) for the Remington 870 Tactical shotgun one-piece magazine tube if you want to install the barrel from one of the common 870 versions.
Magazine Cap Detent
Some of the more expensive versions have magazine cap detent. It prevents magazine cap or magazine extension from loosening. A magazine cap detent is available on Tactical and Police versions of the Remington 870. Don't worry if you don't have this feature because the magazine cap and tube will stay in place, but be sure to check them regularly. It is more reliable to have magazine cap detent, especially if you shoot a lot.
It is even possible to add a magazine cap detent to your 870 yourself.
Dimples in the end of the magazine tube
Basic Remington 870 shotguns, which come without the magazine tube, usually have two dimples at the end of the magazine tube. They are needed to hold the new style spring retainer in place. But they also prevent the owner from installing the magazine tube. You will need to remove the dimples before installing the magazine tube extension.
Dimples removal isn't difficult and can be done even at home. Older 870s and Police versions don't have dimples at the end of the magazine tube.
Non-MIM Extractor
Most of the 870 versions come with a Metal Injection Molded extractor. This is the modern process of parts manufacturing, and it is suitable for many purposes. But the hardness of the non-MIM extractor is higher, which leads to a more reliable extraction of the fired shotshells. This is especially important for reloaded or low-quality (cheap) ammunition.
You can always replace the factory Remington 870 extractor with a non-MIM extractor. It takes several minutes, and you are good to go.
Non-MIM extractor is installed on the Remington 870 Police for better reliability.
Buttpad
Remington 870 Police and Marine versions come with the more expensive Remington Supercell Buttpad. It is patented and made of a special material which reduces felt recoil. It really works and makes the life of a shotgun shooter so much easier. But you can always buy and install it later.
Sights
The sights on a Remington 870 can be different too. Some shotguns come with simple bead sights on the end of the barrel. Other shotguns have fancy XS rear and front sights installed. There are 870s with simple rifle sights installed: Deer, some of the Police versions, fully rifled barrels.
Choose the one you like more. Rifle sights have an advantage; they can be easily replaced with aftermarket sights. Also, the Tactical version gives you the advantage of having the rail to mount the red dot sight.
Rifle Sights
You can find rifle sights on many 870s. They are easy to use, and many shooters like them because they give the shooter better accuracy. Also, factory rifle sights are easy to upgrade. You just need to push out the front sight and unscrew the rear sight.
There are many versions of aftermarket rifle sights available for the Remington 870. You will find ghost ring sights, light-gathering sights, etc.
The rear sight is adjustable for windage and elevation. Zeroing is simple; you will need only basic tools for that. Remember to use some Loctite to secure the rear sight after zeroing. Heavy shotgun recoil may loosen the screws.
XS Sights
XS Sights is a well-known manufacturer of different sights for firearms. Remington partnered with XS Sights to offer the 870 Tactical version with ghost ring sights. They enable the shooter to aim fast, especially when shooting slugs. A very good addition to a tactical shotgun.
Of course, you can buy them later, but they are pretty expensive and you will also need the help of a gunsmith for installation.
Bead sights
Good old bead sight! The simplest and the cheapest front sight possible but it serves its purpose. It is installed on many 870 versions, and it is enough for a beginner. You may replace it with a light-gathering sight later.
Super Magnum
Remington 870 Super Magnum has a 3-1/2″ chamber and Super Magnum receiver to handle heavy loads. Bolt has special port cover: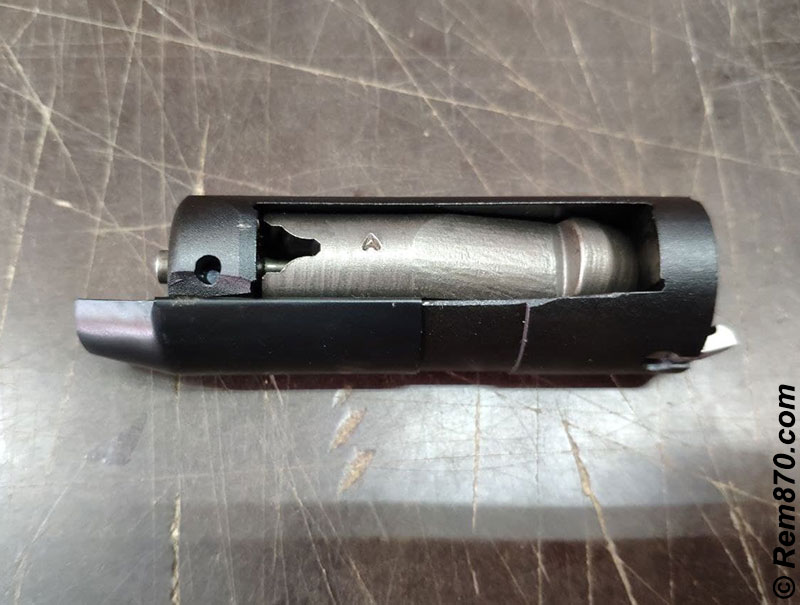 Trigger group is a little different too: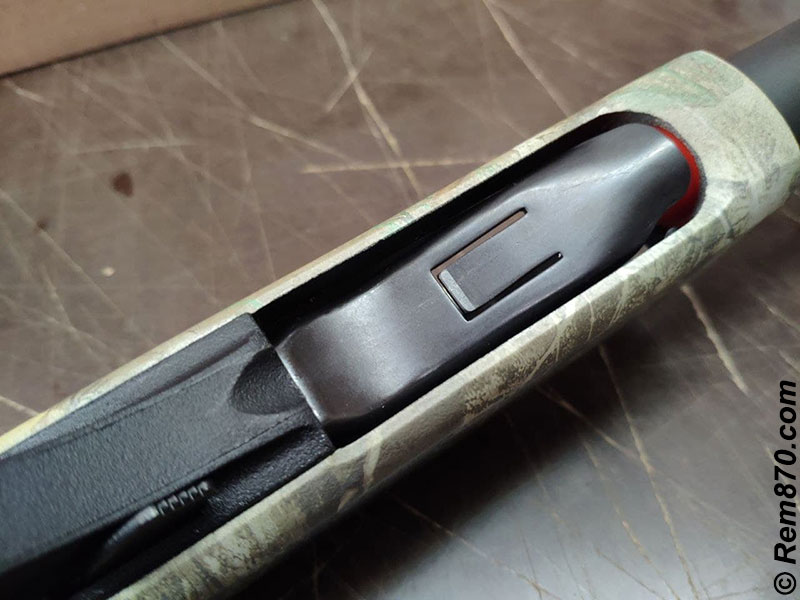 Stock and Forend
The stock and forend are two of the most important parts for a shooter's comfort. If the stock is too long or too short, it will not be comfortable to shoot the shotgun. If it's too short, you may hit your nose with your thumb. If it's too long, you will barely grip the forend. There are lots of other things to consider too, such as the material, pistol grip or classic stock, and recoil-reducing or regular.
Hardwood or synthetic?
There are many stocks available to choose, everything from classic hardwood to recoil-reducing Knoxx stock.
Two of the most popular choices are hardwood or synthetic furniture sets made by Remington. They are simple and nice, and most of the shooters are happy with them. But if you want to replace them, then you can choose one of the many aftermarket stocks for the Remington 870.
Which factory stock is better? Hardwood or synthetic? The hardwood stock is classic and looks awesome, but it is easier to scratch or damage it. The synthetic stock can withstand even rough handling. Also, wood stock feels warmer during cold weather.
Choose the set you like more. Anyway, you can easily change them later.
Pistol grip or classic stock?
You can also choose the pistol grip which is available on some of the tactical versions of the Remington 870. It makes it easier to use the shotgun for shooters who have experience with rifles. Also, it gives you some advantages when shooting from difficult positions. The disadvantage of the pistol grip is that some of the recoil will hit your wrist. It is ok if you don't shoot much, but if you train for several times a week by shooting several hundreds of rounds of ammunition, then it may hurt your wrist. So, choose the classic stock if you shoot a lot, or the pistol grip if you like it and don't shoot much.
8 Tips For Buying a New or Used Remington 870 Shotgun
I know how emotional that moment is when you are in a gun shop to buy the long-awaited Remington 870 shotgun. But first, please read the following pieces of advice to make sure this purchase is pleasant and problem free. Use these tips to get a high-quality and reliable shotgun and to make educated decisions that you won't regret.
If you are buying a used shotgun, then you must check everything twice.
1. Bring a friend!
The best advice I can give you is to find somebody who is familiar with the Remington 870 and ask them to go with you to a gun shop. That way, you can be sure that they will inspect the gun and will be able to see if something is wrong with it.
Gun enthusiasts are usually very friendly and ready to help somebody who is willing to buy a firearm.
2. Check all metal surfaces for rust or scratches. The Remington 870 Express easily rusts and you must inspect the shotgun thoroughly. Disassemble the shotgun to check the internal surfaces too.
3. Also, check the wooden or plastic parts. Check the stock and forend for cracks and splits. This is especially important when you are buying a used shotgun.
4. Look into the barrel to see if it has any defects. The barrel itself must be straight and without bulges or dents. And of course, it must be clean so that you can actually see if it looks good or not. Remove the barrel before looking into it, safety first!
5. Visually inspect the chamber. Newer Remington 870 shotguns are known to have a rough chamber.
6. Ask permission to use dummy shells. The shop assistant will be very surprised if you start loading a shotgun in front of them!
Use dummy shells to test and see if the shotgun works properly. There are some known problems with a few models which were discussed on the blog and forum:
-Try loading the shells into the magazine tube and load the number of shells that this shotgun can accept. That way, you will check to see if there are any problems with the magazine tube, follower, or magazine spring.
-Press the action bar lock and then rack the shotgun several times. You will check if there are any feeding problems.
-Put a shell into the chamber, press the trigger, and rack the shotgun. You will check the extraction and ejection of the fired shells.
Always point the shotgun in a safe direction when checking the feeding and extraction of shells. Try racking the shotgun several times. Make sure that it works properly.
7. Find two letters on the barrel and use the Remington Serial Number Checker to find out the date in which the Remington 870 was manufactured.
8. If the shotgun has a choke system, try unscrewing the choke to be sure that it is not stuck and that it can be screwed in and out. You will have a hard time if the choke is stuck.
Remember, that you can ask for a discount if you find any defects.
Remington 870 Barrels
This is a huge topic, and I have two big articles about barrels already. You can find links to them under this section. Those articles will help you to understand the differences between the barrels of different lengths.
18 inch, 20 inches, 26 inches, 28 inches or 30-inch barrel?
Home defense
Each barrel has a particular purpose. For example, shorter barrels are easier to transport, carry, and are the best for home defense and tactical use. They are easy to maneuver in close quarters or in a car.
That is why the 18 or 20-inch barrel is the best if you plan to use a shotgun for home defense.
Short barrels are sometimes called slug barrels because shooters often use them for slug shooting or hunting game with slug ammunition. But tests reveal that long barrels give the same or even better accuracy with slug ammo.
Hunting, skeet or trap
So when is the longer barrel a better choice? There are lots of times when a long barrel is more beneficial. First of all, longer barrels make the speed of the slug or birdshot faster. It is good to know that the longer the barrel, the faster the speed of the projectile. Second, most of the longer barrels have replaceable chokes which enable the shooter to choose the choke needed.
Chokes enable the shooter to get much better results, whether they're hunting or shooting for sport. That is why you should choose the long barrel with the Remington choke tube system if needed.
Related posts:
–Testing Remington 870 Shotgun Barrels of Different Lengths and Chokes with Slugs
–More about Remington 870 Barrels
Right hand and left hand versions
Approximately 10% of the world population is left-handed, so Remington made a special version for left-handed shooters. They are not available from any gun shop, but you still can find them if you browse the internet long enough.
But there is one upgrade which can make the life of left-handed shooters easier, even with a standard version of the 870. Remington 870 Left Hand Safety (Fortmann's) enables a left-handed shooter to disengage their safety from the left side. This drop-in upgrade is easy to install and works properly.
20 Gauge or 12 Gauge
20 Gauge Remington 870 is lighter than the 12-gauge shotgun. 20-gauge shotguns are believed to have softer recoil and are often recommended for child shooters and female shooters. But remember that it depends on the ammunition you use too.
Also, there is a very limited number of upgrades and accessories for the 20 Gauge Remington 870.
Nickel plated Marine, parkerized Police or blued Express?
There are several versions of the Remington 870 finish. The most inexpensive 870s come with simple bluing. This coating is simple and enough to prevent rust but only if you care about your shotgun and lubricate it regularly.
The more expensive 870 Police version comes parkerized. This coating is sturdier and can withstand heavy use. All the parts of the Remington 870 Marine are nickel-plated, which makes it extremely durable. The marine version will not rust even after heavy rain.
Choose the version you like more; you may even paint it with special gun paint later.
Do you want the Remington 870 DM with detachable magazines or standard tubular magazines?
The newest addition to the 870 family is the DM version with detachable magazines. It makes reloads faster and easier. A lot of shooters find it very interesting and really like it. Others prefer the classic tubular magazine.
You can get one of them, but it is better to get both and see which one you like more. This is a new model, so not all stores will have it in stock.
Compact Tac-14 Remington 870
Tac-14 is a Non-NFA 14-inch barrel configuration. This is 870, but it is very compact and easy to transport. You will need to learn how to deal with recoil, but it is fun to shoot it.
Remington® Model 870™ Express® Hardwood Pump-Action Shotguns
This Model 870 Express comes with a hardwood stock and forend. And the best thing, it has an affordable price. The vent-rib barrel with a modified Rem™ choke and single-bead front sight. Choose the 12 or 20 gauge, 26 or 28 inches barrel, left or right-hand version.
Remington® 870 Express Pump-Action Shotgun Combos
Comes with two barrels! 26″ vent-rib barrel with a modified Rem™ Choke tube and a 20″ fully rifled slug barrel with rifle sights. You can choose this version for both birdshot and slug shooting. This set is good for almost any purpose. Available in 12 or 20-gauge.
Remington® Model 870™ Special Purpose Marine Pump-Action Shotgun
Legendary Remington 870 Marine. All metal parts boast electroless nickel plating both inside and out. Waterproof and rustproof. Can withstand lots of abuse without any problems. Fixed cylinder bore choke and six-shell magazine capacity. 18.5″ barrel with a front bead sight. Padded Cordura® sling and swivel studs included.
Remington® Model 870™ Express® Synthetic Tactical Pump-Action Shotguns
Remington 870 Tactical is one of the most popular and tactical looking shotguns on the market. It is used by law-enforcement officers. Magazine extension installed. There are several versions, with simple bead sight or XS ghost ring sight. The more expensive version also comes with a rail and breacher choke.
You Can Now Buy Remington 870 Online
You can now purchase firearms online at Cabelas.com! Including many models of the Remington 870:
Buy Remington 870 Online
When you purchase a Remington 870 shotgun online, it is best to purchase from a reputable retailer that has a long history of selling weapons and other outdoor sports related merchandise. That is why there is no better retailer out there for purchasing a Remington 870 than Cabela's. They have a wide selection of pump action shotguns like the Remington 870 that you can choose from. The brilliant thing about searching for a shotgun on Cabela's website is they let you narrow down your search to the brand that you want. This makes it easy to filter your search results so you only have Remington 870 shotguns listed.
When you search the "Firearms" category of their website, you will be given plenty of filter options to narrow down your search. First, you will want to click on "Shotguns" for the main category and then "Pump-Action" for the subcategory. After that, you can narrow down the search even more by choosing the brand you want. While you may see other shotgun brands like Benelli and Mossberg listed there, Remington is the brand you'll want to choose. Once you do that, the search results will list over ten Remington 870 models that are available for sale. This includes the Remington 870 Express Synthetic Tactical, 870 Express Compact, 870 Express Super Mag Waterfowl, 870 Express Super Magnum Hardwood, 870 Express Hardwood, 870 American Classic and the 870 Slug. You'll find the prices of these weapons range from $399 to $1,500, depending on the version you want. Plus, some of the listing pages have reviews and star ratings associated with the weapons from other customers who had purchased them. This will give you a firm idea as to which weapon is worth investing in and which one is not.
If you want to narrow down your search even more, you can even filter the gauge of the Remington shotguns. The two choices listed are the 20 Gauge and 12 Gauge, which are the two most powerful gauges for any shotgun. As for the tactical versions, they typically hold more rounds and they have synthetic stocks which are weatherproof. You can even purchase an upgrade to the Tactical version by adding Ghost Ring sights to it too. And right now, when you purchase ammo on Cabela's, you only have to pay $5 for shipping if your order is at least $99. So, if you end up purchasing ammo for your Remington 870 through Cabela's then look out for that amazing deal as well.

-Remington® Model 870™ Express® Synthetic Tactical Pump-Action Shotguns
-Remington® 870 Express Pump Action Shotgun Combos
-Remington® Model 870™ Express® Compact Pump-Action Shotguns
-Remington® Model 870™ Wingmaster® Pump-Action Shotguns
-Remington® Model 870™ Express® Super Mag Waterfowl Pump-Action Shotgun
– Mossy Oak® Duck Blind®-Remington® Model 870™ Express® Super Magnum Laminate Pump-Action Shotgun
-Remington® Model 870™ Express® Synthetic Pump-Action Shotguns
-Remington® Model 870™ Express® Laminate Pump-Action Shotguns-Remington® Model 870™ SPS SuperSlug Pump-Action Shotgun
-NEW! Remington® 870™ Commemorative Shotgun-Remington® Model 870™ Express® Super Mag Synthetic Pump-Action Shotguns
-NEW! Remington® 870™ Wingmaster 200th Anniversary Limited Edition Shotgun
-Remington® 870 SPS Super Mag Turkey/Predator Pump-Action Shotgun with TRUGLO® Red/Green-Dot Scope
Remington 870 Combo Unboxing
A couple of words about my brand new Remington 870 Combo. As always, it comes in a simple carton box. The shotgun comes with the barrel removed. You will find two barrels inside: the 28-inch ventilated rib barrel with the modified choke installed and with bead sight, and the 20-inch barrel with rifle sight. There is also an instruction book, lock, magazine plug, and choke tube wrench.
The lock is a little different from the one which I got in 2008. Also, the new stock and forend are made of very nice wood. The laminate wood stock and forend on my first shotgun had a light brown color and looked cheaper. The current set has a dark brown color and looks and feels like real wood
The capacity of the shotgun is 5 rounds. You need to purchase the magazine extension separately to be able to load more rounds. But first, you need to remove the dimples inside of the magazine tube. I will have a long +8 rounds magazine extension for competitions and +3 magazine extension for home defense use with the short barrel.
I checked the barrel and all the external and internal surfaces of the shotgun and found no problems, scratches or rust. The barrels and chambers are smooth inside but I will polish the chamber to have a more reliable extraction of the fired shells.
ATTENTION! 2 Tips When Buying Remington 870
Two readers has posted important information on Remington 870 forum. Brand new Remington 870 shotguns had problems: one with feeding, second one with extraction of fired shells.
Here are two stories.
Problem with feeding
Well, I didn't get a chance to try out my new gun. I brought it home and loaded it with 6 rounds of Winchester PDX HD ammo and stuck it in the closet, hoping that I would get a chance to go to the range sometime soon. On Monday or Tuesday I bought two boxes of 3" "00" buckshot to possibly use as HD loads. Well, I decided to unload the Winchester PDX loads which are 2 3/4" and load it with the 3" "00", just to see if the magazine would still hold 6 rounds. I unloaded 4 shells, then all of a sudden the remaining shells would not release from the magazine. Upon further inspection I noticed that the left shell latch was not moving outboard like the right shell latch was, which prevents the shell from exiting the magazine. At that point I put the gun away and figured I would call Remington in the morning and find out about repair procedures. Well, I called Remington and I have to send my 1 week old, never been shot, shotgun to NY for repairs. Also, while looking closer at the malfunctioning left shell latch, I noticed scratches and gouges around the shell latch. It almost looks like someone had a previous problem with this gun and tried to pry the latch open or closed. But, how could this be? I purchased the gun new from Dick's. Dick's has a "no return" policy on their shotguns, so this shotgun couldn't have been a return item.
Needless to say I am very disappointed with Remington and possibly Dick's.
Problem with chamber
I bought my Remington 870 Tactical 12ga brand new back in September. From day one I noticed that I was getting jam after jam after jam… Put 110 rounds though it (field, buck, home defense, etc), and nothing seem to help….
All the shells that were being jammed looked like this…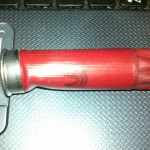 I did a visual inspection of the camber and found this…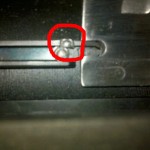 The circled notice in the rail was catching the rim of the shotgun shell, and causing it to jam.
Just as a comparison here is what a good chamber looks like…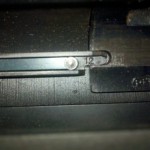 How to Avoid Buying Defective Remington 870
1. Bring dummy shells with you. Point shotgun in a safe direction and check feeding and extraction of shells. Try racking shotgun several times. Make sure that it works properly.
2. Disassemble shotgun. Make visual inspection. Be sure to check chamber for smoothness.
Remington Arms – "One At A Time" (1969) Video
Good old video about Remington firearms:
Remington 870 Tactical Shotgun, Description, Advantages, Where to buy
The Remington 870 Tactical is one of the most dependable commercial pump-action shotguns on the market. They are made for all kinds of environments and the pump action is one of the smoothest around. It has the extended Tactical Rem Choke and the 18.5" long barrel, this shotgun can do great damage. You can load 7 rounds of 12-gauge firepower. It even comes with a 2-shot extension that is factory installed. All Remington 870 Tactical models also come with sling swivel studs and black synthetic stocks. What is great about the Tactical is the ability to aim with the XS Ghost Ring Sights. They will help you directly align yourself with the target that you wish to fire upon. The sight rail on the Ghost Ring is fully adjustable. This means if you aim at a specific target, you are more than likely going to hit it without question. This is what separates the Tactical from the traditional 870s. The Wingmaster is great if you are just outside shooting animals or targets for fun. But the Tactical shotgun is more suitable for home defense, breaching and tactical use.
The Remington 870 Tactical might sound a lot like a professional shotgun used by the military or law enforcement. But no, the Tactical models are in fact commercially available shotguns that are sold to the general public. Some people refer to them as survivalist shotguns because they are great to have if you plan on spending long periods of time in the woods. For example, let's say you are going on a hiking trip through a forest and you will be inside the wilderness for at least a week. You will definitely want to have a Remington 870 Tactical because it will be able to stop bigger animals, such as bears, from hurting you. Not only that, but you will be able to aim at your target faster and increase your accuracy in the process. Of course you can still use the Tactical for hunting as well, but it will probably make it too easy because of how easy it is to aim at your target. It all depends on your purpose for purchasing the shotgun.
How to Buy Firearms Online in the United States
It is not hard to purchase firearms over the internet in the United States. You just have to abide by certain state and federal statutes regarding the transfer of firearm ownership. As far as the federal law about firearm sales goes, anyone who is over 21 years old and has no felony judgments can purchase a firearm. They must also be legally sane and have no intense psychiatric problems. These are the basic requirements for purchasing firearms, whether online or offline.
When you purchase a firearm over the internet you have two ways you can receive your item. The hardest way is to apply for a Federal Firearms License and complete all the required education and documentation that goes into getting the license. If you are only going to purchase firearms for personal use, you have to check with the laws of your state to make sure residential addresses are acceptable for receiving firearms. Some states, like Massachusetts, do not permit FFL holders to receive firearms at their home address. Also, the federal government is not going to verify the legalities of your state's laws regarding firearm transfers. So even though the federal government may issue you a license, you may not be able to use it for personal use if you live in a state that forbids it. Therefore, you should contact the local dealers or legal experts in your area to learn more about these regulations and restrictions.
Now if you don't want to go through the trouble of getting a license then you will have to make arrangements with a licensed dealer in your area to have the firearm you purchased online sent to them. These local dealers will be the ones who will conduct a background check on you and any other type of verification that is required under state law. Any commercial gun shop owner you find in the Yellow Pages should have a Federal Firearms License, which makes them legally suitable to receive your online purchase. Then after they perform all the required identity verification on you, they will issue you the firearm. Just remember to contact your local gun shop before purchasing firearms over the internet. Don't just purchase the firearms and then have them sent to the gun shop without telling them to expect it. If you do then they may send it back to the seller. Also, some online firearm sellers have a specific list of gun shops they will only send to. Make sure you know for sure that your seller will be able to send your purchase over to the gun shop that you pick. If you follow all of this advice, then your online purchase of firearms should be a success.
POLL: What Remington 870 do you own?
You can select more than one answer.

Loading ...