Remington 870 Buyer's Guide to Variants and Models
I wanted to write this article for many years now. There are numerous variants of our favorite Remington 870, and it is a little difficult to choose one for a beginner. I receive lots of questions about different versions of the 870 and which one to choose.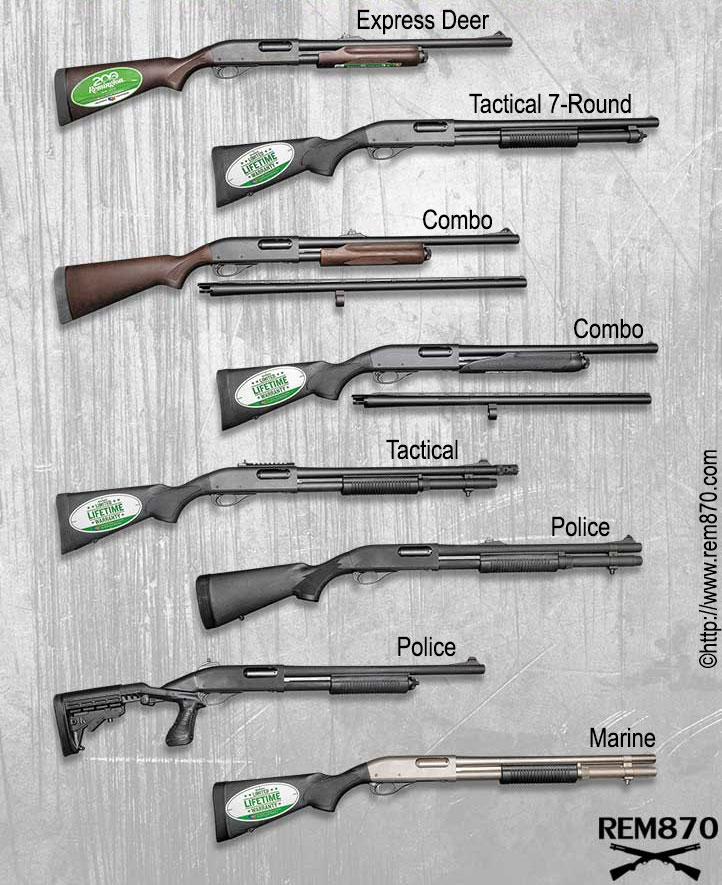 So, this article is based on my 10 years of experience owning the Remington 870 and writing articles about it. I had an opportunity to test almost every modification of the shotgun, and now, I want to share the details and differences between them with you.
There are many variants of the Remington 870 shotgun. This article was written to help you to choose the best one which suits your needs the most.
One platform
All Remington 870 shotguns are based on one platform. Whether you buy the budget 870 Express or the more expensive 870 Police, they all use the same platform. There are differences between them, but they're related to their parts, coating, furniture, sights, etc. You can buy and upgrade those parts yourself if you want.
One of the biggest advantages of the 870 is its steel receiver. It is made from a solid block of steel, which is what makes the Remington 870 so strong and reliable. This is the only shotgun in the world that is made of steel. I have put over 40,000 rounds into two 870s, and they still work perfectly. I only had small problems, such as a broken firing pin spring.
Another advantage of the most popular pump-action shotgun in the world are all the aftermarket accessories and upgrades available for it. They are available from many manufacturers, and each year, we see new ones being introduced to the market.
You can use 870 for almost any purpose, from hunting to home defense.
Difference between Remington 870 versions
All Remington 870 versions are built on one platform and receiver made of a solid block of steel. This is the heart of the platform. But still, there are many small differences you need to know about. Some of them are just cosmetic, but some of them are more important. Let's find out about the small but very interesting differences which may help you to choose the 870 version which suits you better.
Remington 870 Tactical with a One-Piece Magazine Tube

There is the 870 Tactical version with a one-piece magazine tube. This eliminates the joint between the magazine and magazine tube extension. This was done to add more reliability to the shotgun. The joint is a weak point where the spring or follower may get stuck. This problem isn't common, but there is always the chance that something could go wrong. This is especially true with a standard magazine follower. Aftermarket magazine followers are more reliable than the factory ones.
That is why the barrel nut on some of the Tactical versions are in a different location, so you will need a spacer (F402819) for the Remington 870 Tactical shotgun one-piece magazine tube if you want to install the barrel from one of the common 870 versions.
Magazine Cap Detent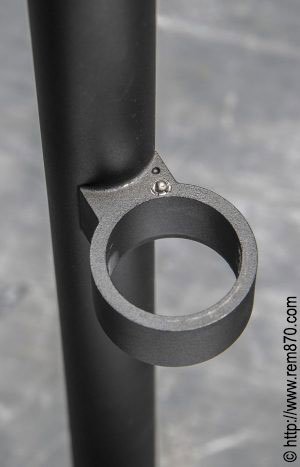 Some of the more expensive versions have magazine cap detent. It prevents magazine cap or magazine extension from loosening. A magazine cap detent is available on Tactical and Police versions of the Remington 870. Don't worry if you don't have this feature because the magazine cap and tube will stay in place, but be sure to check them regularly. It is more reliable to have magazine cap detent, especially if you shoot a lot.
It is even possible to add a magazine cap detent to your 870 yourself.
Dimples in the end of the magazine tube
Basic Remington 870 shotguns, which come without the magazine tube, usually have two dimples at the end of the magazine tube. They are needed to hold the new style spring retainer in place. But they also prevent the owner from installing the magazine tube. You will need to remove the dimples before installing the magazine tube extension.
| | |
| --- | --- |
| Remington 870 Dimples in Magazine Tube | Remington 870 Dimples in Magazine Tube |
Dimples removal isn't difficult and can be done even at home. Older 870s and Police versions don't have dimples at the end of the magazine tube.
Non-MIM Extractor
Most of the 870 versions come with a Metal Injection Molded extractor. This is the modern process of parts manufacturing, and it is suitable for many purposes. But the hardness of the non-MIM extractor is higher, which leads to a more reliable extraction of the fired shotshells. This is especially important for reloaded or low-quality (cheap) ammunition.
You can always replace the factory Remington 870 extractor with a non-MIM extractor. It takes several minutes, and you are good to go.
Non-MIM extractor is installed on the Remington 870 Police for better reliability.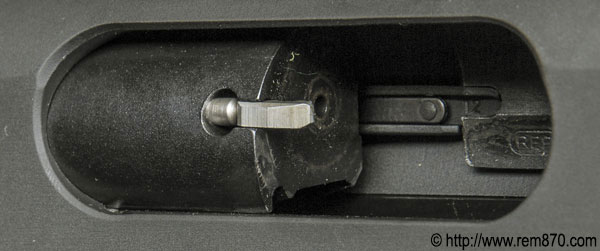 Buttpad
Remington 870 Police and Marine versions come with the more expensive Remington Supercell Buttpad. It is patented and made of a special material which reduces felt recoil. It really works and makes the life of a shotgun shooter so much easier. But you can always buy and install it later.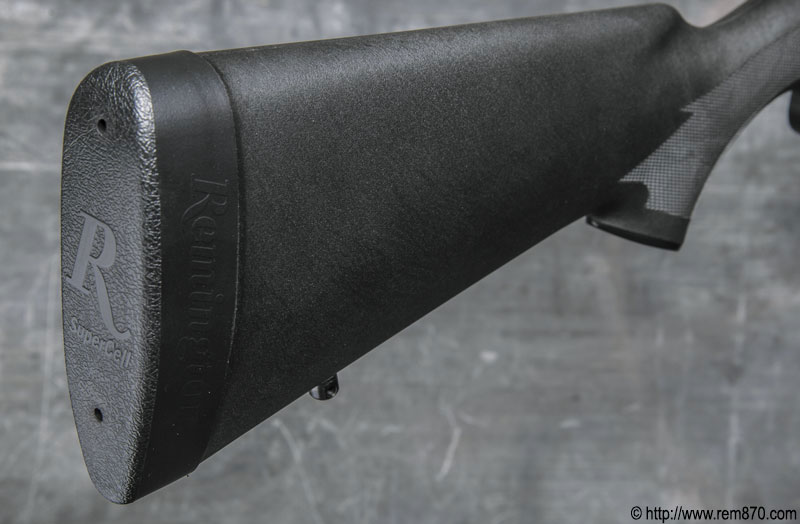 Sights
The sights on a Remington 870 can be different too. Some shotguns come with simple bead sights on the end of the barrel. Other shotguns have fancy XS rear and front sights installed. There are 870s with simple rifle sights installed: Deer, some of the Police versions, fully rifled barrels.
Choose the one you like more. Rifle sights have an advantage; they can be easily replaced with aftermarket sights. Also, the Tactical version gives you the advantage of having the rail to mount the red dot sight.
Rifle Sights
You can find rifle sights on many 870s. They are easy to use, and many shooters like them because they give the shooter better accuracy. Also, factory rifle sights are easy to upgrade. You just need to push out the front sight and unscrew the rear sight.
There are many versions of aftermarket rifle sights available for the Remington 870. You will find ghost ring sights, light-gathering sights, etc.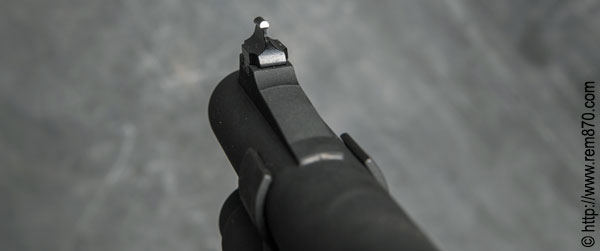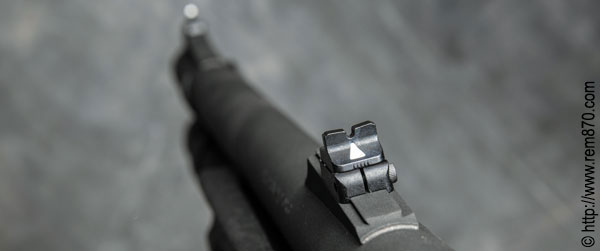 The rear sight is adjustable for windage and elevation. Zeroing is simple; you will need only basic tools for that. Remember to use some Loctite to secure the rear sight after zeroing. Heavy shotgun recoil may loosen the screws.
XS Sights
XS Sights is a well-known manufacturer of different sights for firearms. Remington partnered with XS Sights to offer the 870 Tactical version with ghost ring sights. They enable the shooter to aim fast, especially when shooting slugs. A very good addition to a tactical shotgun.
Of course, you can buy them later, but they are pretty expensive and you will also need the help of a gunsmith for installation.

Bead sights
Good old bead sight! The simplest and the cheapest front sight possible but it serves its purpose. It is installed on many 870 versions, and it is enough for a beginner. You may replace it with a light-gathering sight later.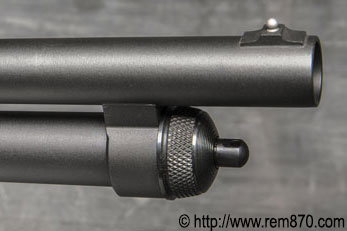 Stock and Forend
The stock and forend are two of the most important parts for a shooter's comfort. If the stock is too long or too short, it will not be comfortable to shoot the shotgun. If it's too short, you may hit your nose with your thumb. If it's too long, you will barely grip the forend. There are lots of other things to consider too, such as the material, pistol grip or classic stock, and recoil-reducing or regular.
Hardwood or synthetic?
There are many stocks available to choose, everything from classic hardwood to recoil-reducing Knoxx stock.
Two of the most popular choices are hardwood or synthetic furniture sets made by Remington. They are simple and nice, and most of the shooters are happy with them. But if you want to replace them, then you can choose one of the many aftermarket stocks for the Remington 870.
Which factory stock is better? Hardwood or synthetic? The hardwood stock is classic and looks awesome, but it is easier to scratch or damage it. The synthetic stock can withstand even rough handling. Also, wood stock feels warmer during cold weather.
Choose the set you like more. Anyway, you can easily change them later.
Pistol grip or classic stock?
You can also choose the pistol grip which is available on some of the tactical versions of the Remington 870. It makes it easier to use the shotgun for shooters who have experience with rifles. Also, it gives you some advantages when shooting from difficult positions. The disadvantage of the pistol grip is that some of the recoil will hit your wrist. It is ok if you don't shoot much, but if you train for several times a week by shooting several hundreds of rounds of ammunition, then it may hurt your wrist. So, choose the classic stock if you shoot a lot, or the pistol grip if you like it and don't shoot much.
Remington 870 Barrels
This is a huge topic, and I have two big articles about barrels already. You can find links to them under this section. Those articles will help you to understand the differences between the barrels of different lengths.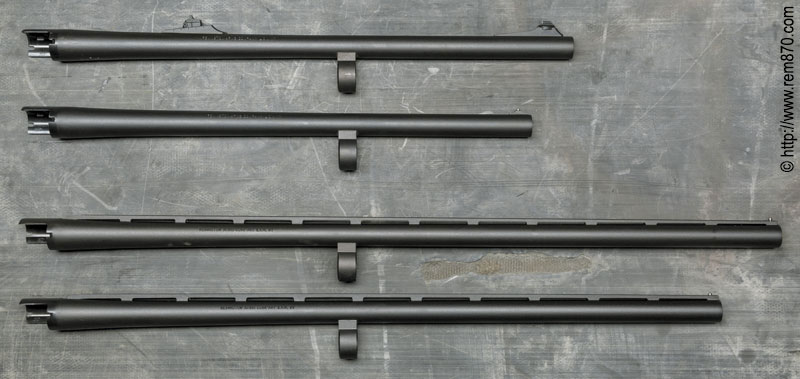 18 inch, 20 inches, 26 inches, 28 inches or 30-inch barrel?
Home defense
Each barrel has a particular purpose. For example, shorter barrels are easier to transport, carry, and are the best for home defense and tactical use. They are easy to maneuver in close quarters or in a car.
That is why the 18 or 20-inch barrel is the best if you plan to use a shotgun for home defense.
Short barrels are sometimes called slug barrels because shooters often use them for slug shooting or hunting game with slug ammunition. But tests reveal that long barrels give the same or even better accuracy with slug ammo.
Hunting, skeet or trap
So when is the longer barrel a better choice? There are lots of times when a long barrel is more beneficial. First of all, longer barrels make the speed of the slug or birdshot faster. It is good to know that the longer the barrel, the faster the speed of the projectile. Second, most of the longer barrels have replaceable chokes which enable the shooter to choose the choke needed.
Chokes enable the shooter to get much better results, whether they're hunting or shooting for sport. That is why you should choose the long barrel with the Remington choke tube system if needed.
Related posts:
–Testing Remington 870 Shotgun Barrels of Different Lengths and Chokes with Slugs
–More about Remington 870 Barrels
Right hand and left hand versions
Approximately 10% of the world population is left-handed, so Remington made a special version for left-handed shooters. They are not available from any gun shop, but you still can find them if you browse the internet long enough.
But there is one upgrade which can make the life of left-handed shooters easier, even with a standard version of the 870. Remington 870 Left Hand Safety (Fortmann's) enables a left-handed shooter to disengage their safety from the left side. This drop-in upgrade is easy to install and works properly.
20 Gauge or 12 Gauge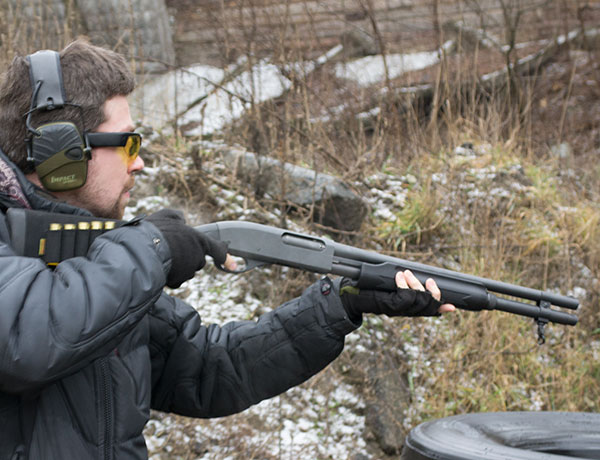 20 Gauge Remington 870 is lighter than the 12-gauge shotgun. 20-gauge shotguns are believed to have softer recoil and are often recommended for child shooters and female shooters. But remember that it depends on the ammunition you use too.
Also, there is a very limited number of upgrades and accessories for the 20 Gauge Remington 870.
Nickel plated Marine, parkerized Police or blued Express?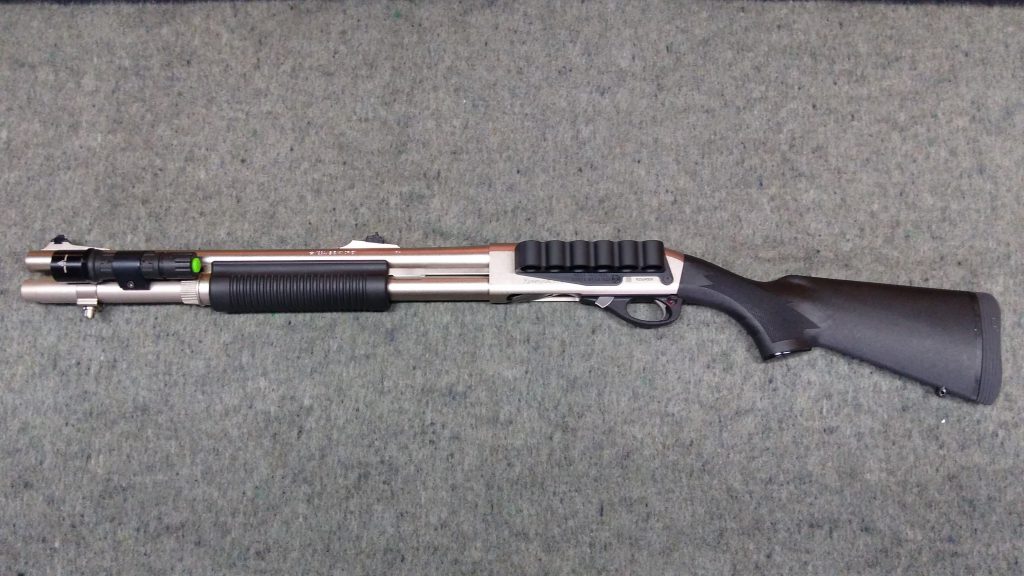 There are several versions of the Remington 870 finish. The most inexpensive 870s come with simple bluing. This coating is simple and enough to prevent rust but only if you care about your shotgun and lubricate it regularly.
The more expensive 870 Police version comes parkerized. This coating is sturdier and can withstand heavy use. All the parts of the Remington 870 Marine are nickel-plated, which makes it extremely durable. The marine version will not rust even after heavy rain.
Choose the version you like more; you may even paint it with special gun paint later.
Do you want the Remington 870 DM with detachable magazines or standard tubular magazines?
The newest addition to the 870 family is the DM version with detachable magazines. It makes reloads faster and easier. A lot of shooters find it very interesting and really like it. Others prefer the classic tubular magazine.
You can get one of them, but it is better to get both and see which one you like more. This is a new model, so not all stores will have it in stock.

Compact Tac-14 Remington 870
Tac-14 is a Non-NFA 14-inch barrel configuration. This is 870, but it is very compact and easy to transport. You will need to learn how to deal with recoil, but it is fun to shoot it.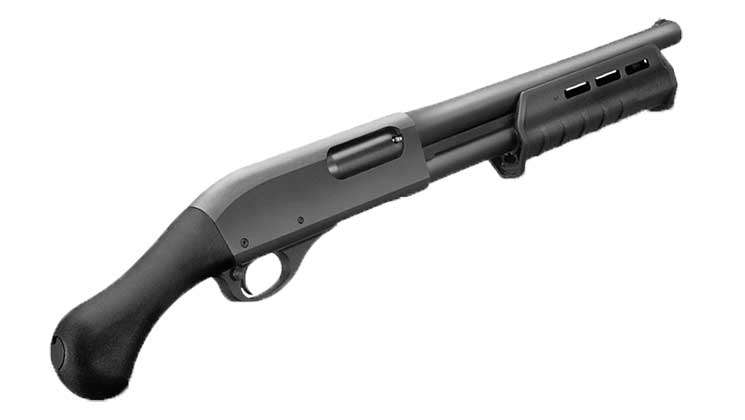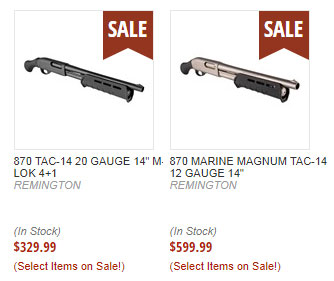 Remington® Model 870™ Express® Hardwood Pump-Action Shotguns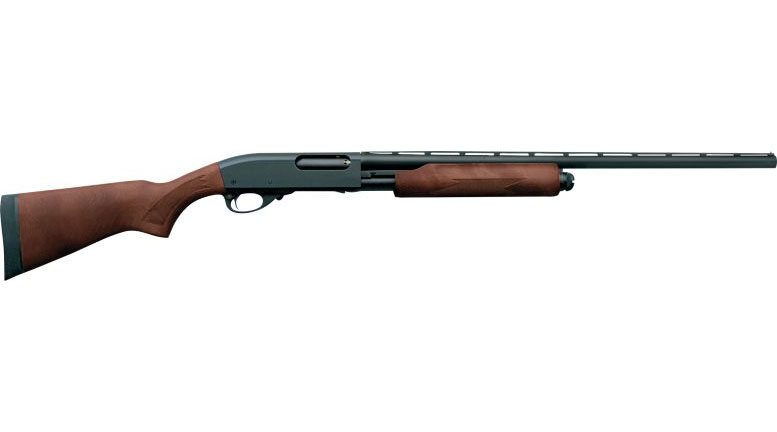 This Model 870 Express comes with a hardwood stock and forend. And the best thing, it has an affordable price. The vent-rib barrel with a modified Rem™ choke and single-bead front sight. Choose the 12 or 20 gauge, 26 or 28 inches barrel, left or right-hand version.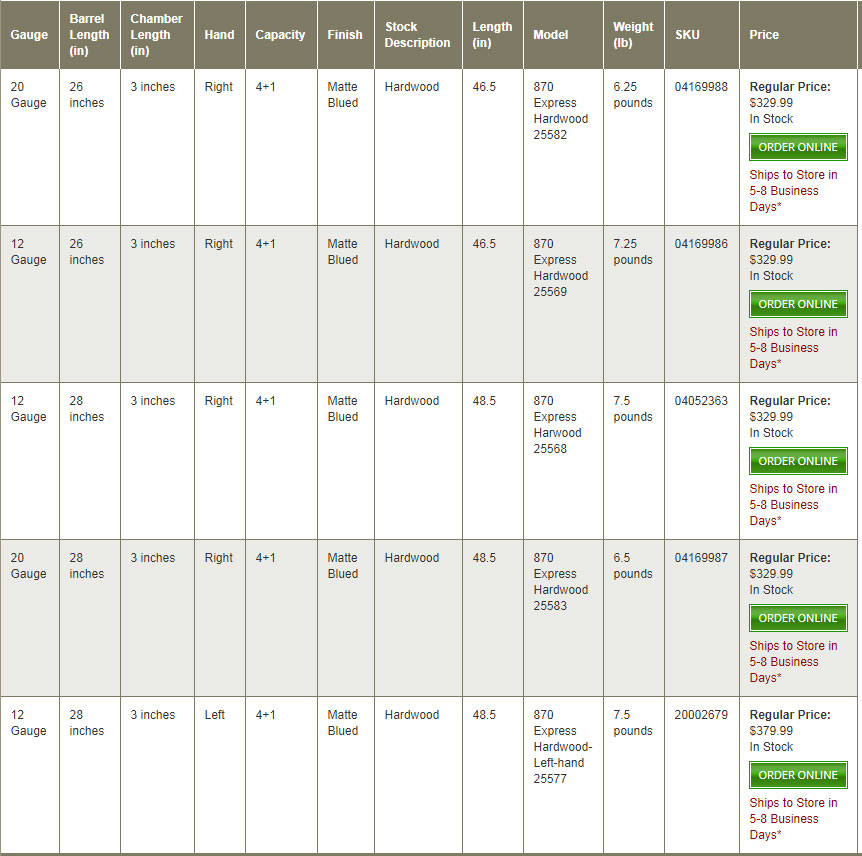 Remington® 870 Express Pump-Action Shotgun Combos
Comes with two barrels! 26″ vent-rib barrel with a modified Rem™ Choke tube and a 20″ fully rifled slug barrel with rifle sights. You can choose this version for both birdshot and slug shooting. This set is good for almost any purpose. Available in 12 or 20-gauge.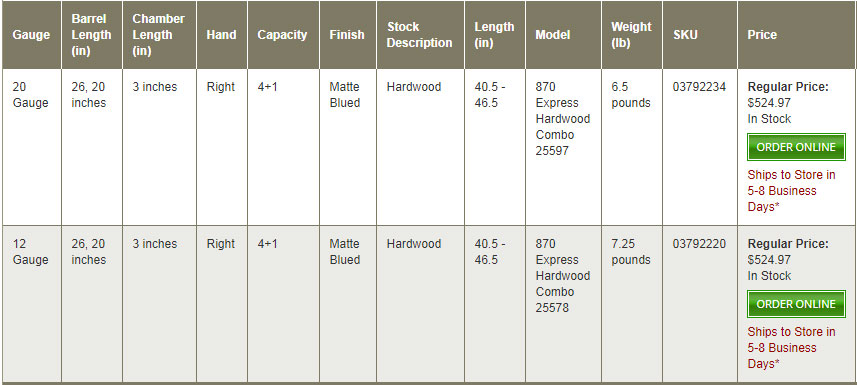 Remington® Model 870™ Special Purpose Marine Pump-Action Shotgun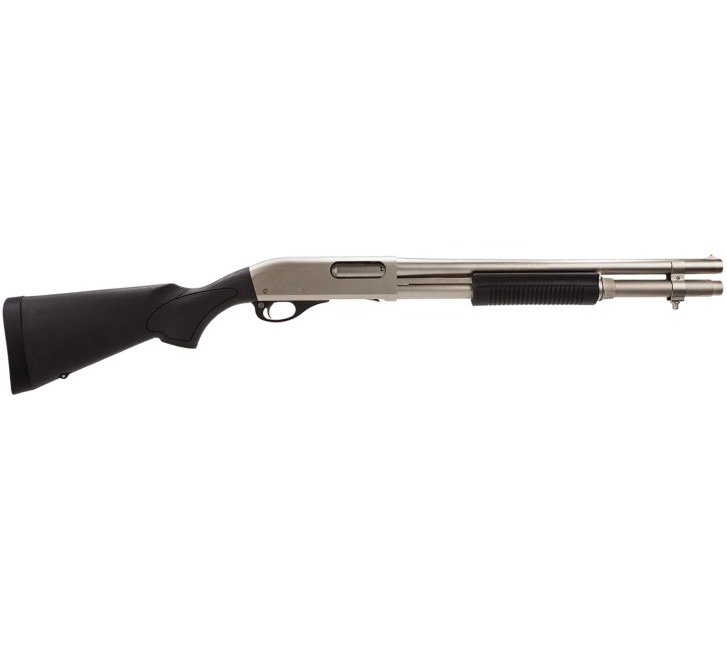 Legendary Remington 870 Marine. All metal parts boast electroless nickel plating both inside and out. Waterproof and rustproof. Can withstand lots of abuse without any problems. Fixed cylinder bore choke and six-shell magazine capacity. 18.5″ barrel with a front bead sight. Padded Cordura® sling and swivel studs included.

Remington® Model 870™ Express® Synthetic Tactical Pump-Action Shotguns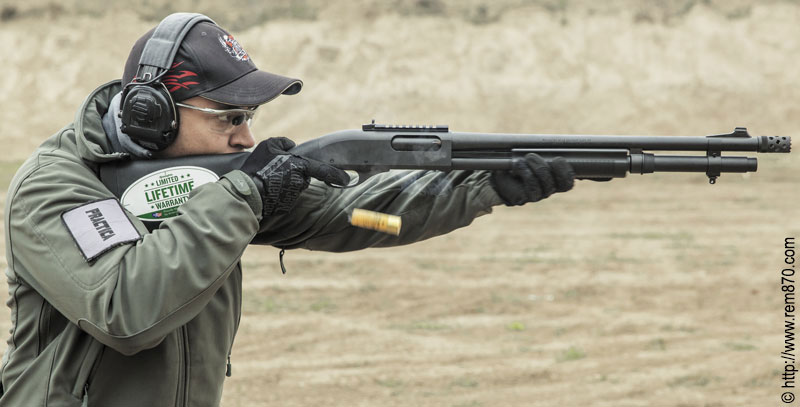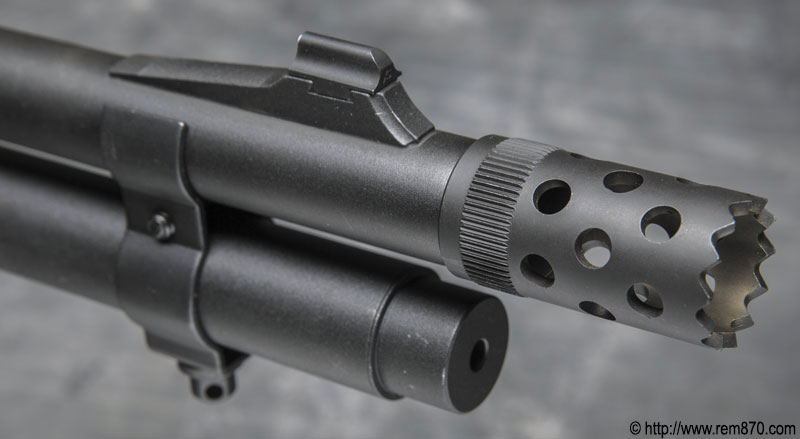 Remington 870 Tactical is one of the most popular and tactical looking shotguns on the market. It is used by law-enforcement officers. Magazine extension installed. There are several versions, with simple bead sight or XS ghost ring sight. The more expensive version also comes with a rail and breacher choke.