Best Shotgun Laser Sights
A lot of readers of the blog ask about the best shotgun laser. Personally, I don't use them on my shotgun but tested several of them. So let me share my experience with two of the best lasers for shotguns.
Laser sights have traditionally been used on rifles and pistols. But in recent years, laser sights on shotguns have become more popular for tactical and home defense purposes. Just think about the stress that you feel when something or someone threatening is nearby and you know that you must shoot it accurately in order to stop it. If you are too shaken to aim properly, you could miss the target and end up putting your life or the lives of your family in even more danger. A laser sight on your shotgun will ensure that you aim at your target quickly and accurately. And when you consider the firepower behind a shotgun blast, there is no way you will miss when you've got the laser sight pointed right on the target.
If you are looking for a laser sight for shotgun consider getting a Red Dot (Holographic) Sight for shotgun.
How to Attach Laser to a Shotgun
I've seen many clamps and rails but I still think that CDM Gear BMT Clamp with Rail is the best to attach a laser to a shotgun. It is lightweight and has a rail for additional accessories. The installation and removal is easy. It works not only as accessory rail but as a barrel/magazine extension clamp also.
This clamp comes with set of pads, so it won't scratch the barrel and magazine tube. It is also easy to remove it to disassemble the shotgun. Highly recommended, the best way to install a laser on your shotgun.
LaserLyte Center Mass Laser for Shotguns
This is awesome range toy and also one of the most interesting lasers for the shotgun. This laser is different from other lasers because it projects a ring of eight laser dots with one laser dot in the center. The circle grows at one-inch per yard and it is almost the same size as a shotgun pattern growth with distance. That is extremely interesting to visually see how your shotgun's pattern growth with distance.
There are both green laser and red laser versions of the LaserLyte Center Mass.
It has built-in mount, so you can attach this laser directly to the rail without buying additional accessories.
Other laser sights give you just one dot, this laser has 9 dots and you can even see approximate shotgun pattern. So it may be the best shotgun laser sight for the money.
Streamlight TLR-2 Flashlight/Laser Combo for Shotguns
One of the most popular laser sights for shotguns is the Streamlight TLR-2 which has both a laser sight and a flashlight. This makes it suitable for use in the daytime or nighttime because the flashlight can brighten any dark environment so you can see your target. In the daytime, you don't have to worry about not seeing your laser sight because it will be just as visible in the light as it is in the darkness. The device itself is lightweight, though, so you won't feel any added weight on your weapon after you install it onto the barrel. The only real downside to the Streamlight is that it costs but that's to be expected for such a high-quality upgrade like this.
So flashlight/laser combo is even more useful than just a laser. You receive two tools in a small size. Streamlight TLR-2 Flashlight/Laser Combo is lightweight and easily attaches to a rail. TLR-2 is low profile and doesn't stick out much.
The dot is pretty big and easy to see on the target. It can be used even under stress. Laser sight feature is very nice but makes Streamlight TLR-2 pretty expensive.
Laser sight enables you to shoot from the hip accurately, which is very difficult with iron sights. But remember that your laser dot is visible to others too.
The Streamlight TRL-2 Flashlight/Laser combo is compact and low profile when mounted on a shotgun.
Stremalight TLR-2 Laser/Flashlight has momentary/constant switch which is can be used with one finger of the left or right hand. There are three modes: flashlight only, laser and flashlight, laser only. So you have many modes to choose from.
Shock-proof C4 LED can withstand shotgun recoil. It doesn't need much energy and can work for several hours on just two CR123 batteries. Built-in mount, which mounts directly to rail without additional accessories and keeps it low profile.
Integrated laser sight enables you to shoot from the hip level. Which is useful in close quarters.
Is this the best laser sight for shotguns? Maybe yes because it is not only a laser but also a flashlight which is must have on any home defense shotgun.
Olight Baldr Pro – Gun Flashlight/Laser Combo Review
New and inexpensive alternative to Streamlight TRL-2 Flashlight/Laser combo.
There are three modes of the Olight Baldr Pro:
-Flashlight only
-Flashlight and laser
-Laser only
Read full review: Olight Baldr Pro – Gun Flashlight/Laser Combo Review
Olight Baldr Mini – Gun Flashlight/Laser Combo Review
Features are cool, but does the product actually work how it's supposed to? The answer to that question is "Yes". The Olight Baldr Mini has an integrated flashlight/laser combo that combines a 600-lumen flashlight with a green laser. The Baldr Mini has a selector switch that allows you to use the laser or the flashlight by themselves, or you can use both together at the same time. It also has a thumb switch to toggle between quick on and continuously on, as well as a built-in strobe feature. The laser is a Class IIIA <5mw Safe Laser Output and the flashlight is a high-performance cool white LED that produces white light with a throw of 130 meters.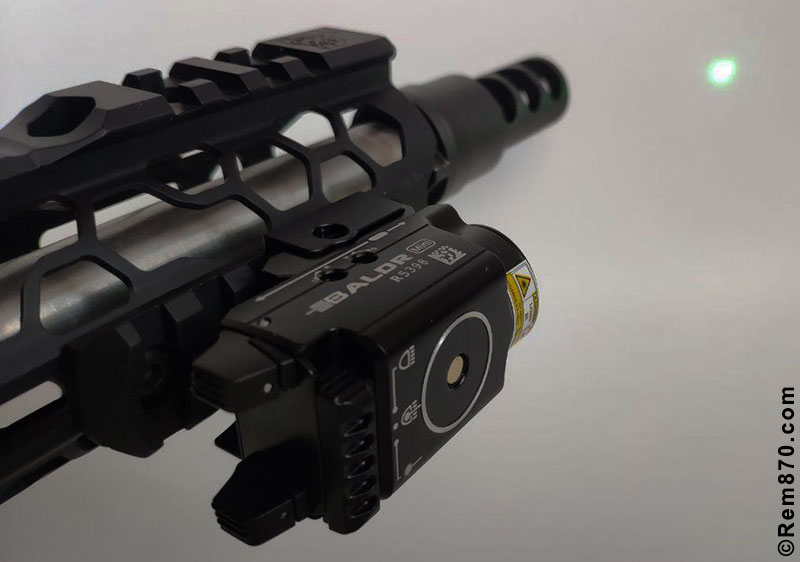 Read full review here: Olight Baldr Mini – Firearms Flashlight Review