Olight Baldr Pro – Gun Flashlight/Laser Combo Review
Do you need a tactical flashlight on your gun? Yes, and you need a reliable one. Think about it; if you don't have a flashlight, then you can use your gun only part of the day during the daylight. Using a gun at night becomes dangerous. Because as you know from gun safety rules: "Be sure of your target and what is beyond it." When you hear the sound of broken glass and go checking your house with a gun, you need to be sure and see everything clearly. You may find a burglar who broke in into your house or just your homie who went to the kitchen to drink a glass of water.
The flashlight also becomes important when checking dark places even during the daylight, think about checking a basement, for example. That's why a tactical flashlight is a must-have upgrade for any home defense weapons. It is more important than any other fancy upgrade.
Olight flashlights become more and more popular on guns nowadays. They are well made, affordable and offer some really good features. I had a review about one of the previous versions Valkyrie PL-1 (450 lumens), later they released a more powerful version – Olight Valkyrie PL-2 (1200 lumens), but this time I am reviewing one of the top models – the Baldr Pro. I had a chance to test the regular Baldr some time ago, but the Pro model looks even more impressive.
Baldr is the god of light and radiance, peace and forgiveness in Norse mythology. Olight Baldr Pro tactical gun flashlight has impressive 1350 lumens.
Easy to Install and Remove
It is obvious that this flashlight is made for firearms installation. It has a quick detach system for rail installation. Two rail adapters included: one for Glock rails and one for all other rails.
Some of the tactical flashlights require special attachments and adapters to install them on the rail of your gun and it is good to see more dedicated gun-mounted flashlights available to shooters nowadays.
The quick release mount enables you to install or remove this flashlight in seconds! This feature is extremely useful when using it on several guns.
Two CR123 batteries included. Most of the flashlights use LED technology nowadays. That's why they can work for hours and hours with high output.
Bright and Powerful
Impressive 1350 lumens may sound too much for indoor, use but it didn't blind me even when I pointed the flashlight at a white wall. And this brightness becomes priceless when using outdoors. Advertised throw is 260 meters, but of course, effective range is not that huge.
You can also choose the low (300 lumens) output level if the flashlight looks too bright to you. But remember that a powerful tactical flashlight will blind an enemy, which is good when using for home defense.
Lightweight and Low Profile
The flashlight is that light and compact that it will not change the balance of your firearm. Laser sight is integrated and doesn't make flashlight really bigger.
The weight of the flashlight is just 129 g (4.55 oz)! Compare it to a competitor, and you will see that it is really light.
Compact size is important when using in close quarters and you need to have a gun that is easy to maneuver.
Real Life Tests: Remington 870 and MP5 (MKE T94, Z-5)
Equipment may look good, but only real-life tests can prove that something is worth installing it on your gun.
So, I made several tests with two of my guns: 12-gauge Remington 870 Shotgun and 9mm MP5 carbine (MKE T94, also known as Z-5). You know, not every flashlight can withstand even one shot installed on a shotgun. The recoil is huge and some flashlights stop working, some just fly away from the rail.
Testing on 9mm MP5 Carbine
I have Spuhr forend with rail installed on my MP5. The Olight Baldr flashlight/laser combo was installed on that rail.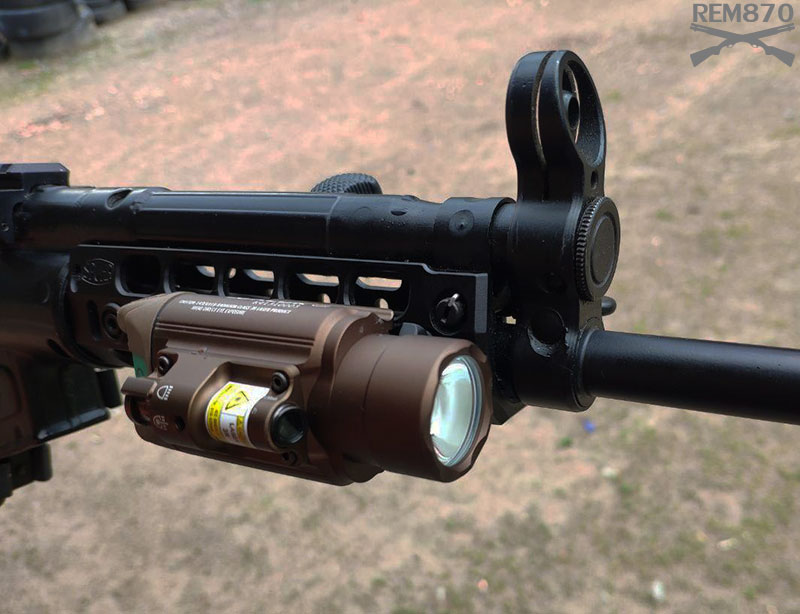 There were numerous night training where I participated. The group of shooters had different types of guns and flashlights. Olight Baldr was powerful enough to see the target on a distance of 30 meters (the farthest target). Some of the shooters were disappointed with their flashlight and decided to buy something better. I was really happy and impressed with the power of mine.
The beam of the Baldr Pro is not only concentrated but also wide, which means that you can see pretty big space and find targets easier. That is extremely important when you have to face more than one target. It is extremely important to see the target clearly to be able to hit it and not something or someone else.
We had targets of different types: regular, metal, targets with hostages. I didn't have any problems finding targets and hitting them accurately.
Testing on 12 Gauge Remington 870
A lot of gun owners use Olight Valkyrie or Baldr flashlights on handguns. But it can also be used on long guns. Installation on Remington 870 is possible using one of the many barrel/magazine clamps with rails. There are lots of them, choose the one you like. I had many of them reviewed on Rem870.com.
Tested flashlight during low light shotgun competition. This type of competition is based on home defense scenario. The light is off and you don't know where the targets are located. After the start signal shooter turns the flashlight on and searches for targets. Shooter receives a lot of penalty targets if he cannot find the target. I was able to find all targets easily thanks to the powerful beam of the Olight Baldr.
As I wrote earlier, the 12-gauge recoil destroys cheap equipment easily. I've seen broken flashlights, flashlights that flew away under recoil or those which stopped working after just several shots.
Night competition was another good chance to test the flashlight, and it worked perfectly.
Laser Sight
Green laser sight is an interesting feature of the Olight Baldr Pro. It looks awesome, especially during the night or in fog. It reminds scenes from the Star Wars series.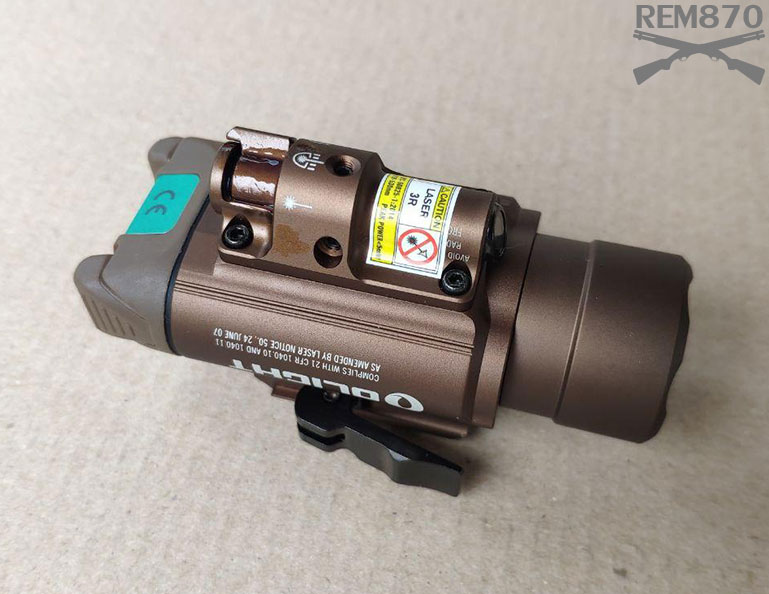 Zeroing of the laser sight doesn't take much time and especially easy if you have Red Dot sight on your gun. Just superpose laser dot with the holographic dot and make several shots to adjust the point of impact. That's all; you can use your laser sight now.
Do you really need laser sight on your gun? Will it help you to shoot better? I made a test and had several drills with Laser and Holographic Sight. Holographic sight is always faster because you don't need to search for the dot on the target. You can see it through the sight immediately.
But laser sight is a good backup option. It will be extremely helpful if you forget to turn the Holographic sight on or when it stopped working because of the battery or technical problem.
Easy to use
Olight Baldr Pro can be installed on different places of the gun: on top, bottom, left or right. That is why controls are essential. There are two buttons on the flashlight and they enable handgun shooter to use left or right hand. When installed on a long gun, it is easy to manipulate the flashlight using the hand on the forend.
There are three modes of the Olight Baldr Pro:
-Flashlight only
-Flashlight and laser
-Laser only
A rotating switch enables you to choose the mode you need at the moment.
There are several ways to use the flashlight. Pressing and holding the button activates the momentary on mode, when you depress the button, the flashlight turns off. That is a good mode for looking for a threat without showing off your position. Single click activates the constant on mode. Pressing the two buttons simultaneously turns on the strobe mode which will blind the threat.
By the way, the battery compartment has a lock that prevents you from opening it accidentally.
Testing flashlight working distance
The test would not be complete without a night test. The previous version (Olight Baldr) enabled me to see targets clearly up to 70 meters; the target on 100 meters was visible but not that good. The new Baldr Pro version is more powerful and enables the shooter to see a target on 100 meters perfectly.
The previous laser that I tested had a red color. This flashlight has a green one. And I want to tell you that this laser sight is much more powerful than the previous version. The green dot is pretty big and you can see it easily even on 100 meters.


Olight Baldr Pro is highly recommended as a firearm flashlight. It is compact, lightweight, and powerful and can withstand even shotgun recoil!
More information and ordering: Official Olight website
Related post: Olight Baldr Mini – Firearms Flashlight Review