Load-4 (Load-Quad) Belts (Rigs, Platforms) for 3-Gun and Practical Shooting (IPSC, USPSA), UPDATED 2020
This is the first article about load-4 rigs for Practical Shooting (IPSC, 3-Gun, USPSA). It is going to be interesting for competitive shooters.
I asked owners or people close to the companies to tell about their products. Let's start with 3 popular dual and quad loading platforms: King Competition Products, EZload and Z-Gun. I have sent requests to Invictus and Safariland, waiting for their answers.
Magload Nexus Modular Self Adjusting Shotgun Cartridge System
And now I am happy to review one more rig for Load-2 and Load-4, this time from Magload. This company has a lot of interesting and high-quality products.
For more than 3 months, I have tested this rig during cold and rainy weather conditions and it has worked great! I have tested it for both strong and weak hand loading. It holds shotshells reliably, but you can easily grab them too. There are also interesting add-ons available, such as double magnet GRIP tops and spring spacers which are used for adding more spring tension. The rig still works perfectly fine without these add-ons, but it is good to know that you can make a custom order for additional features if you want them.
First Impressions and Assembly
The Magload Nexus rig comes disassembled and nicely packed in a small black box. That reduces the shipping cost and it means that it cannot be damaged during transportation. This is a very good idea because the rig is so easy to assemble due to its simplistic design.
The entire assembly process takes just 15 minutes to read the instructions and assemble everything carefully.
The Magload Nexus Modular Self Adjusting Shotgun Cartridge System is basically a caddy or holder for shotgun shotshells. It is a versatile shotgun loading system which enables you to set it for left or right-handed loading. You just need to set up the loader to accommodate whichever hand you use for loading. Once it is set up and assembled, you won't ever need to make any adjustments. But if you ever want to switch the setup between left-handed and right-handed, all you need is an Allen wrench and 10 minutes of your time. That will save you a lot of money because there are many shooters who change the way they load a shotgun and end up needing to buy one more rig!
Christopher Constantine is the author of this rig and he was really helpful and told me a lot of interesting technical details of the Magload Nexus.
If you like to shoot in 3-Gun or IPSC (practical shooting) competitions, this Nexus loading system will be a helpful accessory for you to have. The rig features a high-quality stainless-steel backplate, lightweight polymer bases/tops, and stainless-steel bolts. It holds shotshells that are between 51mm and 67.5mm in length. This allows you to hold virtually any shotgun cartridge that you want, such as slugs, birdshot, and buckshot.
The stainless-steel backplate is rock solid but it is heavier than aluminum backing plates on other rigs.
Magload – Magnetic Load – Self Adjusting System
The Nexus loader is "self-adjusting" which means you can store different cartridge sizes without needing to be manually adjusted. Since it has a special design, the user can choose between quad loading and twin loading. This type of loader is in demand by people who like to have this option. Sometimes you don't need 4 shotshells, just 2, and this feature will be really helpful with that.
There are several basic versions of the Nexus loader. One version can hold 12 rounds, the other can hold 20 rounds and the other one 28 rounds. If you want extra features, you can choose to have a custom version made for you too. A customized version can hold a specific number of rounds that you wish it to hold. Just contact Magload and give them your specifications for a custom version. They will let you know whether it's possible to do for you.
Advantages
– A self-adjusting system which enables you to use rounds of different lengths.
– A Lifetime Warranty is given. Yes, I know that many other manufacturers send spare parts for free but Magload offers an official lifetime warranty.
– Can be adjusted for left or right-hand loading in just 10 minutes. This is a unique feature which I really like.
– Another big advantage of the Magload rig is that it is very easy to grab shotshells. The lightest grab and you have your shotshells in your hand. But if you want, you can install the add-ons like magnet GRIP tops and spring spacers for more spring tension.
Here is rig with one GRIP top and spring spacer installed:

Materials
Magload Nexus uses specially selected polymer which is really strong. All thread inserts are brass so they do not gall and bond to the screws. This makes the thread stronger and capable of being repeatedly dismantled and reassembled. Similar metals, such as stainless bolts on stainless nuts, will gall and seize over time.
Additional Information from Manufacturer
Tops:
• The special geometry provides most of the holding power with the magnet only really serving to index the top cartridge and aid in filling the loader.
• They are designed for rugged use and will take quite a lot of abuse. The thread at the rear is metal so it can be dismantled and reassembled many times with ease.
• Magnet is press fit – no adhesive. Should it ever need to be replaced this can easily be done at the factory. This also means there is no glue to crack or fail in extreme conditions. The press fit is precision reamed to within 0.005mm! This also means that with heat expansion and contraction of the loader the magnets will not fall out.
• Inside of top has a designed-in roughness to aid in gripping cartridges when provided with upward pressure from the lower module.
• All together they provide and extremely light release with very high retention
• Excellent thumb access to the cartridge rim and very ergonomic
Bushings:
• Have special geometry inside to reduce friction and do not require lubricating. If the customer chooses to lubricate them then special oil channels inside the bushing will retain oil and dispense as needed, allowing excess to run out
• Are open at the top and bottom. We experimented with a sealed system but found that mud and sand can build up inside causing jams and premature wear. They are designed so such detritus will fall straight through and the loader will carry on working.
Springs & Runners
• Specially designed runners hold the base module straight and prevent rotation. Some movement side to side is allowed so that cartridges will self align when loaded. Marine grade stainless steel and straightened at the factory for peak performance.
• Runners hold the single bolt which assembled the entire lower module.
• Springs are stainless, corrosion resistant and are a particular grade of spring wire & geometry to ensure long life and minimal "set".
Bases
• The bases may take a lot of force so they are very strong
• They have a brass thread insert again
• The cup/cone style of bottom case retention is designed to work like a ball and socket joint with the crimp of the cartridge. They allow for even very deformed cartridge crimps to sit in the proper position for function and allow the bottom cartridge to index on the top for no buckle. They provide superior retention while allowing for a true multi angle grab.
• They have a hole in the base which allows for custom add ons such as 20g adapters.
Price
The cost of the Nexus loader depends on which version you are purchasing. If you are purchasing the one that holds 12 rounds, the cost will be £130. If you'd rather purchase the loader with a 28-round capacity, that will cost you £310. The choice you make should depend on the competitions you are going to visit. If you're 3-Gun shooter, then the 12-round version is fine. But if you're a IPSC shooter then you might as well go all the way and purchase the 28-round version which will be enough for long stages.
Conclusion
It is a highly recommended rig which is very easy to use. It enables you to have the lightest grab possible and it can be set either for weak or strong handloading.
Also, you can place a custom order for loaders of any color. This is a very nice option for competitive shooters who like to have bright colors on their equipment and guns.
Other Products by Magload
Be sure to visit Magload site to see many other interesting products they have:
Benelli Supernova Short Action Bars, Option 3 Loader and other.
Official website: Magload
Facebook page: Magload
King Competition Products Quad-Load Holders
King Competition Products quad-load holders were first to use magnets. It is expensive but a lot of shooters say that it is well worth the money.
There are 2 guys behind KCP, Kim and Jaakko. We both have Master's degree on engineering. Two close friends that are quite competitive, performance driven and innovative. Both have Master's degree in engineering. The story behind KCP started 2014, when the finnish national IPSC shotgun team was decided, Kim and Jaakko both to be representing Finland at SG WS in Italy 2015. Having tried all commercially available designs, guys were not satisfied with the performance of shotgun shell holders at that time. Out of that need came out eventually the company and the first commercial product, the King generation 3 shotgun rig. The rig was used winning total 12 world championship medals at SG WS. Kim placed World Champion and Jaakko was the first runner up.
1. Is it true that load-4 was invented in Finland?
This was before our time, so I can't say yes or no if there was someone else who had same kind of ideas. The load-4 technique, required shotgun modifications and shell holders were to my knowledge developed and first implemented in Finland. This development started after 2009 IPSC SG European Championships. Load-4 was made widely know in 2012 SG WS, where Finland was very successful. A lot of recognition developing the load-4 hardware and techniques should be given to the finnish shotgun pioneer, Jani Lehtonen.
2. You were first to use magnets in your shell holder? How you come up with this revolutionary idea?
The King generation 3 was the third system we made. In generation 1 and 2 we used springs. The problem with springs was that we could not get all the shells as close to each other as we wanted because of the long caps between holders. For consistent loads, a uniform "unbroken belt" of shells is the best way to go. The uniformity means your loading hand can just repeat the same movement over and over again, and there is no need to look for your shells and holders to find them. The idea of magnets became one evening when we were testing some prototypes. This solved many things. The shell release from the holder became shorter, there was less protruding parts and we were able to pack the shells in a shorter space. During generation 2 development we also found the way to retain the lower shells with only the bottom plate, so they are very easy to release.
3. I know that Kim Leppanen uses your rig. Who are the other top shooters that use your shell holders?
Most of the top Nordic shooters that we know. Our systems have been shipping all over the world for the past year, so we are happy that a lot of the future medals will also be shot using gear that is manufactured by us.
4. Is it made in Finland?
Yes.
5. What are the main advantages of your rig?
As we are serious about competing ourselves, we want the highest performing gear. That was the idea behind the project in the beginning and still is. The main advantage of the King platform is, that it outperforms everything else available. In dynamic shooting our measurable goals with shotgun reloading are, for the most part, speed and repeatability.
6. One of the issues of such shotshell holders is use with shot shells of different length. How have you solved it? Is it possible to adjust rig quickly?
Pushing the shell package from the top and bottom was brought to SG WS 2015 with the finnish teams hardware. The benefit in this system is that the shells do not tilt inward. This also allows packing the shells tightly together and easy release with a magnet retention. A traditional clip system will require a high holding force, resulting in to more risk of failing the loading grip. Especially the "pinky shell" is a high risk for smaller hands. King generation 3 and 4 have the shell height set screws in the lower holder. The fine adjustment can be done with a hex key between competition stages, if there is need to change ammunition types. The holders are adjustable for any shell type, but I would not recommend extremely short or long shells, as they are not very nice to load.
7. From your observations, which loading shell holder is more popular: for left hand loading or for the right hand loading?
Approx 60% right hand and 40% left hand according to our stats. I think the southpaw shooters do not change the statistics that much. In Nordic countries the "strong hand load" could be a little more popular than southern and eastern europe.
8. How durable is material of the rig?
The plastic parts are made of nylon, which is more durable than normal injection molded plastic.
Official site: http://www.kingcompetitionproducts.com/
EZload Load-4 Rig
EZload rig is another quad-load platform with magnets. It is less expensive that King rig and has some additional features.
1. How long is it on the market? How durable is it?
The EZLOAD components are made of a graphite reinforced nylon composite and have a very high strength and durability rating. EZLOAD has been on the market since late 2015.
2. Is it made in UK?
Yes, everything is made in England
3. Is it the same platform Josh Kenny uses? Any other top shooters using your quadloading platform?
Most of the top shooters in the UK use EZLOAD to some extent. Josh Kenny has built his own rig from various parts and manufacturers and use a variety of EZLOAD loaders for weak hand loading. Members from the German, South African and USA shooting teams are using EZLOAD
4. Most of the rigs have just 28 rounds, you make platforms with 36 and even 40 rounds, why?
The reason for this is mainly flexibility. At some stages I prefer to use under the arm loading and at some stages over the shoulder loading. Weak hand loading is normally a bit faster for me during standing option 3 starts and Cooper tunnels for instance. But I prefer over the shoulder loading for everything else. Therefore I am using a Comp Rig 40 with an EZ12 setup for weak hand and an EZ28 setup for right hand. All mounted on the Velcro Competition belt so I can take off a plate if I feel I do not want to use for a particular stage. I also prefer to use the shells from the rig for the initial load on the start line. This allows me a final loading "practice" just before the start signal. The rig components are very compact and lightweight so there is no problem to fit 40 rounds on a normal male frame.
5. From your observations, which shell holder is more popular: for left hand loading or for the right hand loading?
This was divided about 50/50 in 2015 but now it is probably 75/25 in favour of the over the shoulder strong arm loading.
6. One of the issues of such rigs is use with shot shells of different length. How have you solved it? Is it possible to adjust platform quickly?
Personally I don't consider this is a very big issue. Most shooters that buy this kind of racing equipment have already worked out exactly what shells they are using and what fits together with what. If adjustment is still needed it is just a matter of ripping the plate off the Velcro and slide the bottom holders in place. This can quickly be done between stages.
7. What are the advantages of EZload rig?
EZLOAD offers the easiest way for anyone to quickly master the quad load. The loaders are perfectly pre-arranged in a staggered line allowing the shooter to grab 2 or 4 without worry about the next grab. The EZLOAD is fast, compact, secure, durable and very lightweight.
Official site: https://www.ezload.co.uk/
EZLOAD NXTGEN Rig for Load-2 and Load-4 (IPSC, 3-Gun)
When you are using a shotgun in IPSC or 3-Gun competitions, you'll only have a matter of seconds to grab more shotshells and load them into the magazine of your shotgun. I even remember old times when we were using caddies to do that. Fast time for loading 8 rounds and making first shot was about 6.5 seconds. Now good time is less than 3 seconds.
Now you may have an old rig but these typically hold shotshells in plastic holders and have to be adjusted to different length shotshells. Fortunately, IPSC shotgun is developing fast and we see new and new products each year. This review is about new EZLOAD NXTGEN Rig.
You can also read previous review from my friend:
EZLOAD Quad-Load Belt for IPSC (Practical Shooting) and 3-Gun – Review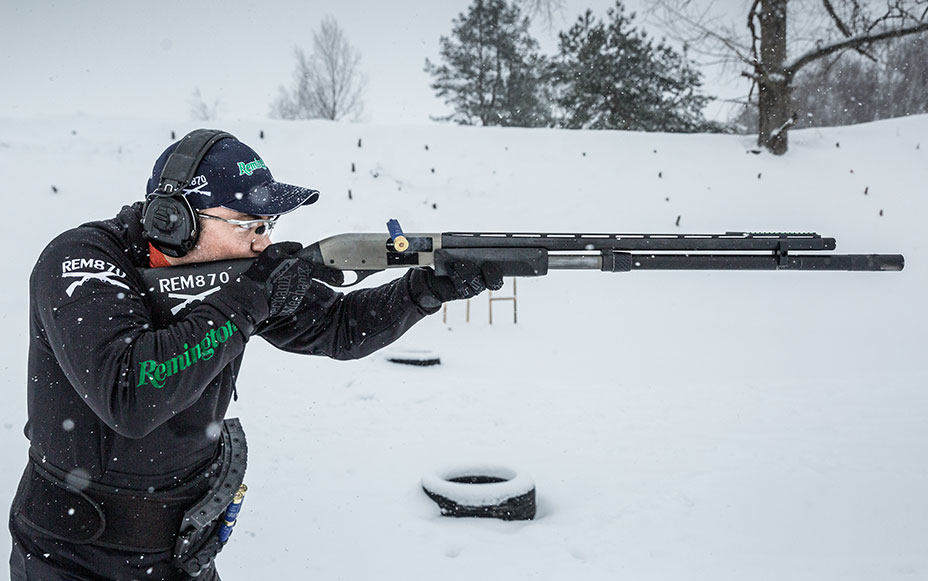 The British company, EZLOAD, has introduced their ammo rig entitled EZ 28 NXTGEN. This is a fast loading rig which can store shotgun shells of all different lengths. There are 14 vertical slots on the rig and each slot can hold two shells; one shell vertically stacked onto another. It doesn't matter if they're different sized shells either because the slots are completely self-adjusting and will move to accommodate the extra-sized shells. The rig is called EZ 28 because it can hold a total of 28 shells, even if they're of different sizes. How cool is that?
The stacked shells can easily be grabbed at the same time with your fingers and loaded into your shotgun at lightning speed. If you want to go extra fast, you can grab 4 shells at the same time too. The ability to grab the shells is easy and secure. There is no clutter in your way that would make it difficult. The shells stay secure and are removed easily because of the stainless-steel springs which are integrated inside the housing. This allows the design to be quite compact by allowing shells of multiple sizes to fit in the rig.
Spring are protected by the housing which means that they are protected from dust, dirt, rain, snow and debris. I really like how the rig looks like and the materials used for it.
The rig holds shotshells reliably. You can run, jump shoot from any position and be sure that shotshells stay in place.
You're going to need quick access to at least 28 rounds and it's a good thing an accessory for this has been invented. You can also choose version which holds less or more shotshells if you want. There are versions which hold 8, 12, 16, 20, 24 and 28 rounds. This enables you to configure your shooting belt as you want. You may even have 28 round rig for weak hand and 8 rounds rig for strong hand to be able to load shotshells fast in any situation.
There are versions for strong and weak hand reloads. Both ways are good but I prefer weak hand reloads.
I was able to load 8 rounds into my Remington 870 and make first shot in just 2.77 seconds. It took me just several weeks of training. Here is the video:
As for carrying the EZ 28 NXTGEN rig, there are attachment points which can accommodate surfaces with Tek-Lok or Velcro on them. There are no worries about moving around quickly and risking having the shotshells fall out of the rig either. Thanks to the powerful magnets built into the slots which hold the shotshells securely, they will never fall out while you're running, jumping, or moving intensely. Despite this, you'll still be able to pull them out of the slots without any problems.
The price of the EZ 28 NXTGEN is $434. It can only be purchased exclusively through the EZLOAD website. The company sells only original products that are manufactured and marketed by them. This ensures that you're receiving an authentic product which was made right from the source itself.
Highly recommended product. I use it for about 3 months now and really happy with it. My reloads becamse more stable and faster. The belt is not cheap but it is worth every penny you pay for it.
More information and ordering: https://www.ezload.co.uk
Z-Gun Load-4 Rig
This platform is made in Russia. This is the most affordable rig on the market. It is simple and easy to use.
1. Some people say that load-4 loading was invented in Russia, is it true?
Yes, byt Aleksanr Petuhov before the World Shoot 2012.
2. Do you plan to add magnets to your rig?
No, because system with magnets is not universal and doesn't allow to grab ammo starting from the bottom shotshells. It is complicated and expensive.
3. Some shooters in our club complain that shotshell holders weaken after about a year of use. Have you heard about such problem?
No, I don't have such problems. I have used my first rig for two years and a half and it is still good. I use my current platform for one year and there are no problems. Any of my many club members don't have any problems. We are changing material of the belt at the moment but for different reasons.
4. Name top shooters which use your loading platform.
It is used by 9 out of 10 top shooters in standard and standard-manual divisions of the Championship of Russia.
What are the main advantages of your rig?
Simplicity, universal use, price.
5. From your observations, which platform is more popular: for left hand loading or for the right hand loading?
Left hand loading because top shooters use left hand and other shooters copy that.
6. One of the issues of such rigs is use with shot shells of different length. How have you solved it? Is it possible to adjust platform quickly?
It doesn't have such problem unlike rigs with magnets where you need to adjust top holders for that.
Official site: http://www.z-gun.ru/
Awen Innovations Load-4 Belt
As you know, there were several articles about special belts for Load-2 and Load-4 loading:
And now I am pleased to tell you about new belt from Awen Innovations. This company is new and if you need any information feel free to contact David on Facebook: https://www.facebook.com/david.daviteaguiar
The rig is inexpensive, 28-round versions costs just 210 euro. This is the most inexpensive belt on the market today. All other rigs are priced about 350 euros. And I want to tell you that rig is made of high-quality materials and looks sturdy.
Tested it in my shooting club for about one month and it performed really good. My friend was using it during the Shotgun World Shoot 2018. He found it very good and intuitive. He didn't use such belts before because he had traditional rig without magnets and springs. Time to get used to this belt? He needed just one dry fire session before 5 days of shooting. And his reloads became much faster and easier.
I have tested it after arrival home. It works really good. Rig holds shotshells reliably but it is easy to take them out which makes reloads fast and intuitive.
All shotshell holders are attached to the lightweight aluminum plate. This makes rig really sturdy and durable.
Magnets are really good and powerful and hold shotshells reliably in place. But you can grab them easily and without any efforts.
The bottom part of the shotshell holder has a spring. So holder is self-adjustable as many other expensive rigs. No need to adjust holders manually with tools. You can use shotshells of almost any length and there is no need to adjust rig between stages.
That is very nice feature which available only in several other rigs but they are priced much higher.
As you can see, construction is very simple which makes it more reliable:
The belt itself is very comfortable and has rubber insert which stops unwanted movement. This is very nice feature which I see for the first time:
Overall, I really liked the rig and belt. The more options shooters have the better. This belt will be awesome choice for new shooters which don't want to spend a lot of money.
The Awen Innovations rig is suitable for Load-2 and Load-4 reloads. There are versions for weak and strong hand reloads, so you can choose the one which suits your loading technique.
Here is the most reliable way to attach the velcro to the rig. This way, you can be sure that it stays in place even when you run or jump:
So if you have traditional belt and high price was reason why you were hesitating buying a new modern belt with magnets and springs then you can definitely try Awen Innovations belt. It is reallty nice and has all of the features of the more expensive rigs.
Official website: http://www.awen-innovations.com
Facebook page: https://www.facebook.com/Awen-Innovations-1781925151873428/
Related posts about practical shooting:
Practical Shotgun Shooting (IPSC) for Beginners, Part 1 (Divisions, Ready Conditions, Basic Upgrades)
Practical Shotgun Shooting (IPSC) for Beginners, Part 2 (Upgrades, Ammo Belts, Equipment)
Practical Shotgun Shooting (IPSC) for Beginners, Part 3 (Types of Targets and Stages)