The Blackhawk Knoxx SpecOps Gen III is a premium stock upgrade for the Remington 870 shotgun that you don't want to miss. If you're new to shotguns and still using the factory stock that came with your Remington 870, then you know how the recoil feels each time you fire. With the Knoxx SpecOps Stock Gen III, this recoil you would normally feel will be reduced a lot.
The previous SpecOps generation stock was discontinued.
The biggest difference from the previous generation of this stock is a huge buttpad which also reduces recoil. And felt recoil is much softer. You don't feel hit you just feel like shotgun springs to the rear and back. This is thanks to what is referred to as the "2-stage recoil reduction system" that has been implemented into the stock. Not only will you experience very little muzzle rise during operation, but you won't have to deal with any annoying cheek-slapping problem either. Instead, you can just focus completely on your accuracy with each shot and improve your confidence after you experience the results. As you may know, cheek-slap was one of the common problems of the previous generations of the SpecOps stock.
I have tested Blackhawk Knoxx SpecOps Gen III on the range with variety of shotgun ammo and recoil was always nice and soft:
When I was shooting Mini Magnum and Magnum the shotgun was jumping in my hands but my shoulder didn't feel much of the recoil. Slow motion shows that it is better to adjust the stock to make it a little longer.
The Knoxx SpecOps Stock Gen III is suitable for both tall shooters and short shooters alike. Thanks to the 6 various adjustable positions and enhanced ergonomics, this stock can be handled by someone of virtually any height and physique. You can adjust the length of pull from 12.5 inches to up to 15.2 inches. As for gripping the weapon, the stock features a pistol grip which will allow you to hold the weapon firmly in dangerous tactical situations. You can even hold your shotgun with one hand by using this pistol grip if you wanted to. That way, you can use your other hand for reloading the weapon or whatever else you need to do in a situation where time is of the essence.
In addition to the stock, you will receive a matching forend with a handstop for extra gripping ability. There is also a Picatinny-like mount for adding accessories to the stock too. You can install flashlight, laser etc.
Quick detach sling swivel comes with the stock. You can install it on left or one the right side of the stock. This will enable you to have a sling to help you carry your shotgun more conveniently if you're walking a long distance with it.
The cost of the Knoxx SpecOps Stock Gen III is $119.99. For that, you're getting a stock made of a durable and lightweight polymer that was built to offer recoil reduction to the user. If you frequently use your Remington 870, especially in tactical situations, then you cannot afford to go without a premium stock upgrade like this.
Knoxx SpecOps Stock Gen III Installation
Installation of the Gen III stock is little trickier than installation of the previous generation but still very fast and simple. It took me less than 10 minutes to install the stock and forend. Just follow the simple instructions that are included with the stock and you should be all set.
Knoxx SpecOps Stock Gen III Frequently Asked Questions
Use of Oversized Safeties and additional accessories on Remington 870 with Knoxx Stock
Manufacturer of the SpecOps stock does not recommend using any of the oversized safety buttons. This is because big safety buttons stick up and when shotgun moves rearward the button will hit the stock and damage it and even may cause injury.
Here's what happens when you try using Blackhawk Specops stock with oversized safety: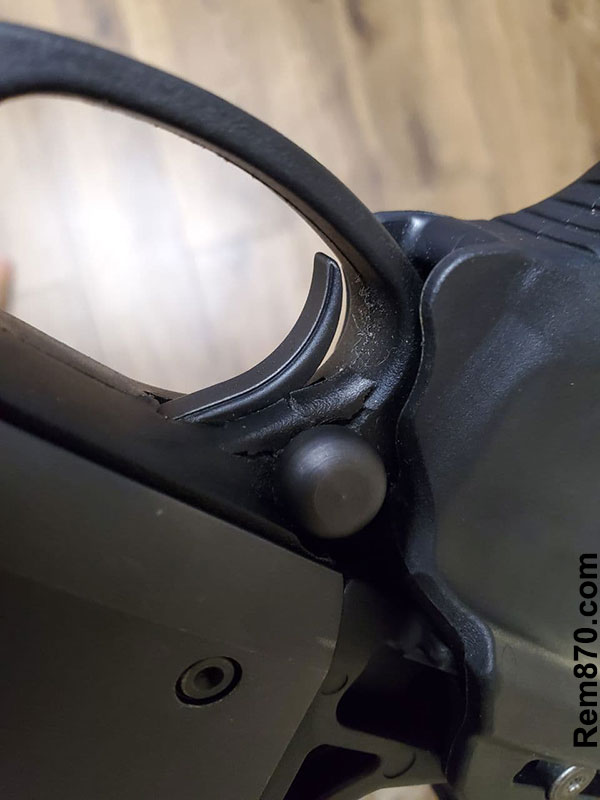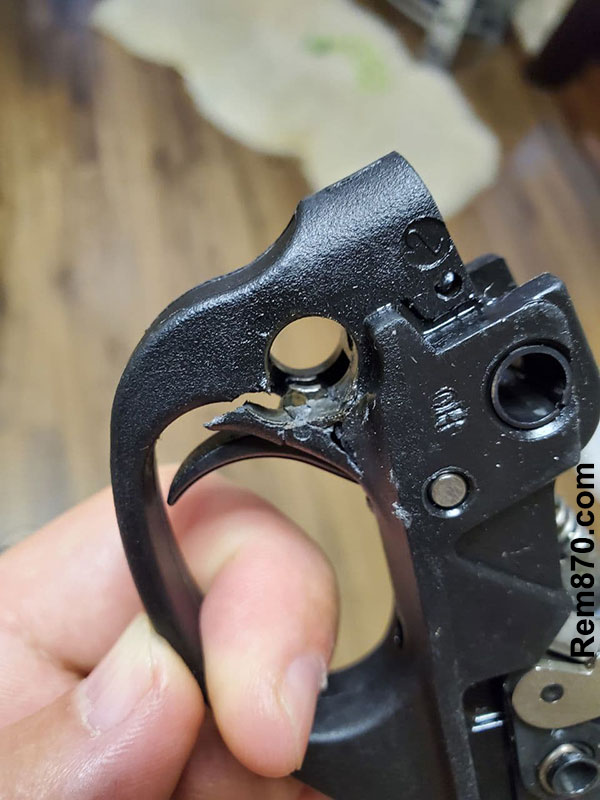 Also, you need to make sure that sidesaddle will not interfere with the stock movement.
Spacer Between Receiver and Stock on Remington 870
Some people don't read installation instructions carefully or just forget to remove the metal spacer which is needed for the factory stock. Remember that you need to remove it installing the Knoxx SpecOps stock or otherwise you will have a gap between stock and receiver.
Does it Reduce 95% of Recoil?
In my opinion – no, it doesn't reduce that much recoil BUT it reduces recoil significantly and I highly recommend it.
Recommended Product:
Related post:
5 Best Aftermarket Stocks for Remington 870
Knoxx Stock and IPSC
I have seen a lot of discussions about the use of the Knoxx recoil suppression stock in IPSC competitions. Some shooters believe that it is prohibited under this rule:
22. External modifications such as weights, or devices to control or reduce recoil are specifically not allowed, except for recoil pads fitted to the rear face of the stock of the shotgun.
Other think that it can be installed because it is not an "external modification".
I decided to contact the IPSC at the rules@ipsc.org to find the answer. I was very pleased to receive answer from Neil Beverley, IPSC Shotgun Director. And now I want to share the truth about use of the Knoxx stock in IPSC.
"Knoxx recoil suppression stocks can be fitted as a direct replacement of an existing stock under Point 23 of the division rules."
"Point 22 of the rules prevents any additional weights from being added externally to a stock."
Also, Neil sent links to the IPSC Global Village where you can find more information.
So, the short answer is Knoxx recoil suppression stocks CAN be used in IPSC.
DISCONTINUED – Blackhawk Knoxx PowerPak Modular Cheek Piece System
What is  Blackhawk Knoxx PowerPak Modular Cheek Piece System?
I haven't seen many Blackhawk Knoxx PowerPak reviews on the web. I have read one very negative review and several positive ones. That is why I want to share my experience with you.
It is modular cheek piece with ammo holder and watertight storage compartment. It can be installed on Knoxx SpecOps Stock.
My brother is owner of the Fabarm SAT 8 Pro Telescopic. This shotgun has Knoxx stock, which can be installed on Remington 870. That is why Blackhawk Knoxx PowerPak can be installed on both Fabarm and Remington 870. Recently my brother installed Blackhawk Knoxx PowerPak on his shotgun.
Installation
Installation of the Knoxx Powerpack is not difficult and takes just 15-20 minutes. The only one problem is that screws are very small. But when it's ready it is easy to snap cheek  on the stock.
Construction
This cheek looks good, shells are hold reliably in place.
Advantages
I think that Knoxx Powerpak is a good alternative to the receiver mount shell holders.  High cheek will be useful for people which have holographic sight/scope installed. I am not sure what can you do with a watertight storage compartment but instruction says that it can be used to store earplugs and spare batteries there.
Related Post:
10 Steps to Upgrade Your Remington 870 Express to Police Version
10 Must Have Upgrades for Your Remington 870 Shotgun
Remington 870 Followers Overview (Vang Comp Systems, CDM Gear, SBE Precision, GG&G, S&J Hardware, Scattergun Technologies, Choate, Nordic)
Magazine Extensions for Remington 870 Shotgun (Nordic Components, Choate, TacStar, Remington, ATI)