Knoxx SpecOps Stock, Forend and PowerPak Review (Photos and Video)
Review of the Blackhawk Knoxx SpecOps Stock Gen III for Remington 870
This is new review of the Knoxx SpecOps Stock, Forend and PowerPak. It has completely new photos and video.
This stock is one of the best choices for shooters which just bought their shotgun. This stock compensates recoil and you can spend more time on the range. Later when you become experienced shooter you may decide to install simple stock without recoil compensating systems. I have used Knoxx SpecOps stock for a long time and really liked it.
This stock became very popular because it has a lot of advantages. Stock is adjustable. You can adjust length of pull and it will be comfortable for both people with longer or shorter hands. For example, you do not need to install youth stock on your home defense shotgun and then change it to a standard one when you go hunting.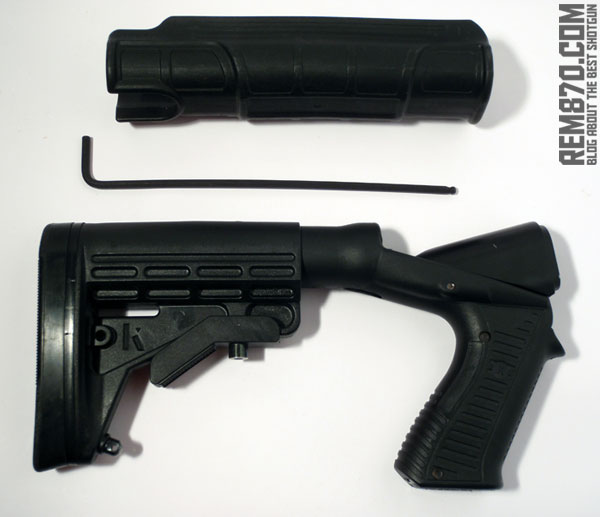 Installation of the Knoxx SpecOps Stock, Forend and PowerPak
The installation of this stock is simple and all tools are included. Here is video which shows how to install Knoxx SpecOps Stock, Forend and PowerPak:

Knoxx stock is made of high-quality materials and there are thousands of users which use these stocks for years. It can be used in all weather conditions. Pistol grip is a very good option for home defense and tactical shotguns.
There are several important things you should know about the Knoxx Specops stock for Remington 870. If you know your equipment, its weaknesses and strengths you can use it better and avoid mistakes and when we talk about firearms even injuries.
Attention: When we talk about the Knoxx stock, be sure to check which one you have. There are two types of the Knoxx stocks, one has built-in recoil suppression system, and the other one doesn't. The Knoxx stock which doesn't have the recoil suppression systems is "Knoxx Adjustable NRS Stock". The NRS stands for "No Recoil Suppression".
How the Knoxx SpecOps Stock Works
First of all let's see how the Knoxx SpecOps Stock reduces recoil. This stock has two recoil compensating systems, one in pistol grip and the second one in stock itself. During recoil shotgun moves rearward over the pistol grip and this is the moment when systems work and reduce recoil.
Now when you understand how this recoil suppression stock for Remington 870 works you need to have several things in mind.
Here is animation which shows how the Knoxx SpecOps Stock works and where recoil compensating systems are located: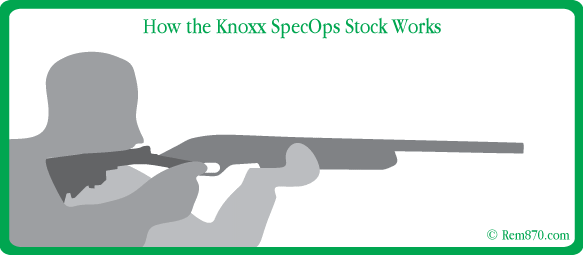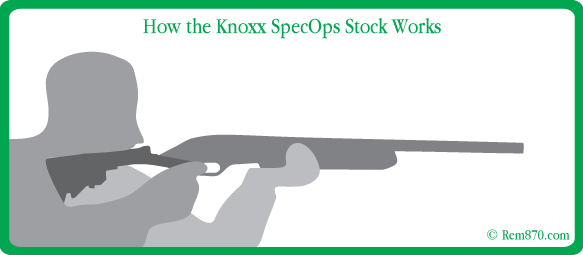 Use of Scope with Knoxx SpecOps Stock
Due to the about 1 inch move of the shotgun a scope without proper eye relief will come back and hit your head and may cause injury. So be sure to have enough space between your eye and scope and always warn about this people you give your shotgun to.
Here is animation which shows you why you need to be careful with Knoxx SpecOps stock using a scope: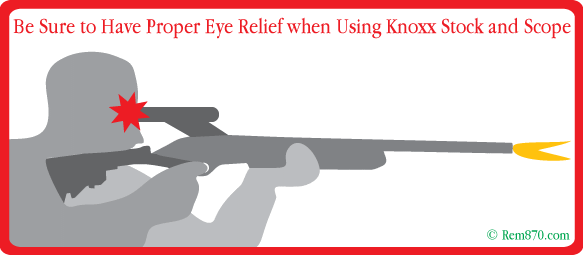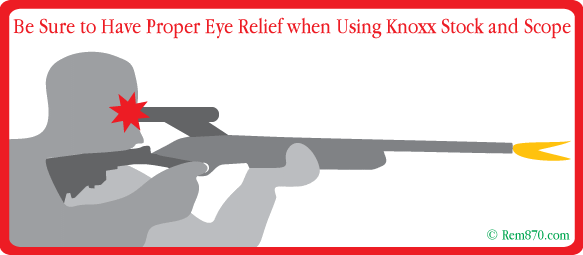 Use of Oversized Safeties on Remington 870 with Knoxx Stock
Manufacturer of the Knoxx SpecOps stock recommends using only Wilson Combat Safety (Tactical Response Jumbo Head Safety by Scattergun Technology). This is because other big safety buttons, for example Vang Safety stick up further and when shotgun moves rearward button will hit the stock and damage it and even may cause injury.
Spacer Between Receiver and Stock on Remington 870
Some people don't read installation instructions carefully or just forget to remove the metal spacer which is needed for the factory stock. Remember that you need to remove it installing the Knoxx SpecOps stock or otherwise you will have a gap between stock and receiver.
Does it Reduce 95% of Recoil?
In my opinion – no, it doesn't reduce that much recoil BUT it reduces recoil significantly and I highly recommend it.
How Can I Disassemble the Knoxx SpecOps Stock
Do not attempt to disassemble Knoxx SpecOps stock because you will destroy the internal mechanisms. Blackhawk! says that internal springs have a 30,000+ round life expectancy, so I am sure you will be able to use it without problems for years.
The Stock Hits Me When Fired (Cheekslap)
There are shooting tips page in the Owner's Manual which have some recommendations on how to avoid a "cheekslap", it says clearly that you need to have several inches back from the flare.
Knoxx Tactical Forend
Knoxx Tactical Forend is a really good additional bonus. Knoxx forend is built of light-weight polymer and has integrated texture grooves. It is much more convenient than a standard Remington forend.
Another advantage and useful feature of the Knoxx Tactical Forend is that even if it pulled back you still have access to magazine tube.
Ergonomic texture grooves guarantee that you will be able to reload your shotgun even if your hands are wet.
You will not be able to use 6-Round or 8-Round receiver mount side saddle with Knoxx Forend.
Additional Accessories for Knoxx SpecOps Stock
Knoxx PowerPak Modular Cheek
Knoxx PowerPak – is a modular cheek piece with ammo holder and watertight storage compartment. It can be installed on Knoxx SpecOps Stock. There are two cheeks included: high cheek is for holographic sights or scopes, low cheek is for iron sights.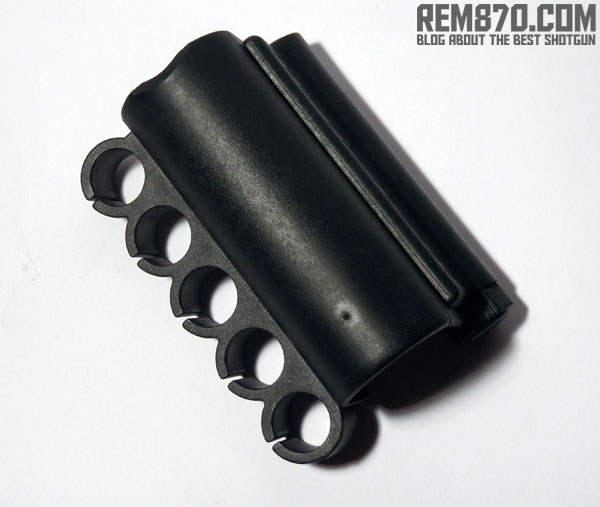 Installation of the Knoxx Powerpack is not difficult and takes just 15-20 minutes. Some of the screws are very small and installation is rather tricky. But when it's ready it is easy to snap cheek on the stock.
This cheek looks good, shells are hold reliably in place. Knoxx Powerpak is good alternative to the receiver mount shell holders. Watertight storage compartment can be used to store earplugs and spare batteries.
Hogue HandAll Universal Grip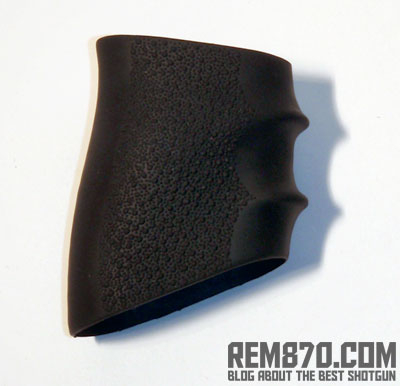 Hogue HandAll Universal Grip fits the Knoxx SpecOps Stock perfectly. It really improves handling of a shotgun. The rubber non-slip surface and palm swells make it easier to hold and control a shotgun. This upgrade is cheap ($10) and effective. If you don't like it you can remove it anytime.

Some shooters say that they don't like Knoxx stock because it has moving parts which can be broken but Blackhawk! guarantees that internal springs have a 30,000 round life expectancy and knowing that you don't need to worry about anything.
Do you use Knoxx SpecOps Stock? Please leave a comment.