Remington 870 for Practical Shooting (IPSC, 3-Gun) – Modifications to Improve Reliabliliy, Feeding, Extraction and Ejection
As you know, I have a new Remington 870 Combo and fired about 11000 rounds through it during this year. I use it for practical shooting (IPSC) which means that I need extremely reliable and fast shotgun. Each tenth of a second means a lot!
So, let me start my story about the Remington 870 "Practical".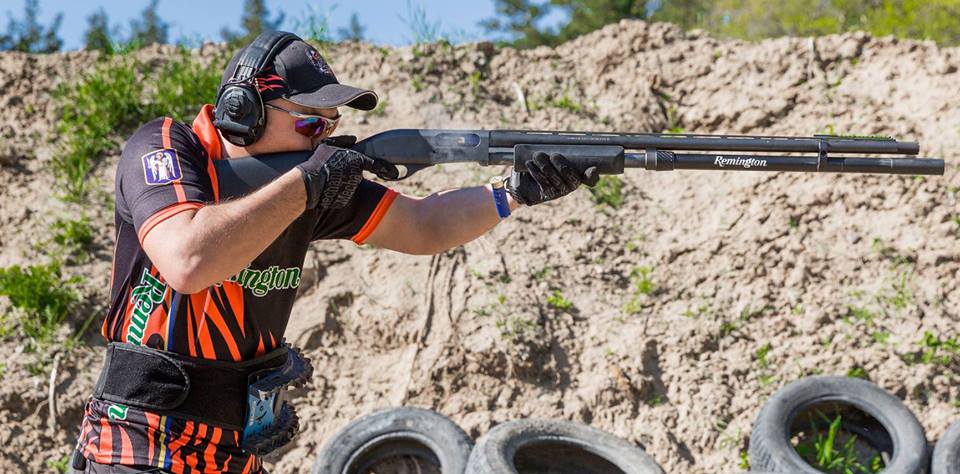 I decided to use the standard parts at first to see how will they withstand a very hard and often use. I train at least 2 times a week and each training is 125-200 rounds. I started using my Remington 870 with standard extractor, follower, carrier dog spring etc. But I ended up replacing many standard parts with better ones.
Adding Magazine Extension
My first modification was adding a Nordic Components magazine extension which is one of the best on the market today. This extension is lightweight and consists of three parts: nut, tube, end cap. That means that you can have several tubes and play with configuration of your shotgun. That is a feature which is good not only for competitive shooters which experiment trying to find the best configuration of their shotgun but for regular users too.
You will have to remove dimples from the magazine tube, drill them out or depress them using special tools:

Related post:
Magazine Tube Extensions for Remington 870
Removing Dimples in Magazine Tube of Remington 870
Aftermarket Follower
After several trainings I started experiencing problems with feeding. I had follower stuck several times, so I have bought long Nordic Components magazine follower and problem was solved. That means that my first impression about the standard magazine follower was right – replace it for more reliable feeding.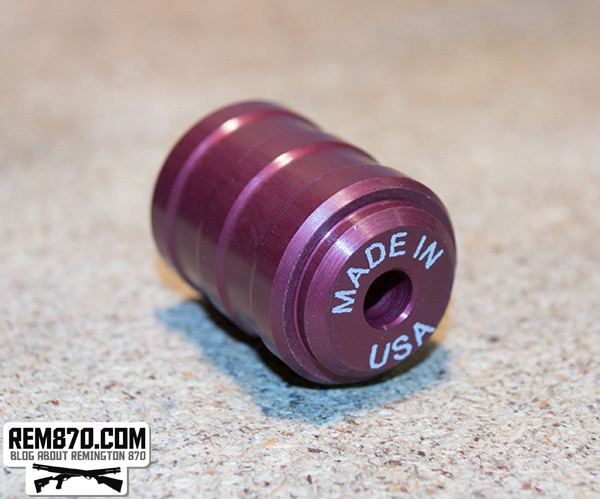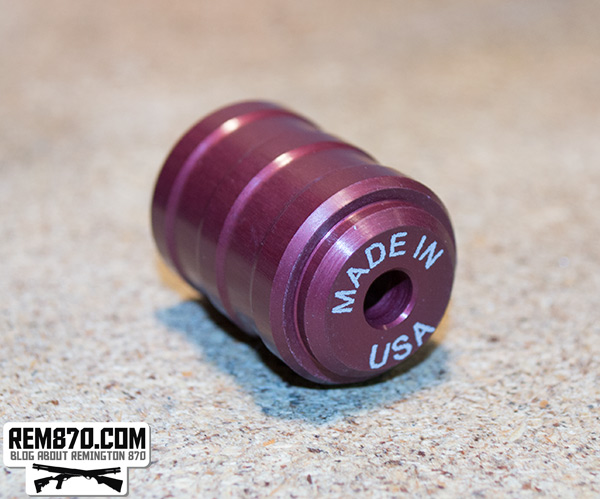 Related post:
Remington 870 Magazine Followers
Barrel/Magazine Clamps
CDM Gear BMT Jr Clamp is lightweight and holds barrel/magazine reliably. Perfect for competition shotgun: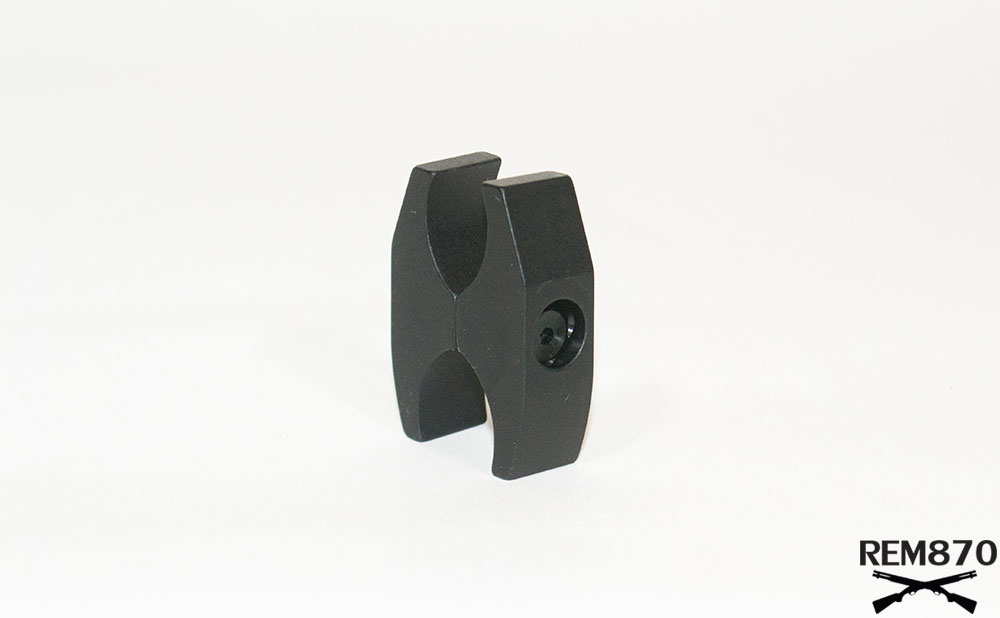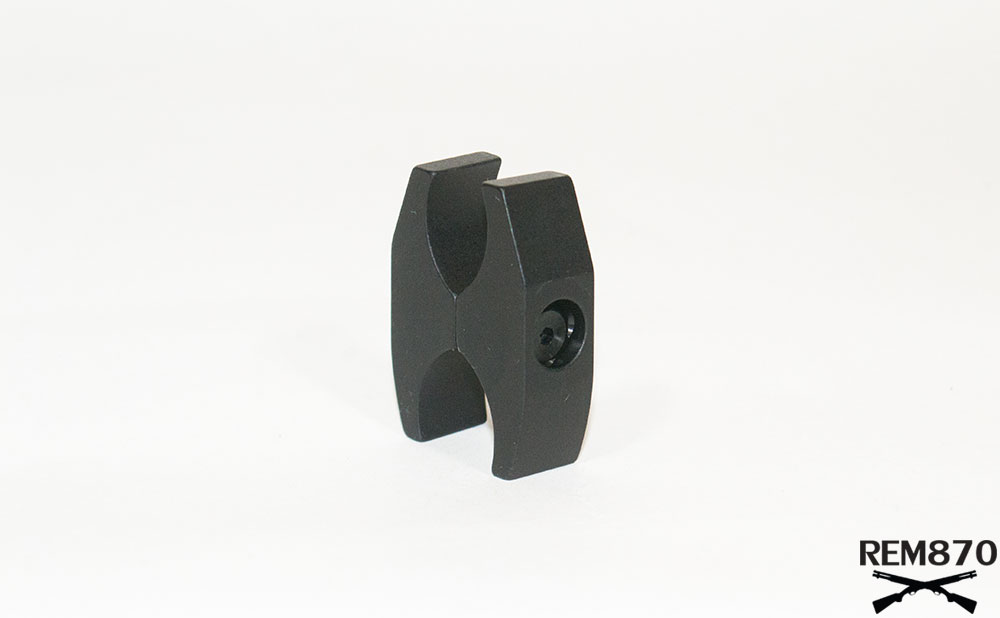 It is a must have accessory for shotguns with long magazine extensions. It protects magazine extension from damage if you hit something with it.
Related post:
CDM Gear Clamps Review: MOD-C, BMT with 3 slot rail, BMT Jr
Polishing a chamber and a recoil lug
Second thing you must to polish a chamber. It is required to be able to use all types of the ammo. Here is video which shows three ways to polish a chamber:
Now, I use a sand paper: 320 grit, then 500 grit, 1000 grit and 1200 grit. That will give you a very smooth chamber which will accept all types of ammo.
Recoil lug has a lot of tooling marks and all they make ejection of a fired shotshell harder. Also, you can even hear the sound of a rim going over those marks as round is fed into a chamber. You need to polish them to make feeding and extraction smooth. Also, I noticed that I have round marks on recoil lug on my older barrel, they are normal signs of wear, you just need to polish them.
I used dremel and sand disc to remove tooling marks and then polished that part with wheel and polishing compound. Just make sure that you don't overdo this. Be very careful, if you remove too much of the metal you may have problems.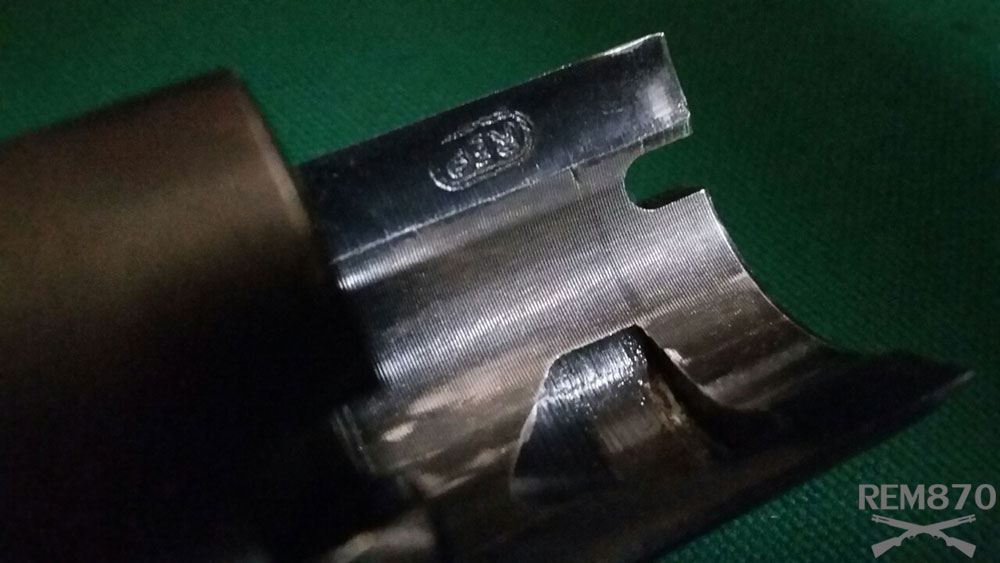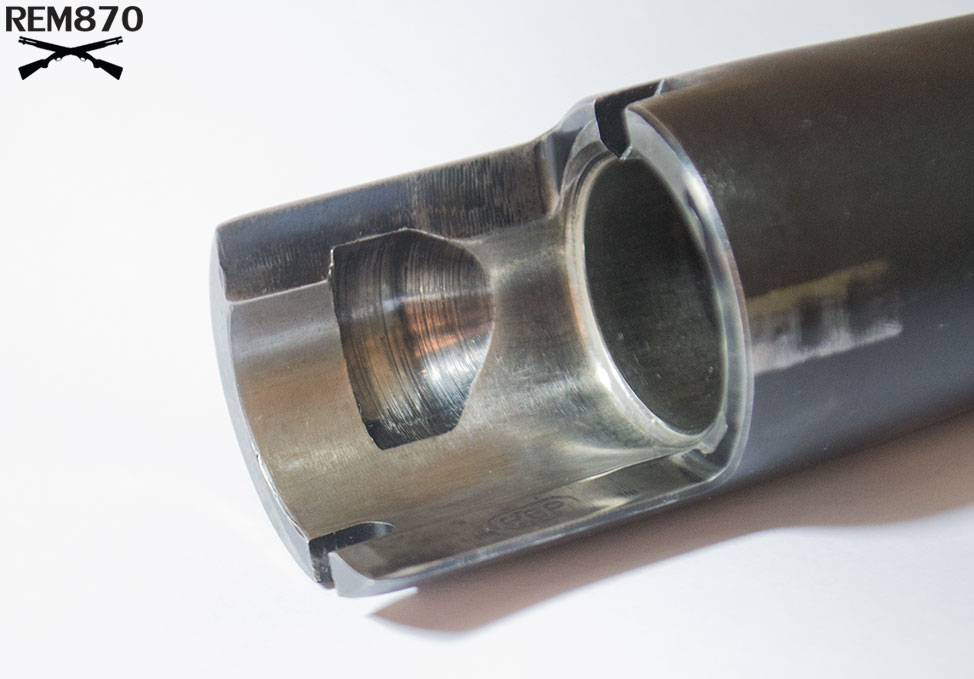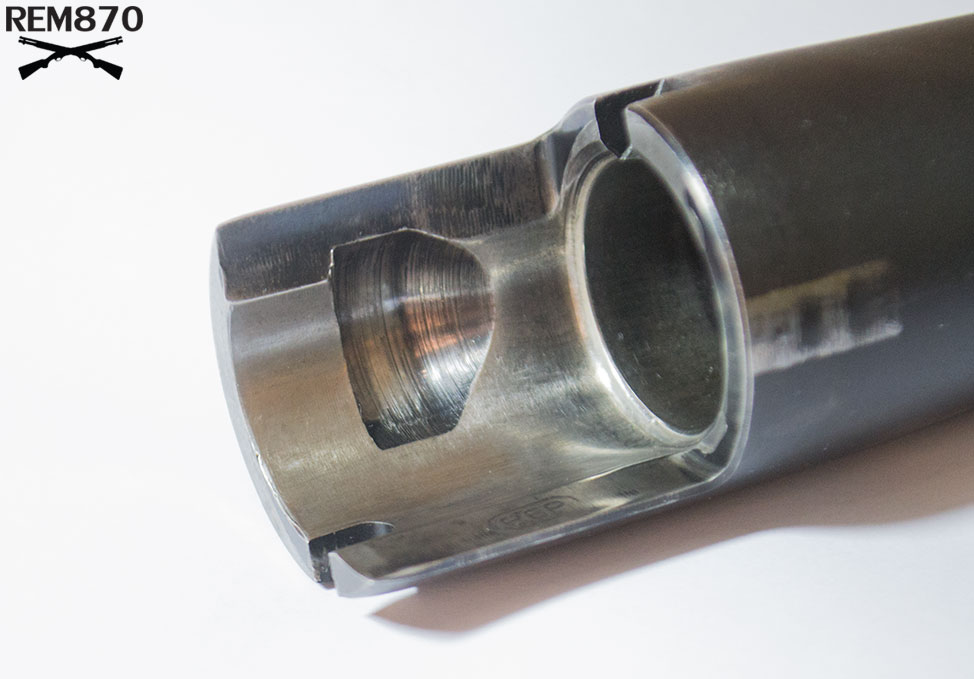 Replacing MIM extractor with Non-MIM Extractor
I've made about 2000 shots with MIM extractor without any problems. But it is always a good idea to get the Non-MIM or Volquartsen extractor. They are more reliable and competition shotgun needs to be as reliable as possible.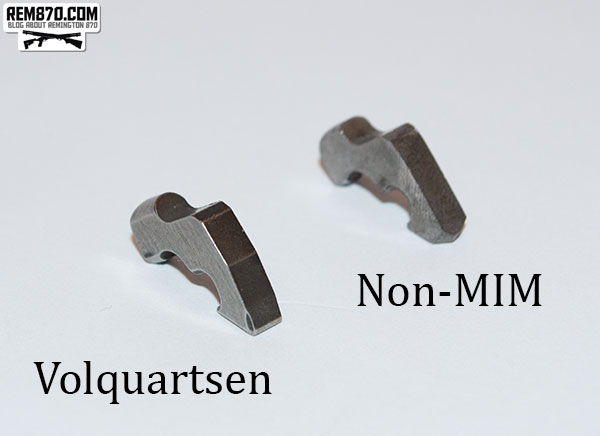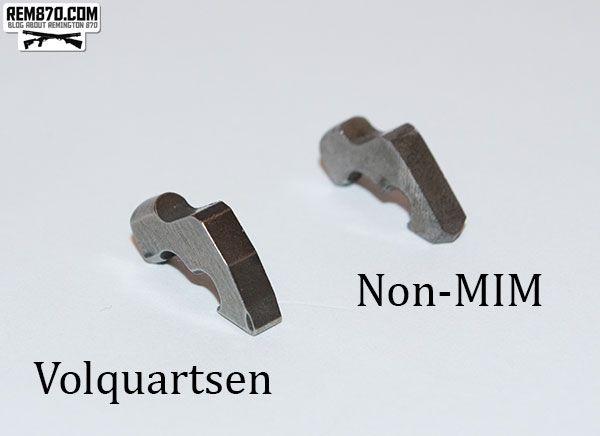 Related post:
Volquartsen Remington 870 Exact Edge Extractor Review
Remington 870 Non-MIM (Machined) Extractor
Replacing standard carrier spring with heavier carrier dog spring
When you shoot very fast, you may experience rare Failure to Feed problem: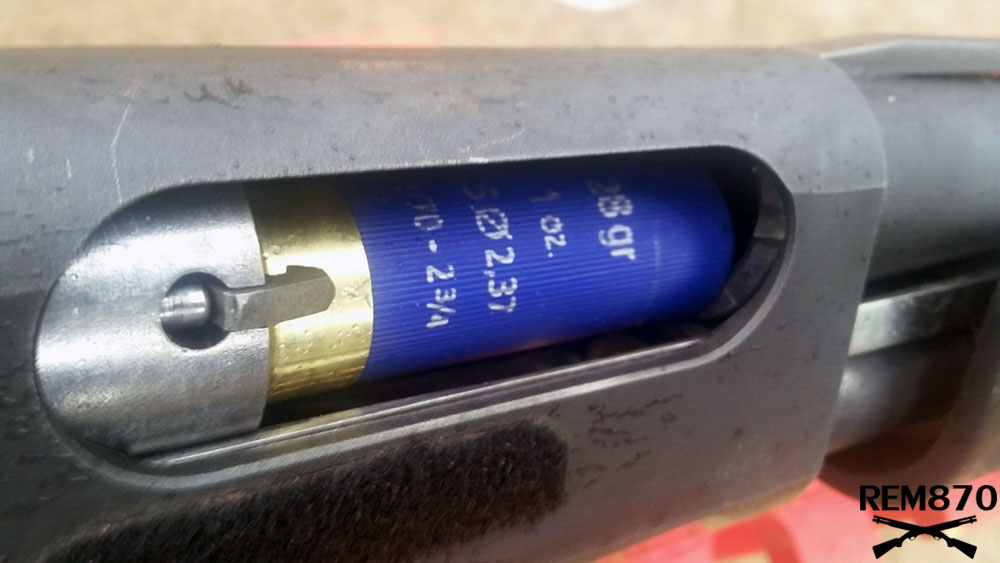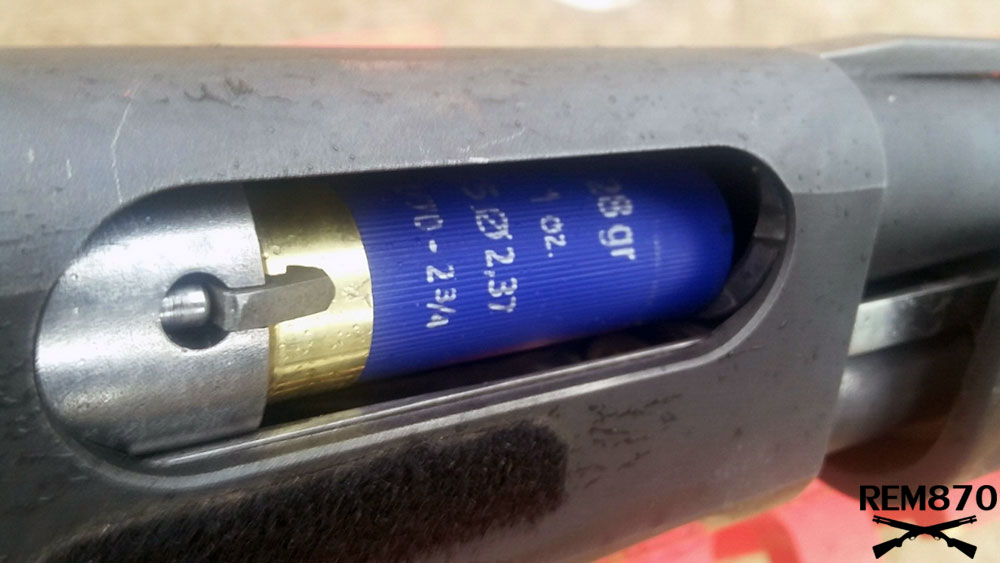 I was able to fix that using the heavier carrier dog spring.
Related post:
Remington 870 Carrier Latch Spring Upgrade
Opening and extending loading port
You will need to open and extend the loading port to be able to use modern Load-2 and Load-4 techniques.
Please note, that this is the maximum opening available for the 870: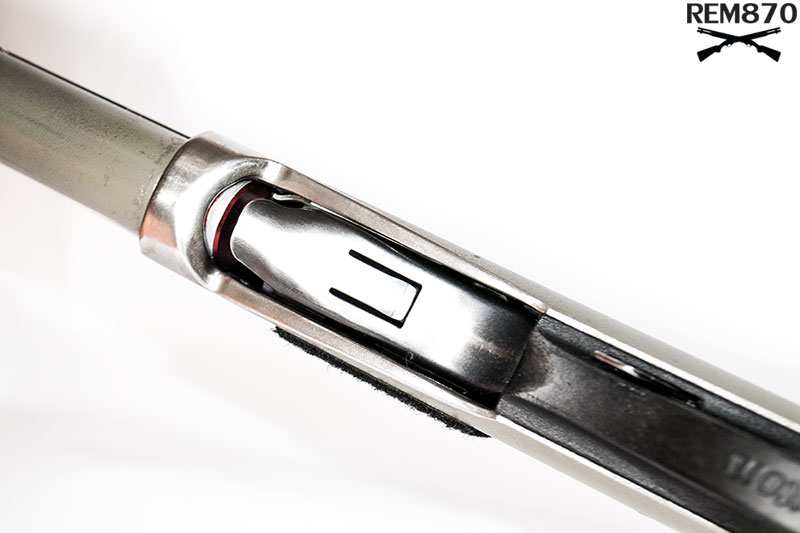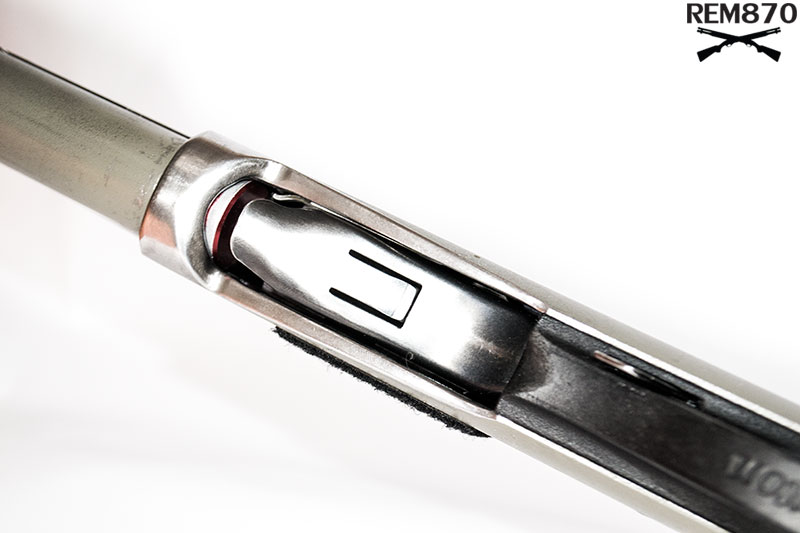 If you try to extend it further, you will experience stuck shotshell problem which is pretty tricky to cure.
Just note that you will need not only to open the loading port but also to polish sharp edges inside the magazine tube.
Replacing standard ejector/ejector spring with 2 3/4 Inch Shells Only ejector/ejector spring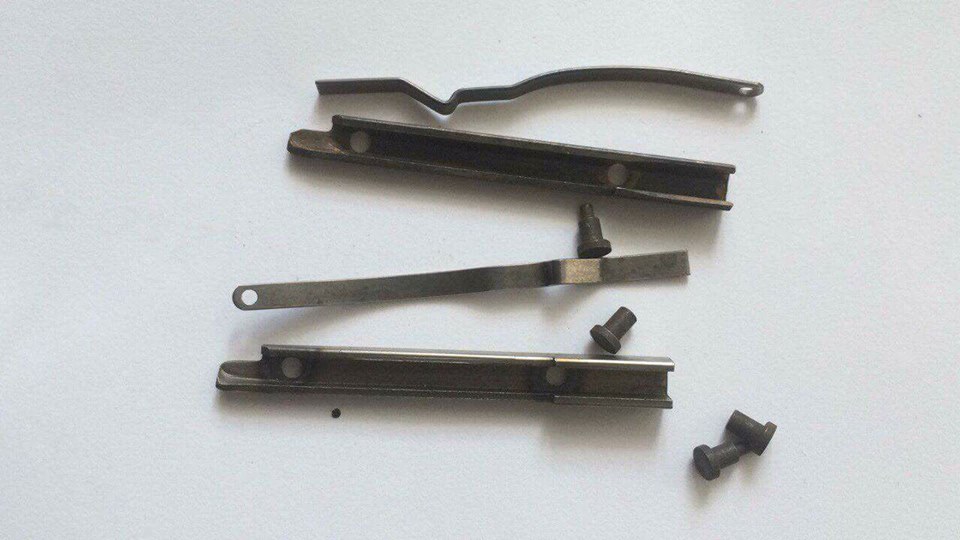 You will not experience a lot of problems with standard ejector and ejector spring. Just one stove pipe for each 50-100 shots, usually, when shooting from difficult positions. But each stove pipe will take several seconds which is unacceptable during competitions. So, I replaced standard parts with 2 3/4 inch shells only ejector/ejector spring. Stove pipes disappeared and I didn't have them during thousands of rounds at all. That modification was tested by other shooters and they confirmed that it fixes stove pipes problem.
Here are two small videos which show difference between standard and modified parts:
Standard parts:

Modified parts:

Modification of the right action bar for fast shooing
Read full article here: Remington 870 Modification for fast shooting
Final Result
You will receive super reliable, easy to load, fast to shot competition shotgun in the end. It will take some time and efforts but the final result will make you happy.