CDM Gear Clamps Review: MOD-C, BMT with 3 slot rail, BMT Jr
I test a lot of products but when I test CDM Gear products, I feel unbelievable aesthetic pleasure from them. This time, I received a bunch of new barrel/magazine/flashlight clamps for the Remington 870. They are also available for other shotguns like the Mossberg 500. The clamps are great as always, the design is perfect, the form is beautiful and the products are full of features. I remember the first time I received the CDM Gear MOD-C flashlight clamp and it was love at first sight. It looked awesome and the form of the barrel/magazine clamp was futuristic and functional. It is still one of the best ways to attach a flashlight to your Remington 870 or just stabilize and protect the extended magazine tube.
Thanks to CDM Gear for clamps for review!
New Improved CDM Gear Barrel/Magazine/Flashlight Clamps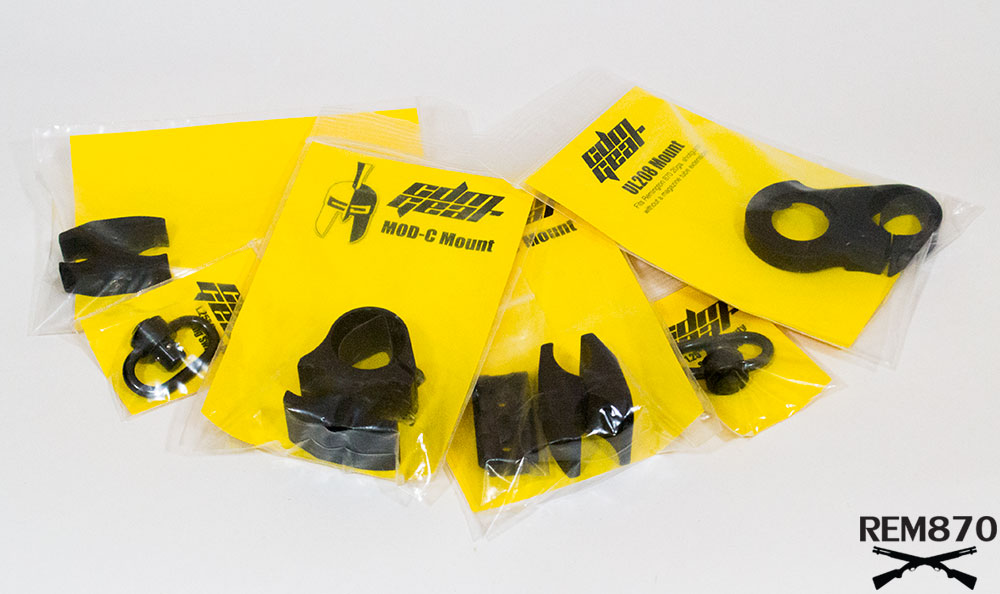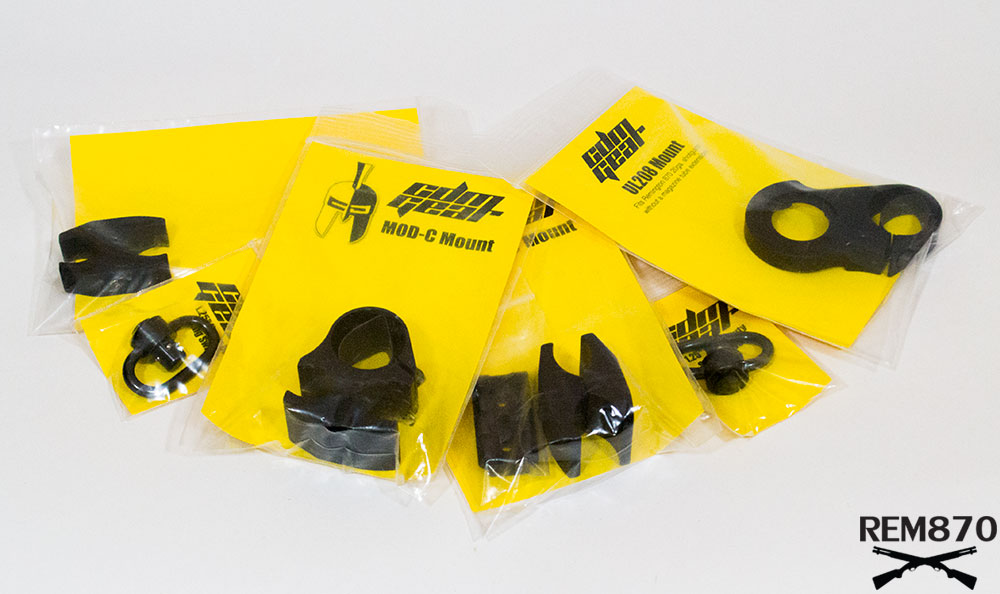 So, let's start with the new features of the CDM Gear barrel/magazine/flashlight clamps for shotguns. First of all, the manufacturing process was changed. This isn't something you can see but it is more important than even the look and features of the clamps. CDM Gear does not cut threads into them either. The usual process of cutting threads removes material to form the thread so that the threads are no harder than the rest of the clamp. CDM Gear "forms" them into the aluminum before they are anodized. The forming threads compress the aluminum into the thread shape, like a forging, while making the material that forms the threads much denser and harder. Then, a hard coat is placed on top of that to make a very durable thread. This is extremely important because the barrel/magazine/flashlight clamps can be removed and installed thousands of times without any problems. I know this because I use and disassemble my shotgun very often.
Clamps are made from two pieces of machined metal and are very durable. I've used previous versions of the CDM Gear flashlight clamps for years without any problems. I've fired thousands of rounds, disassembled shotguns and clamps hundreds of times and they still look and work perfectly. Clamps are made of aerospace quality 6061 aluminum, which makes them lightweight and durable.
Another thing that I always expect from CDM Gear clamps is a very cool design which looks perfect on all the shotguns they are designed for. The design was changed slightly with time but I think that it became better and more modern looking.
Stabilize and Protect Magazine Extension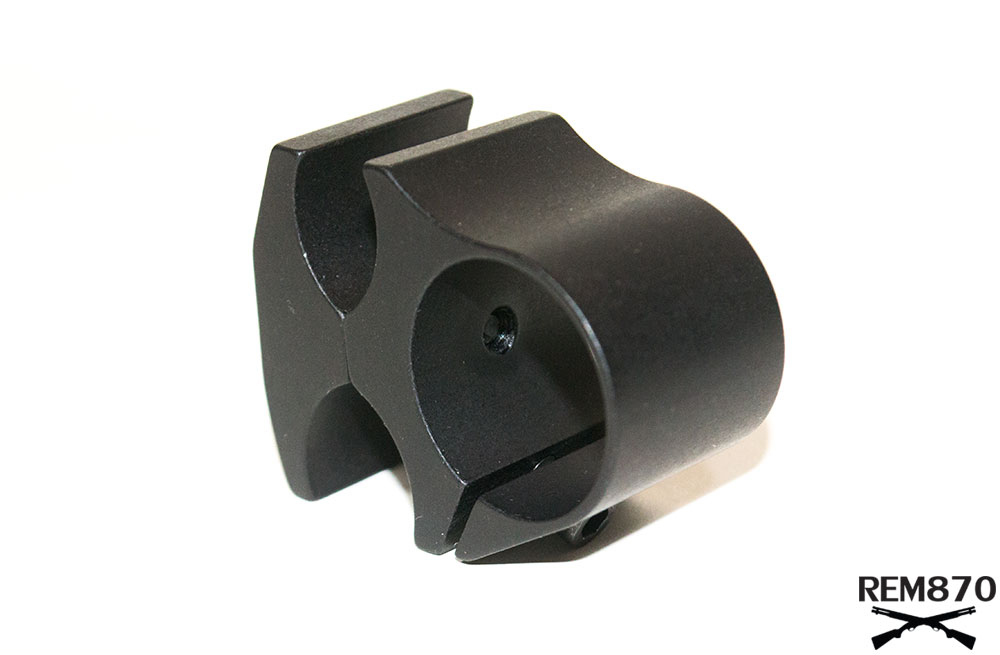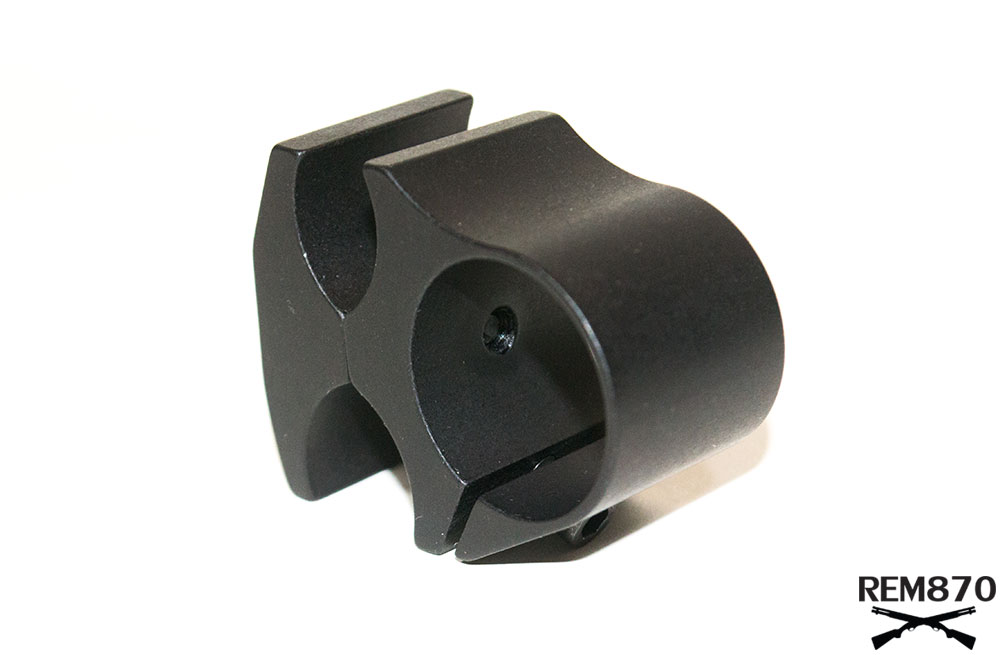 Let's have a closer look at the features they give to shotgun shooters. First of all, the main function of all barrel/magazine clamps for shotguns is to stabilize them and protect the magazine extension tube from damage. It is pretty easy to damage the magazine extension especially if it's longer than +1 round. I think that every tube which adds more than one round needs to be stabilized using a clamp. That is often overseen by many shotgun owners and it can lead to the magazine extension tube getting damaged which will make it useless.
Some extensions come with a barrel/magazine clamp, for example, the one made by Remington. But it doesn't have many features and it can be placed only in one position on the magazine extension. You can be more flexible with CDM Gear clamps by installing them in any place on the barrel/magazine tube that you want. You can place them anywhere along the barrel and magazine so that if you want to add a light, you can fine tune where it is in relation to the forend. CDM Gear magazine/barrel/flashlight clamps also give you additional features like a QD sling swivel cup, flashlight holder or rail. CDM Gear clamps are lighter and sturdier.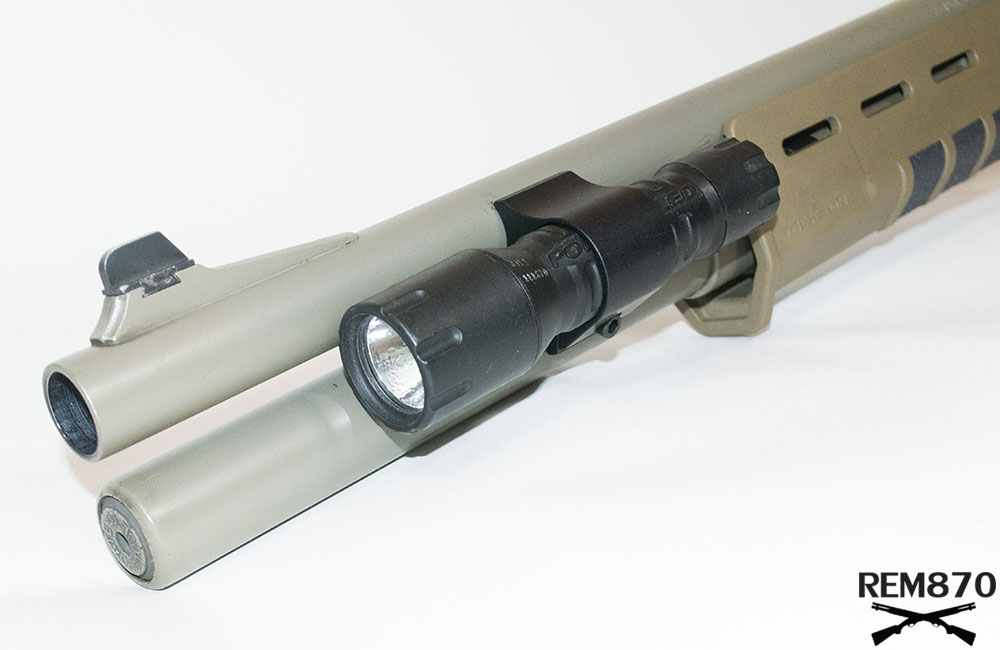 The CDM Gear MOD-C clamp holds the magazine extension/barrel reliably and protects the extension from damage. What is the next advantage? You do not have to remove your light to remove the clamp. It makes disassembly much faster and easier.
If you have just a rail, there is a hole in the rail which lets you access the screw so you don't have to remove the rail in certain configurations. That is a very handy feature which makes disassembly/reassembly easier and faster.
CDM Gear MOD-C Light Mount – One of the Best Ways to Add a Flashlight to Your Shotgun
You can attach almost any 1-inch flashlight with the CDM Gear MOD-C clamp. I recommend one of the following flashlights:
-FAB Defense Speedlight
-Streamlight Polytac
-Surefire G2X
The flashlight is held in place very well. You will not see any movement after hundreds of shots are fired. I tested this many times during numerous training exercises. But as always, I recommend that you test everything you have on your shotgun yourself. You must follow this rule for any home defense or tactical upgrade you install on your shotgun.
There is another advantage to the Mesa Tactical, Nordic Components, and CDM Gear mounts. It is the mid mount of the light rail that keeps the peripheral sight picture open. It is extremely important in home defense or tactical situation.
Anti-scratch and anti-movement pads included
Anti-scratch and anti-movement pads are included only with CDM Gear and Magpul clamps. They are great and make the MOD-C clamp even better. You will receive two pads for the barrel/magazine tube clamp and flashlight holder. They look different but have almost the same features by protecting the finish and reducing any possible movement. No slip tape pads are great to protect your shotgun's finish and reduce movement under recoil.
CDM Gear MOD-C and BMT flashlight clamps fit the Remington 870, 1100, 1187; Benelli M1/M2/M4/M104 (not SuperNova); Mossberg 500 7 shot, 590 (not the 590A1 or SPX models, see MTC clamp); Winchester 1300, 1200 and SXP Defender.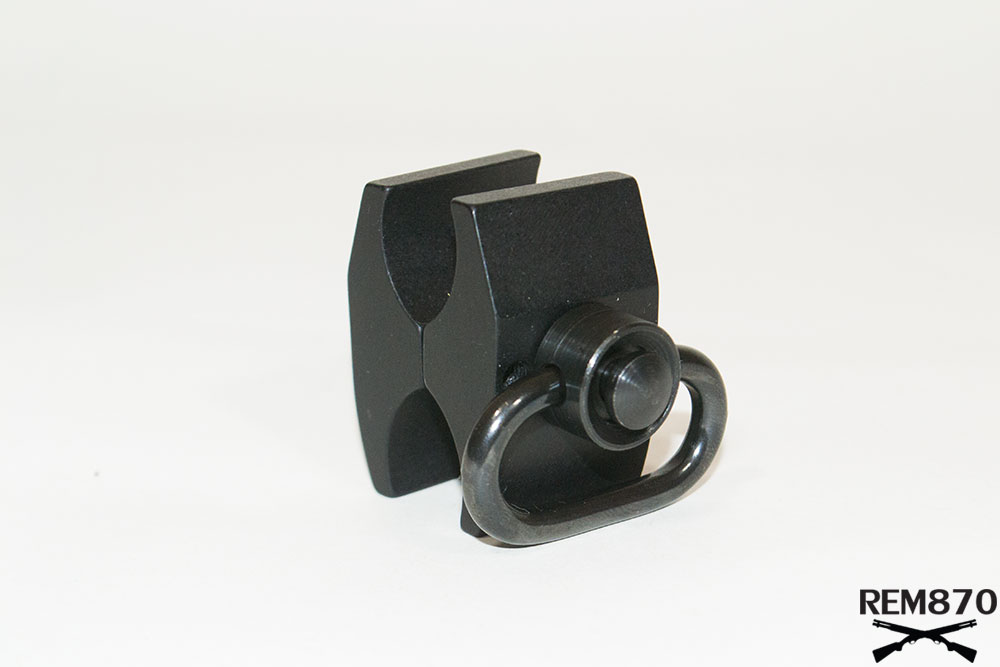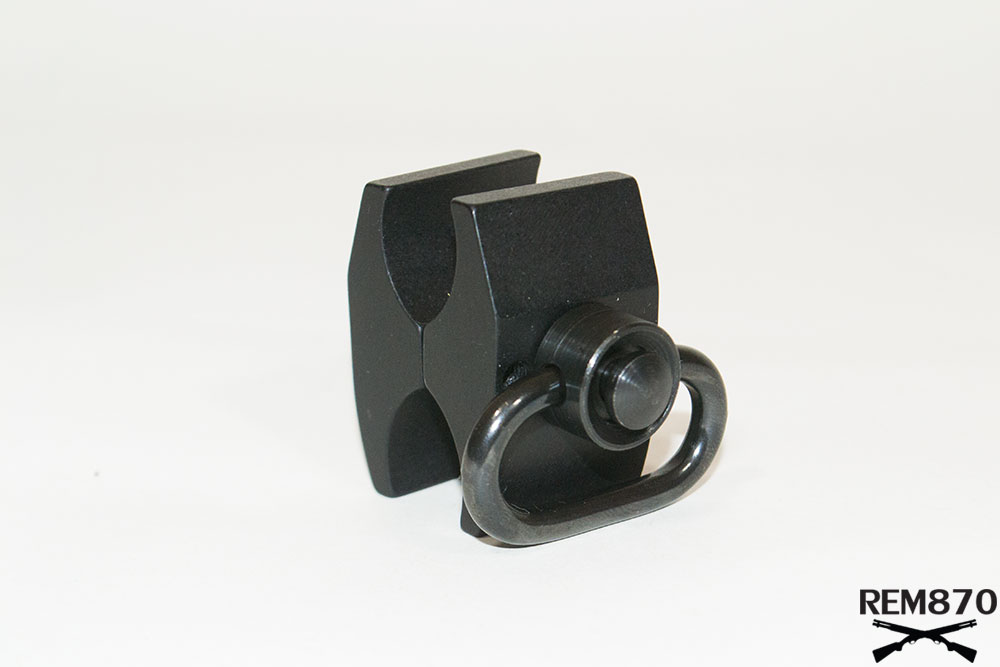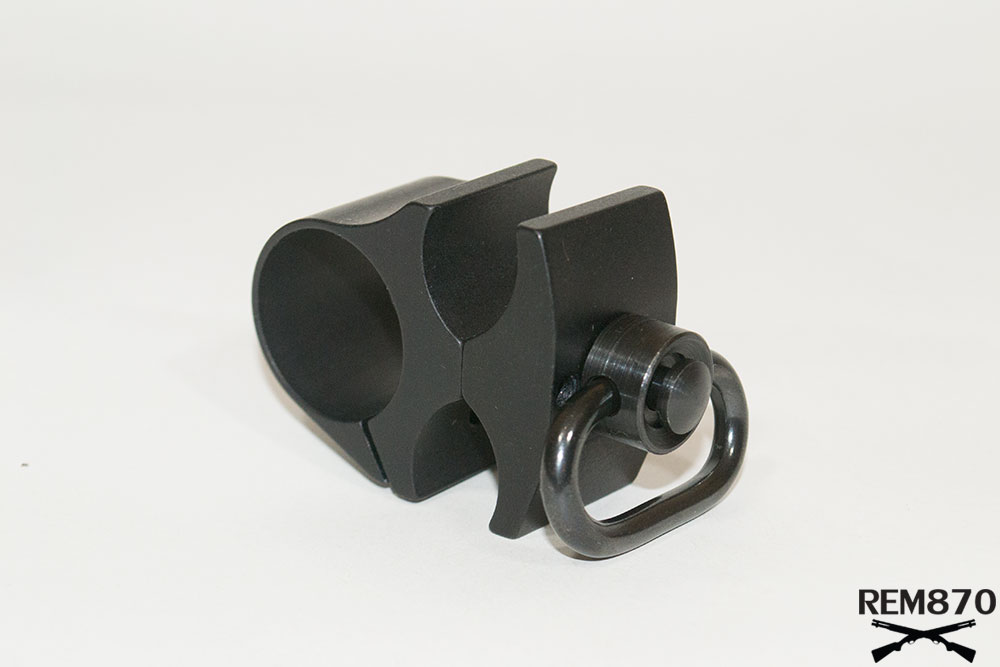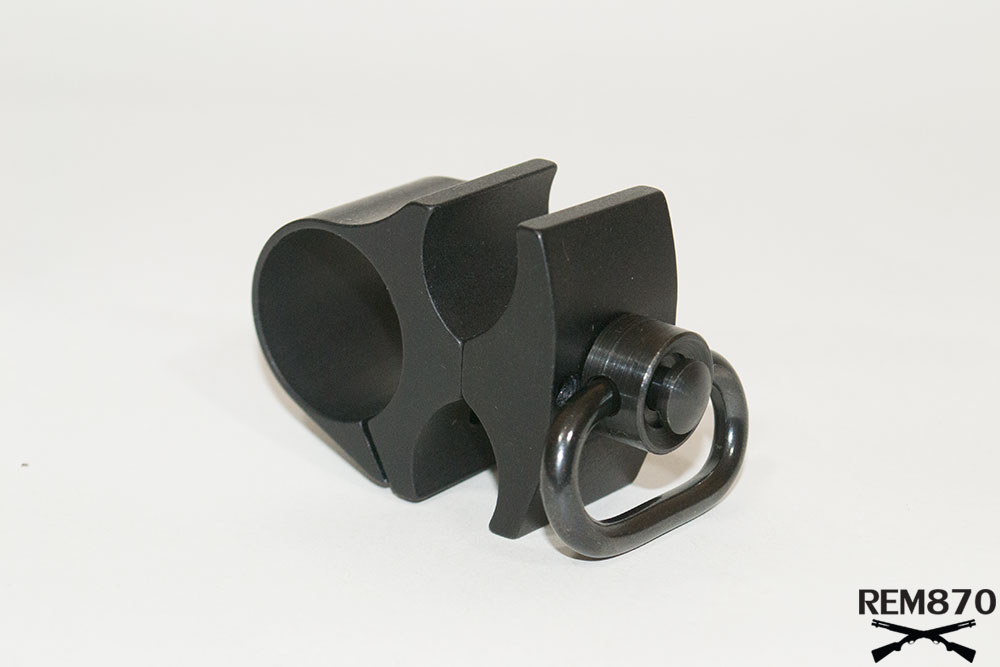 CDM Gear MOD-C and BMT clamps accept quick release sling swivels. The clamp bolt is hidden inside the QD dock, so simply removing your QD sling swivel exposes the bolt for easy disassembly. Another good product which you can buy together with CDM Gear clamps is a heavy-duty sling swivel. It is tough; it is rock solid and looks indestructible. It is a very reliable way of adding a sling to your shotgun. Cheap sling swivels may let you down in the most unexpected moments.
CDM Gear BMT Clamp with Three Slot Rail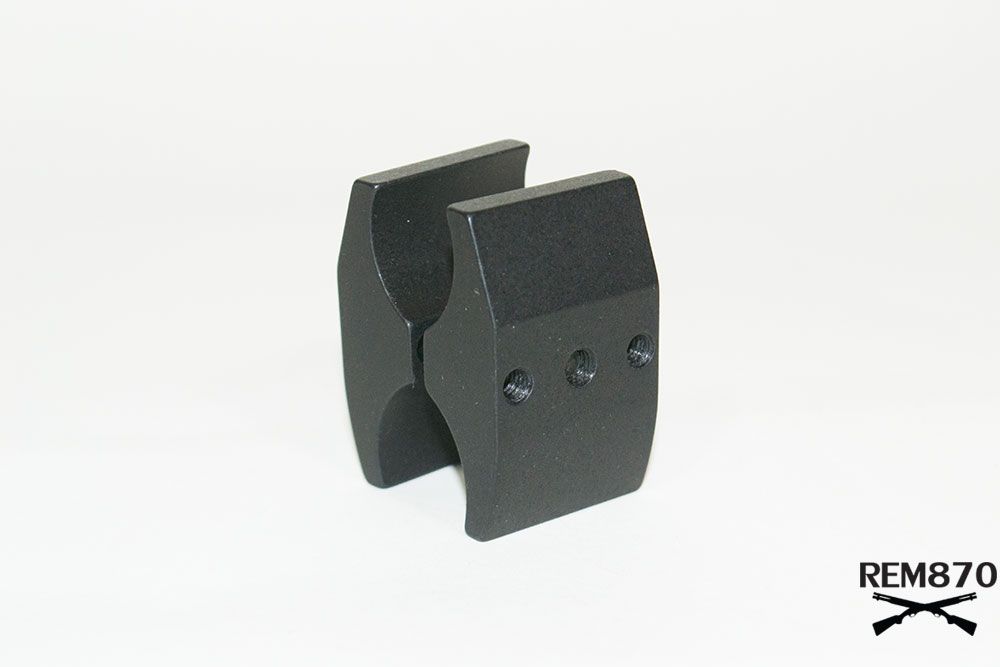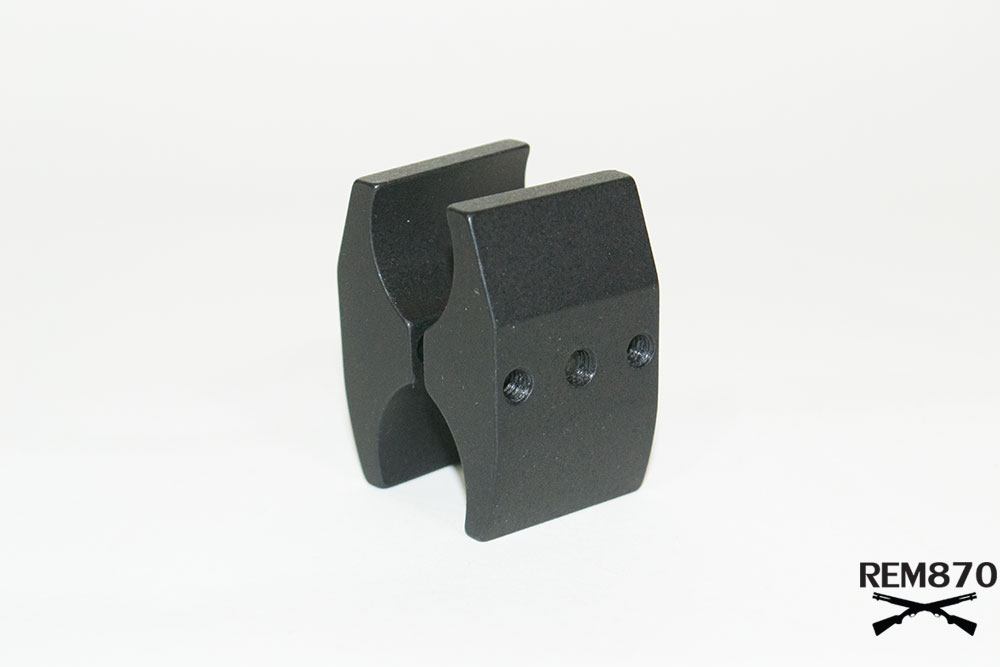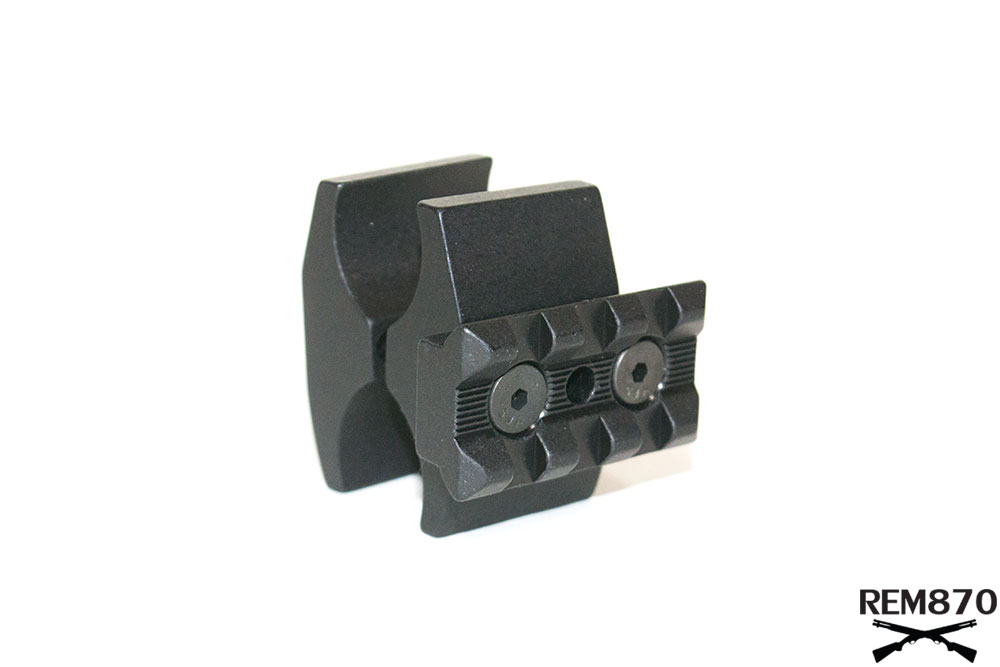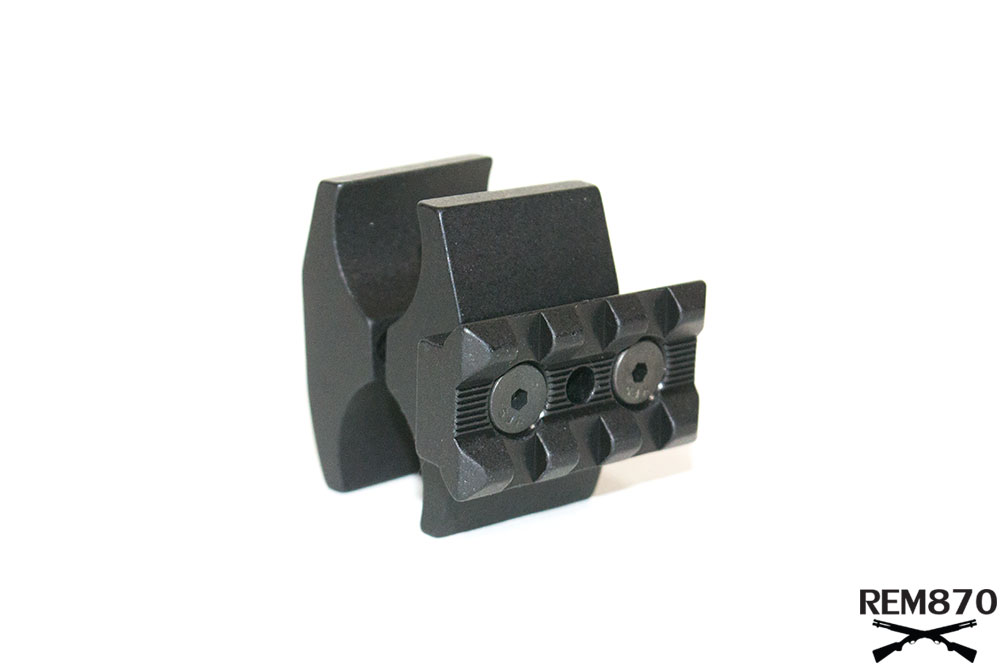 BMT Clamp is for those who like rail-mounted flashlights like:
-TLR-1/TLR-2
-Nebo iProtec.
-Inforce
-Surefire Mini scout
-Elzetta Mini-CQB
This barrel/magazine clamp has all the advantages of the MOD-C clamp with the only difference that you can attach a three-slot Picatinny rail to it. This rail is good not only for flashlights but also for other accessories like lasers too. CDM Gear manufactures very sturdy rails which you can purchase together with the clamp. The BMT Clamp is low profile and perfect for the installation of the flashlight on your shotgun.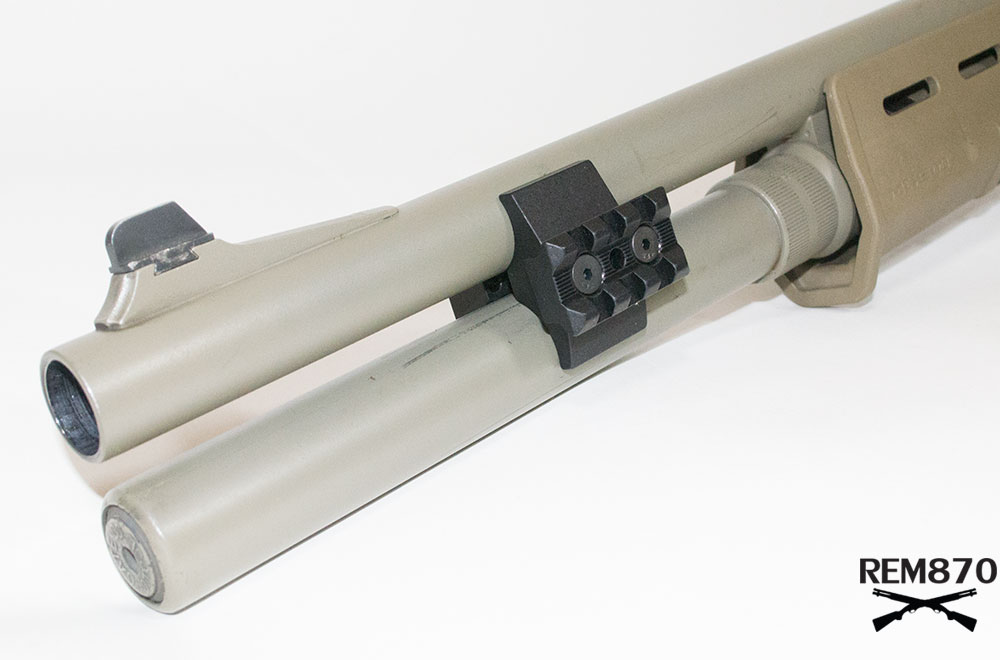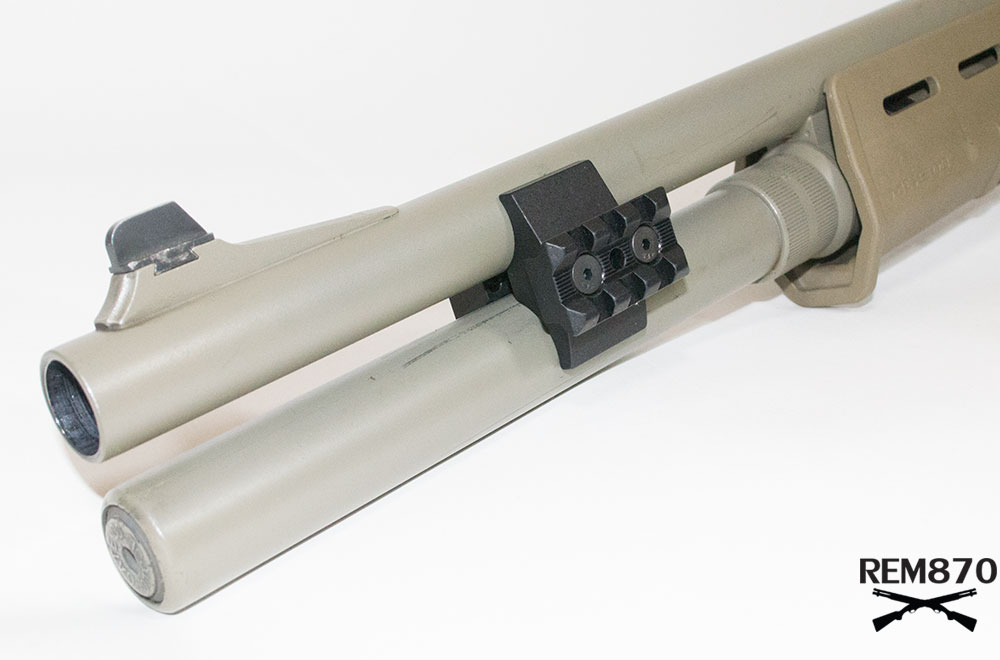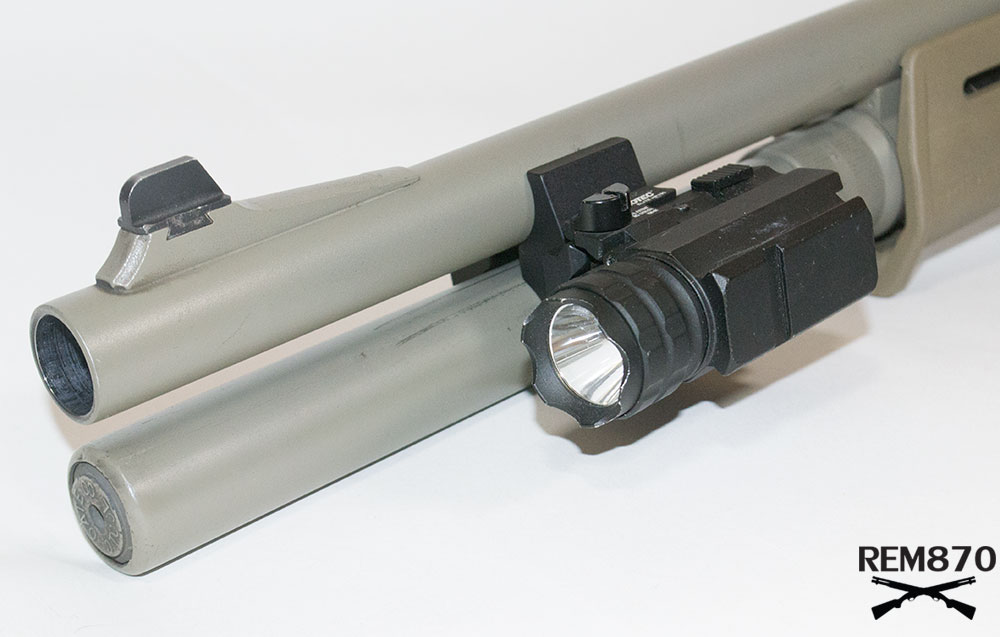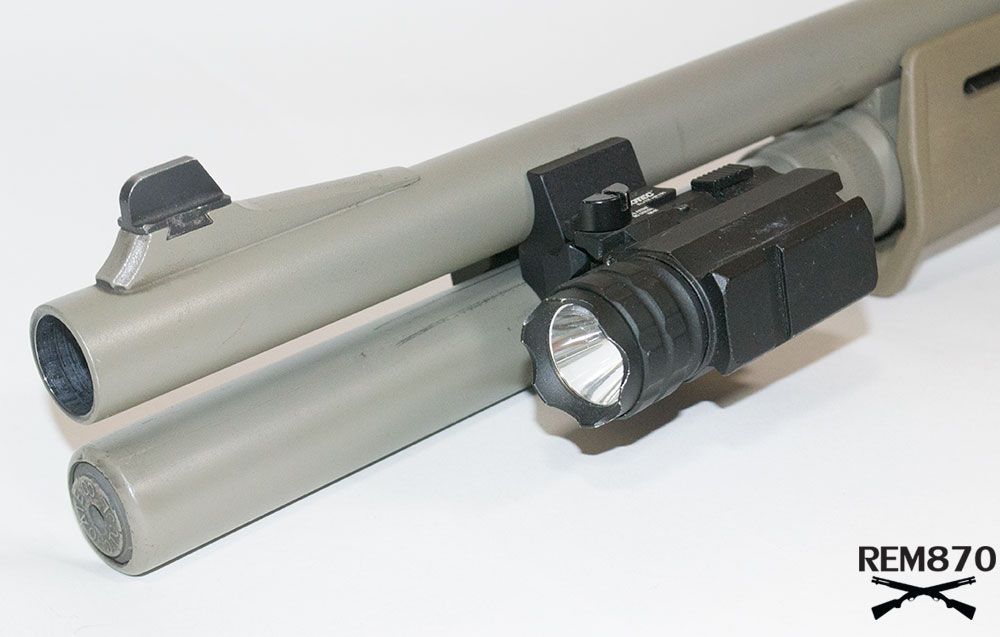 The BMT Clamp with a rail is for those who like quick detaching flashlights. It is a handy feature if you want to be able to remove/install your flashlight in a matter of several seconds. It is good for quickly swapping your flashlight between different firearms. You can have a flashlight on the rail of your AR-15 and then simply remove it and install it on your Remington 870 in less than a minute.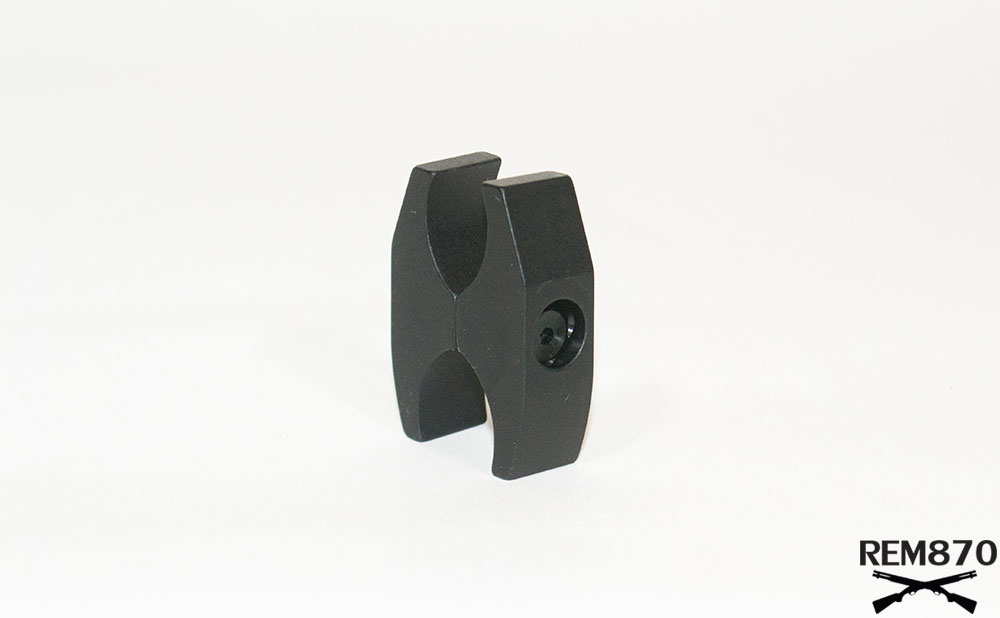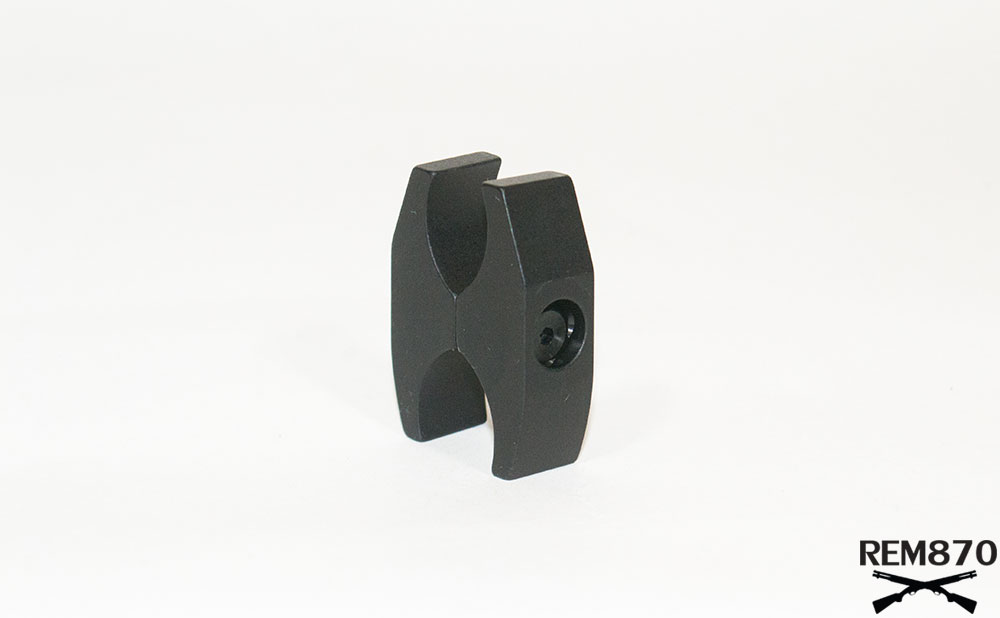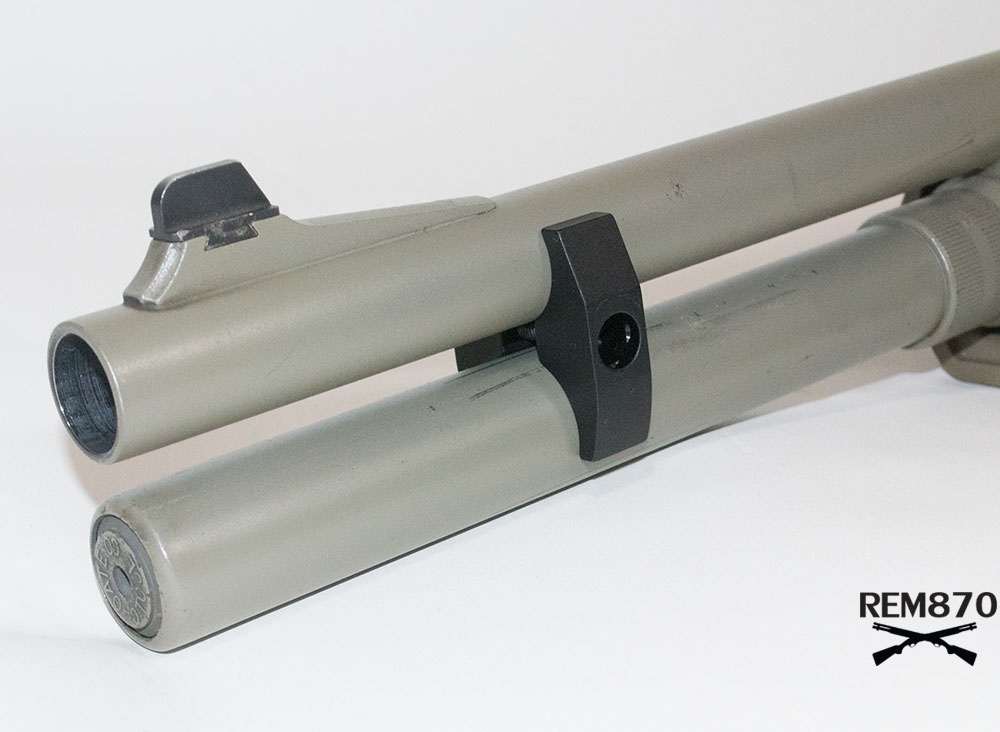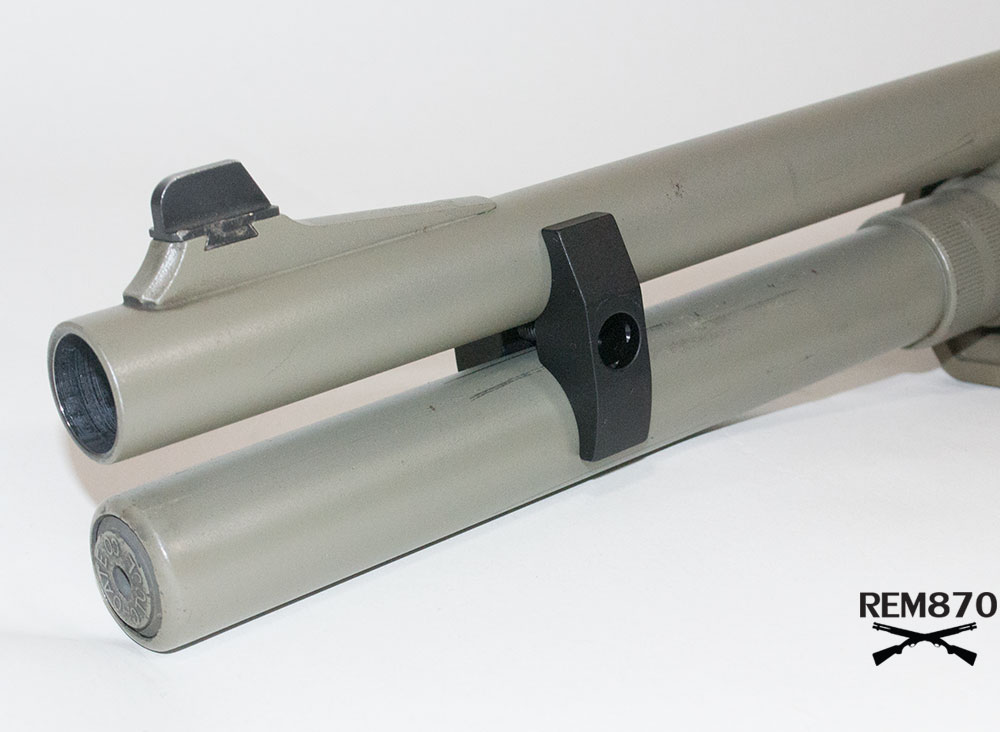 One of the products is the BMT Jr. clamp which is a half-inch version of the larger clamp, but is just a clamp with a QD sling swivel dock. It is awesome and a must have for Remington 870/Mossberg 500 owners which like minimalistic looks. It doesn't add weight at all but serves its function. It is a pity that it's not available for the Benelli Supernova because I would be happy to have such a compact, light, and nice looking clamp on my competition shotgun.
20 Gauge CDM Gear Flashlight Clamps
The CDM Gear released the BMT light mount which was designed especially for 20-gauge shotguns. There are not too many accessories for the 20-gauge Remington 870, so it is good to have one more great accessory. It has all the features of the 12-gauge version.
Another option for 20-gauge Remington 870 owners is the UL light mount. This mount cannot be used with a magazine tube extension. It works on newer shotguns with the internal magazine tube detent. It doesn't require any tools for installation and removal.
Installation is very simple. There is only one Allen key bolt holding it on. The rails on the BMT clamps are held by two bolts. The flashlight on the MOD-C clamp is held by one bolt.
CDM Gear clamps are highly recommended. They are good for adding a light, sling, or other accessories to them. But also, they are lighter, more durable, and don't scratch the finish of your firearms. They are becoming increasingly popular, so you may find some of the models out of stock. I recommend getting the CDM Gear clamp, you won't regret it.
CDM Gear is a small business which makes great products. And I am very pleased to know that the first review of their products appeared on Rem870.com. Keep up the good work and keep making new fantastic products.
Recommended Products: