5 Best Remington 700 Chassis: Modular Driven Technologies, JP, Accuracy International, Masterpiece Arms, Kinetic Research Group
Remington 700 history
In 1962, Remington Arms began manufacturing their bolt-action rifle series known as the Remington 700. Each rifle of this series uses a similar centerfire bolt action function. Depending on the caliber of the rifle, its internal magazine will usually have a capacity of either 3 rounds, 4 rounds, or 5 rounds. Some versions even have a floor plate (BDL version) which allows you to unload the ammunition from the bottom by a hinged door. If there is no floor plate installed (BDL version), then it is considered a "blind" unloading. You can turn an ADL into a BDL with a floor plate kit and a stock.
When you place your order for the rifle, you can have a detachable box magazine included with it. There are a variety of different assembly options available when you purchase the Remington 700 model. These differences pertain to its stock, caliber configuration, and barrel type. The rifle model is an expansion of the Remington 722 and Remington 721 models. These were first sold to the public in 1948.
This is one of the best bolt-action rifles ever. It is made in the United States with great pride. The Remington 700 models have been the most popular bolt-action rifles for more than 50 years. No other bolt-action rifle has generated more sales than the 700 series.
The receiver of the Model 700 has 3 steel rings which are quite known for their strength. It also includes a hammer forged barrel. This combination of components makes the Model 700 a superior bolt-action rifle amongst all the rest. This is the reason why elite snipers in the military choose to use the Model 700. It provides the kind of precision needed in a tactical operation. But even if you're just hunting game in the woods, you can still take advantage of the accuracy that this weapon provides.
About Remington 700
The Remington 700 series rifles offer internal magazines with a three, four or five-round clip (depending on the type caliber used). Some versions have floor-plate that is hinged for quick loading and unloading. From 1978 to 1982 Remington developed the Sportsman 78 that had the 700 action with more cost-effective feature like plan stock without checking. The can come with a box magazine that is detachable. This model is available in many different stocks, barrels and caliber arrangement.
The Remington 700 series has a by-hand operated bolt action with two lugs. The bolt face surrounds the base of the cartridge where the C-shaped clip "extractor" is contained within the bolt alignment. The plunger on the bolt face is activated with a coil spring and acts as an "ejector". The 3-piece bolt construction (bolt handle, head and body) are brazed together. The receiver is built with cross-section steel.
Remington 700 Models
The Remington 700 comes in many variants. The equal balanced two-lug bolt body has a .695 inch (17.65 mm) diameter, with the long-action lock time is measured at 3.2 milliseconds (extremely efficient for this rifle type).
Each of these options can have different magazine configs: a blind magazine that is used with no floorplate, a conventional magazine that has a removable floorplate and a detachable box magazine. There are military and standard use versions available allowing for use with slings, bipods, other accessories.
The Mountain LSS model is a variant with a laminated stock and stainless-steel barrel. The Model 700 ADL was replaced by the Model 700 SPS (Special Purpose Synthetic) as a more cost-efficient version in newer production.
The 700 ML muzzle loading rifle was created by Remington from 1996 forward. A short-lived experiment using the EtronX electronic primer ignition system was created and put into production in the Model 700 EtronX introduced in 2000, though this model failed commercially and was no longer in production in 2003, along with the EtronX primers themselves.
Remington 700 Rifle without Stock or Chassis
Here is how Remington 700 looks like without chassis. Barrel, trigger, bolt but without any furniture and stock. Engineers did an excellent job, and you can easily replace cheap factory stock with a professional chassis. This will dramatically improve your experience and the accuracy of your rifle.
Good rifle chassis, as well as proper scope is not something to save money on. They provide a lot of advantages for hunting, law enforcement, target, or precision rifle shooting competitions.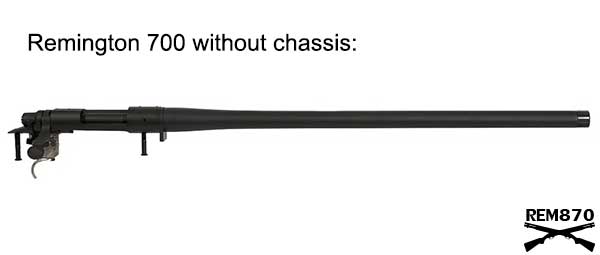 Advantages of rifle chassis:
Improved Accuracy
Adjustments to better fit shooter
Allow attachment of additional equipment
Enable shooter to use magazines
Folding buttstock
Accept AR-15 pistol grips
Bag Rider
QD sling swivel locations
Improve overall experience with any rifle
Improved Accuracy
One of the reasons why accuracy improves is because chassis eliminates the points of contact between barrel and stock. The Free-float barrel is going to give you much better accuracy with each shot. Free-floating barrel channel is easy to check; you should be able to insert paper between chassis and the barrel.
Additional Adjustments
It is important to have as many adjustments as possible. A good shoot is challenging when it isn't comfortable to shoot the rifle. Some of the chassis even offers toolless buttstock adjustment.
Adjustable length of pull is important to fit shooters with longer or shorter hands. Adjustment of recoil pad height and cant also improves shooting experience. Adjustable cheek riser is a critical feature which makes shooting more comfortable.
Attachment of additional equipment
Good chassis enable the shooter to attach additional equipment and accessories using M-Lok interface or Picatinny rails. There are many useful things to install: bipod, level, scope attachment (like Nightforce Wedge Prism ), night vision etc.
Use of magazines
Modern chassis enable the shooter to use any ACIS-pattern magazine. There are many of them available on the market: MDT, Magpul etc. The shooter can choose a magazine of one of many brands and have higher capacity.
Bag Rider
Bag rider is integrated to chassis or can be attached when needed. It is a special plate for the rear of the stock which provides better rest on shooting bags, for example. Bag rider gives more even recoil transfer into the shoulder of the shooter. This accessory is small and inexpensive, but very useful.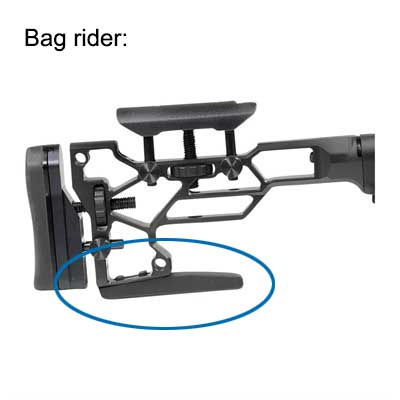 Recommended Product:
Folding buttstock
It is much easier to transport the rifle with folded stock. It makes rifle compact and more comfortable to carry. Outstanding and useful feature.
Quick Detach sling swivel locations
They enable the shooter to attach a sling because it is not easy to carry a heavy rifle in hands all the time.
Compatibility
It is important to check that chassis are compatible with Remington 700 or other rifle and action type (short action or long action).
7 Best Remington 700 Chassis
Magazine Extension
Rating
Price
Buy Online
XLR Industries Element 3.0 chassis
Our Choice
$565.25
Brownells
Magpul Pro 700 Rifle Chassis
$949.95
Brownells
Kinetic Research Group

$449.99

Brownells
Modular Driven Technologies
$600
Brownells
JP Advanced Modular Chassis System
$1,519.99
Brownells
Accuracy International
$1,299.99
Brownells
Masterpiece Arms BA
$850.99
Brownells
XLR Industries Element 3.0 chassis
Good aftermarket chassis can dramatically improve your experience with the Remington 700 rifle. XLR Industries Element 3.0 chassis free-float the barrel for the best possible accuracy and consistency of your shots. Billet chassis system will always give you better results.
They are made of aluminum which makes construction lightweight but still reliable. But if you want the lightest solution possible, then you should choose the XLR platform machined from AZ61A magnesium. This is the unique rifle chassis with a total weight under 2 lbs. including grip and buttstock. Magnesium chassis come with carbon buttstock which is lightweight and strong.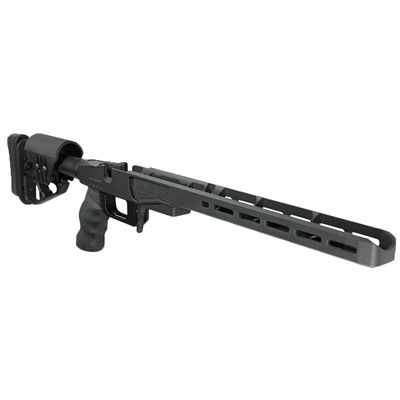 Of course, magnesium chassis with carbon buttstock are priced much higher than the aluminum version. $850.25 compared to $565.25.
There are both short and long action versions of the chassis.
Chassis come with TR-2 Rifle Buttstock from XLR Industries. It is also possible to replace it with a different one.
The shooter can adjust all of the stock parameters:
-length of pull (12-15″)
-cheek rest height (.700″)
-cant (+/- 10°)
– buttpad height.
-cheek rest position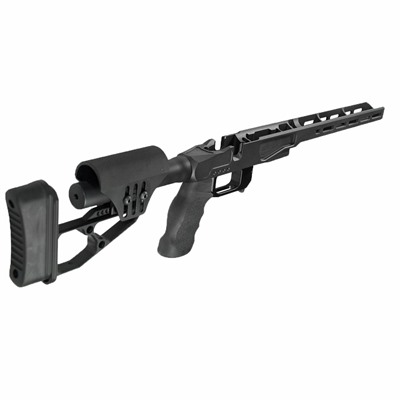 Buttstock has QD flush cups on the left and right sides. Monopod can be installed when required.
Chassis come with Ergo Tactical Deluxe Grip, which can be replaced with any other AR-15 pistol grip. This stock provides ambidextrous hand orientation.
XLR's folding stock adapter can be added if needed.
Additional accessories installation is easy thanks to M-LOK compatible forend.
Chassis Installation
This is a drop-in upgrade and no gunsmithing required. Installation is very simple and straightforward and won't take more than 5 minutes.
Color Options
XLR Chassis are available in many colors: Anodized Black, Olive Drab Green, Burnt Bronze, Smith & Wesson Red, Tungsten Grey and Flat Dark Earth.
Chassis available for:
Remington 700 Short Action (clones)
Remington 700 Long Action with a 3.850″ Magwell (clones)
Howa 1500 Short Action
Savage Short (10,11,12,14,16) Top or Bottom Bolt Release
Savage Axis Short Action
Tikka T3 Short Action Calibers Only
Tikka T1 Rimfire (factory magazine only)
CZ 457 Rimfire (factory magazine only)
XLR Industries Element 3.0 chassis are priced higher but they are well worth the money.
Recommended Product:
Magpul Pro 700 Rifle Chassis
Magpul's polymer Remington 700 Hunter Stock is a really popular and affordable choice of many rifle owners. But the aluminum chassis has numerous advantages described in this article. That's why Magpul introduced the Pro 700 Rifle Chassis which are much more expensive but give Remington 700 owners a lot of benefits.
Billet chassis made of 6061-T6 aluminum and clad in polymer to make it lightweight, sturdy and more comfortable to use.
The Bolt-cutout plate enables shooters to fold the stock when needed. This makes rifle compact for storage and transportation.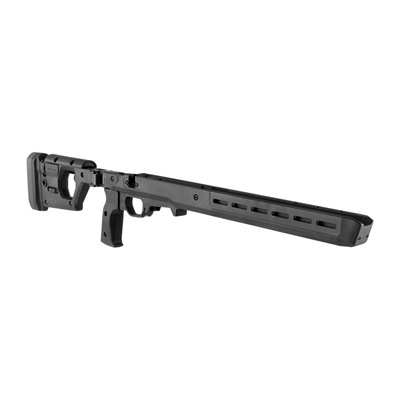 Chassis is ambidextrous with reversible cheek riser, hinge and magazine release.
The price is not small but comparable to other brands: $969.99
Color Options
Available in Black, Flat Dark Earth and OD green
Magpul Pro 700 Rifle Chassis has following adjustments:
-length of pull (13.25"-15.125")
-Butt pad height (.90"–1.33") and 5 degrees left or right
-Cheek riser (3-position fore/aft adjustment of +.375", 0" and -.375"; left- or right-handed)
– comb height
Optimized for use with PMAG® 5 & PMAG® 10 7.62 AC™ magazines but also works with most of the other AICS pattern short action magazines.
M-LOK slots provide space for easy installation of additional accessories.
A large trigger guard is compatible with most triggers, and has enough room to be used with gloves.
Magpul is a very well-known company which manufactures high-quality products and you can be sure of that.
Recommended Product:
Kinetic Research Group Remington 700 X-Ray Chassis
The Kinetic Research Group X-Ray Chassis is suitable for the Remington 700 short action or Remington 700 long action. This chassis system will turn your rifle into a comfortable and lightweight weapon that will feel much different than any other chassis system. The reinforced polymer construction of the X-Ray Chassis not only makes it lightweight, but it blocks heat from transferring to or from the shooter's hand. That way, it won't be so slippery from sweat when you're firing the weapon under moist or humid environmental conditions. Plus, you'll have the option of adding small grips or large grips to your chassis when you order it on the website. The choice you'll make really depends on your hand size and what you're most comfortable with.
The X-Ray Chassis features an adjustable length of pull which can go from 12.7 inches all the way up to 15 inches. But if you use the spacers in the spacer kit that come with the chassis, you can make the length of pull even longer than 15 inches if you wanted to. The chassis gives you additional options for mounting other accessories like barrier stops, slings and so on. The action has V-Bedding so that you'll have better precision and accuracy in your shots than you would with the standard Remington 700. One thing you should note about the X-Ray Chassis is that it only takes AICS magazines, which are not included when you purchase the system.
The affordability of the X-Ray Chassis is truly something that makes it stand out from its competition. While other chassis systems cost around $900, the X-Ray Chassis only costs $549. And for that, you get most of the same benefits that you would with the more expensive chassis systems. The color options you have available include tan, black, and green. The total chassis only weighs 3.1 pounds without a magazine in it.
As for the best use of this chassis system, it is really suitable for all types of use. You could be a soldier fighting in a combat environment or a casual hunter in the woods shooting at deer from far away. Although there are better chassis systems to serve both of these purposes, you won't find one as cheap as the X-Ray Chassis. And for the cost, you'll still be getting a quality chassis that is the result of years of innovation and carefully crafted design work.
Recommended Product:
The Modular Driven Technologies Remington 700 Chassis
The Modular Driven Technologies Remington 700 Chassis is a modular aluminum chassis designed weapon which is best known for its accuracy. It combines the traits of the M16 and AR-15 platform with the accuracy provided by a bench rest rifle. Since the Remington 700 Chassis is designed in a straight line, the recoil of each shot gets forced back to the rear of the weapon. This means the muzzle won't rise and you'll more than likely shoot straight and hit whatever target you're aiming at. If you want to attach detachable box magazines to the weapon, the bottom metal portion of it is configured especially for this purpose.
On top of the receiver and aluminum forend, there is a Picatinny rail which gives the shooter even more stabilization to ensure they make an accurate shot. Like any modular weapon, you can make an array of modifications to the Remington 700 Chassis. Many of the modifications include accessories of the AR-15. For starters, if you truly like the feel of an AR-15 then you can install the AR-15 pistol grip onto the Remington 700 Chassis. Other accessories include a buttstock and extension tube for the receiver.
Aside from the modular driven Remington 700 Chassis, there are four other variations you may want to consider as well. The JP Advanced Modular Chassis System is a JP chassis is perfect for long range shooting because of its optical mounting system which resembles AR-15-style optics. You also have a palm shelf grip for easy stabilization on the weapon, which already has reduced recoil.
The Accuracy International Remington 700 Chassis integrates the functionality of the Accuracy International AX sniper rifle system into the weapon. The full length of this aluminum chassis system is suitable for virtually any style of shooting and in any type of environment. There are two bolts which attach the action to the chassis which lies in the V-bedding system which is self-aligned and does not need bedding.
The Remington 700 Masterpiece Arms BA Rifle Chassis maximizes the accuracy and customization that you would want in your rifle. Its V-bedding system not only gives you complete accuracy, but it allows you to glass bed the barrel's straight portion and the action. Lastly, the Kinetic Research Group Remington 700 X-Ray Chassis contains a modular rifle stock which gives the shooter precision in their shooting. It is made specifically for the Remington 700SA which means there is no bedding or gunsmith work needed.
Modular Driven Technologies Remington 700 Chassis
The Remington 700 rifle is surely a fine weapon but there are always ways to make it better. One of the biggest upgrades you can make to any bolt action rifle is adding a modularly driven chassis system that will extend its compatibility with other accessories. For example, if you are a fan of AR-15 grips and stocks, then adding a Remington 700 chassis system that is manufactured by Modular Driven Technologies will enable you to do this. Not only that, but you can add external rifle magazines to it as well. Experts you've used this chassis system have claimed it has increased their shooting accuracy by 28% on average.
The three most popular Modular Driven Technologies chassis systems for the Remington 700 are the TAC21 Chassis System, the LSS Chassis System, and the HS3 Chassis System. Each chassis system has their own unique benefits so it really depends on your preferences as a shooter. The TAC21 Chassis System, for example, contains a straight-line design with customized ergonomics that are made to increase modularity and accuracy for the shooter. This system is suitable for both long action and short action versions of the Remington 700. The LSS Chassis System is a "Light Sniper System" that gives your Remington 700 a chassis system that is lightweight. This, along with its compact design, enables you to be extra mobile with your rifle. As for the HS3 Chassis System, this caters more to those who are using their rifle for hunting or tactical purposes. The side panels of this chassis system are made of reinforced polymer which makes it both lightweight and durable at the same time. This system also has an extended forend to make stabilizing the weapon a lot easier when you have to shoot it.
The prices for each of these chassis systems varies extensively. The TAC21 Chassis System is priced at $689.99 which is the most expensive one of the three. The HS3 Chassis System is priced at $499.99 which is the average price you'd expect to pay for a new chassis system upgrade. But if you are on a tight budget, the LSS Chassis System is priced at only $399.99. If you are experienced at taking apart weapons and adding upgrades, the only installation process shouldn't take you more than 45 minutes. However, if it is your first time adding a Chassis System to a bolt action rifle, you may want to reserve a few hours of free time or have a more experienced person do it for you.
Recommended Product:
MDT XRS Chassis system Review
The Remington 700 is probably one of the most popular sniper rifles ever designed. The Military designation M24 sniper rifle is the same as a civilian Remington 700, and it has seen action with many US troops and served them reliably in multiple conflicts.
In the civilian market, the Remington 700 is also a widely loved and owned hunting rifle. And with the hunting season around the corner, many hunters are taking their Remington 700 out of the safe, cleaning them up and sighting them in.
However, if you want to go a step further, and add a modern and tactical touch to your Remington 700 bolt action rifle, you should try the MDT XRS Chassis system. This chassis is designed to replace the traditional wooden or polymer furniture on your Remington 700, and give it a more tactical feel and look.
Here is the complete review of this cool product.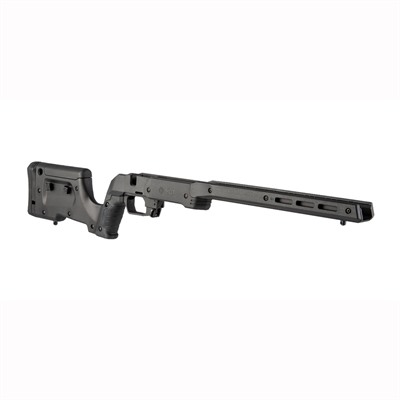 The MDT XRS Chassis is an excellent product, designed specifically for shooters who want the feel of their traditional Remington 700 bolts action rifle, but with a modern precision rifle chassis system.
This chassis has multiple features, including an improved grip, better attachment compatibility, and a modern stock, which can improve your abilities as a long-range shooter, and make your rifle look absolutely stunning as well.
As far as construction is concerned, the MDT XRS Chassis is made with a 6061 aircraft-grade aluminum core, which is CNC machined from a single aluminum piece. The high-strength aluminum core also extends to the stock, which makes the entire chassis very solid and rigid.
The core has textured polymer insulation, which improves the feel of the rifle, and keeps the aluminum core safe from the elements.
As far as the grip is concerned, the chassis comes with a replaceable angle grip, which is over-molded, and textured for comfort. You also get a vertical grip in the box if that is what you prefer.
The MDT XRS is one of the most configurable crossover chassis systems in the market, and it can be used for both factory rifles like the Remington 700 and as a base for a custom build. \
It weighs only 3.9 pounds and is ideal for both target shooting and hunting. One of the best features of the chassis is its stock. Unlike a traditional stock, it is fully customizable. You adjust the length of pull from 13.25" to 15+". The stock also features an adjustable cheek rest, which can be raised for a better cheek weld, and to adjust height over the bore of a scope.
The XRS chassis system accepts AICS pattern magazines and features an ambidextrous latch-style magazine release. The forend is 12 inches long, and it features M-LOK slots that can be used to mount any kind of accessories that you need. The forend also features a bipod mounting point for extra accuracy.
Apart from the Remington 700 and its clones the XRS chassis is also compatible with the Savage Short Action, Tikka T3 Short Calibers, and Howa 1500 / Weatherby Vanguard Short Actions.
So, if you have one of these rifles or the Remington 700 in particular, this chassis system can be a great way to upgrade your rifle and give it a professional look.
Recommended Product:
JP Advanced Modular Chassis System (AMCS)
The JP Advanced Modular Chassis System is a high-quality chassis upgrade for your Remington 700 bolt action rifle. The entire system is machined from aluminum that is used to build aircrafts with and it is compatible with any right-hand short action Remington 700 rifle, or its clone. The tactical grip included with this chassis system is connected to an adjustable Magpul stock that can be folded to fit virtually any size shooter. Most importantly, the extended magazine release provided by this system allows the shooter to keep their hand on the grip while they change the magazine. If you are shooting at a target, especially a moving target, then this feature will certainly come in handy.
The JP Advanced Modular Chassis System weighs only 83 ounces and has a 13-inch length of pull. The bolt release is not in front of the trigger but rather on the side of the bolt action. There are two versions of this chassis system that you can choose from; the Modular Tactical and the Benchrest. Each of these versions pertain to the forend that comes with the chassis system. The Benchrest forend has a totally free floating barrel feature which means you can use virtually any barrel that you want with it. As for the Modular Tactical forend, it is an AR-style forend that can attach to the chassis by using an integrated adapter. Both of these forends allow you to mount your Picatinney rails at any 360-degree direction on the forend. Please note that the Picatinney rails are sold separately from this chassis system and stock.
The price of the JP Advanced Modular Chassis System is normally $1,099.99 but you can get it for $899.99 on most gun store websites. The default color of this chassis system is Matte Black Teflon but you can pay $300 extra to have it coated with Duracoat Magpul Dark Earth or Duracoat Blue Titanium, which is dark gray. These are just optional features to choose from in case you want to add style to your weapon's appearance. If you aren't familiar with "Duracoat," it is a patented chemical coating technology which is not like any other finishing you've ever had on a firearm. The Duracoat chemical coating is applied in two parts and results in a permanent finish that will last for a lifetime. So, if you plan to use your Remington 700 for decades and then pass it down to your family members after you die, then a Duracoat upgrade will certainly be worth the investment.
Recommended Product:
Accuracy International Remington 700 Chassis
The Accuracy International Chassis System for the Remington 870 bolt action rifle is one to consider for those who want to use their weapon as a sniper rifle. To understand the true power of this chassis system, you have to be familiar with the AT and AX sniper rifles that Accuracy International produces. These are tactical sniper rifles which are used by soldiers in tough combat situations where they have very little time to think and react. With the Accuracy International Chassis System, you can modify your existing Remington 700 platform so that it can give you all the benefits of the AT or AX sniper rifles. How cool is that?
The AICS is made of alloy and polymer to give it a strong durable performance while making it comfortable to handle and grip. You can apply this system to any long action or short action Remington 700 rifle. That way, you are not forced to just use one or the other. The best part is you can use a variety of cartridges which range from the .338 Lapua, .300 Win mag and the .308 Win. Soldiers in tough combat situations all day and night need a chassis system like this in order to adjust to the vast environmental changes around them. As a sniper, you'll be in good hands with this chassis system. It is also much cheaper to just upgrade an existing Remington 700 than it would be to purchase an entirely new AX or AT sniper rifle.
What you have to decide is if you want to upgrade your Remington 700 with a AICS upgrade which resembles the AT rifle or the AX rifle. After all, these are separate rifles and you can only choose one rifle to emulate in your upgrade. The AX rifle, for example, is a long action rifle that can be configured to using a .300 Win mag or .388 Lapua caliber. It wouldn't take you that long to change the magazine, bolt, or barrel of the weapon to use these varying cartridges. That is why an AX-style Chassis System for the Remington 700 would benefit soldiers in war because they need to be able to modify their weapons quickly while they're under attack. On the other hand, the AT rifle system is a short action system which uses a .308 Winchester caliber. It contains a 24-inch fixed stock and is said to be suitable for civilians and law enforcement officers. But no matter which choice you make, you can be sure that it will be an improvement over the OEM components of the Remington 700.
Recommended Product:
Masterpiece Arms BA Rifle Chassis for Remington 700
The Masterpiece Arms BA Rifle Chassis System is a platform which provides super precision and accuracy to the Remington 700. You can use this system for both short action and long action versions of the Remington 700 rifle. A lot of people who get the Remington 700 are not too impressed with its existing action because they find it lowers their accuracy. Well, the V-Bedding system of this chassis will fix all that by giving you the best precision you've ever had in your rifle. This is perfect for those who like to conduct long range shooting, whether you're a sniper who is shooting at enemy targets or a hunter in the woods who is shooting at prey from far away. In addition, the V-Bedding system is specifically configured so that the shooter can glass bed the straight section and action if they want to.
The MPA BA Chassis System is manufactured out of 6061 aluminum at the company's CNC Horizontal Machining Centers. The buttstock of this chassis features a recoil pad and an adjustable length of pull that ranges from 13.75 inches to 14.75 inches. If you want to modify the length any further, you can use thicker or thinner recoil pads than the ones that come with the system. There is also an adjustable cheek riser and Monopod included with this system as well. The monopod can stay constricted to a tight vertical position with the option to adjust the height quickly with the various fine adjustment capabilities of the system. When you're not using the monopod, you can neatly tuck it away in the buttstock's frame for later use.
The price of the MPA BA Chassis System is $875. When you go to the masterpiecearms.com website to place your order, you have the option to choose the color, action, barrel contour and whether you want a left hand or right hand configuration. These options cannot be found with most other chassis system for the Remington 700 so you should pay attention to them. The color options include black, burnt bronze, flat dark earth, gunmetal, and tungsten. The actions can be short or long, which you already know now. But the really convenient option is to choose a right hand or left hand chassis system. Most chasses only come with right handed so if you are left handed then this may be appealing to you. Whichever options you choose, it doesn't affect the price any more or any less.
Recommended Product:
Difference between Short Action and Long Action Rifles
Usually, there are chassis for short action and long action versions of rifles. What does that mean, and how to choose the right version? This question isn't that simple because you won't see Short Action or Long Action stamped on your rifle.
There are many types of cartridges and their lengths are different, so rifle needs to have the proper length of the receiver, bolt, etc. to be compatible with a particular cartridge. The type of action depends on the Cartridge Overall Length.
Cartridge overall length (COL)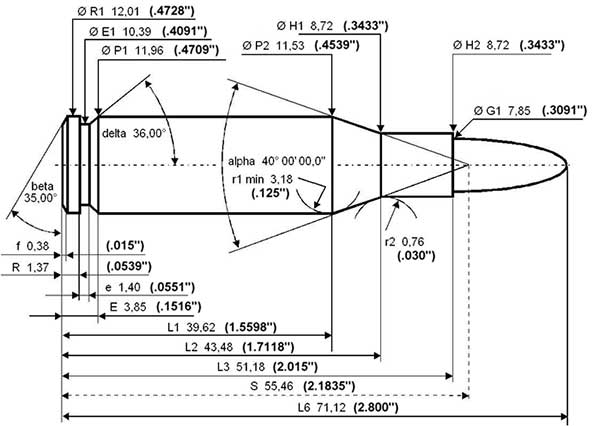 .308 Winchester maximum C.I.P. cartridge dimensions
COL is the length of the completed cartridge measured from the base of the case head to the tip of the bullet.
The most widely used action lengths are short and standard (long). There are also other action types: magnum, short, mini or super-short
Magnum Action Calibers (COL: 3.6 inches)
300 Remington Ultra Magnum
375 Holland & Holland Magnum
.416 Rigby
Long Action (Standard) Calibers (COL: 3.340 inches)
25-06 Remington
.270 Winchester
.280 Remington
7mm Remington Magnum
.30-06 Springfield
.300 Winchester Magnum
.338 Winchester Magnum
Short-Action Calibers (COL of 2.3 to 2.8 inches)
.243 Winchester
.260 Remington
6.5 Creedmoor
7mm-08 Remington
.308 Winchester
.338 Federal
.358 Winchester
Advantages of short-action rifles
Short-action is believed to be slightly faster to reload, but this mostly depends on the shooter's skills. The real advantages are the lower weight and length of the short-action rifle.
How to choose chassis for your rifle?
Check the caliber of your rifle and you will find out which chassis do you need: long action or short action.
Rifle Stock vs Rifle Chassis
The debate between rifle stock and rifle chassis is a heated one. If you don't know the difference between the two, let me explain. I'll also tell you which pros and cons I feel are most important for each.
The debate between stock vs chassis comes down to what you use your rifle for most. Is it a hunting rifle or a precision rifle? Hunting rifles have traditionally been made of wooden stocks. You see fiberglass stocks gaining favor recently, but wooden stocks for hunting rifles are still very popular. Rifle stocks are usually made from one piece of material. With both the wooden and fiberglass stock, there's very little in the way of modification that you can do other than the addition of an optic. Rifle chassis, on the other hand, are favored by precision shooters because of their increased accuracy and ability to be customized to create the perfect feel. Adjustable buttstocks and adjustable cheek pads are just two of the many ways to customize your precision rifle.
Rifle Stock
The rifle stock is what you traditionally think of when you think of a hunting rifle. It's made of wood or fiberglass and is one long, continuous piece of material. Because rifle barrels are bedded into the stock, they are not as easy to take out and put back in. Usually, a gunsmith is required to replace the stock of a rifle. Many hunters prefer traditional stocks because of the "feel". That's sort of hard to quantify, but one thing I hear from hunters is that they don't like to shoot (hunting specifically) with a pistol grip. The angle of the wrist while holding a pistol grip doesn't suit most hunters. They prefer the traditional stock grip over the pistol grip.
Rifle stocks have always had one advantage over chassis: lighter weight. That's important to hunters who often have to carry their rifle with them on long treks through the woods. However, because rifle stocks are made of lighter material, warping is a concern over the long term, which can affect accuracy.
Most hunters choose to hunt with stock rifles because that's what they learned to hunt with as kids and that's what they've hunted with their entire lives. Hunting rifles (especially bolt action) have remained unchanged pretty much since they were invented. The rifle kids today learn to hunt with is nearly the same as the one their grandfather learned to hunt with.
Rifle Chassis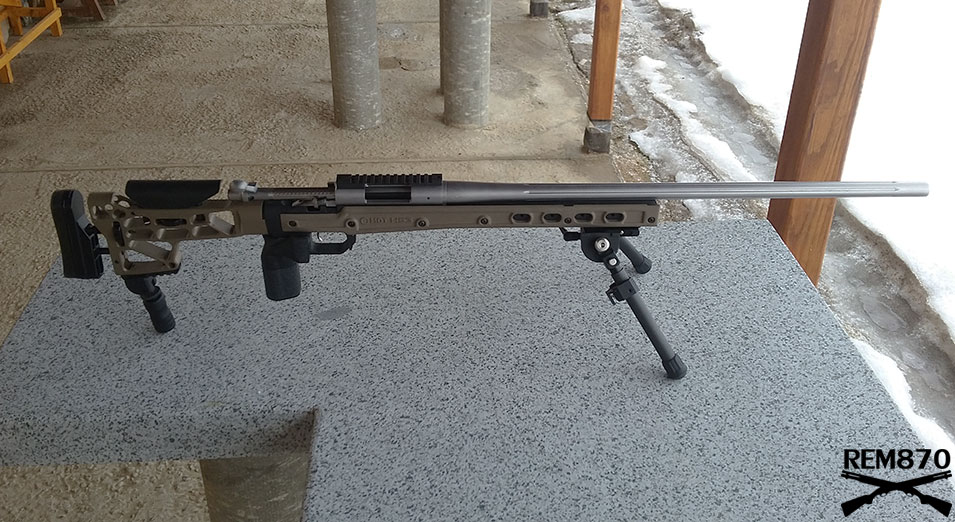 Rifle chassis have made huge strides in the last 10-15 years. Chassis are preferred by precision shooters such as those who compete in PRS (Precision Rifle Shooting). Chassis are different from stocks in many ways, most notably the material used. Chassis are usually made of aluminum which resists warping and which allows for greater accuracy. In fact, a chassis can improve accuracy up to 50% over a traditional wooden rifle stock. This is one of the main reasons that chassis are favored by competitive precision shooters. The metal chassis does add to the weight of the overall rifle. For precision shooters who typically shoot from a bench or bipod, weight isn't as much of a concern as it is for hunters who carry their rifle and usually shoot from the shouldered position.
Adjustability is another benefit of the chassis system. Chassis can be customized to perfectly fit each individual shooter which allows for better comfort while shooting, which in turn increases accuracy. Rifle chassis can be customized with extendable buttstocks, cheek pads, pistol grips, foregrips, bipod legs, and the list continues to grow.
Most chassis accept detachable magazines, something that not all rifle stocks are equipped to handle. This allows you to go longer between reloading. Also, many rifle stocks that do accept box magazines will only take the proprietary magazines made by the rifle manufacturer. Chassis, because they are aftermarket and not made by major rifle manufacturers, accept most aftermarket magazines which helps keep the cost down.
Unlike rifle stocks, the internal components of the rifle (barrel, trigger group) aren't bedded to the chassis. This allows for quick transfer from one chassis to the other with no gunsmithing required. This means that the serious shooter can have several different set-ups (rigs) available to him and transfer the rifle components between them easily.
Conclusion
Your decision on rifle stock vs rifle chassis comes down to what you use your rifle for the most. Hunters tend to prefer their traditional rifle stocks while precision shooters lean toward the accuracy and versatility of rifle chassis.
If you look at the pros and cons, rifle chassis win nearly every category hands down. The only real benefit that rifle stocks have over chassis (other than a slight weight advantage) is how they "feel". That is something that is completely subjective from person to person. One shooter may find the feel of a chassis as a deal-breaker, while another shooter may not notice it at all.