The two most common Remington 870 barrels are either the rifled barrel or the smoothbore. Rifled barrels are good for shooting sabot slugs like Premier Accutip Slug, Copper Solid Slug etc. These are the kind of barrels you would use if you are aiming to kill someone or something on a longer distance. Perhaps you want to looking to kill a big predator in the woods. These barrels help you have more stability and accuracy with your shots in order to do this kind of damage. If you are looking for a long range shotgun then rifled barrels would be your best option as well. As for smoothbore barrels, these are more suitable for rifled slugs, birdshot and buckshot. In other words, if you are looking to hunt small ducks or birds hen you would be better off using smoothbore.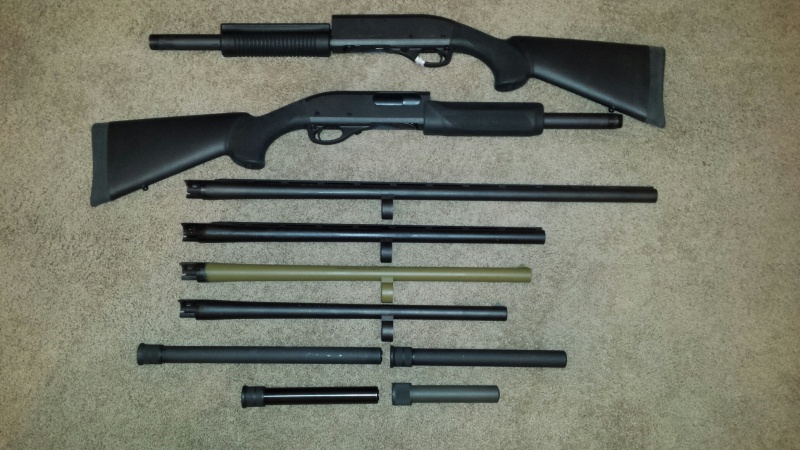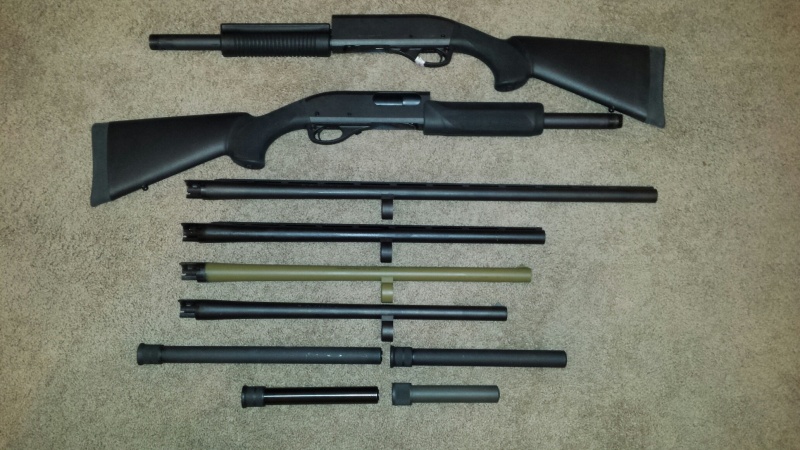 Remington 870 barrels photo by glwanabe from Remington 870 Forum
The neat thing about newer shotguns is they have interchangeable barrels. This means you don't have to limit yourself to just one type of barrel when you purchase a shotgun. If you wanted to use your shotgun for different purposes then you could switch back and forth between the smoothbore, rifled, long or short barrel. This is very convenient for those who just want to own one shotgun to use for both home protection and hunting ducks for sport. Now if you have an older shotgun that only has smoothbore, for example, then you can still shoot slugs out of it. The only thing is the shots won't go as far and they won't be as accurate as special slugs from rifled barrel. That is why the ammunition you use in your shotgun is just as important to figure out as the barrel itself. If you use the wrong shotgun ammunition with smoothbore or rifled then you won't get the results that you intend on getting. However, if you are purchasing your first shotgun then chances are it is a new shotgun that allows you to change the barrels. If you buy them new from a gun dealer then they will recommend the best ammunition to use also.
Poll: What is barrel length of your Remington 870? 18 inch? 20 inch? Shorter or Longer?
This is going to be very interesting! What is barrel length of your Remington 870?

Loading ...
Remington 870 Barrels
One of the popular questions I receive is about Remington 870 barrels. Many readers ask what is the best Remington 870 barrel and why.
First of all, there are different barrels for different purposes. Long vented rib barrel is good for hunting, clays, trap shooting but not suitable for home defense. The longer the barrel the more difficult it is to manouevre in close quarters.
Barrels with chokes are also good for competition, hunting and trap. Some shotgun owners use Tactical chokes which enable them to use Remington 870 as breaching shotgun. Actually, I don't know where can they use their breaching choke but it definitely looks cool.
Length of a barrel
There are barrels of different length available for Remington 870. They are interchangeable execpt for the Tactical model (More info: Remington 870 Tactical barrels)
The most popular barrel is the Remington 870 18″ bead sight barrel. It is short, simple and inexpensive.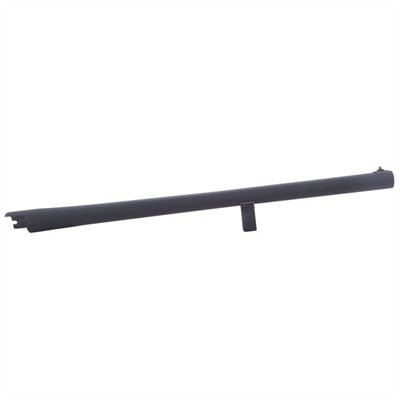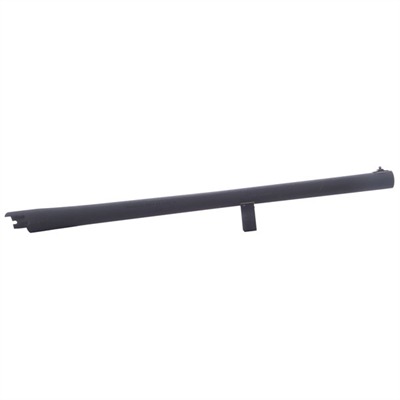 This short barrel enables you to easily manouevre around the house. It is possible to change the factory bead with light gathering or Tritium one.
You can get this barrel on Brownells
This barrel is universal tool which is good for almost any purpose. Of course, longer barrel will be better for hunting and ghost ring sights will be better for home defense. But 18″ bead sight barrel enables you to do almost all tasks. It is good choice for beginners or for people that want to have only one shotgun for home defense and for week end clay shooting.
Barrel which is shorter than 18″ usually requires special license.
If you are hunter or serious competition shooter, you won't regret getting long Remington 870 26″, REM Choke, Vent Rib barrel with Mid-Bead.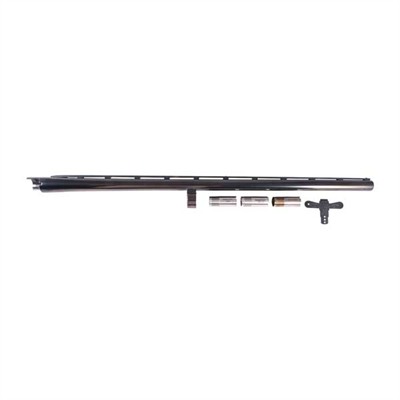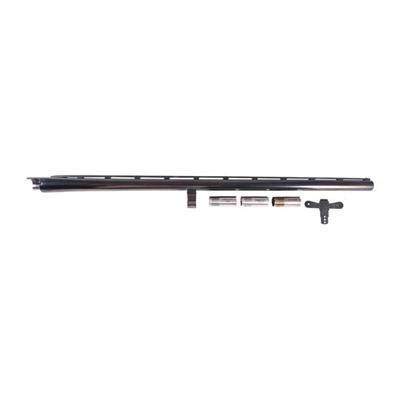 Why this barrel is good for hunting and competition? Let's have a closer look at it. First of all it enables you to hit the targets on longer distances because of the 26″ length. Also, this Remington 870 barrel enables you to change chokes for different type of the game and sport shooting. Bead sight with midlle bead enables you to check your sight picture and have more stable results. Of course the price you pay for all these advantages is additional barrel length.
You can get this barrel here on Brownells
There is even longer, 28″ barrel available on Brownells
And my favourite Remington 870 barrel: Remington 870 18″, Police Barrel with Rifle Sights, IMP CYL.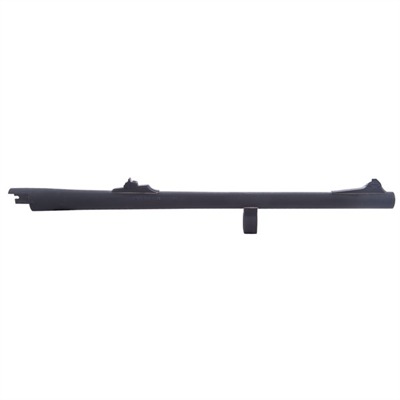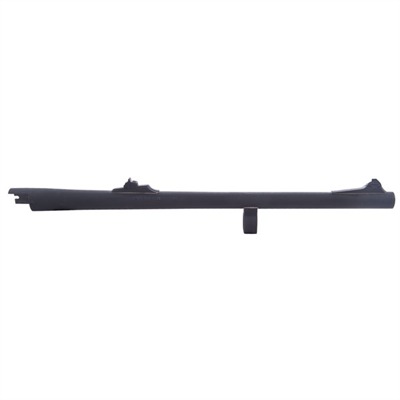 This barrel is short and has rifle sights. This makes this barrel extremely easy to aim especially when shooting slugs. This is my personal preference but you may like ghost ring sights more. Good thing about this barrel is that you can replace rear and front sights with many aftermarket sights without drilling and tapping.
You can get this barrel on Brownells
Aftermarket Remington 870 Barrels – CARLSONS – 18.5″ Shotgun Barrels
Brownells has listed very interesting aftermarket barrels for Remington 870. Short barrel with the option of changing chokes makes shotgun more versatile. You can control spread using chokes which is important for hunting and home-defense. Tighter pattern is very good idea for a home defense shotgun.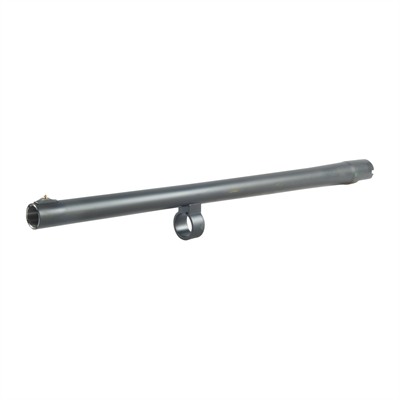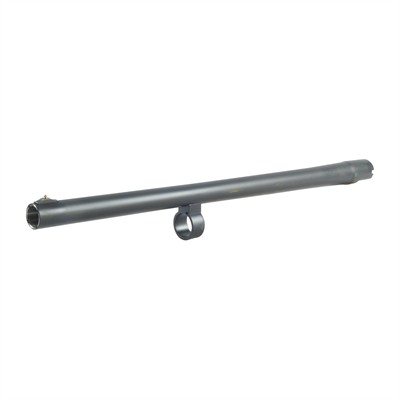 This Remington 870 barrel is Constructed from ordnance grade 4140 steel. Chrome lined bores makes these barrels better than factory ones.
18.5" barrel length is the most popular choice for home defense shotgun.
Also, you can choose Carlsons Remington 870 barrel with non-adjustable front sight or adjustable sights
Includes installed Carlson cylinder choke tube. Choke tube is constructed of 17-4 stainless steel. Remington barrels are threaded for the standard Rem Choke system
JonSEAZ, one of the Rem870.com readers shared his experience with Remington 870 Carlsons barrels:
"I recently bought one of these barrels and an array of Carlson screw-in chokes. At this point, I could not be any happier with it. A very nice barrel, inside and out. The one I received fit my 870 perfectly; the exterior finish flawless; the chrome-lined bore nicely done; the threading cleanly cut and the chokes screw in and out nicely; overall, a very nice barrel which now allows me to play with different chokes on a nominally defensive shotgun.
I would recommend this barrel to anyone wanting the option of changing chokes on an 18.5″ barrel."
More information about Carlsons Remington 870 barrels and ordering on Brownells
Mossberg Barrels for Remington 870
You will be surprised but Mossberg company manufactures barrels for Remington 870.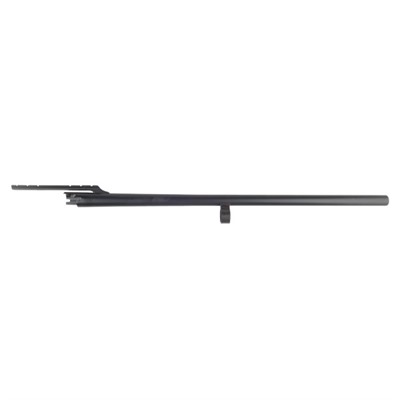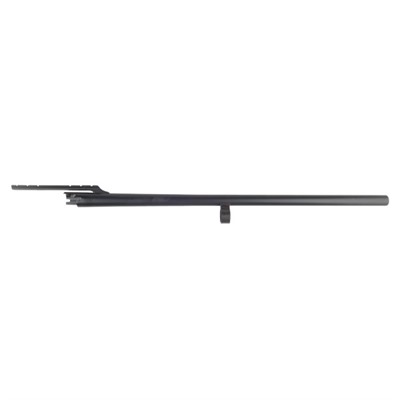 Mossberg Remington 870 24″ Slug Shotgun Barrel w/ Cantilever Mount, 12-Gauge
This Mossberg factory barrel for Remington 870 shotgun is for those who want to shoot slugs. It is called the Mossberg Remington 870 24" Slug Shotgun Barrel. This barrel will make your existing Mossberg Remington 870 shotgun a lot more flexible in the ammunition that it can shoot successfully from the barrel. It is manufactured to meet the same size specifications as the factory barrel. This means you should have no problems fitting this new barrel onto your existing shotgun.
The Slug Shotgun Barrel is 24 inches in length and is made for 12-gauge ammunition, particularly slugs. The barrel is rifled in a way which allows slugs to be very accurate. Although you could probably get away with shooting birdshot ammunition, it is not recommended with this barrel. This barrel is made for shooting slugs at your targets, whatever they may be. Most shotgun owners will use slugs for hunting big wildlife in the woods. If you were to shoot smaller animals with slugs, then it would completely obliterate them.
The Slug Shotgun Barrel is made of steel and has a blue matte finish. It also has a 3-inch chamber and is rifled with a 1:36" twist.
For those interested in scope attachments, this barrel has a mount for an integral cantilever scope. After you attach the scope, you will easily be able to improve your accuracy while shooting slugs. And don't forget, slugs do a lot more critical damage to the target after they strike. As a hunter, you might appreciate this fact because it will at least kill the animal quickly rather than causing it to suffer. You just have to make sure you hit the animal in the right areas on their bodies, which is why it is important to be accurate with the help of a scope mounted on.
The Slug Shotgun Barrel has a retail price of $229. As you know, it is very easy to replace the barrel.
Mossberg Rem 870 18.5″ Bead Sight Smooth Cylinder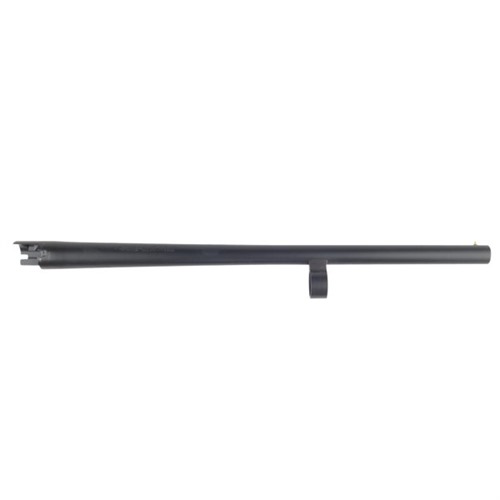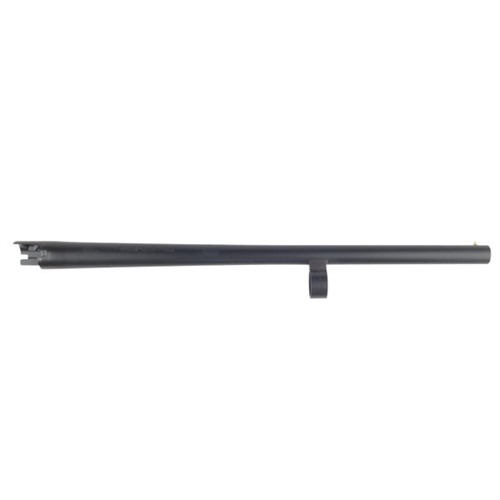 The Remington 870 shotgun can have many uses. A lot of people like to use it in the field when they're hunting or shooting at targets. However, there may come a time when you want to use the shotgun for home defense more than anything else. In that case, you probably wouldn't want to be stuck with the current barrel that exists on there right now. You might find it better to upgrade the barrel to the Mossberg Remington 870 18.5" Bead Sight Smooth Cylinder Bore barrel.
What is so special about this barrel? Well, for starters, it is 18.5 inches long and has fixed cylinder choke. This means you will not be able to remove the choke and replace it with another choke. You must use the cylinder bore choke for all your shots. If you use buckshot or birdshot with the smooth cylinder bore, it is better to be closer to your target because the pellets will spread out quickly.
The Mossberg Rem 870 18.5″ Bead Sight Smooth Cylinder Bore is a 12-gauge barrel with a 3-inch chamber. It is made from steel and contains a blue finish. This will ensure that it stays durable in extreme environments and under tough weather conditions.
The price of the Mossberg Rem 870 18.5″ Bead Sight Smooth Cylinder Bore barrel is $99.97. The only thing you'll have to do is remove the old barrel from your shotgun and replace it with the new one.
Sights
Bead sight is very simple but rifle sights are more accurate. Rifle sights are accurate but ghost ring sights enable shooter to aim faster.
Changing sights sometimes requires special tools and drilling and tapping, so it is better to choose the sights you need from the beginning.
Mid-bead
Middle bead sight helps you to aim and check if you proper sigt picture. It is very useful addition for competition or hunting shotgun.
There are many barrels available for the Remington 870 and you can choose the one you like more.
Remington 870 Tactical Replacement Barrel Problem and how to fix it with spacer
So I have this 870 express tactical but it's the version that doesn't have sights or added magazine extension.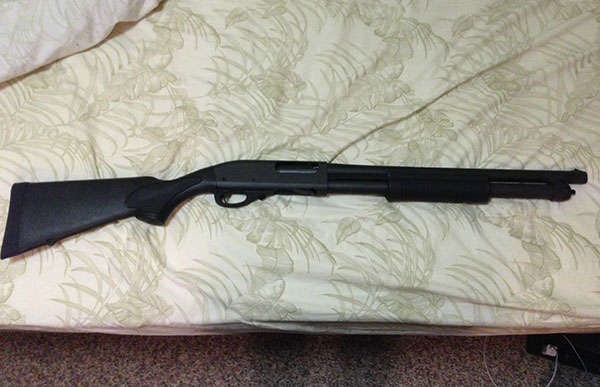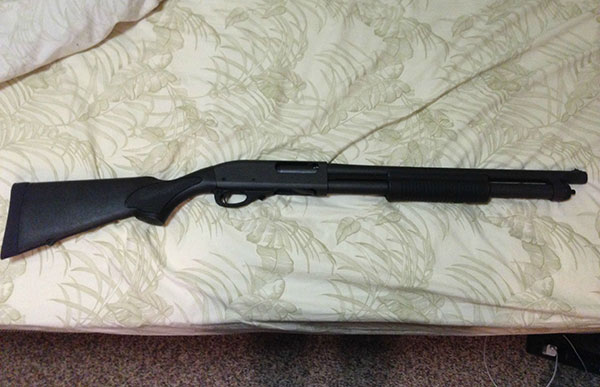 I recently bought a 21″ vent rib barrel with choke in hopes to do some turkey hunting this coming season. The problem is my shotgun has the extended magazine tube but it's one piece so the cap is all the way at the end. With this 21″ barrel the guide ring that goes around the tube is further down than the stock barrel and the cap doesn't hold the barrel in place.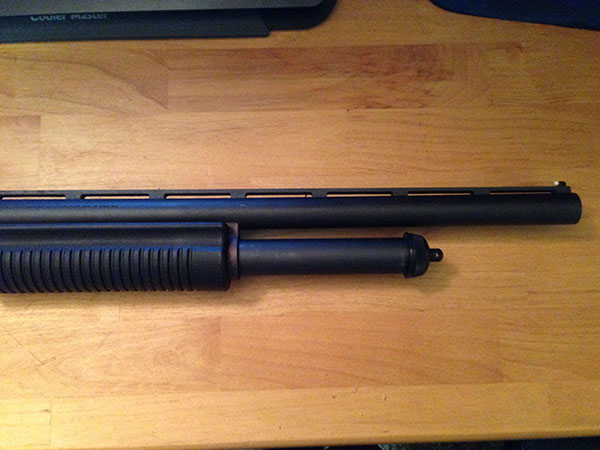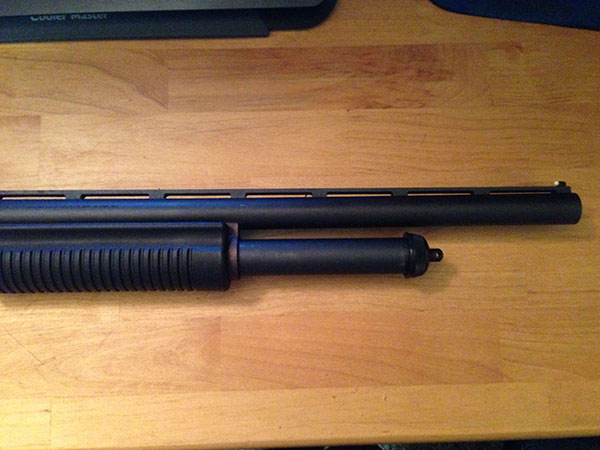 My question is, is there anyway I can use this barrel with this gun? Would a barrel clamp do the trick in keeping the barrel in place or can I just not use this barrel. I know this gun is meant for home defense but I was hoping to be able to make it an all around use kind of gun.
Here's a pic of the two barrels so you can see how the guide rings are in different places.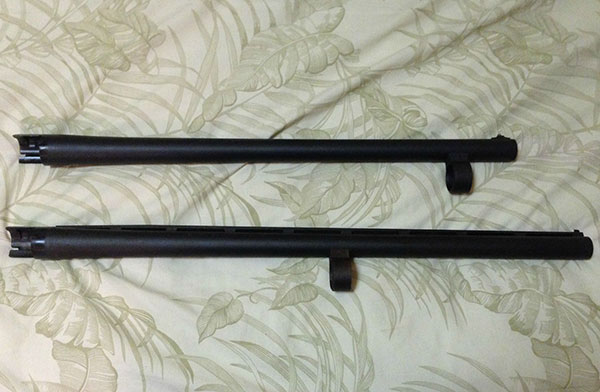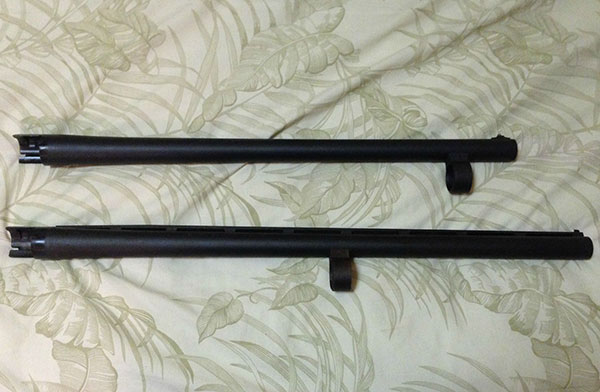 Remington 870 Spacer for Tactical Models with One-piece 6 Round Magazine Tube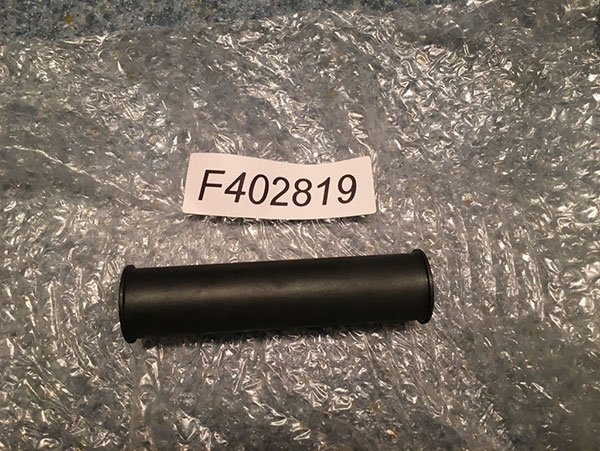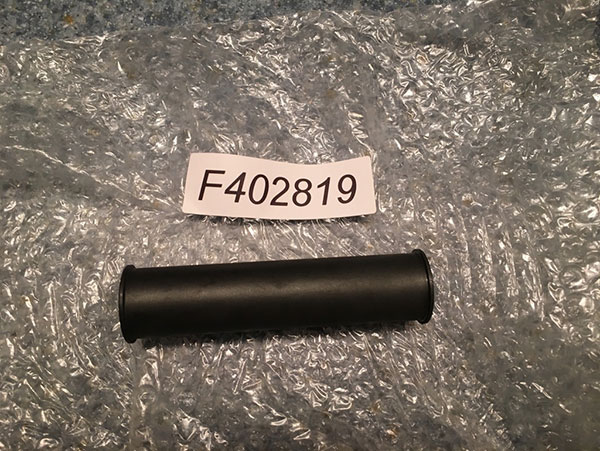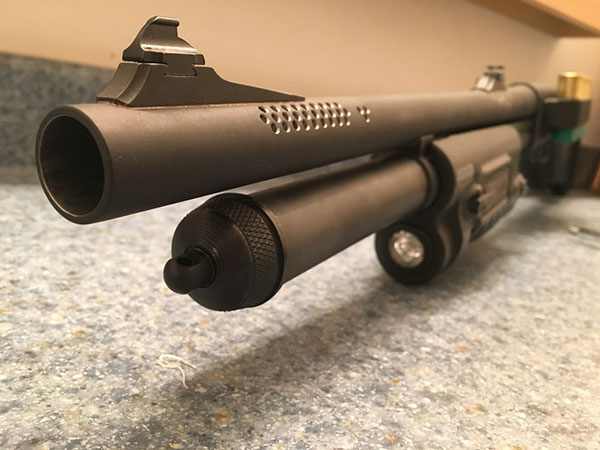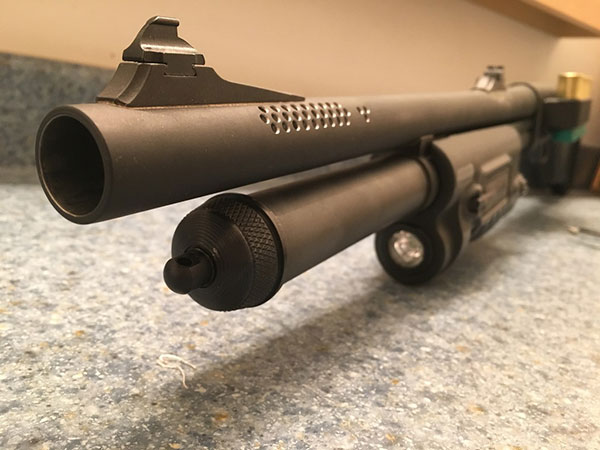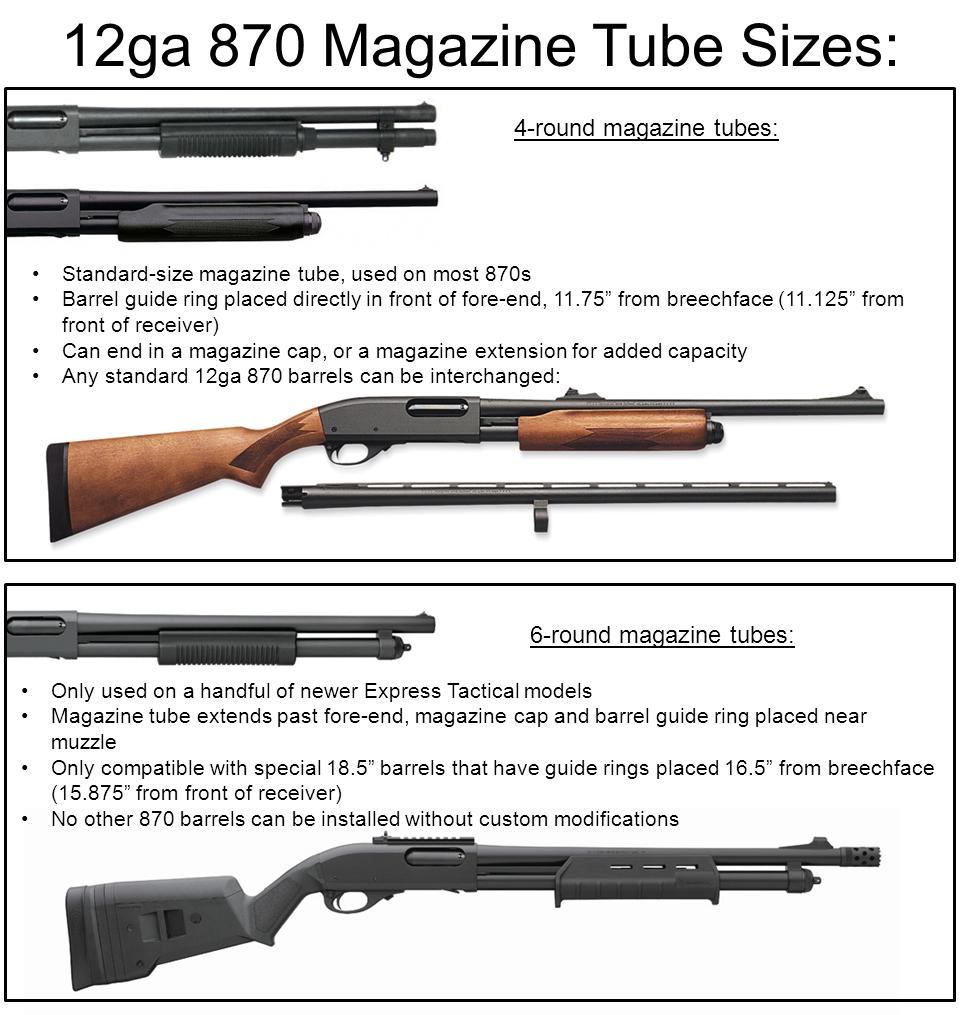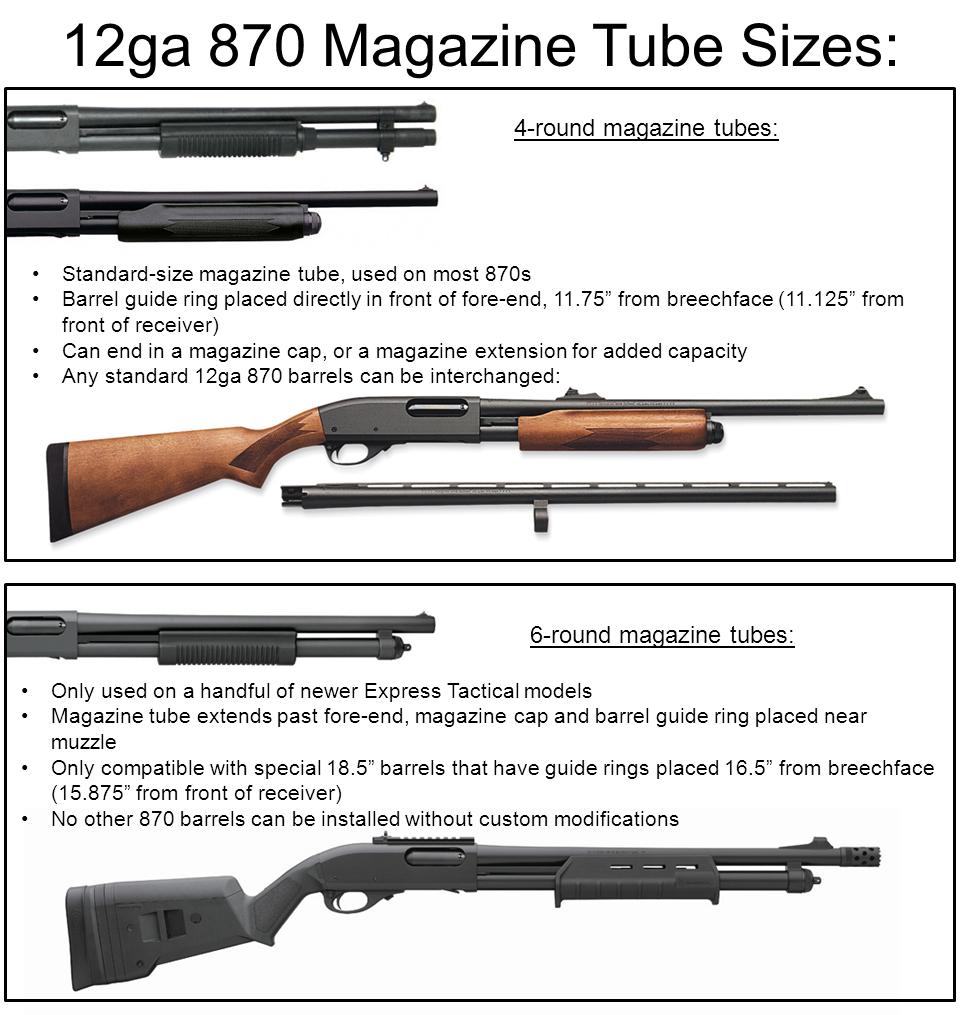 "The only barrels made for 870s with the long, single-piece magazine tubes are 18.5″ HD-style barrels. If you want something besides that for your gun, you'll have to have some custom work done to modify a standard barrel. I wouldn't recommend just sticking a chunk of pipe or tubing over the magazine tube, for obvious reasons. A purpose-built spacer would probably be possible, but unless you have a machine shop in your garage, it's not going to be cheap."
This information is very important because every buyer should understand: one piece magazine tube makes feeding more reliable but that model accepts only barrels designed specially for Tactical model.
Remington sells a spacer, part number F402819. Sells for $22.39. Just call their customer service line and select parts. Takes 7-10 days.
Remington 870 Express Fully Rifled Deer Barrel and Remington Premier AccuTip Sabot Slug Ammunition
The Remington 870 Express is the most popular pump-action shotguns in the world. People use it for all sorts of purposes, such as self-defense, target shooting, and hunting. The factory barrel of the Remington 870 Express makes the weapon suitable for any purpose. However, the Remington 870 Express Fully Rifled Deer Barrel is a replacement barrel which enables you to shoot further and to be more accurate.
For example, When you hunt deer in the wilderness, it requires your shotgun to have longer effective range of the shots. The Fully Rifled Deer Barrel upgrade will provide your Remington 870 Express shotgun with this kind of versatility that is needed.
Remington 870 Express Fully Rifled Deer Barrel
The Remington 870 Express Fully Rifled Deer Barrel features front rifle sight and rear rifle sight but you can get optic sight to be able to shoot further. The barrel itself is 20 inches in length and can be easily maneuvered for better handling in an intense situation. The chamber is 3 inches which means that it can support 3 inches shotshells too. It allows you to experiment with different ammunition until you find the one that works for you.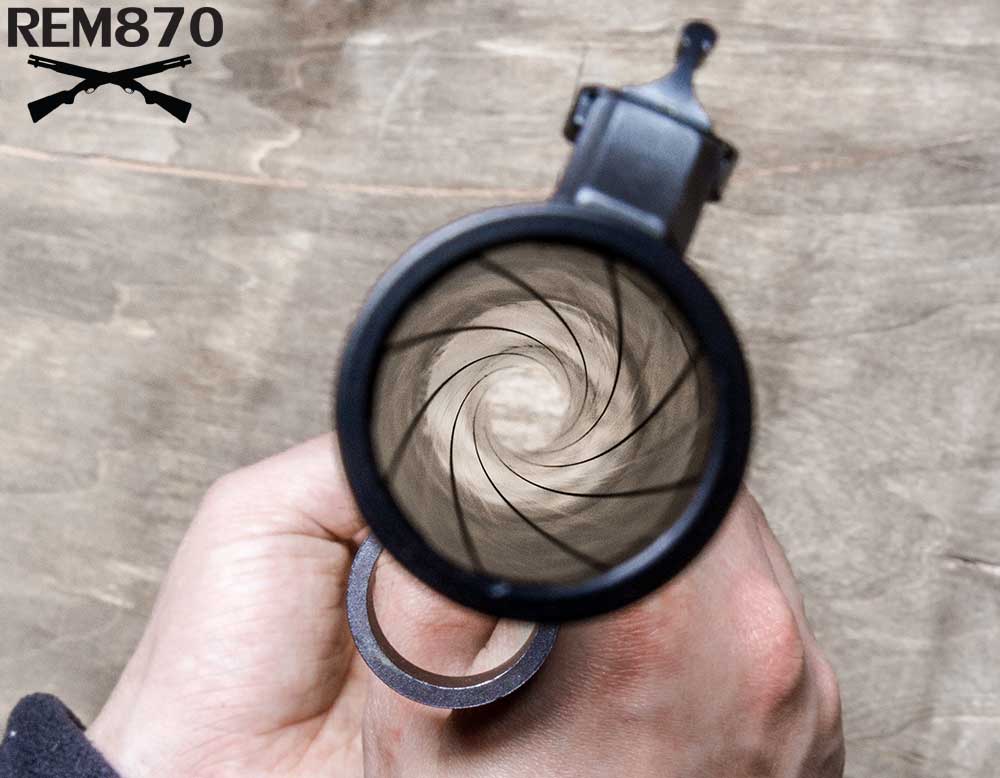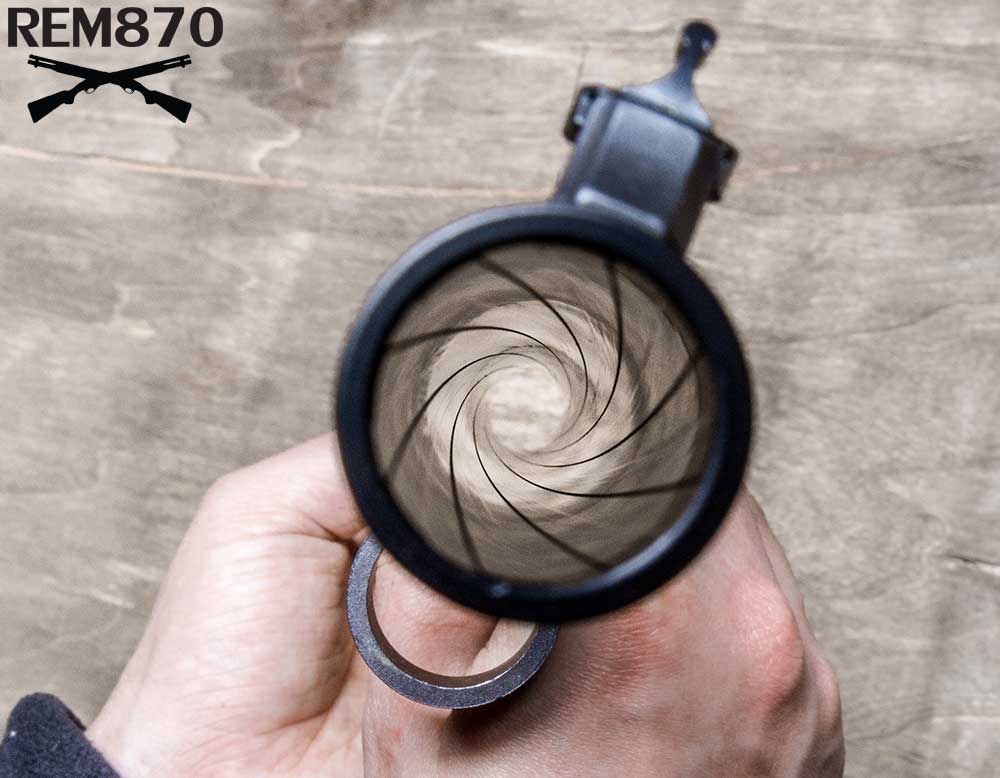 The Fully Rifled Deer Barrel will be no problem for you to install onto your existing Remington 870 Express pump-action shotgun. The specifications of the rifled barrel are the same as the specifications of the factory barrel. Therefore, once you remove the factory barrel from the weapon, you just drop in the rifled barrel in its place. It should fit perfectly into the weapon without having any issues. Check the instructions which come with the barrel to learn the steps of this basic installation process. They are very simple to follow, so don't think that you need to be a gunsmith to figure it out. Once you learn to do it the first time, it will be simple to do again in the future.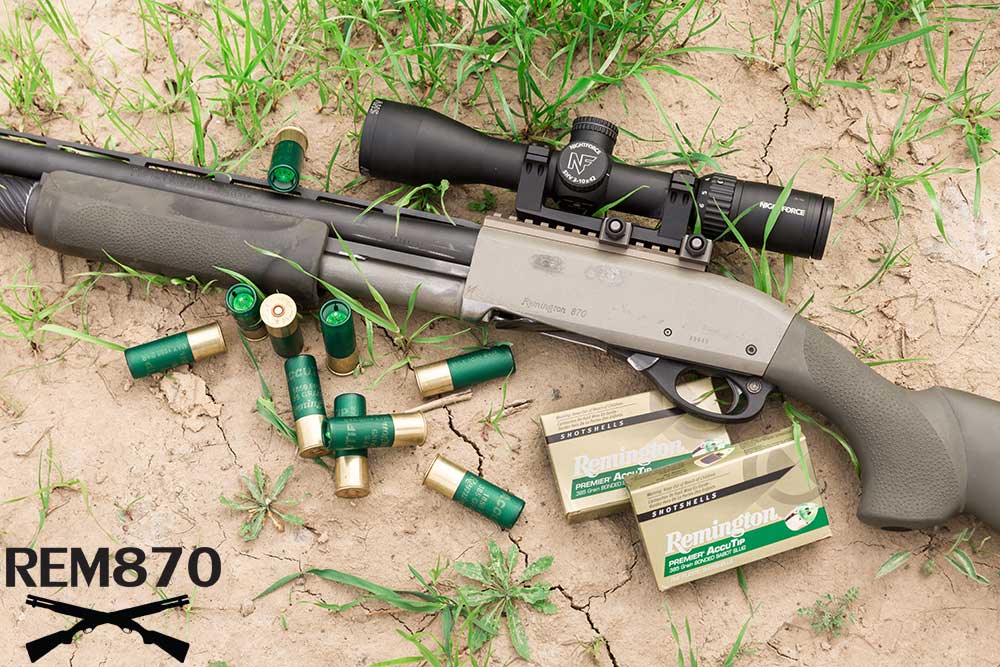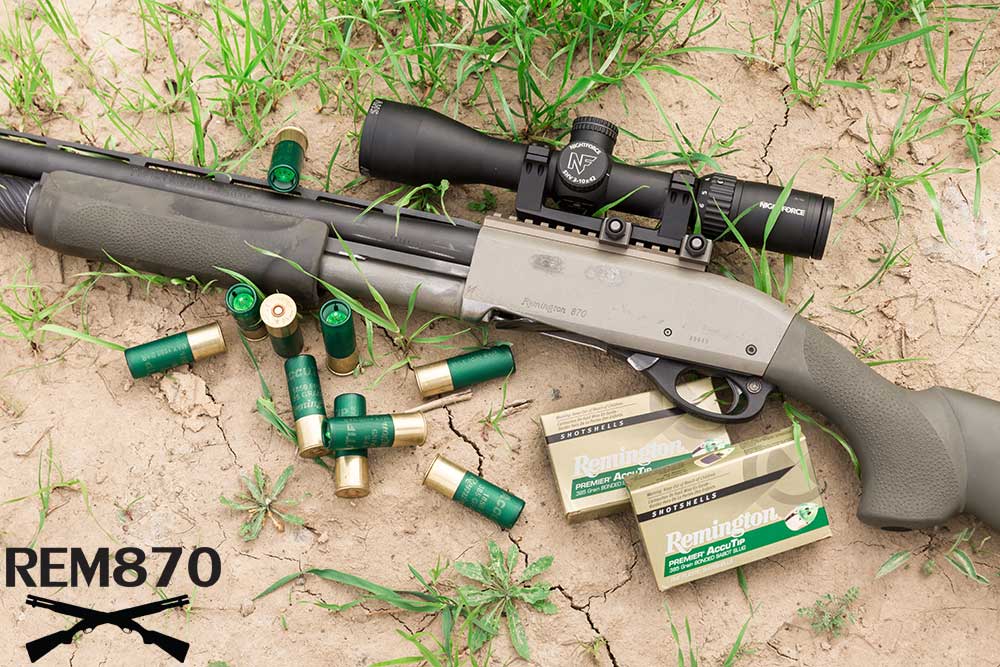 There are two versions of the Remington 870 Express Fully Rifled Barrel available. One version is for a 20-gauge shotgun and the other is for a 12-gauge. The 20-gauge version of the barrel is priced at $188.99 on the Brownells online store. The price of the 12-gauge version is $219.99. Both barrel versions have a black color, so they will be aesthetically compatible with your Express 870. The weight of the barrel is about 2 ½ pounds. This is about the same weight as the factory barrel. For this reason, you should not feel too much of a difference there while holding your weapon.
What do the markings on the barrel of my Remington 870 Mean?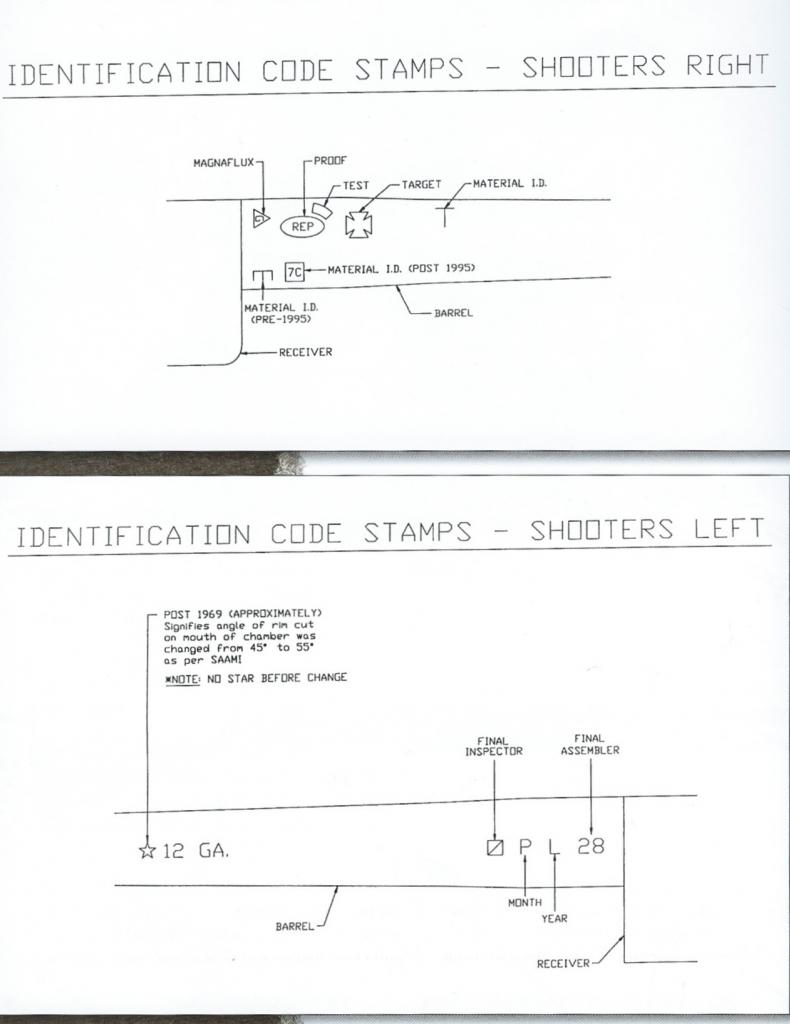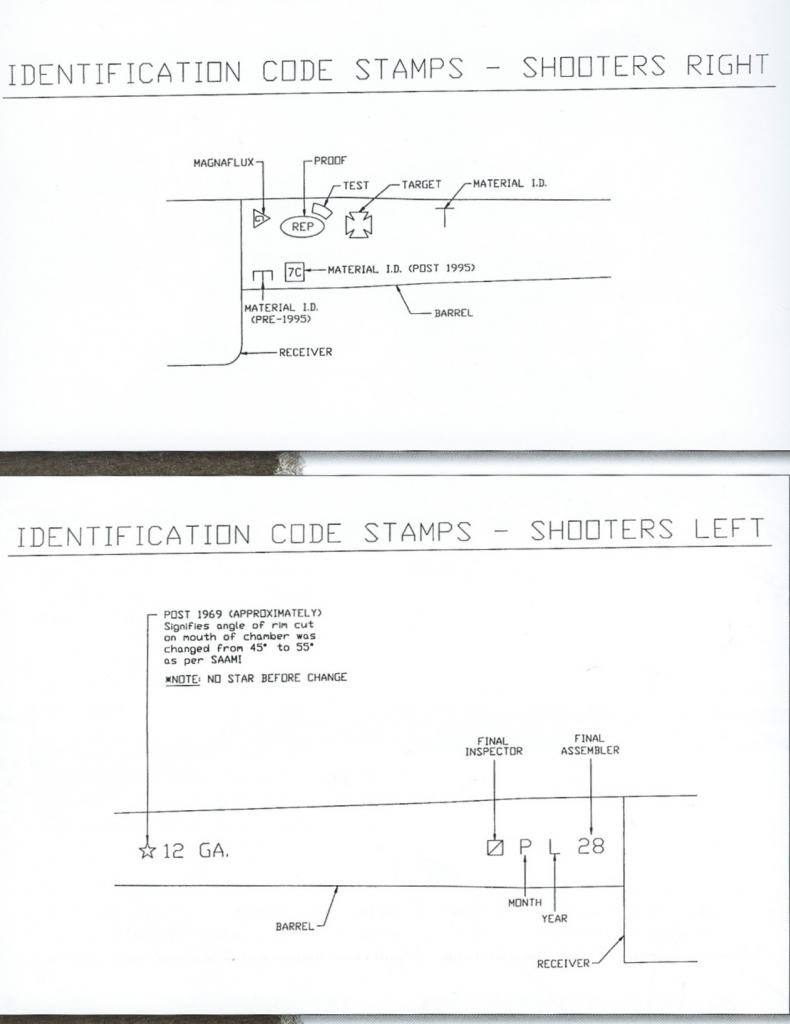 Remington Premier AccuTip Sabot Slug Ammunition
Remington Premier AccuTip Bonded Sabot Slug Ammunition is certainly original as far as slugs go. These slugs are made specially for rifled shotgun barrels. They are specially tipped for high accuracy and performance in the field. AccuTip refers to this technology as the Power Port tip, which they have trademarked. Whether you are shooting the slug at 5 yards or 200 yards away from your target, it will shoot in the precise direction where you want it to go. This aspect can be attributed to its spiral nose which keeps it moving far in one direction. The recoil of this slug is stronger but this is the price you pay for the accuracy on long distances.
It is advertised to have a huge permanent wound channel but i didn't have a chance to test it on hunting.
High speed of the slug is particularly helpful if you're shooting at a moving target, such as a deer.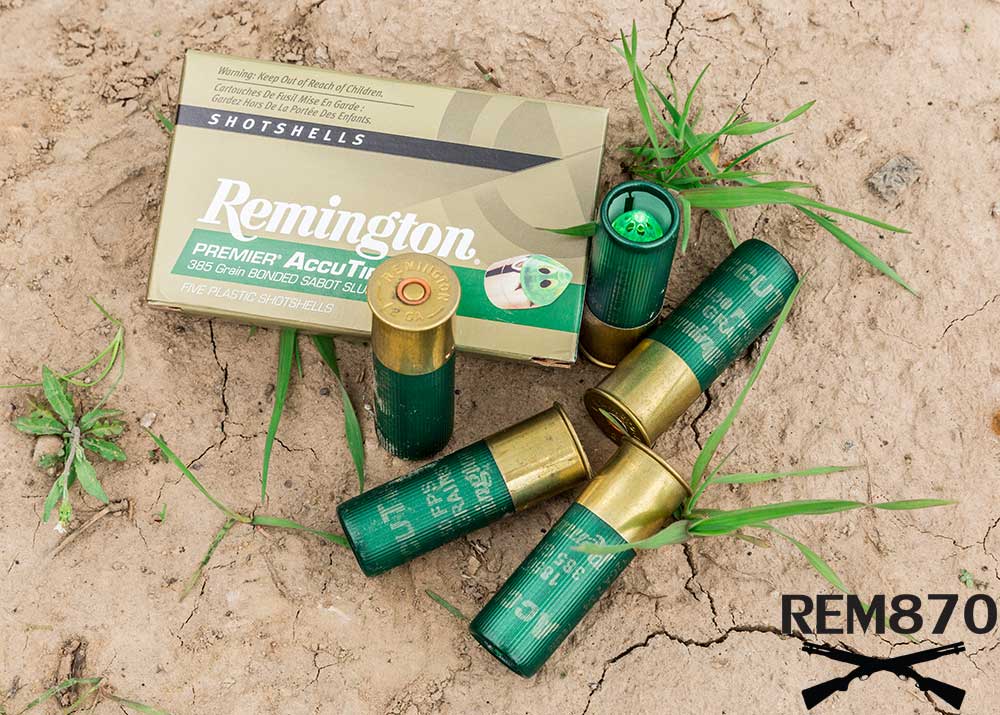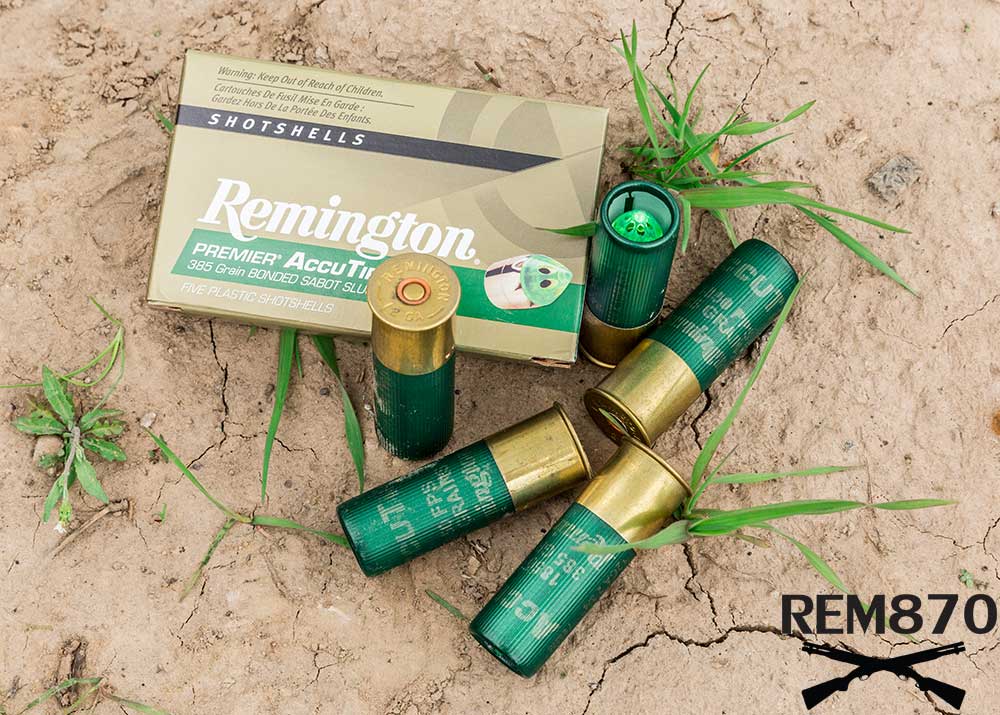 The AccuTip Sabot Slug is available in 3 inches and 2 ¾ inches. The ammunition is compatible with 12-gauge and 20-gauge shotguns which have rifled barrels on them. If your current shotgun does not have rifled barrels, then you can always upgrade your existing factory barrel to a rifled one. If you're trying to turn your shotgun into a slug gun for shooting deer, then a shotgun with a rifled barrel is the most popular choice. Hunters find the rifled barrel is the most accurate when it comes to shooting sophisticated slugs like these.
The cost of a 5-round box of 12-gauge AccuTip Sabot Slugs that are 2.75 inches is $14.49. If you go for the 3-inch ammunition for the same gauge, it is $16.49. If you choose the 20-gauge ammunition, this only has 3-inch ammunition available. A 5-round box of those is $16.49. You can purchase this ammunition at sporting goods stores. If you find the ammunition to your liking after you try it out, you could possibly find a discount on a bulk purchase of this ammunition.
Accutip Slugs on 50 Meters (54 yards) with Fully Rifled Barrel
Group size: 2.8″ (72mm)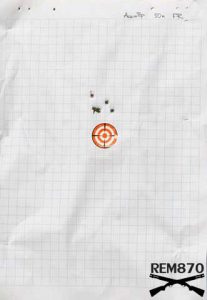 Accutip Slugs on 100 Meters (109 yards) with Fully Rifled Barrel
Group size: 4.5″ (115mm)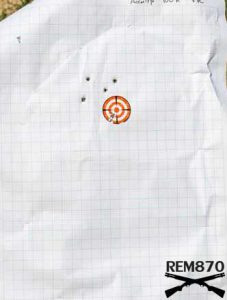 Blown Barrel of a Shotgun (always check for obstructions!)
Blown Barrel of a Shotgun. First slug stuck in a barrel, second blown it out. Shooter wasn't injured. Always check for obstructions if shooting sound or recoil seems weak!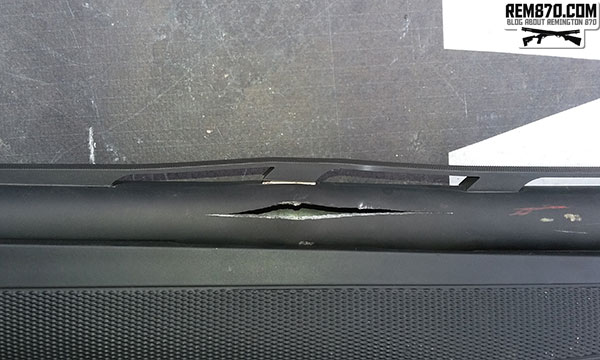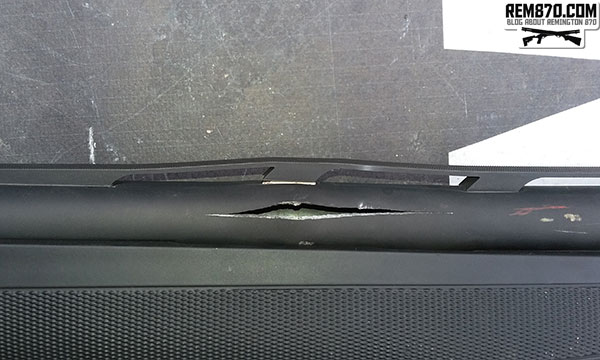 It was shotgun made in Turkey but it can happen to Remington 870 too.