Best H&K MP5, SP5 and Clones (MKE T94, Z-5) Upgrades and Accessories UPDATED 2022
What is Heckler & Koch MP5?
The Heckler & Koch MP5 is a submachine gun that comes from West Germany. The ammo is fed into the MP5 by a long detachable magazine that fits underneath the receiver. There are different size magazines available for the Heckler & Koch MP5. They can have anywhere from a 15-round to a 40-round capacity. There is even a military grade drum magazines which can hold up to 100 rounds.
There are a lot of different submachine guns, but the Heckler & Koch MP5 is the most popular of them all. Approximately 40 countries currently make the MP5 available to security companies, intelligence agencies, military branches, and law enforcement agencies. For decades, SWAT teams in the United States used the MP5 as their primary weapon of choice. They recently replaced it with the AR-15, though.
SP5 is an authentic civilian version of the legendary MP5 sub machine gun.
What is truly great about the MP5 is its lightweight design and awesome firepower. There are more than 100 different versions of the weapon in existence. Many of them are semi-automatic weapons, which means it shoots each time you pull the trigger. The weight of each version also slighter differs too. For instance, the MP5K weighs about 4.4 pounds while the MP5SD6 weighs 7.5 pounds. This is still very light where a submachine gun is concerned.
Another reason soldiers and police officers love the MP5 is that it features a roller-delayed blowback operation. This keeps the firearm stable so that shooter don't feel recoil after he pulls the trigger.
The MP5/SP5 uses the 9x19mm Parabellum or 9x21mm (in countries where 9x19mm ammunition is restricted for civilians)
Now there are options for using different trigger groups for things like fully automatic, single fire only, 3-round bursts, and 2-round bursts. Plus, the modular design of the MP5s let you upgrade more than just the handguard. You can upgrade or add sight mounts, forearms, buttstocks and more. If you choose a retractable stock, the MP5 will weigh about 7 pounds. If you go with the fixed stock, it will weigh between 5 and 6 pounds on average.
Since the MP5 is an in-demand weapon, you can expect to pay anywhere from $1,800 to $2,500 for a well-made originally designed MP5 submachine gun. If you order online, you can probably get free shipping at virtually any e-commerce gun store.
MP5 History
In a small German town named Oberndorf am Neckar, a defense manufacturing company was founded in 1948. The name of this company was Heckler & Koch GmbH. The three men responsible for starting it were Alex Seidel, Edmund Heckler, and Theodor Koch. Seidel was a weapons manufacturer while Heckler and Koch were both weapons manufacturers and engineers. They put their heads together and created some of the world's finest weapons of the 20th century.
Heckler & Koch specializes in manufacturing grenade launchers, rifles, handguns, and submachine guns. In 1959, they created a battle rifle with select-fire named the G3. This was an automatic rifle which proved to be successful. Because of its success, Heckler & Koch wanted to create small arms which had the same operating principle and design as the G3. So, from 1964 to 1966, the company worked on the development of what would be called the MP5.
As soon as the MP5 was introduced in 1966, the German Federal Police wanted it for themselves. The German Army Special Forces and Border Guard wanted the MP5 too. The weapon was primarily used for tactical purposes and special operations where agility and reliability were important. Other countries like France and the United Kingdom secretly adopted the MP5 for their anti-terrorist missions. It was kept secret because these government bodies did not want to acknowledge the existence of terrorists to begin with. So, they couldn't admit to having MP5s for this purpose.
The MP5 remained under the radar of the mainstream public for over a decade after it was first invented. Only certain military and police organizations were using the MP5. However, in 1980, the MP5 was finally noticed by an international public audience who happened to see the weapon on live television. That year, the Iranian embassy in London had been taken over by 6 armed terrorists. A British Army special forces unit known as the Special Air Service was sent inside to free hostages. This mission was called Operation Nimrod.
When the SAS commandos stormed the embassy and shot the terrorists dead, they were all using MP5s. This heroic rescue of the hostages was aired on live television. When people around the world saw the SAS commandos holding the MP5, they instantly wanted this weapon for themselves. After all, this was the weapon that saved everyone's life.
Due to the global rise of international terrorism throughout the 1980s, the MP5 was introduced to the global marketplace. It was even brought to the United States and sold in the American market as well. Police and military officers in America found themselves using the MP5 from the 1980s until the present. The weapon is just now starting to be replaced by the AR-15 assault rifle. But there are still many police and military officers in the world that continue to use the MP5 for its lightweight, but powerful design. MP5 clones are often sold under different names: T94, Z-5 etc.
MP5 Clones
Anyone who dreams of owning a submachine gun is probably thinking about purchasing a Heckler & Koch MP5. Military soldiers and police officers have been using the MP5 since the 1960s. Private citizens have wanted this 9mm submachine gun since they first learned about it in the 1980s. The neat compact design of the MP5 allows you to move quickly and shoot a lot of ammunition with each magazine.
It is usually difficult for an ordinary person to obtain an MP5. In most jurisdictions, it is legal to purchase and own an MP5 because they are semi-automatic weapons. However, an authentic Heckler & Koch MP5 is a pretty expensive weapon. You will be paying thousands of dollars if you want an original model. Sure, you can expect great quality in the weapon if you go this route. But, if you're like most people, you probably don't have a few thousand dollars to spare for a submachine gun. The best you can do is go with a cheaper alternative.
MP5 clones are the solution for someone on a budget who wants to own an MP5 style weapon. These clones are made to copy the exact design of the real H&K MP5. They are still a semi-automatic firearm where you need to pull the trigger for each shot you fire. A lot of people purchase MP5 clones to use for home defense and at the shooting range. They can be used as tactical firearms too, just like the real H&K MP5s.
An H&K license is needed to officially manufacture an MP5 clone. If you ever come across a firearms seller who is selling MP5 clones, make sure they bear the license of the H&K. Otherwise, you could end up with a lower quality clone that wasn't even made with the same H&K tooling and design practices.
An example of a high-quality MP5 clone is the Zenith Z-5RS (made with H&K license and equipment). It is about half the cost of a real H&K MP5 and comes assembled as a semi-automatic pistol. Plus, there is a Picatinny rail feature on top of the weapon which you can use for adding attachments. Red Dot Sight is a popular attachment that goes well with this MP5 clone. It is something that can also be adde to the real H&K MP5 using the rail attachment.
You can expect to pay around $1,000 for an MP5 clone. This might sound like a lot, but it beats the $2,000+ price tag of the genuine H&K MP5. If you shop around, you will find many different variations of MP5 clones available. Some cost more or less, but each one has their own unique features too.
Best H&K MP5 and Clones (MKE T94, Z-5) Upgrades and Accessories
HK MP5 Handguard M-LOK
The Midwest Industries HK MP5M Handguard is an aftermarket component which you can use to upgrade your existing Heckler & Koch MP5 semi-automatic submachine gun. As you probably know, the MP5 is the most preferred submachine gun on the market. People usually have trouble finding aftermarket components that are compatible with the MP5. That is because there are not too many upgrades you need to make to it. The MP5 already comes with most of the parts and features that you will ever need.
However, the one thing that most MP5 models need upgrading is handguards. The function of a handguard is to shield the user from the hot barrel as they fire the weapon. Some handguards even allow you to attach additional accessories to it. As for the HK MP5M Handguard, it has a drop-in installation design that makes it easy for anyone to attach to their weapon. You won't need to purchase any other tools because this handguard comes with the necessary installation tools. In addition, there are 2 sling-swivel sockets which you can use to quickly attach and detach your sling accessory.
Midwest Industries is the manufacturer of this handguard. The material they used is one 6061 aluminum piece. This is a durable and lightweight material that is anodized in a black hard-coat. The approximate weight of the handguard is 4.8 ounces and its diameter is 1.6 inches. This combination ensures the handguard will stay strong against bumps, blows, scratches, scuffs, and most weather and environmental dangers. If you're a military or law enforcement officer, then you will appreciate this benefit.
The HK MP5M has 15 different M-LOK connection points. This makes it easier than ever to keep it connected to your barrel. As you fire your submachine gun repeatedly, your hand will never burn or get hot. The handguard will keep your hand comfortable throughout the shooting. This means stabilizing and balancing your weapon will no longer be a problem. Meanwhile, your accuracy will see a big improvement too.
The HK MP5M Handguard is manufactured in the United States of America. This guarantees the best quality upgrade for your weapon. The cost of the handguard is $119.95 on the Brownell's firearms website. They even guarantee your satisfaction with the purchase or your money back. Full instructions for the installation are included too. But if for some reason you still have trouble with the installation, there are tutorial videos online that can help guide you.
Recommended Product:
KCI USA, INC. – HECKLER & KOCH MP5/SP5 GEN2 30RD MAGAZINE 9MM
The Heckler & Koch MP5 is a great submachine gun for many reasons. One of those reasons is high capacity magazines. You can attach magazines to this weapon with an ammo capacity of between 15 rounds and 30 rounds. As you can probably guess, the Heckler & Koch MP5 GEN2 30RD Magazine 9MM is a compatible magazine that can hold 30 rounds.
Thanks to Zenith Firearms and their release of many semi-automatic pistol caliber carbine variations, consumers are increasingly interested in purchasing spare magazines for their weapons. If you own an MP5 and wish to increase your ammo capacity to 30, then you will want this KCI magazine. It is economically priced at just $34.99, which is a real bargain for such a high capacity magazine.
KCI made their 30-round magazine out of steel and used blue finishing for it. The magazine supports the 9mm Luger cartridges, which are the standard cartridges used with MP5 weapons. Just be sure to check with the local regulations in your city and state. Some jurisdictions have restrictions against owning a high capacity magazine. You don't want to end up getting in trouble with the law because you don't check the local rules beforehand. So, be sure to do that.
KCI goes all out when it comes to the quality of their magazine. Since it has an all-steel design, it is extremely durable in most environmental conditions. The body of the magazine has a curved shape to it. This provides a lot more reliability when the rounds are fed into the chamber. The magazine uses chromed steel follower.
KCI's H&K MP5 GEN2 30-RD Magazine is manufactured in South Korea. Do not worry because the quality is just as good as if it were manufactured in the United States. If you purchase the magazine on Brownell's, you will receive a satisfaction guarantee with it. This means if you're not happy with the magazine, you can return it under the site's return guidelines.
All H&K MP5/SP5 guns and clones are compatible with this magazine. These include the SP89, MP5K, Omega, MKE, BW5, SW5, V94, D54, and so on. This is recommended for people who plan to shoot a lot. Of course, this could be for home defense, hunting, recreational shooting, or tactical purposes. Therefore, the magazine is suitable for almost all MP5 owners.
Recommended Product:
Elite Tactical Systems Group H&K MP5 9MM MAGAZINES
Elite Tactical Systems Group brings to use these fine H&K MP5 9MM magazines. What is particularly special about them is their translucent polymer material. Normally, you won't be able to see through your MP5 magazines because they are made of steel and not transparent. However, ETS has designed their polymer-based magazines to be translucent so that you can see right through them.
As a result, you can observe how many rounds you have left in your magazine. More importantly, you can make sure there are rounds in your magazine. If you're using your MP5 for tactical purposes, it is important to know how many rounds you have left. Otherwise, you could go into a dangerous situation thinking you have more rounds in your magazine than you really do.
There are a lot of round capacity options with the ETS magazines. You can choose a capacity of 10 rounds, 20 rounds, 30 rounds, or even 40 rounds. They provide this variety to make different customers happy. After all, not everybody needs 40 rounds, but some people do. Others prefer 10 rounds just because they like to have a shorter magazine.
Whichever magazine you choose, its translucent polymer construction keeps it durable. You can drop the magazine or expose it to bad weather conditions and it will still hold up strong. People from all walks of life will find this magazine useful. You could be a recreational shooter who likes to go to the firing range or merely someone who wants to defend their home. Military and police officers will find this magazine useful too.
The base plate of the magazine is designed specially to allow fast disassembly. If you're in a hurry, it won't take long to remove the magazine base plate and clean the magazine inside. Aftermarket floorplates are compatible with the magazine.
Best of all, ETS made their magazines to be creep resistant. This means that the material will not deteriorate if you store the magazine for a long time and never use it.
The price of an ETS H&K MP5 magazine depends on its ammo capacity. The 10-round magazine is $34.99, the 20-round is $32.99, the 30-round is $32.99, and the 40-round is $38.24. As you can see, there is not too much of a price difference between them all. In fact, the 20 and 30-round magazines are cheaper than the 10-round magazine. Since they're made in the United States, your satisfaction will be guaranteed because these are high-quality magazines.
Recommended Product:
MP5/SP5 Extended Mag Release
When you are shooting your MP5 in a life-threatening situation, the worst feeling is when your magazine no longer has rounds left in it. If someone is shooting at you, there is a great deal of pressure to replace the empty magazine with a full magazine. This means you'll need to act quickly and release the magazine so that you can put a new one in its place.
Of course, this is not always easy to do with the standard release that is already installed on the H&K MP5. Its release is so small that it is difficult to press it quickly when you're in a hurry. Fortunately, you can do something about that by adding an extended magazine release to it. Whether you're a competitive shooter or soldier, you will save a few precious seconds more with the extended magazine release.
If you have an H&K MP5, then you will notice it has a magazine release that is styled like a paddle. This extended magazine release is an add-on for the paddle release style. Its material comes from hard anodized machined aircraft grade aluminum. No matter what kind of paddle magazine release you have on your H&K weapon, this extended magazine release should be fully compatible with it.
The extended magazine release is lightweight and durable. As a result, you will be able to quickly move around with it attached to your weapon. You won't notice any more weight added. Most importantly, you can smoothly and quickly release your magazine by simply pressing the release with your index finger. Since the size of the extended magazine release is much bigger, it is easier to reach it with your finger without needing to focus too much on it.
The price of the extended magazine release is $39.99. It is manufactured in the United States of America, ensuring that it is a high-quality component. The installation process is not difficult at all. You just slide the extended release over the existing paddle release on the weapon. Make sure the raised edge is positioned on the bottom and then to your preferred location.
Once you've fitted the extended release properly, you need to keep it securely in place by making the set screw as tight as possible. There is only one screw to deal with here too. If you want to ever remove the mag release, just remove the set screw. It is as simple as that.
KNS Sight
When you're firing an MP5 submachine gun, you'll want to be as accurate as possible. It is not always easy to aim at targets when using an MP5, especially if you're new to using the weapon. The good news is that you have an option to add a Sight to the MP5. In this case, it is the KNS Sight which is a crosshair front sight. All you need to do is make sure your target is located with the middle of the crosshair. After that, you can open fire and hit the target.
The KNS Sight is a front sight add-on which is great for both short-range and long-range shooting. If you shoot long range, the crosshair won't cover so much of the target. This will allow you to see more of the target and accurately cover it with your crosshair. The black brass housing is CNC machined and has a diameter of .240. The result is a big wide viewing field where you can see moving targets from afar.
The crosshair itself has a diameter of .010 and is made of beryllium wire that is treated with heat. The Duplex thick section has a diameter of .020. The steel material of the KNS Sight keeps it strong and durable under tough impact and environmental conditions. The Black Matte finishing is perfect for the aesthetics because it will match your MP5 wonderfully.
You don't need to be a gunsmith to install the KNS Sight. All you'll need to do is push out the pin and remove the factory front sight, and then install the KNS Sight. Aside from the MP5, there are other compatible H&K weapons too. Some of which include the H&K SP89, MP-5, 94, 93, and 91. As easy as it is to add the KNS Sight to your weapon, it is also easy to remove it too.
The KNS Sight is priced at $29.99. It only weighs 0.01 pounds, so shipping is certainly not going to cost too much. This also means that it won't add hardly any weight to your weapon like red dots do. That way, you won't feel weighed down when you go to aim the weapon at your target.
Overall, the KNS Sight will be useful to most shooters. It is effective enough to do a good job for you. Once you have this sight on your MP5, your accuracy will be better than ever.
Works perfectly on both short and long ranges.
MAGPUL – ORIGINAL MAGPUL 9MM
The Magpul 9MM is designed for a submachine gun with a 9mm caliber. This product comes with three thermoplastic loops which can help you easily grip the magazine of your 9mm submachine gun. All you need to do is install the loops on the base of the magazine. Since there are three loops, you can have three magazines upgraded.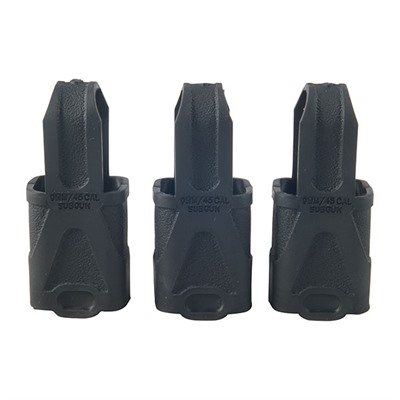 When you go to get your magazine, you just slide one finger inside each loop. Then you will be able to have a firm grip on it to pull it from a pouch. There is virtually no chance of slippage because the handle will be practically attached to your fingers, thanks to these loops. This is extremely beneficial to military soldiers or police officers who are in a stressful environment and need to move quickly.
When it comes time to change a magazine in a hurry, you will have complete control over your MP5 magazine without even thinking about it. This is not only good for tactical usage, but it is also good for changing your magazine on competitions too. If the enemy is shooting over your head and you need to change magazines quickly, you'll certainly want to have complete control. That way, you don't slip and end up dropping the magazine.
The recessed gripping surface of the loops is designed with a rough texture. Your fingers will be able to grip to this surface easily. It doesn't even matter what the weather conditions are like outside. If you're in the middle of a rainstorm and your MP5 weapon is getting all wet, you'll still be able to grip the loops just fine. Again, the perfect advantage for someone in the military who fights combat outside in tough environmental conditions.
In normal situations, shooters tend to drop their used magazines on the ground after they eject them from their weapon. The problem here is that magazines are very fragile parts and get easily get damaged if they're dropped too many times. Fortunately, a finger loop can serve as a shock absorber for the magazine. This will keep the magazine protected just in case you accidentally drop it on the ground. In addition, if you store several magazines together in the same pouch, they won't make any noises when they bang against each other in there.
The price of the Magpul 9MM finger loop 3-Pak is $9.45. They come in a black color only and are compatible with most variations of the MP5 magazines.
Recommended Product:
Magpul Upgrades for MP5/SP5, MKE T94, Zenith Z-5
Magpul History
Magpul has been one of the most innovative companies in the firearms accessory business over the past 20 years. Founded in 1999 by former Recon Marine Richard Fitzpatrick, the company was originally based in Boulder, Colorado. They started out producing polymer magazines for AR-15s. They have since branched out into accessories for many different firearms including AK-47s, Remington 870 shotguns, and Ruger 10/22 rifles. In 2013 the state of Colorado passed legislation banning magazine capacities over 10 rounds, which was the majority of Magpul's business at the time. In protest to the legislation, Magpul moved its production facility to Wyoming and its corporate headquarters to Austin, Texas. In 2016, Magpul was awarded a contract to be the exclusive manufacturer of rifle magazines for the United States Marine Corps, and signed a contract to provide 1,000,000 magazines over a four year period. Today, Magpul is one of the leading manufacturers of many types of accessories as well as a leader in the polymer magazine industry.
In recent years, Magpul has gone on to licence their products to firearms makers to produce Magpul versions of their guns that come with Magpul accessories standard. They have also created the Magpul Core division, which provides firearms training and produces instructional videos.
Here's a rundown of several new Magpul accessories that are available right now.
Magpul SL Handguard – HK94/MP5
Since Magpul changed the game when it comes to AR-15 customization, they've decided to branch out and offer accessories for other firearms as well. One of their newest additions is the Magpul SL Handguard for the HK94 and MP5. This handguard gives your MP5 the classic Magpul look as well as improves the ergonomics of the grip itself. The Magpul SL Handguard is constructed from a high-strength injection-molded polymer which provides the user with an anti-slip grip texture. It features Magpul proprietary M-LOK compatibility slots at the 3 o'clock, 6 o'clock, and 9 o'clock positions to add accessories. It also features a small muzzle-end hand stop to protect your hand from accidentally extending past the barrel. Because they are made in the U.S.A., the Magpul SL Handguard serves as a 922(r) compliant component on imported MP5 clones.
Magpul SL Grip Module – HK94/93/91 & Semi Shelf HK Clones
Magpul SL Grip Module replaces the factory grip module and improves the grip texture as well as aesthetics. The result is increased dexterity and better control of your firearm. It's made from high-strength injection-molded polymer and corrosion-resistant metal for added strength and durability. The grip retains the classic "HK" silhouette while providing many improvements. It still has the classic HK "navy style" pictograph markings for the selector switch. The grip is improved with a TSP grip for increased texture and retention. The grip also features MAID/MOE Lube Bottle Core storage inside the grip itself, so you will never be without lubricant. The Magpul SL Grip Module is made in the U.S.A. and can be used as a 922(r) compliant part.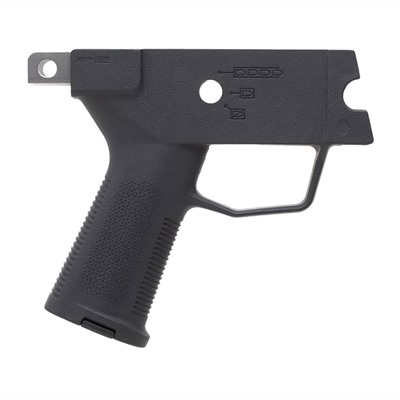 **NOTE**
Make sure to check the compatibility of the Magpul SL Grip Module. It is NOT compatible with the Ambi/Navy/FBI Trigger Pack. See Magpul website for details.
The Magpul SL Grip Module is also not compatible with aftermarket extended magazine releases.
Magpul ESK Selector – Magpul SL Grip Module & HK Polymer Trigger Housing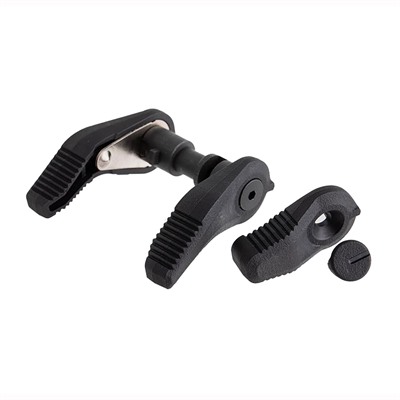 The Magpul ESK Selector is the perfect addition to your customized HK MP5. The ambidextrous selector switch allows full ease of use to left-handed firers. The ESK is customizable to exactly what you're looking for. It has advanced ergonomics that allows for quick access from either the left or right side. The ESK is constructed from high-strength polymer and corrosion-resistant metal which delivers Magpuls legendary durability.
The Magpul ESK Selector is user-configurable so you get exactly what you need. It is compatible with the three position SEF/SAFE/SEMI trigger packs. It will work with both Magpul SL Grip Modules as well as standard HK Polymer Trigger Housings.
Magpul HK94/MP5 D-50 MP PMAG 50-RD DRUM NEW!
I own a PMAG D50 Drum for the AR-15 rifle. This is a really nice magazine which enables you to have 50 rounds of ammo in a compact and low profile drum! Magpul introduced a D-50 MP for the MP5 platform recently. I have waited for it for so long! All the other drum magazines for the MP5 have reputation of unreliable items. Some of them require spacers and experiments.
The ratcheting loading lever enables shooter to load magazine easily. A rear window and a round-count indicator helps shooter to see the number of rounds loaded.
This 50 round drum works with all HK94 and MP5-pattern pistols and carbines.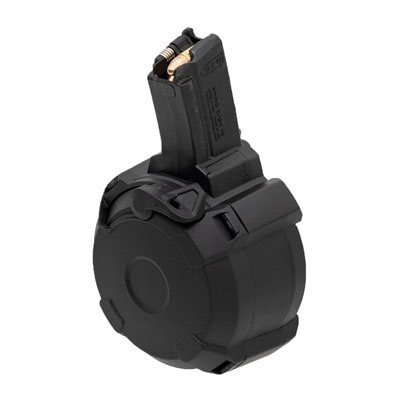 Conclusion
Magpul continues to be innovators in the firearms accessory industry, producing useful and durable accessories for all of the most popular firearms available today. They produce some of the best quality, most affordable items on the market today.
---