Best Shotgun Oils for Cleaning and Lubrication
There are a lot of gun oils and lubes available on the market. And each year we see new brands and new formulas. Every shotgun owner should have a high-quality shotgun oil for cleaning and lubricating their weapon with. If you want to keep your shotgun working as smoothly and efficiently as possible, then you will want a gun oil that can clean and lubricate your shotgun thoroughly. After all, there are many internal components of a shotgun that grind against each other as they move. If you don't lubricate these moving parts on a regular basis, all that friction is going to cause these parts to become worn out. Once that happens, the functionality of your shotgun will become affected. Overall, the reliability of your weapon will all become affected. That is why anyone who shoots their shotgun a lot should start cleaning and lubricating their weapon with gun oil.
Now there are some people who may not use their shotgun very often. Perhaps you just kept your shotgun stored away somewhere in a gun cabinet or closet. Well, you'll still need to clean your shotgun because dust and moisture tend to build up inside of an unused shotgun over a long period of time. You can always store the shotgun in a dry secured location but you'll still have to use gun oil to clean and lubricate it if the weapon has been there too long. That way, you have no surprises when you finally use your shotgun again.
Choosing the right gun oil will ensure that all debris is out of your weapon and that it will be able to fire properly when you pull the trigger. You don't want to end up with a problem because of a jam inside the mechanisms due to excessive dirt and debris built up in there. If this happens enough times, the shotgun may stop functioning forever and then you'll have to either purchase replacement parts for the weapon or go out and purchase an entirely new one. Why do that when it is so much cheaper to just purchase a quality gun oil and keep your existing weapon fresh for a long time?
Below are some of the most highly regarded shotgun oils on the market today. They each have their slight differences so you should look through them and determine which shotgun oil is right for your particular weapon and needs.
 
Bore Tech Shotgun Blend – Best Shotgun Oil for Cleaning
One thing a lot of shotgun owners complain about when it comes to certain shotgun oils is the smell that is left behind afterward. They don't like those strong odors that may come from certain oils used for cleaning and lubricating their shotguns. If you are one of these people, then try the Bore Tech Shotgun Blend solution for your shotgun. Not only is it one of the best cleaning solutions available for thoroughly cleaning the barrel and internal components of your shotgun, but it leaves no smell behind either. The formula does not contain any ammonia which makes it suitable for all types of shotgun barrels. There is really no better shotgun cleaner out there for your weapon.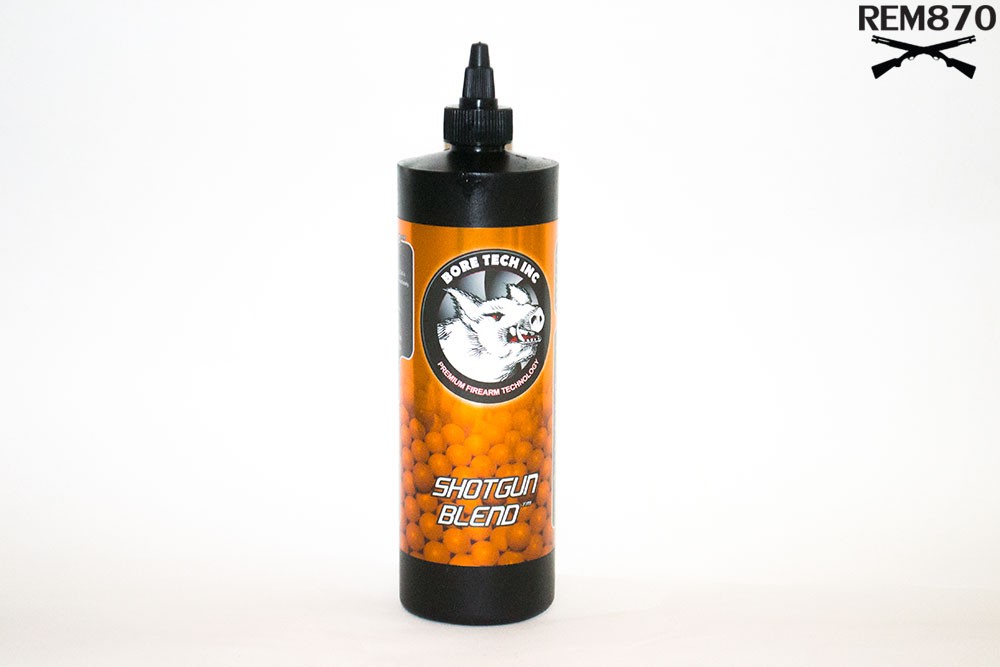 The cleaning solvent of the Bore Tech Shotgun Blend is specifically formulated for cleaning away carbon deposits and plastic particles that build up in the barrel of a shotgun. It doesn't matter if you have a rifled slug barrel or a smooth bore barrel either. The solvent is also good for removing these substances from choke tubes, chokes, and forcing cones as well. You don't even need to use that much of the liquid solvent when you go to clean the barrel or these components. All you need is 2 to 3 wetted patches and a brush to do a thorough enough cleaning job to remove all lead streaks, gunpowder residue and plastic from your weapon.
The Bore Tech Shotgun Blend is typically sold in a 16-ounce bottle which contains the liquid solvent inside of it. The price of this 16-ounce bottle is $25.99, which comes out to roughly $1.62 per ounce. Just remember these solvents are not able to be returned after you use them. But you wouldn't have any reason to return the Bore Tech Shotgun Blend because it does a thorough enough cleaning job to where everyone will be satisfied with it. The best part is that you won't have to put up with any odors either.
The Bore Tech Shotgun Blend is available at most sporting goods retailers. In fact, this liquid solvent is my favourite one at the moment. It cleans shotgun good and don't have a strong chemical smell like Shooter's Choice Shotgun and Choke Tube Cleaner, for example.
Shooter's Choice Shotgun and Choke Tube Cleaner – 2nd Best Gun Oil for Cleaning
The Shooter's Choice Shotgun and Choke Tube Cleaner has its good and bad qualities. The good qualities, of course, is its ability to thoroughly clean the barrel and choke tube of the average shotgun. In fact, this cleaner is able to clean them perfectly, leaving behind no streaks or residue. The only downside has to do with the very bad chemical smell that is left behind. That is why this cleaner is rated 2nd best for cleaning because you have to deal with the foul odor left behind after you're done cleaning the weapon.
In addition to removing nasty residue from the barrels of shotguns, the Shooter's Choice Shotgun and Choke Tube Cleaner is also great for cleaning the receiver and choke tubes as well. Everything will be spotlessly cleaned with this cleaning formula. It is particular good at melting away plastic wads, gun powder and lead. If your shotgun has a gas operated mechanism, this cleaner will remove the powder and carbon from there too. That way, you can ensure that all these components are functional and working with each other to properly prolong the life of your weapon.
I have used the Shooter's Choice Shotgun and Choke Tube Cleaner for years and results of this cleaning solvent speak for themselves. Aside from prolonging the life of your weapon, this solvent will also help reduce the time required for cleaning. Just remember that you will need to clean the shotgun from this aggressive solvent. You can use Shooter's Choice FP-10. When you go to store your weapon or put it away, the FP-10 will protect it from corrosion, pitting, and rust.
The price of the Shooter's Choice Shotgun and Choke Tube Cleaner is $14.99 and you can purchase it directly through a number of online sporting goods retailers.
Froglube Solvent – Not Recommended Gun Oil for Cleaning
The Froglube Solvent may be a more affordable cleaning solution for your shotgun, but it is certainly not the best one. I have tried the Froglube Solvent on my shotguns and it does not clean shotgun very good at all. The only real positive thing I can say about the solvent is that it does not leave behind an odor or smell afterward. But when you see Froglube Solvent advertised in online stores like Amazon, the description claims that it can remove carbons and residue from the weapon.
However, the more important features you may want to pay attention to are the fact that the solvent is non-toxic and bio-based, making it more environmentally friendly. Since it is a completely natural solvent, this may be part of the reason why it doesn't clean shotgun components as thoroughly as other cleaners which have unnatural chemicals in them. So, the choice of purchasing this solvent really depends on whether you are an environmentally conscious person or not. The Froglube Solvent is non-flammable and biodegradable after it is thrown away. If these are the traits of a solvent that are most important to you then consider purchasing it. But Bore Tech Shotgun Blend is environmentally friendly too but cleans shotgun much better. Even though Froglube Solvent doesn't do the best job of cleaning, at least you won't have a nasty odor left behind which will make you feel uncomfortable.
The price of the Froglube Solvent varies depending on what size bottle you get. Consumers are not forced to having to purchase the bigger 32-ounce bottle which is priced at $31.85. Instead, you can either purchase the 16-ounce bottle at $16.74 or the 1-ounce bottle at $7.19. This 1-ounce bottle is a cheap and affordable option for those who want to try out the solvent first to see if they'll like it or not. This is an option that most other companies will not give you with their solvent products.
The Froglube Solvent contains a pump spray feature which makes it easy to apply the solvent solution onto your shotgun's components. You may be even more impressed to learn that the Froglube Solvent formula was developed by the United States Navy Seals, who use it on their own weapons before missions in order to enhance their performance in the line of duty.
Shooter's Choice FP-10 – Best Gun Oil for Lubrication
A quality lubricant goes a long way in making sure that the internal moving components of your shotgun stay healthy as they grind against each other and create friction. Shooter's Choice FB-10 is the best for lubrication for a variety of reasons. Not only does it lube these internal components thoroughly, but it only leaves behind a light smell. The Shooter's Choice FP-10 doing a great job at lubricating while only leaving behind a mild smell that is not so intolerable.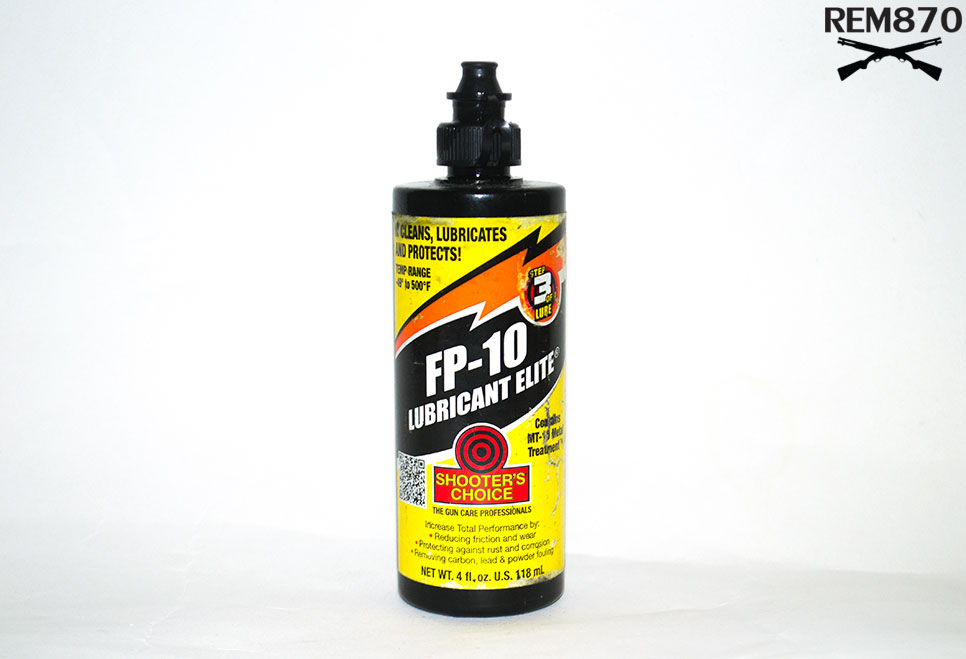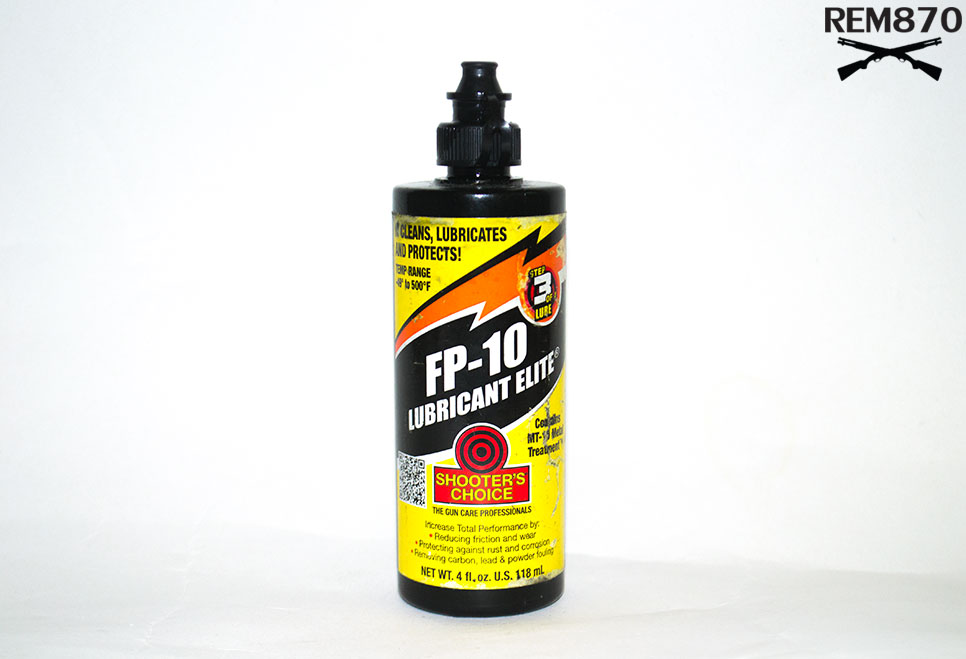 The formulated design of the Shooter's Choice FP-10 is made to professionally clean the most technically advanced shotguns of our time. Many of the benefits you will notice from using this solvent include reduced friction from the internal components that grind into each other and the removal of all types of dirt: carbon, lead and powder fouling. The end result will be a shotgun that hardly malfunctions at all while you're using it. You will have your shotgun working smoothly and properly. This oil will ensure that you don't have any malfunctions and that you can operate shotgun without any issues.
The Shooter's Choice FP-10 has been given the MT-10 Metal Treatment which is an additive that helps promote the lifespan of the weapon you use it on. And since the oil contains an all-in-one formula, this means it will be able to clean, lubricate, and protect your weapon. You start off by removing all the shells from your shotgun. Then you take a bronze brush and apply the Shooter's Choice FP-10 solution to it. Push the brush thoroughly into the bore about 10 times and wet the patch bore. Do this until the patch is clean.
To lubricate, apply the Shooter's Choice FP-10 to all the moving internal components of the shotgun as well as its wear surfaces. Work the action numerous times so that the solution gets into the bearing surfaces. To protect from rust, apply the solution to a clean cloth and use it to coat every metallic surface with the solution. It doesn't get much easier than that.
The price of the Shooter's Choice FP-10 is $9.99 for a 4-ounce bottle. You can also purchase a ½ ounce bottle for $3.99 or a large 1-gallon bottle for $99.99. The size you choose will depend on how many shotguns you have to clean and how often you clean them.
Froglube CLP – 2nd Best Gun Oil for Lubrication
Froglube CLP is considered to be the 2nd best lubricant for shotguns on the market today. A big reason why this is the case is because it is not only a great lubricant, but it leaves behind a light natural smell that will not annoy you. The Froglube CLP is a non-toxic weapon cleaner and lubricant that is biodegradable and recommended by the United States Department of Agriculture as being environmentally friendly to use for cleaning weapons. The Froglube CLP not only cleans carbon and grit from the shotgun, but it also has the ability to lubricate any wooden, polymer, or metal parts in your weapon too. This will ensure that friction is reduced with the internal moving components of your shotgun and that it has a long lifespan to it.
The formula of the Froglube CLP contains no wax, oil, or petroleum chemicals in it. Instead, it is filled with lots of food-grade ingredients that have been deemed as non-hazardous and USDA approved. This is a big reason why it is considered to be environmentally safe in the first place. At the same time, it has the ability to seep into the pores of the parts and components of the shotgun to create a protection barrier so that corrosion and rust does not form. That is why the Froglube CLP is known as a Cleaner, Lubricant, and Protectant; hence the CLP acronym.
A 4-ounce bottle of the Froglube CLP is $9.50. It is available in a paste and a liquid form. Four ounces of liquide or paste will go a long way in cleaning, lubricating and protecting your shotgun. Plus, it'll leave a nice mint smell in the air that will make you feel good rather than feel bad. Compare this to the smell left behind from other commercial gun cleaners and you'll appreciate the Froglube CLP even more.
Froglube CLP can be purchased on many websites. Their gun products are made in the United States of America.
Breakfree CLP – Best All-Purpose Shotgun Oil
The Breakfree CLP is known as one of the best all-purpose shotgun oils on the market. It may not be the best cleaner there is for shotguns, but it is still an intermediate cleaner that will clean the dirt and residue out of your shotgun properly. At the same time, it is also a good lubricant too and it will ensure that the internal moving components of your shotgun stay healthy by reducing the friction of them grinding together. The formula of the Breakfree CLP is designed to penetrate into every pit and pore found within the metal surfaces of the shotgun and remove any contamination or residue from there.
In addition, the Breakfree CLP creates a protective film coating on the metal surfaces which protect them from grit, sand and other abrasives that end up causing malfunctions and wear. Best of all, the synthetic oils of the formula will not harden or dry up when environmental conditions turn extreme. This means you don't have to worry about humidity, heat, moisture, or cold causing the solution to create problems in your weapon. Instead, the protective film will protect your internal components from these extreme environmental conditions. And if you go to store your shotgun somewhere with this film on it, then you will reduce the choices of corrosion or rust forming on the weapon too. Tests have proven that a shotgun with the Breakfree CLP on it can survive temperatures of between -65°F and 475°F.
If you are worried about the odor that may form after applying the Breakfree CLP solution to your weapon, do not worry because it only creates a light odor after it is used to clean and lubricate a shotgun. It may not be the most pleasant smell because it is not based from natural chemicals. However, the odor is not that strong and you can feel happy that you're using a shotgun oil solution that does its job well. Most importantly, you can feel happy that your shotgun will be able to function better which will, in turn, make you shoot better as a result.
The cost of the Breakfree CLP shotgun oil solution is $12.67 for a 12-ounce can of it. You can even choose whether you want it to be in an aerosol can, spray bottle, squeeze bottle, liquid jug, and more.
Ballistol – 2nd Best All-Purpose Shotgun Oil
Ballistol is the 2nd best all-purpose shotgun oil there is on the market today. Like the Breakfree CLP oil, the Ballistol is an intermediate level cleaner that serves as a good lubricant too. The difference, however, is that the Ballistol is not that great for lubricating in cold weather conditions. On top of that, it leaves behind a natural odor that is rather strong after you use it to clean your weapon. Although it is a natural odor, some people may not like how strong this odor is and may prefer the lighter odor of the Breakfree CLP. That is why the Ballistol is labeled the 2nd best all-purpose shotgun oil and not the 1st. But hey, if you're trying to preserve your weapons and store them away for long periods of time, then Ballistol is without a doubt the best cleaning solution to use for them.
The Ballistol comes in a number of different forms including a spray bottle, aerosol can, or liquid jug. A lot of people like the spray bottle because of how simple it is to use when applying the solution to their shotgun. It is so easy to clean, lubricate and protect your weapon's internal components with the Ballistol solution. Any plastic, leather, wood or metal materials on your shotgun will be preserved and protected when you apply a coating of this stuff onto it. The best part is the Ballistol solution is 100% natural and biodegradable, which means it will not harm the environment when you go to throw the bottle away after you're done with it. And since the solution has alkaline, any skin oils or sweats that come off onto your weapon will be neutralized with this stuff.
The price of the Ballistol All-Purpose Shotgun Oil is $20.99 for a 16-ounce bottle. This is totally worth the money because Ballistol is a brand name that has been around for over 100 years. The German Army developed Ballistol before World War I because they needed to find a way to clean, lubricate, and protect their firearms and leathery gear. Ever since then, Ballistol has grown into a top of the line gun cleaning solution that gun owners have recognized all around the world.
TekMat Gun Cleaning Mat with Remington 870 Imprint
Very nice cleaning mat with Remington 870 imprint. Very compact when folded, so it is easy to store it.
You can use it to protect your desk from oil and solvents when cleaning shotgun. Surface is very soft and will not harm finish of your 870.