Best AR-15 Rifle Scopes for Dynamic Shooting (IPSC, 3-Gun)
Article by Mykola Pysanchyn
Some time ago, I realized that given the peculiarities of my vision and modest experience in the world of practical shooting, I need to replace my optical sight with a device of greater magnification and preferably better quality.
Further, you will find difficulties in choosing the best optical sight. It may help beginners choose the first optic sight.
I bought my first AR about a year ago, a Z-15 rifle with a heavy match chrome-lined barrel. It was a used rifle with a small number of shots; the previous owner used it for hunting. Also, it had a 1-4 Hakko Superb optical sight. Not a bad sight, but for hunting purposes. For the purposes and objectives of practical shooting, it was unsuitable for a set of features, including a reticle without the bullet drop compensator and large size of the central sighting mark. That is a good option for those who need to shoot wild boars. This hunting scope is not heavy, strong and reliable.
Then I have used a piece of advice from fellow shooters and bought a Vortex Viper PST with a 1-4 magnification. Excellent sight, probably the price and quality ratio. It has a quality lens, comfortable reticle, lightweight. You can still find this scope for around $600. I have used it for almost a year and, taking into account the tendency to increase distances in competitions and my not-perfect vision, I decided to change the sight.
Initially, there were two main criteria: quality lens, not worse than in the previous sight, and a magnification of 1-6 or 1-8.
I checked, looked through and even shot with almost all the sights available on our market when I was choosing the sight. Find my impressions about them and my final choice below.
Swarovski Z8i 1-8×24 L with BRT-I Reticle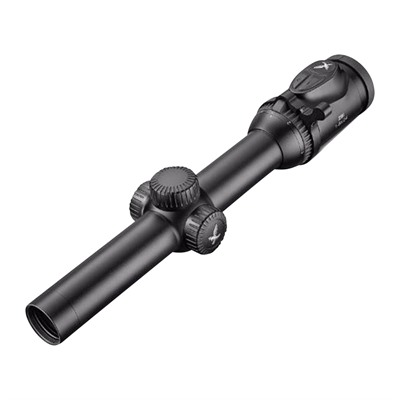 It was the first scope that fell into my hands. It was installed on a friend's carbine. Well, there is nothing to say – it's Maybach in the world of riflescopes, the clarity of the picture, brightness, field of view. Very convenient sight reticle for long distances, light weight for its magnification. Elegant sight without any questions. But there are two issues. The first is a bit of a high price, but Maybach have never been sold cheaply. The second is a large central sighting mark, and this is a significant issue that must be taken into account. At a distance of 30 meters, when shooting at a target covered with a penalty target at a minimum magnification – the aiming mark significantly covers the scoring zone. And this is not surprising because according to the characteristics of the sight, the size of the central sighting mark is 20.9 cm at a minimum magnification on a distance of 100 meters. This configuration poses additional risks, especially to inexperienced shooters, to misses and penalties. It is impossible to say that this is a shortcoming of the manufacturer because the purpose of the sight is still hunting, not practical shooting. This issue is treated by installing a side Red Dot sight for shooting at nearby targets, and you can get used to eventually shooting them from the optic sight. But I decided to check other sights.
Price: $2,599.00
Cons: large central sighting mark, price.
Pros: excellent quality optics, comfortable reticle, light weight, wide field of view.
Recommended Product:
Nightforce NX8 1-8×24 F1 ZeroS 0.5MOA, FC-MOA reticle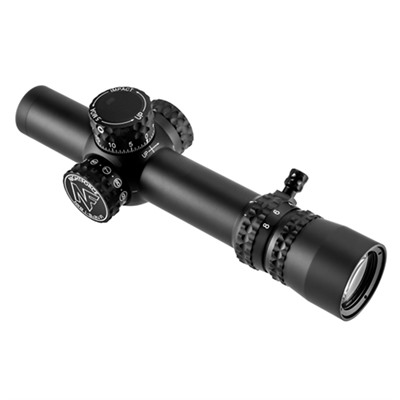 Another Maybach. If Swarovski has a gib price, then this one has a huge price. But it has surprisingly low weight, just 17 oz. (482 grams), this is probably a record among sights with a magnification of 1-8. High-quality optic sight – high-quality lens, the first focal plane, extremely light and compact. It has a convenient lever to change the magnification installed.
However, the sight loses to Swarovski and Kahles in terms of the field of view at 100 m at a minimum magnification of 7 meters. It is not clear how important these characteristics are in IPSC, but some shooters pay attention to it. The reticle is specific and for me, it is a little overloaded, but again this is a question of personal preferences.
Price: $1,750.00
Cons: Swarovski and Kahles lose in sight, specific sighting grid.
Pros: high-quality lens, lightweight, compact, durable and reliable.
Recommended Product:
Trijicon AccuPoint® 1-4×24 Riflescope w / BAC, Green Triangle Post Reticle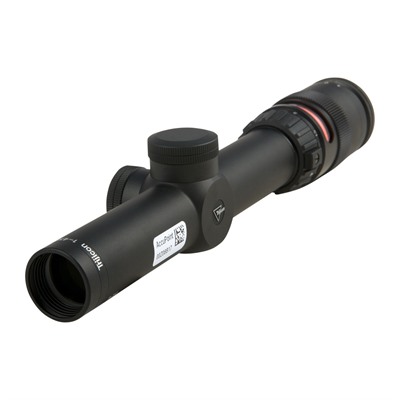 I have not considered this optic sight for purchase, but I won a competition when I borrowed it from a friend. Therefore it is simply obligatory to write something about this scope. This is a pretty good optic sight that is light, compact and has excellent lens quality. Still, the holographic sight reticle will not allow the user to have good results in competitions where the distance to targets is more than 200 meters. Of course, people shoot even at 400 meters using red dot sights, but this post is mainly for beginners, who usually try to compensate for their insufficient experience and skills with the best equipment available.
Price:$979.99
Cons: Only good for short distances.
Pros: "eternal" illumination of the reticle, excellent quality of lens, light weight.
Recommended Product:
Vortex Viper PST Gen II 1-6×24 VMR-2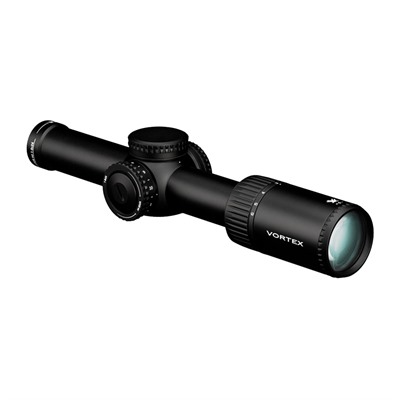 Like the Vortex PST 1-4, it is the best sight in terms of value for the money, in my opinion. High-quality lenses, cool ballistic reticle for 223Rem ammunition, reliability and solidity. Not a high price for such a quality optical device. Of course, Swarovski and Kahle's lenses are better, but not much. Also, it has a larger weight and smaller field of view. But I wanted to choose it because of the price and the quality ratio.
Price: $599.99
Cons: weight, lenses and field of view are not as good as Swarovski and Kahles have
Pros: price, quality lens, reticle.
Recommended Product:
LEICA MAGNUS 1.5–10×42 ASV (R: L-Ballistic)
One more optic sight from a top manufacturer. Excellent Swarovski-level lens, maximum magnification and ballistic reticle can give a significant advantage on long-range targets. However, it is necessary to install an additional side red dot sight for a comfortable engagement of nearby targets, which was something I didn't want to do. It would be interesting to shoot with it, but unfortunately, I had a chance to check it only in the store.
Cons: minimum magnification of 1.5, large dimensions.
Pros: maximum magnification of 10, ballistic reticle, light for its magnification, quality lens.
Trijicon 1-8×28 AccuPower – DISCONTINUED
Not a frequent guest on training and matches, but I even managed to shoot with it. The first focal plane, a really convenient reticle for both short distances and long distances. The optics are not as bright and clear as the previous two, but quite at a good level. The sight itself is rock solid and it looks like you can use it even as a hammer. However, it has a 34mm tube, which requires a massive and heavy mount, and the weight of the sight itself is 25 oz. (700 grams). The optic sight which I tested weighed 34 oz. (960 grams) along with the mount. The AR-15 rifle used for dynamic shooting is heavy and introduces a certain imbalance in the complex. In general, I got the impression that it was a sight for military tasks and for a caliber larger than 223Rem. That would be a perfect choice if you don't need light weight and want to have an optic sight that can hit a tree or wall and still work. Or This sight is the best choice for the AR-10 with the 308 caliber.
Cons: weight, has worse lens than Swarovski and Kahles, field of view, price.
Pros: reticle, first focal plane, strength and reliability.
Kahles K16i 1-6×24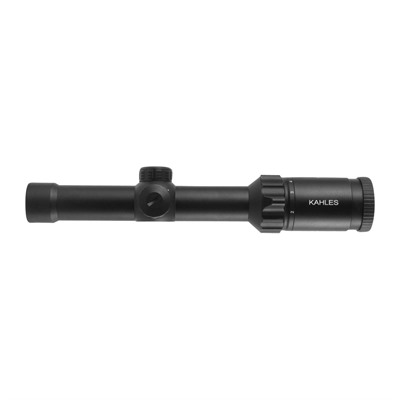 Again an optic sight from a friend's carbine. Two sighting reticles Sl.1 and Sm.1, respectively, are available on the market. If you compare this sight with the previous one, it turns out that their characteristics are almost identical. No wonder, because they are made if not in the factory, then in one industrial group. Since 1977, Kahles has been a division of Swarovski Optics. Again, a great optical device with an uncompromising quality lens, light weight, but I wouldn't say I liked reticles either Sl.1 or Sm.1. But personal preferences are a purely individual thing. Maybe someone will find such a reticle super convenient and will like it very much. There are no questions about the central part of the reticle. It is quite small.
Price: $1,999.00
Cons: reticle.
Pros: excellent lens, light weight, wide field of view.
Recommended Product:
The process of choosing the best scope ended up unexpectedly. My friend decided to sell the Kahles K16i 1-6×24 optic sight together with a carbine. The scope has a G4B reticle and this is a completely different story. It has a small central mark and an intuitive reticle. For me, this sight was perfect, so I convinced my friend to sell it to me separately from the carbine. The price was not much higher than the price of Vortex scope. So I got my perfect optical sight and the only thing I plan to change in the future is the carbine and not the optics.