Remington 870 Receiver Mount Shell Carriers
Having fast access to shells is important, especially when using a shotgun because you are limited to the number of rounds you can load. Firing until empty is not ideal so to make combat loading easier you can install a receiver mounted shell carrier or sidesaddle. With a little practice, you can combat reload as you fire a shell without losing your position. Typically, you can choose a four, six or eight shell carrier. Your hands when in the firing position are just inches from the shells.
Typically, an aluminum shell holder will also have a small rail for attaching sights and other accessories. The question many would have is will the shells stay in place. The last thing you want to happen is to have your shells fall out while you are in a tactical situation. Manufactures state the shells are secure even during vigorous movement and recoil will not knock the shells from the carrier.
On some models, the shell carrier uses the trigger group pins. You would remove the pins, place the carrier in position, and then replace the pins with the specially adapted pins provided by the manufacturer. Some models may also require an adaptation of the forend to mount an eight-shell carrier.
Before purchasing make sure, the receiver-mounted carrier will work with your weapon. Some shell carriers will wrap over the top of the receiver and mount on both sides using the same method of removing and then replacing the trigger pins.
As you can see with a little practice, because of the where the shells are positioned, you would be able to reload without losing your sight picture or removing your eyes from the target. If you practice you can keep the weapon pointed down range as you combat reload.
With a receiver mounted shell carrier, that holds six shells and one in the chamber with four in the tube you will have plenty of fire power. As you reload from the carrier, make sure you replenish the holder. In a firefight, there is so much to think about so practice is important so you develop muscle memory.
It will take some time to get used to the side carrier so make sure you get plenty of time in at the range. Those used to reaching for a shell holder on their stock or belt pouch will have to train themselves. As you know, it will take several weeks of practice before you begin naturally reaching for the shells in the new mount instead of reaching for your belt pouch.
Once you have fired 30 or 40 rounds double check the pins to make sure they are still seated tight. Similar to checking the lug nuts after changing a tire to make sure they have not loosened. The recoil can have an effect on the pins so get in the habit of checking periodically.
As the picture indicates, you can load the shells up or down depending on your weapon or style of reloading, again practicing will allow you to develop your own style. The objective as with any weapon and especially with a shotgun is to be able to reload quickly. Having the shells inches from your fingers allows you to maintain your tactical position as you reload.
Mesa Tactical Sureshell Shell Carrier
This is the most durable and reliable sidesaddle available on the market today. Mesa Tactical sidesaddle is made of aluminium which makes it indestructible. It is low profile and looks fantastic!
One of the good features of this shell carrier is that it doesn't hide the serial number.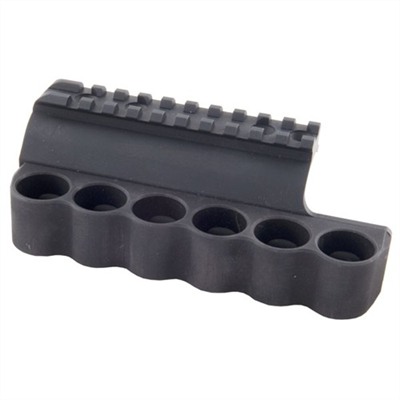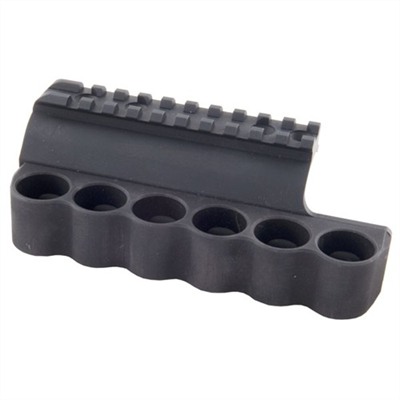 There are many different versions of this sidesaddle. There are 4-round, 6-round and even 8-round shell carriers.
This is the most expensive shell carrier in this overview but it is worth the price.
Recommended Product:

Mesa Tactical Sureshell Shell Carrier

Get Mesa Tactical Sureshell Shell Carrier here: http://tinyurl.com/9r9mw5d
TacStar Shell Carrier
TacStar sidesaddle is ammunition carrier with plastic shell holder on aluminum mounting plate. It is easy to install, installation takes just several minutes. Be careful and don't overtighten screws because this may bind the reciever and jam up the action or action will be stiff. Also, if you overtighten screw you can easily strip the screw and you won't be able to fix it without buying a new sidesaddle.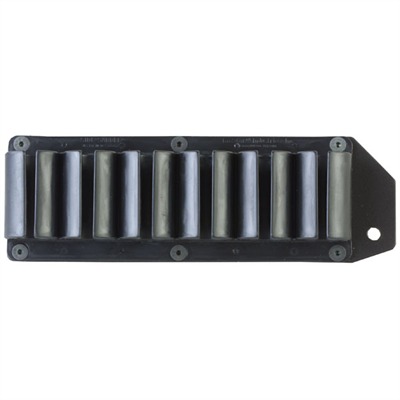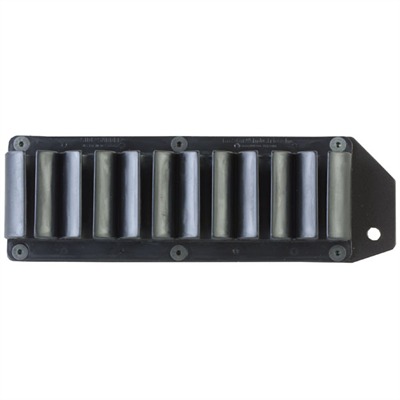 TacStar sidesaddle holds shotgun shells reliably but it is still easy to take them out.
This sidesaddle is inexpensive and you can use it without any problems for a long time. Of course it is not as durable as the metal sidesaddle but it still a good choice.
Vang Comp Systems Detachable Shell Carrier
Detachable side ammo carriers for shotguns become more and more popular. Most people like the ability to change empty holder with a loaded one. You can have several carriers in your pocket and change them when needed.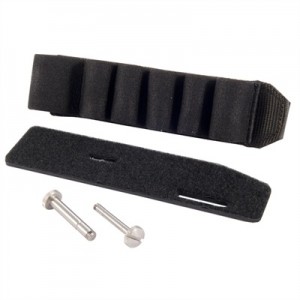 One of the good detachable side ammo carriers is one by Vang Comp Systems. This shell holder has aluminum backing plate that secures to the receiver with the replacement trigger pins.
Vang Comp Systems Detachable Side Ammo Carrier also allows viewing of serial number.
Recommended Product:

Vang Comp Systems Detachable Side Ammo Carrier for Remington 870

Get Vang Comp Systems Detachable Side Ammo Carrier here: http://tinyurl.com/d2jgov4