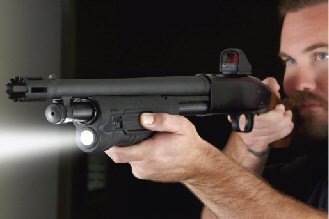 Surprise! EOTech Forend with Integrated Flashight for Remington 870!
So, now we have two forends with integrated flashlights for Remington 870 available: one from Surefire and second one from EOTech. It would be really interesting to hear opinions when it will be available for ordering.
The price of EOTech Integrated Fore-end Light for Remington 870 Shotguns is $249, the price of Surefire Forend for Remington 870 is about $400. So new forend is more affordable. It is good to see competition on the market of tactical accessories because end users will benefit from this.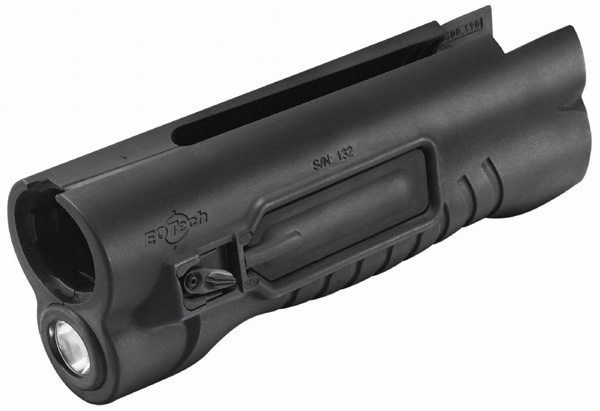 I always wanted to buy and test forend with integrated flashlight but price was too high. EOTech Forend with Integrated Flashight for Remington 870 is affordable and I really want to order it when it is going to be available.
The integrated flashlight has 120 lumen output, uses one CR123 battery which is enough for an hour and a half of runtime. It is waterproof to 1 meter and can handle 3,000 rounds with 12 gauge slug.
Also, I like that it is low profile and doesn't stick out much like Surefire forend.
Here are specifications from the Eotech:
IFL LED Integrated Fore-End Light Specifications
Minimum Output: 120 Lumens (NEMA)
Minimum Run Time: 120 Minute (NEMA)
Operating Temperature: -10 to +50 °C
Storage Temperature: -30 to +70 °C
Dimensions: 8.6"L x 2.1"W x 2.8"H
Weight: 12.2oz (345.8g)
Drop Height: 48 inches (MIL-STD-810G)
Weapon Shock: 3,000 rounds with 12 gauge slug
Selectable Modes:
Waterproof: to 1m for 30 Minutes
Battery Power: 3 Volt Lithium, One (CR123)
The best feature of this forend is its low profile, looks great.
What do you think about EOTech Forend with Integrated Flashight? Do you like it?
Related Post:
3 Ways to Attach a Flashlight to Your Remington 870 Shotgun
Surefire M300A Mini Scout Light on Remington 870 with Magpul Forend