SCATTERGUN TECHNOLOGIES™ TRAK-LOCK® Ghost Ring Sight System
Eros from Italy have installed SCATTERGUN TECHNOLOGIES™ TRAK-LOCK® Ghost Ring Sight System on his Remington 870. You will find out how to install Scattergun Technologies ghost ring sights and what advantages they give you.
Please note that installation of the SCATTERGUN TECHNOLOGIES Ghost ring night sights requires receiver drilling and tapping.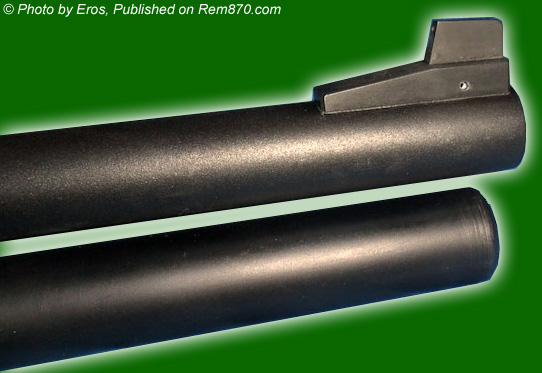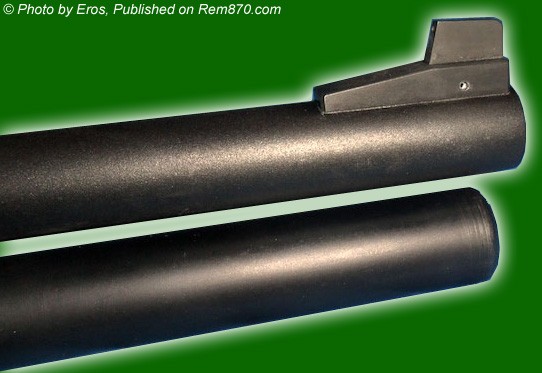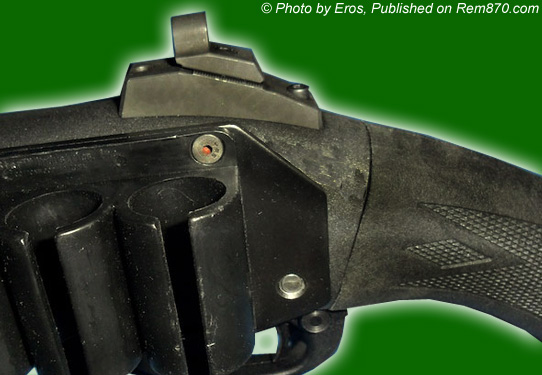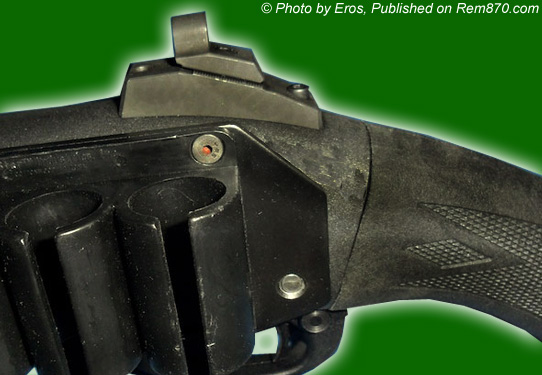 From Eros:
First of all I want to say a big "thanks" to all members of my team: my friend Omar and his good dog Zeus and to Marianna for the coffee.
Double check that your gun is completely unloaded and clear from any barrel flags or dummy shells, or any sort of ammunition. I am not a professional gunsmith so don't try to do this if you're not sure that you will be able to follow the instructions or if you don't have needed skills. I am not responsible for any damage you will do to you or to your gun.
The track-lock tritium combat sights kit from Wilson Combat contains a little plastic bag of epoxy glue
for the front sight, two 6/40 inch screws for the receiver (you need to tap and drill the reicever completely) and the allen wrench to fix them, but there's no pin to cross-pin the front sight.
If you would like to mount the front sight in that way you need an extra 2mm pin that you will have to buy yourself.
I drilled the front pedestal where the bead was placed (need to remove it completely) and the front sight (2mm hole), then i degreased and grinded the surface of the pedestal. I have mixed the Loctite Fixmaster (1 part of hardener and 4 parts of resin) and then I put all parts togheter and crosspinned the front sight.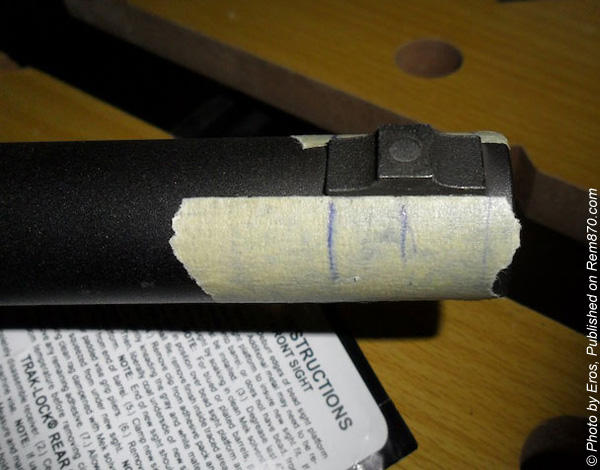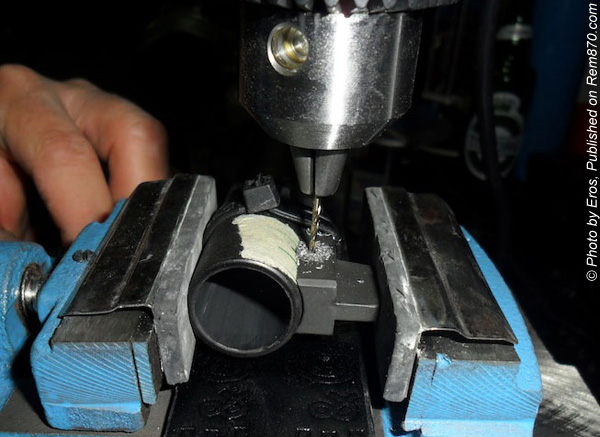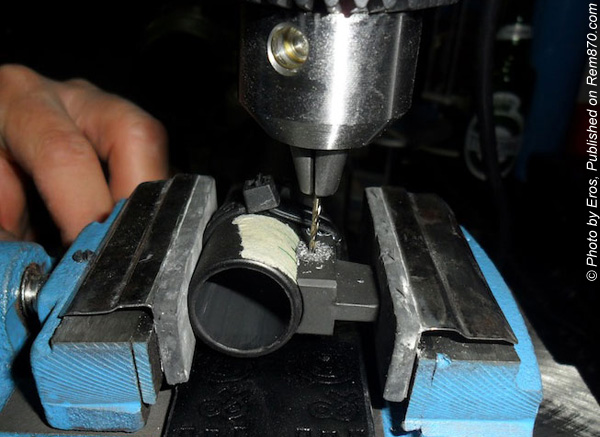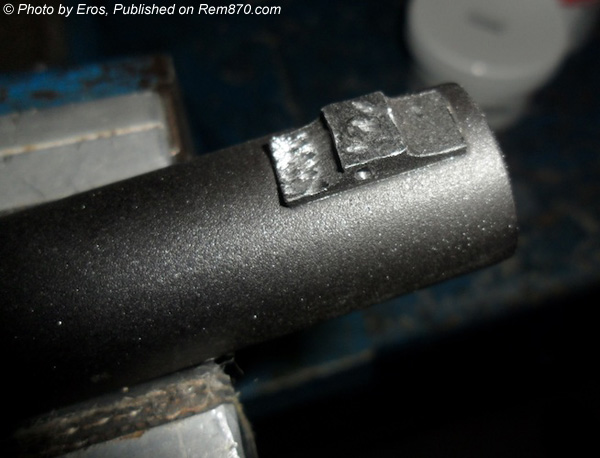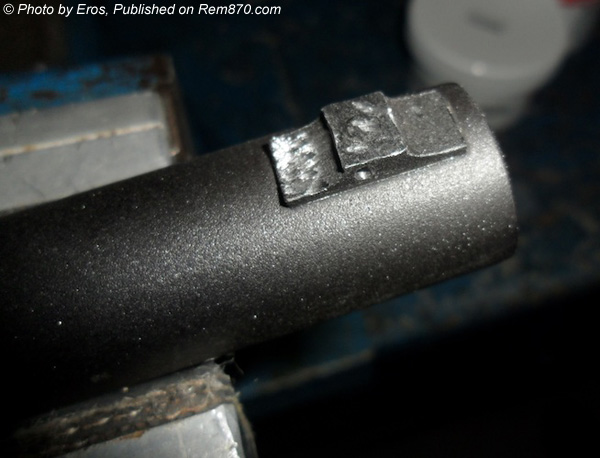 After that I can say that the process isn't as simple as it seems because you need a patience to do that kind of job. Believe me, you will find some trouble and much more than you can imagine doing a modification like this one.
You have to plan the process carefully.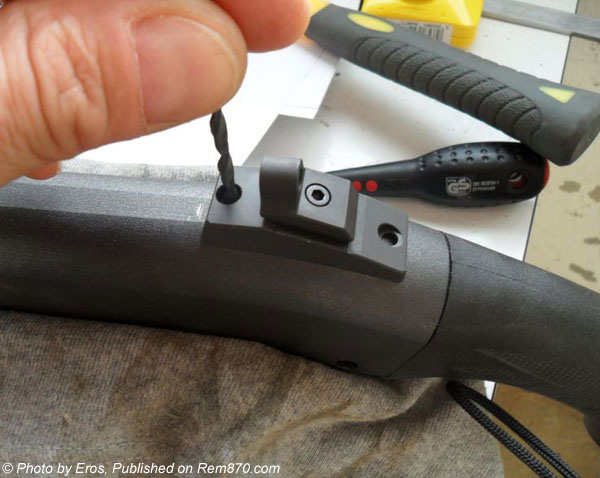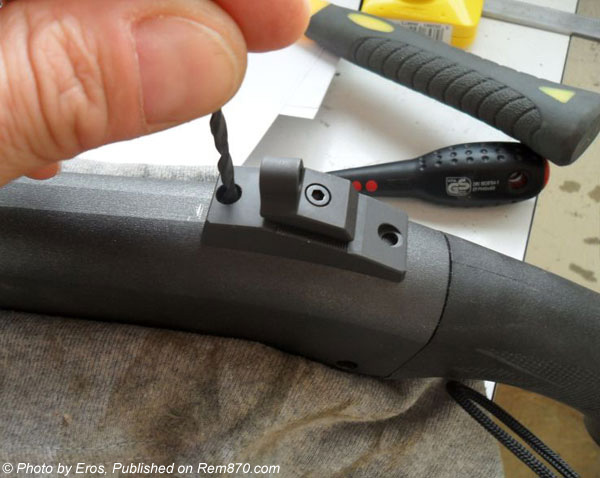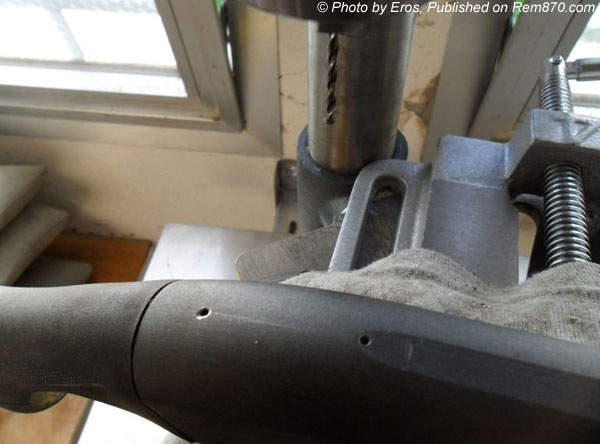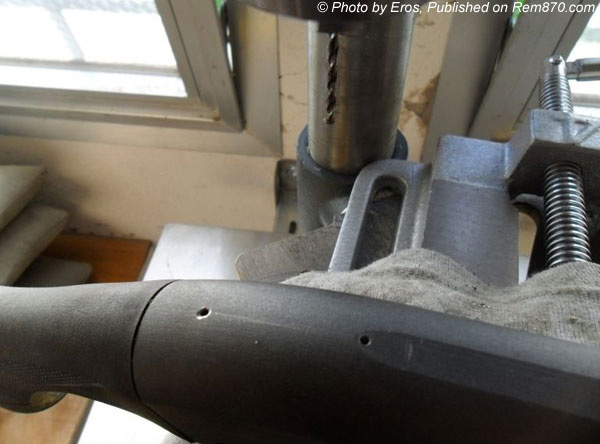 For example I have broken a tap (6/40 of inch UNF tap which is used for Scattergun rear sight) inside the hole on the remington reiceiver (about a 2,7 mm hole on the rear sight mounting point).The Remington 870 receiver it is machined from a thick and strong steel block. You'll need a good drill and a drill press to do that and buy a good kit of 6/40 inch tap. This will help you for sure, believe me, guys.
Another trouble was that the glue inside the Scattergun sights kit was unusable because it was damaged. I asked some help by email to Wilson Combat and a guy replied to me promptly. Scott from Wilson Combat said that, if I wasn't located in Italy, he could send me another glue kit for free, but due to the country restriction he couldn't. He helped me to find out a replacement for the epoxy and we found that the Loctite Fixmaster is similar and works perfect. It is a a good replacement of epoxy in such situation.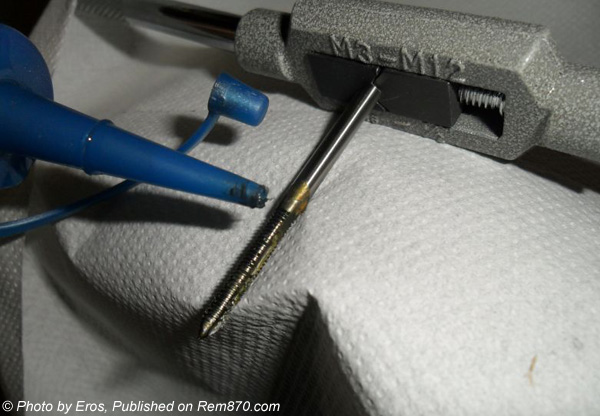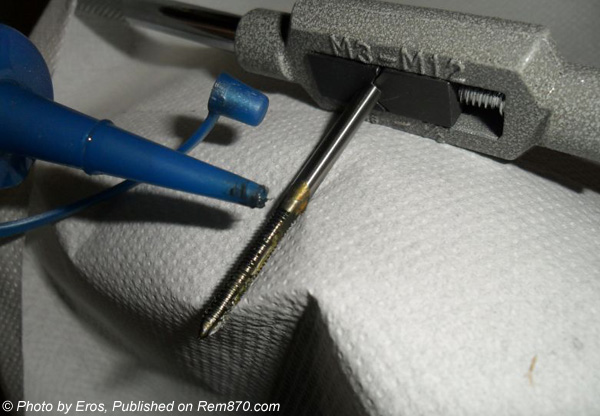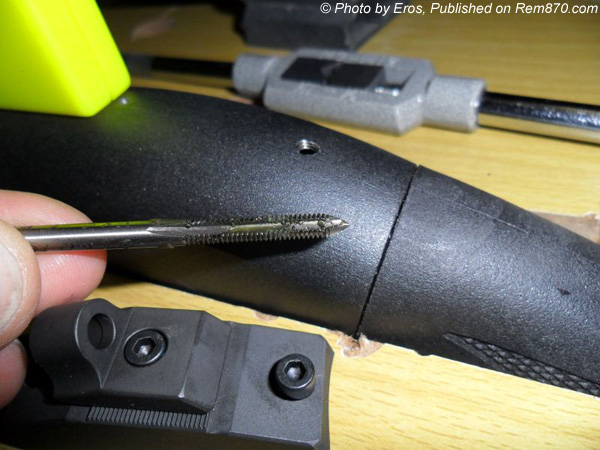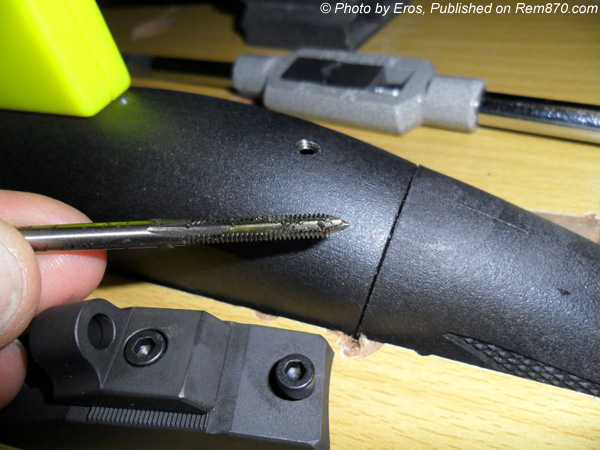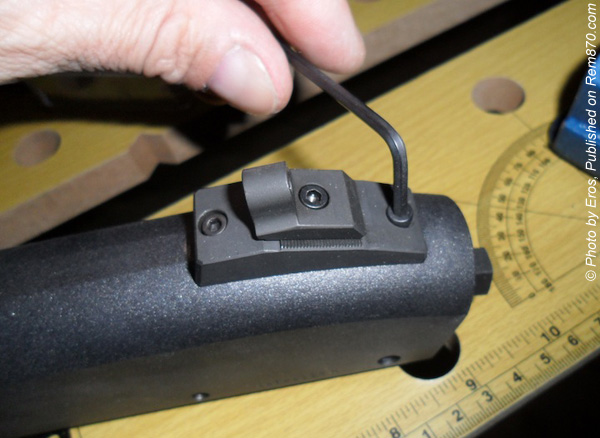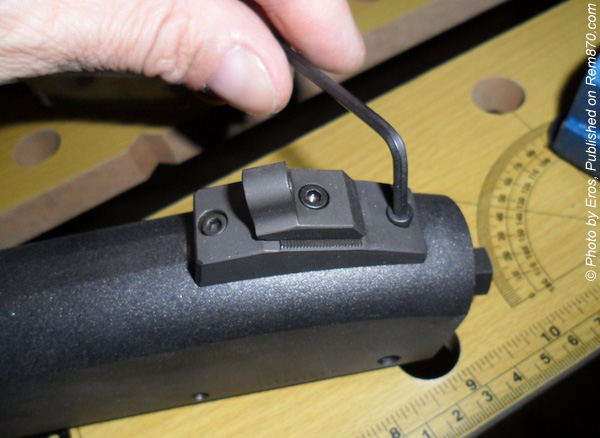 At the end of the process you will see the final result…I hope you like it and that it will help someone around the web…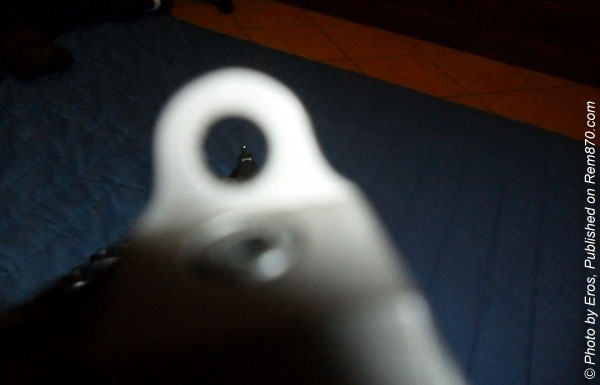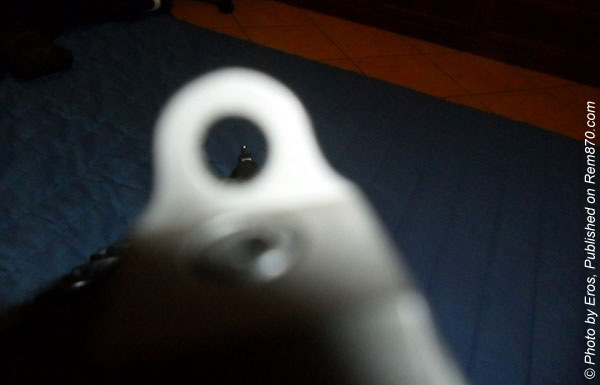 Recommended Product:

Get Scattergun Trak-Lock Ghost Ring Sight Set here: http://tinyurl.com/cbmqaee