Removing Dimples on Remington 870 Magazine Tube
A lot of Remington 870 owners want to install a magazine extension on their shotguns. But there are dimples in magazine tube which must be removed first. And all of us are afraid to break our favorite shotgun during this process.
Theodore has sent me a fantastic instruction on dimples removal. I know that many Remington 870 owners are searching for such instructions and I am happy to share it with you. Many thanks to Theodore for his work and photos.
How to Remove Dimples in Magazine Tube of the Remington 870 Shotgun:
This is Theodore, and after following your holiday poll on shotgun gift ideas, I too decided to buy myself one of the most sought after shotgun X-mas present: a +2 Rounds Magazine Extension. Being loyal to the Remington brand I purchased a original Remington +2 mag extension (SKU. 19420) which was in stock from my country's official Remington importer.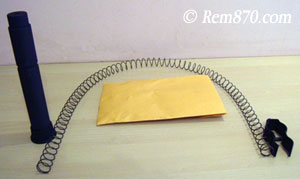 This is a quality extension and has a great fit and I strongly recommend it. It is exactly as you describe it on your site: http://www.rem870.com/2009/09/07/original-remington-870-2-round-magazine-extension/
Recommended Product:
The reason I was weary of installing such a product until today is because I could not find in my heart to to use a drill, dremel, or file on my gun to remove the dimples in the magazine. It gave me the impression of damaging my gun. Of course, hammering a socket inserted in the magazine tube to force out the dimples is out of the question – and should NOT be attempted. You will only damage your gun!! This site covers this topic very well here: http://www.rem870.com/2009/08/06/how-to-install-remington-870-magazine-extension-and-remove-dimples-in-magazine-tube/
Reading the comments from the above posts, a reader named Ken posted on November 10, 2009 an alternative "dimple curing" method on the Rem870.com Blog, using a combination of the socket method and then a basic metal working method such as auto body work for a smooth final finish.
After some thought, I decided to attempt and remove the dimples from my gun without the use of a drill or dremel. I decided to modify Ken's method above and replace the hammer and socket method of the first phase of his procedure, with a vice build to fit exactly around the inner (~23mm) and outer (~25.5mm) surface of the magazine. I initially wrapped a single layer of paper masking-tape around the outer front of the magazine tube to protect it from scratches. Tightening the vise initially flattened the dimples 80-90% of the way. You will be surprised at just how hard and strong the magazine tube metal is. You will need to apply as much pressure with the vice as you can, to make sure the dimples pop out as far as possible. Too much pressure it not enough! – just make sure your inner and outer guides fit your magazine tube flush on both the inner and outer side.
Then I could insert an oiled socket (approx 23mm diameter) which would fit snugly in the magazine tube and apply a basic metal working method such as auto body work for a smooth final finish. Make sure you have a good handle on the socket and that you can easily remove it if required. Do NOT force or hammer the socket into the magazine tube. It should fit snugly – if not, it is the wrong size. The secret is to use a metal working hammer (soft metal and light weight) and GENTLY tap on the OUTSIDE of the tube (over dimples) until the "dimples" blend in with the rest of the tube. The use of the socket in this instance in NOT to force out the dimples the remaining 10-20%, but to act as a counterbalance to the gently tapping action you are going to be applying on the outer area of the dimples and make sure that your magazine tube remains perfectly round in the process.
It really does work very well …. and you do get a perfect round finish. Done properly, the magazine will retain its finish. If not, a little gun-blue will mend any markings.
The method I describe above if done properly, results in minimal modification and no damaging of the original part. However, I think that you need to feel confident "very!!!" about how good a "handyman" you are. If not, I recommend that you use the drill or dremel method instead which always and quickly gets you the required result, every time!
Here follows some pictures, steps and parts required if you wish to try this out.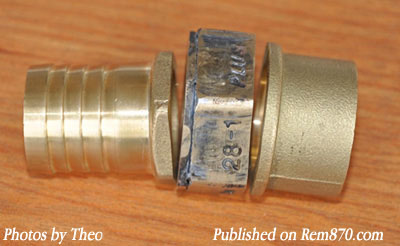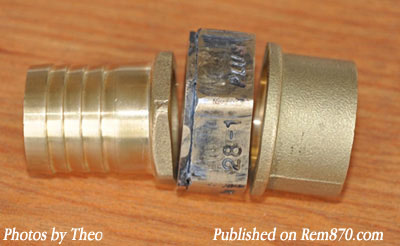 This is a simple 2-piece water hose connector. The reason I chose it was that it had the correct diameter required for the outer guide of my vice (~25.5mm). Copper is also a soft and easy to work with metal that won't damage your magazine tube as it is much softer. Just cut it and retain the part you need. As long as you get the diameter right use what you find.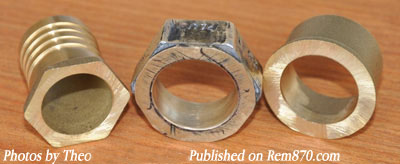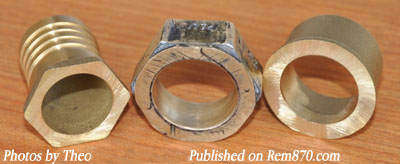 To create the inner guide of my vice I used a spanner bolt bit that was the correct diameter (~23mm) for the inner guide of my vice and also acted as a socket.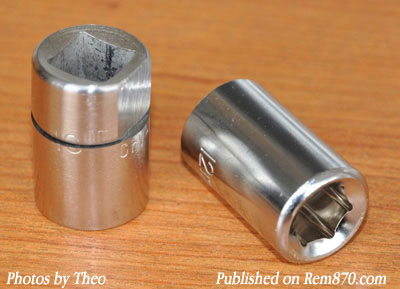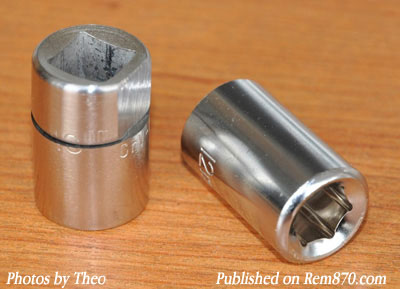 After cutting it, the one piece acted as the vice guide (Note the one ended is grinded to allow it to fit in the magazine tube as initially the dimples will stop it from entering), and the other longer piece acts as your socket.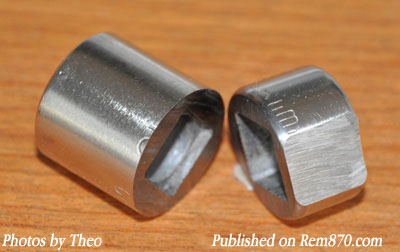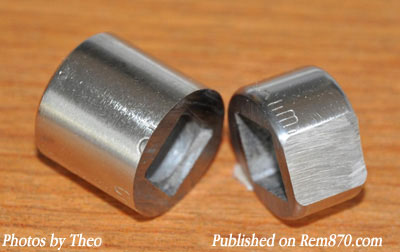 This is the vise I used.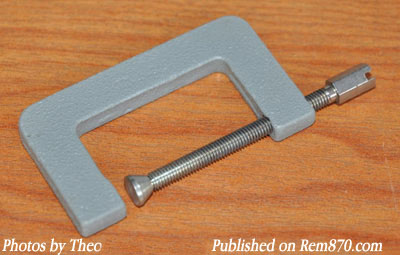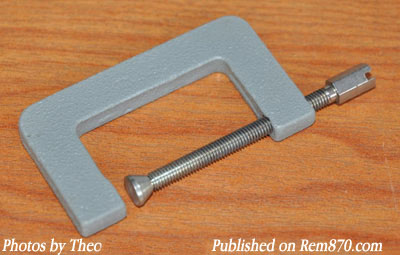 You will require some nuts & bolts.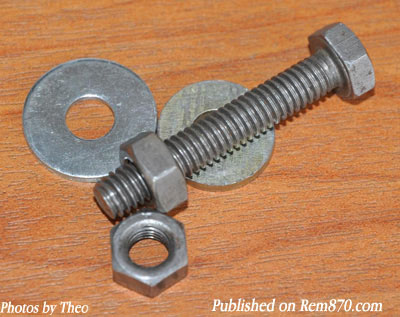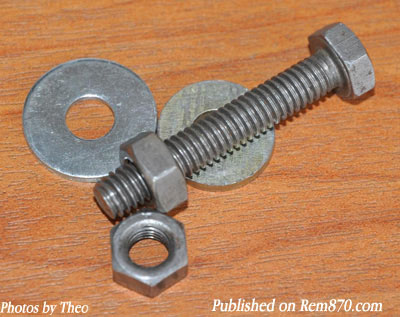 This is what you are trying to make and assemble.


This is how you need to assemble your vice. Note the inner guide is grinded down on the bottom end so that it will initially fit into your magazine tube over dimples.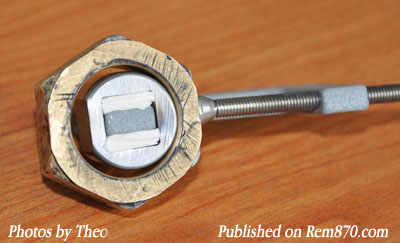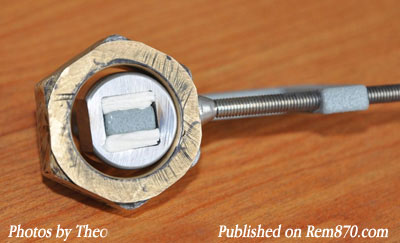 This is everything you will need to remove dimples in Remington 870 magazine tube: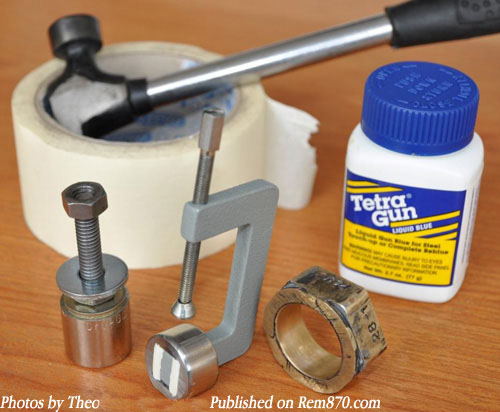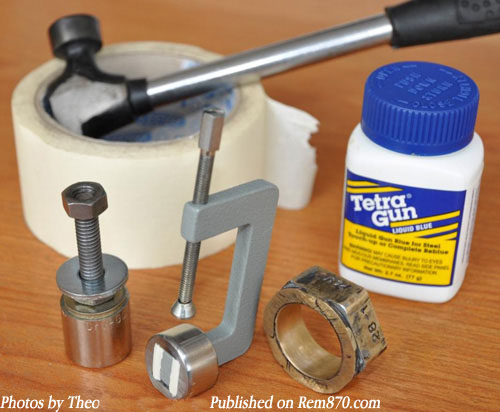 Prepare your magazine tube for the procedure. The paper tape protects the tube from any markings and allows for a nice tight fit – no slack. It is very important to mark the areas you are going to be working on.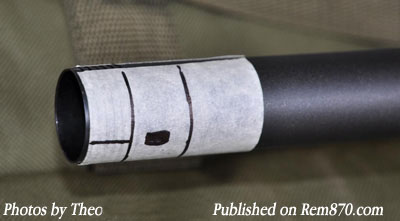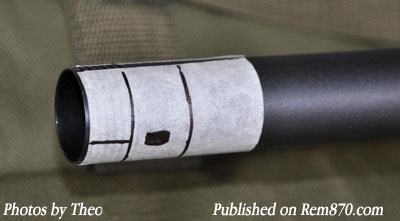 Insert the vice and apply as much pressure as you can. If your inner & outer vice guides are the correct size, there is no way you can damage the tube. Be sure you carefully align the application of pressure exactly on the dimple. This should pop 80-90% of the dimple out. Apply on both dimples.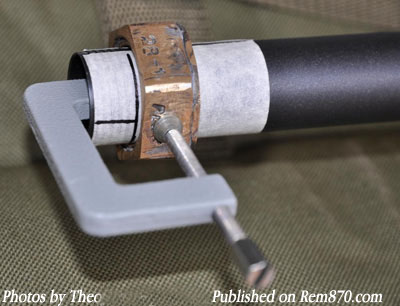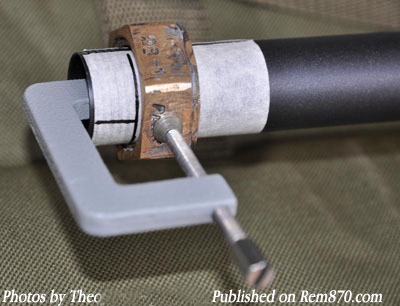 Now you can insert the socket and gently start tapping out the remaining dimple. The secret is to use a metal working hammer (soft metal and light weight).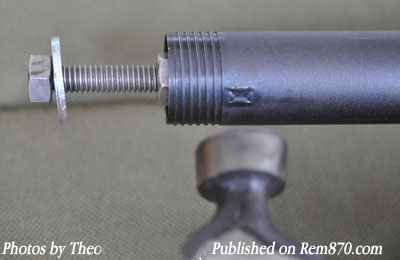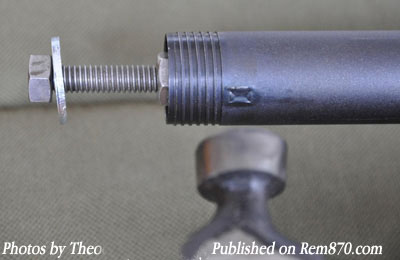 You end up with the dimples completely remove. If you insert your finger you will not be able to feel them at all.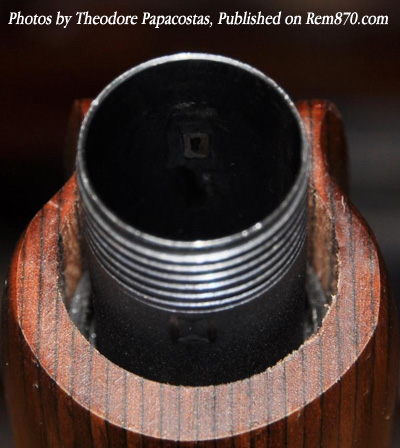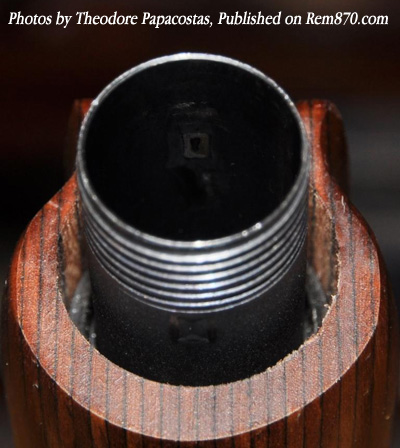 Gun Blue the area where the dimples used to be – inside & outside.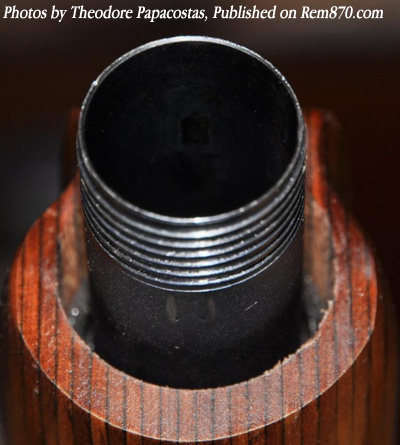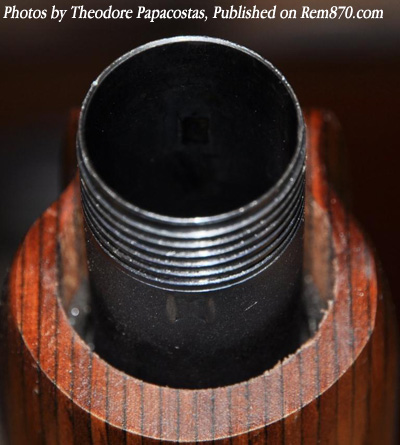 Even though the inside of the tube has no dimples, you will still be able to see a mark on the outer side of your magazine tube created by the factory punch.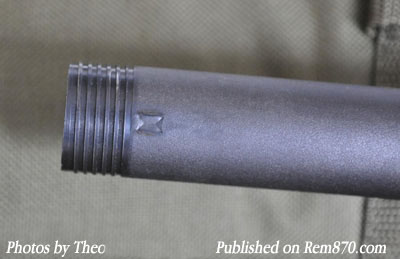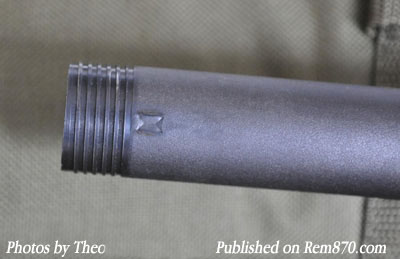 Finished Product. I am very happy with my Remington +2 Rounds Magazine Extension. It really looks sexy.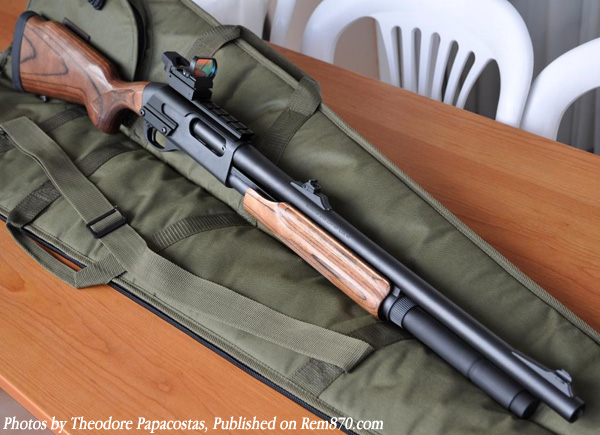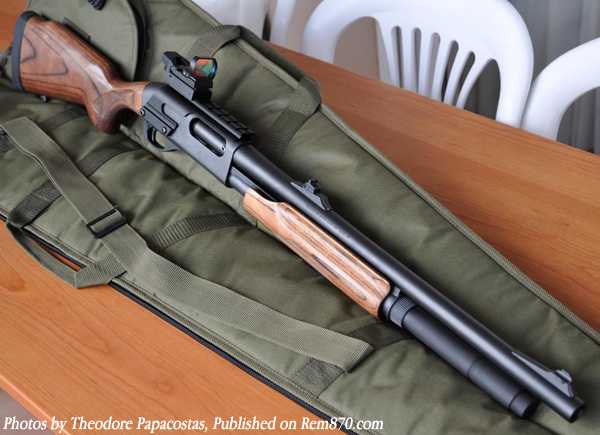 I never added the original Remington magazine clamps as it is much easier to clean and service your weapon without it on. Furthermore, the clamp is such a tight fit that it will scar your barrel and magazine extension. The magazine extension is such a sturdy fit that you also don't need it – apart for mounting a sling. Therefore, I am planning to use a front and endplate sling mount instead (many manufactures to choose from, I'll keep you posted).
Having successfully cured my "dimple problem" I am extremely happy with my original Remington upgrade, knowing that my magazine tube has retained its factory finish with no visible modifications.
Special thanks to Ken who started me on this idea. Also, thanks Vitaly for providing a platform where we can learn from each other and exchange ideas.
Best Regards,
Theodore
Recommended Products:
Related post:
Remington 870 Dimples Removal