How the Knoxx SpecOps Adjustable Stock Works and Things to Remember
There are several important things you should know about the Knoxx Specops stock for Remington 870. If you know your equipment, its weaknesses and strengths you can use it better and avoid mistakes and when we talk about weapons even injuries.
Attention: When we talk about Knoxx stock, be sure to check which one you have. There are two types of the Knoxx stocks, one has built-in recoil suppression system, and the other one don't. The Knoxx stock which doesn't have the recoil suppression systems is "Knoxx Adjustable NRS Stock". The NRS stands for "No Recoil Suppression".
First of all let's see how the Knoxx Adjustable Stock reduces recoil. This stock has two recoil compensating systems, one in pistol grip and the second one in stock itself. During recoil shotgun moves rearward over the pistol grip and this is the moment when systems work and reduce recoil. I have made a simple animation which shows how the Knoxx SpecOps Stock works: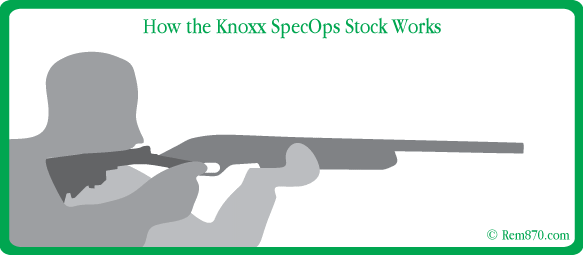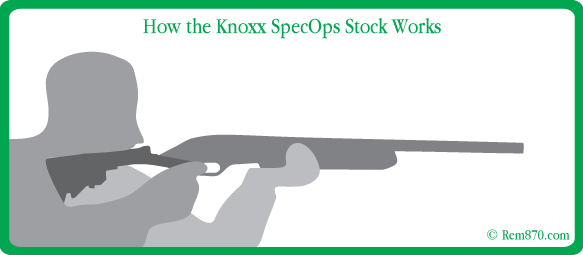 Now when you understand how this recoil suppression stock for Remington 870 works you need to have several things in mind.
Use of Scope with Knoxx SpecOps Stock
Due to the about 1 inch move of the shotgun a scope without proper eye relief will come back and hit your head. This may cause injury. So be sure to have enough space between your eye and scope and always warn about this people you give your shotgun to.
One more animation which shows you why you need to be careful using Knoxx stock and scope: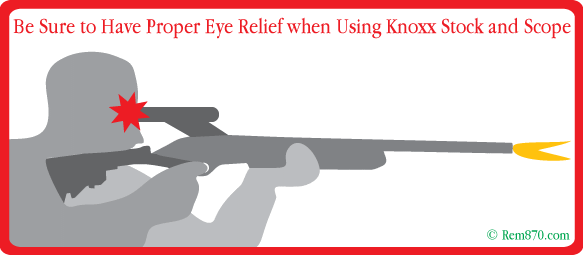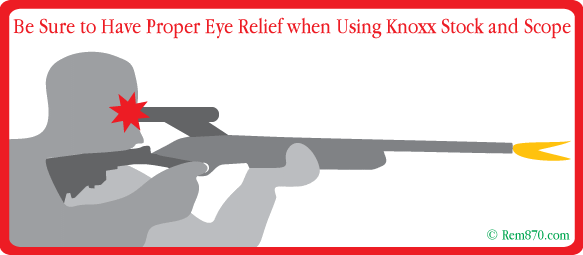 Use of Oversized Safeties on Remington 870 with Knoxx Stock
Manufacturer of the Knoxx SpecOps stock recommends to use only Wilson Combat Safety (Tactical Response Jumbo Head Safety by Scattergun Technology). This is because other big safety buttons, for example Vang Safety stick up further and when shotgun moves rearward button will hit the stock and damage it and even may cause injury.
Spacer Between Receiver and Stock on Remington 870
Some people don't read installation instructions carefully or just forget to remove the metal spacer which is needed for the factory stock. Remember that you need to remove it installing the Knoxx SpecOps stock or otherwise you will have a gap between stock and receiver.
Does it Reduce 95% of Recoil?
In my opinion – no, it doesn't reduce that much recoil BUT it reduces recoil significantly and I highly recommend it. Why I think it reduce less than 95% of recoil? Because if for example you install Remington SuperCell Recoil pad which reduces advertised 54% of recoil you should feel no recoil at all!
How Can I Disassemble the Knoxx Stock
Do not attempt to disassemble Knoxx SpecOps stock because you will destroy the internal mechanisms. Blackhawk! says that internal springs have a 30,000+ round life expectancy, so I am sure you will be able to use it without problems for years.
The Stock Hits Me When Fired
There are shooting tips page in the Onwer's Manual which have some recommendations on how to avoid a "cheekslap", it says clearly that you need to have several inches back from the flare.
Related Post:
Knoxx SpecOps Stock, Forend and PowerPak Review (Photos and Video)