How to Install Remington 870 Magazine Extension and Remove Dimples in Magazine Tube
Shotguns are powerful and versatile weapons but they have very limited magazine capacity. That is why this is one of the first things for a shotgun owner to improve when he starts building his tactical / home defense Remington 870 shotgun.
We can extend shotgun magazine capacity/bearing amount using several methods:
1. Install magazine extension (1, 2, 3, 4+ rounds)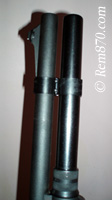 2. Add  ammo cheek pad (carrier) to stock (usually holds 5-8 rounds)
3. Install side-saddle on receiver (holds 4, 6, 8 rounds)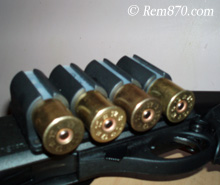 4. Add shotgun sling with bandolier (shell holder).
Each method has its own advantages and disadvantages. I will have posts about each method later but today I want to describe the first one: how to install magazine extension on a Remington 870 shotgun.
There are many different extensions on the market today:
1. TacStar Magazine Extension
2. Choate Magazine Extension
3. Nordic Components Magazine Tube Extension
4. Original Remington Magazine Extension
5. Scattergun Technology Magazine Extension
6. Vang Comp Systems Magazine Extension
Attention: Manufacturers of extensions consider that the standard capacity of the Remington 870 Express shotgun is 5 rounds (4+1), that is why when you want to buy magazine extension for 2 rounds, you need to choose the 7-shot magazine extension.
Instructions on installation of the magazine extension on Remington 870 Express
If you have standard 4+1 Remington 870 Express shotgun (or even the one with factory +2 extension) the process will be longer than on Remington 870 Police which doesn't have dimples in magazine tube. Remington 870 Police shotguns with previously installed magazine extensions do not have "dimples" in magazine tube and will readily accept any magazine extension.
Sometimes there are no dimples on older Remington 870 shotguns.
Remington 870 Express with 4+1 capacity has two dimples in magazine tube. You need to remove them for follower to go through.
There are two known methods to remove them:
1. Drill them out using dremel tool
Drill out the dimples. You will have two small holes in magazine tube.
2. Socket method using 16-17mm socket.
Hammering the socket inserted in magazine tube to press out the dimples.
I highly recommend to use the dremel method and to drill out the dimples in magazine tube. I have used both of them on my shotgun and think that diameter of the magazine tube became bigger because of the socket method. I had some problems installing magazine extensions and sling mount. Also, I've heard about the similar problem from another Remington 870 Express owner.
Also, I know that socket can stuck in your magazine tube, I've even heard that somebody couldn't get it out of the magazine tube and ended up buying a new shotgun!
Related Post:
Magazine Extensions for Remington 870 Shotgun (Nordic Components, Choate, TacStar, Remington, ATI)