How to make Remington 870 Short Barreled Shotgun
Banshee posted new photos and iformation about his short barreled shotgun on Remington 870 Forum:
Sure no problem. I haven't made any new pictures, so these are all old.
The shotgun started out as a Wingmaster Police trade in with a Mossberg replacement barrel that I picked up for $149.00. So, no nice 870 was harmed in this transformation.
There was a LOT of time spent measuring and planning on what needed to be done to make everything work out to reach my goal of an OAL of less than 18 inches. I chose 18 inches because that is the legal limit of a non NFA shotgun barrel and I wanted the whole gun to be shorter than that limit. I surpassed my goal by 1/2 inch.
I mounted the receiver in a lathe using a four jaw chuck and a steady rest. Cut the mag tube down and re-threaded it with the same square thread Remington used. The barrel was cut down to 7.00 inches and the barrel support ring was removed with a torch, reshaped so it would fit the barrel in the new location and silver soldered in place. The fore end tube had to be shortened and re-threaded. I made several different sling mounts and finely decided to use this one here.
Shortening Shotgun Barrel, Finishing Muzzle, Advice, Instructions
David from Springfield, Illinois has sent me information and photos about finishing muzzle after shortening shotgun barrel.
I think this information will be very interesting for all who want to build a short barreled shotgun. Special thanks to David for photos and info:
I needed to shorten the 28″ barrel to 18-20″. I marked and sawed off the barrel, at 20″, using a hacksaw. I squared up the muzzle, using a table belt-sander, which left the muzzle fairly rough, with deep scratches.
I thought that you might be interested in seeing some photos of the finishing of the muzzle, to smooth and crown the muzzle.
I used "sanding sponges," cheaply available from Harbor Freight (medium grit, equivalent to 100-150 grit.) Because of the soft, flexible backing provided by the sponge, I could press the muzzle into the foam, while spinning the barrel, producing a smooth, crowned muzzle shape. The photos depict the progression.
The animated GIF image shows the depression of the sanding sponge, which produces the slight crown:
I used a Scotch green sanding pad, of finer grit, to gently remove any remaining fine scratches, and produce a more-polished finish.
Very easy to produce professional results, in my workshop. I wouldn't hesitate to recommend this finishing method to your readers.
David, thank you for photos and info!
Do you have experience building short barreled shotgun? Please leave a comment.
Related Post:
The Best Remington 870 How-To Videos and Posts
Short Barrel Remington 870 Shotgun
Simon from S&J Hardware has posted photos of his super cool shorty on the Remington 870 Forum:
Feel free to post photos of your shotgun on Remington 870 Forum.
Related Post:
5 Best Aftermarket Stocks for Remington 870
Short Barrel Shotgun – 12ga Wingmaster with a 7 inch Barrel
It is a shorty that I built a few years ago. It IS NOT A SERBU!
It is a 12ga Wingmaster with a 7 inch Barrel and 17.00 inch OAL and will hold two rds in the tube and one in the chamber.
Short Barrel Remington 870 Shotgun
Received photos of very interesting short barrel Remington 870 with folding stock.
List of upgrades:
Magpul forend
Fab Defense adapter with Magpul stock
Fab Defense flashlight mount
Strela Sidesaddle
Timney Remington 870/1100/11-87 Trigger Fix
Short Barrel Shotgun and Upgrades List
One more shotgun from the Remington 870 Photo Contest. Let's have a closer look at upgrades it has.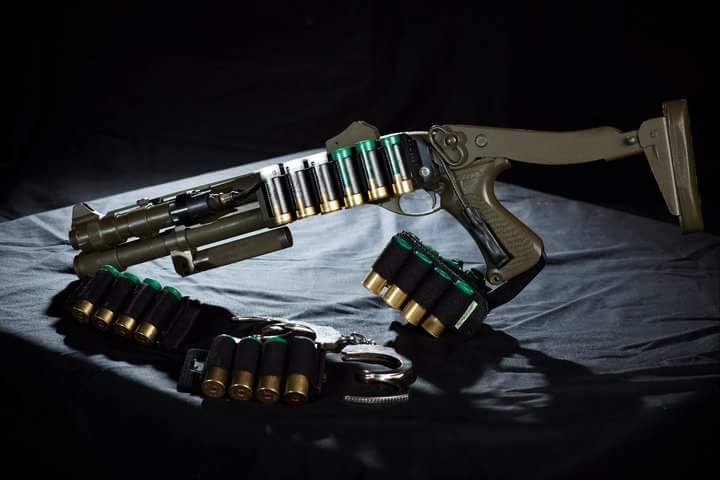 Remember that barrels less than 18.5″ require Short Barrel Shotgun Tax Stamp from the ATF.
The folding stock is made by Advanced Technology. It makes shotgun very compact for easy transportation. But it provides a less comfortable cheek weld. You can even shoot the shotgun with stock folded but it will be painful for your wrist.
The sidesaddle is made by TacStar. It is 6-round receiver mount shell carrier. This upgrade is highly recommended for any home defense or tactical shotgun. It enables you to have additional rounds on your shotgun.
Ghost ring sights are made by Vang Comp Systems. They are one of the best aftermarket sights available. But price is pretty high.
Additional ammo carrier is made by LoadMaster Systems.
This setup looks like a very interesting compact home defense gun.