FREE Ebooks, Printable Poster and Zombie Targets! Free to Download and Share!
We all like free stuff and I have something for you! Free Printable Gun Safety Poster, and Free Gun Safety Guide, 10 Tips to Building Tactical Rem 870 ebook and Free Printable Zombie Targets.
FREE when you sign up for monthly newsltter.
Don't miss out! Sign up to receive the monthly digest, receive FREE ebook: "10 Tips to Building a Tactical Remington 870":
FREE Gun Safety Guide – FREE to Download, FREE to Share!
From Amazon review:
"It's a short book, but it covers a lot of vital information, including storing your firearm at home, and teaching children about firearm safety. Just a few of the simple precautions he lists here could save countless lives. I know many arrogant gun-owners who will say "I already know all that stuff!", but accidents can happen to anyone."
This ebook is free to make it available for all firearms owners.
Download FREE Gun Safety Guide in PDF format
or free Kindle Edition:
FREE Printable Gun Safety Poster (4 Universal Safety Rules)
I care about gun safety and do all possible to make our community safer. You can download my FREE Gun Safety Guide in PDF format, as you know. But I understand that some people don't have time to read books, so I wanted something simple that you can print out and give to newbies or friends.
Here you go, I have ordered Gun Safety Poster from illustrator. It is FREE to download, print and share:
Preview:
Download full-size version (JPG): Free Printable Gun Safety Poster
Free Printable Zombie Shooting Target 1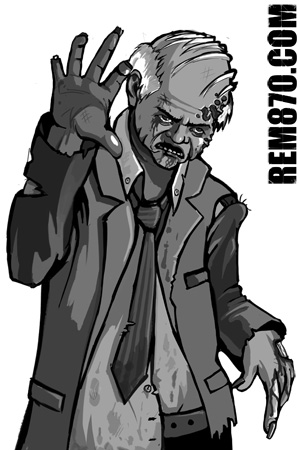 Download Free Printable PDF Zombe Target
Size: 6.3 Mb
Four more targets are available here: Free Printable Zombie Shooting Targets
More interesting and FREE resources:
Infographic which shows differences between Remington 870 vs Mossberg 500 shotguns.
FREE Remington Serial/Barrel Number Lookup for your Android device