Iron Sights for AR-15, Backup, Offset, Sports and Combat Use
Times when red dot sights, also known as reflex or holographic sights were big and expensive are in the past. Do you know that they were used on fighter aircraft in limited numbers during World War I and widely used during World War II?
Optic and red dot sights are not that expensive as it was before. They are compact and inexpensive. That is why they are widely used on rifles, shotguns and even handguns nowadays.
But iron sights are still used by Marines, Army and competitive shooters. So why are they used, and what iron sights are preferred for your AR-15 rifle?
Iron sights are much more difficult to break. They can be used during rain, snow and even when wet or dirty. They can take a lot of abuse and still work and enable the shooter to aim and hit a target.
Magpul MBUS and Pro AR-15 Backup Sights Review
There are two versions of Magpul sights, first is affordable and made of polymer. All metal Pro version is two times more expensive. Polymer versions come with steel crossbolt for reliable attachment to the Picatinny receiver rail.
Both versions are low profile and high-quality made. They are foldable and don't take much of the rail space.
Installation is very easy, you can install them on any Picatinny rail. As you can see, Magpul can do fantastic things not only of plastic but of metal too.
Metal backup sights are the most reliable variant you can choose. When your holographic sight isn't working for some reason, you can use backup sights almost instantly. I think that every rifle should have backup sights because it makes it much more reliable.
Magpul MBUS rear sight has two apertures: a large, .185″ ghost ring for close targets and a .070″ peep for distant targets.
"One is none, two is one" – good old army saying is always right. Do not rely only on one sight; always have plan B.
Magpul MBUS and MBUS Pro Backup Sights. Recommended sights, one the best on the market.
Best Backup Offset Iron Sights for AR-15 (SureFire RTS vs. Magpul Pro Offset)
Offset iron sights can be used when the primary optic or red dot sight is damaged, fogged or cannot be used because of rain (in case of open red dot sights). Also, they enable shooters to engage close targets faster.
Surefire Rapid Transition Sights (RTS)
Also called Dueck Defense Rapid Transition Sights because they were designed by Barry Dueck, a top 3-Gun shooter.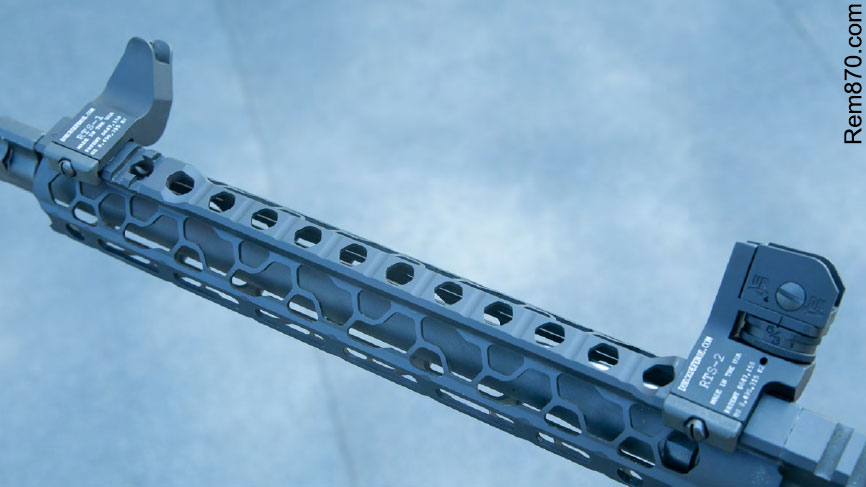 The angle of these sights is standard – 45 degrees. They are not foldable and always combat-ready after еру installation. These sights are machined from 7075 aluminum and hard anodized. The construction has the highest possible reliability, and no time is required to transfer the sight to the working position. The other side of the coin is that the profile of the weapon changes: protruding parts can catch on anything. For fairness, however, we note that if optics or a red dot sight are already installed on the carbine, then the dimensions of the weapon do not increase significantly when installing the SureFire RTS. They extend only .2″ above the top rail, so they are low profile.
Both the rear sight and the front sight here have adjustments that make it easy to aim at the desired distance. The dioptric rear sight has a large aperture for near targets and a small aperture for more accurate shooting at distant targets.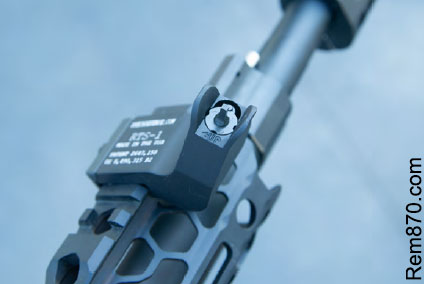 Using these sights is almost intuitive and fast enough. I liked them very much for their reliability and solidity. But remember that they are fixed sights that cannot be folded.
Magpul Pro Offset Sights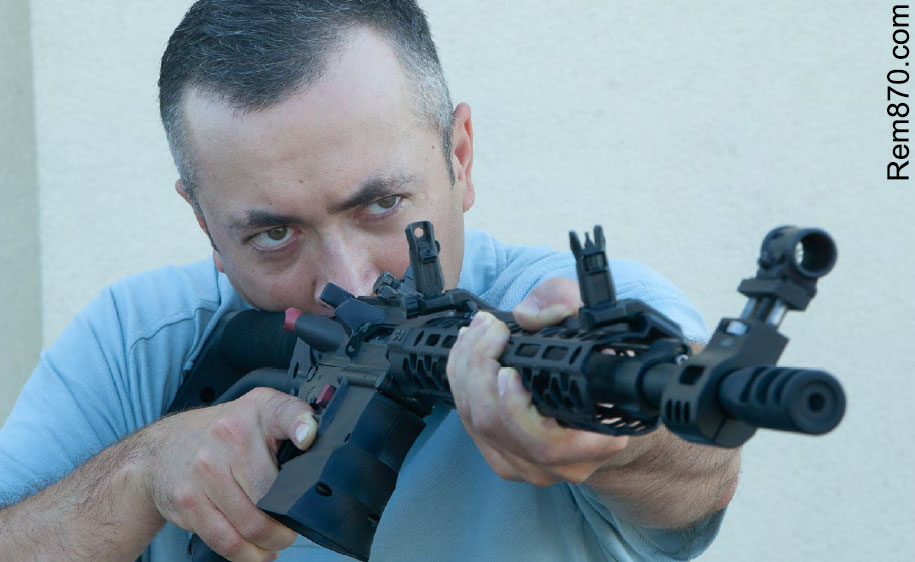 The iron sights from the well-known Magpul company are foldable. They move into a working position with a nice click, look reliable, made of steel. This rear sight and front sight are suitable for those who prefer a smoothed profile of the weapon, appreciate compactness and have the necessary time to transfer backup sights from the folded position to the combat one.
Magpul Pro Offset Sights Folded: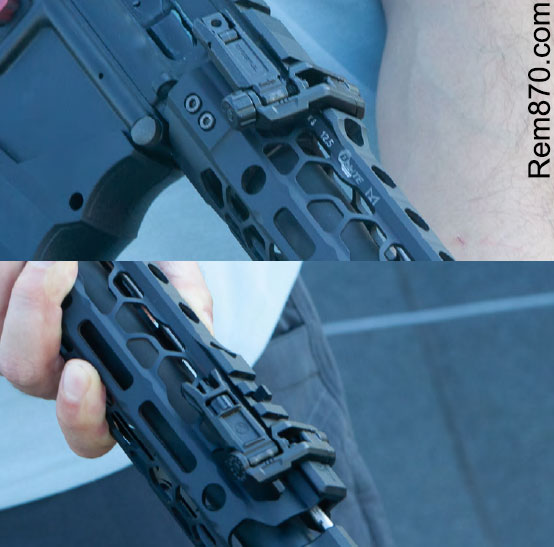 Magul Pro Offset Sights Combat Ready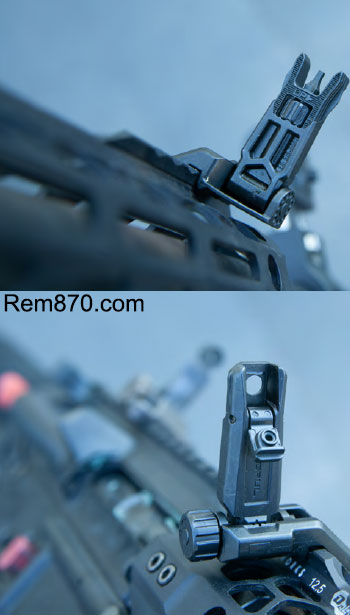 The Magpul Pro Offset tilt angle is also standard – 45 degrees. Easy adjustments make zeroing in very easy. Magpul rear sight also has two apertures; a peephole of a smaller diameter is intended for precise aiming at distant targets, and a ghost ring of a larger diameter which is intended for faster shooting at near targets.
The Magpul Pro Offset is a very nice front sight and rear sight that not only makes the rifle more reliable, but also extremely functional and beautiful. They do not increase the profile of the weapon at all, which is what I really liked.
IPSC (International Practical Shooting Confederation) Standard Rifle Division
"Standard" rifle division of the IPSC allows the use of the iron sights only.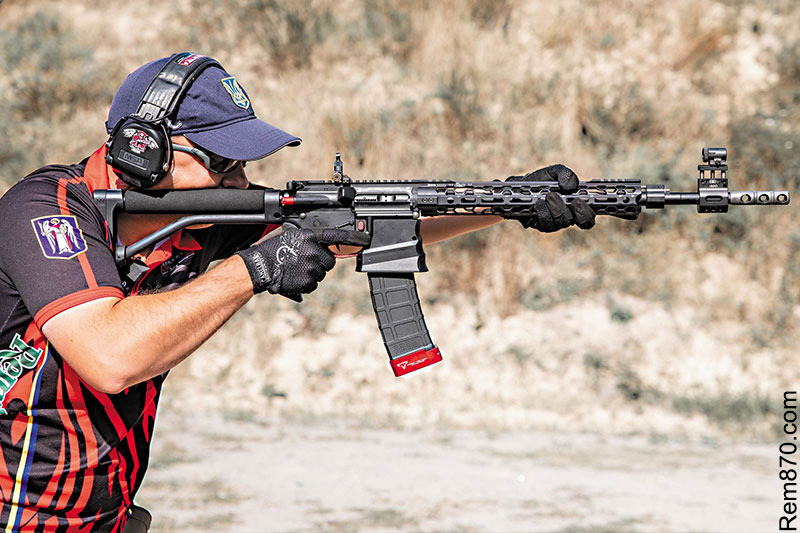 If we talk about a set of the best front and rear sights used by top athletes, they came from biathlon, as well as from the US Armed Forces. Unusual but very effective combination.
The fact is that the best sports front sight is rightfully considered the one made by the American company Lyman. It uses replaceable inserts from the famous German company Anschutz.
The front sight cylinder allows you to change the inner inserts, choosing the one that best suits a particular shooter. One of the most popular Anschutz diaphragm inserts is a crosshair with a small ring in the center – thus, even at a distance of 400 meters, it is possible to see a target silhouette with a diameter of only 30 cm.
Front sights need a reliable base, and there are two companies that manufacture them: ADC and Nord Arms. JP stopped manufacturing JPFS-ALS sight, which was a really good option too.
As for the rear sight, top shooters use several options, the most popular of which are two: from the Knight's Armament Company (KAC) and MATECH. The first option is in use by the US Marine Corps; the second is used by the US Army. Both options are folding, made of steel and very durable, they can withstand the harshest conditions. The rear sight adjustment mechanisms (a drum with a scale for the KAC sight, a lever for MATECH) allow, after zeroing in, to effectively hit targets at ranges up to 600 m.
Rear Sights: KAC vs. MaTech
Knight's Armament Company (KAC) and MaTech sights are considered the best on the market. Both companies sell huge numbers of sights to Marines and the Army.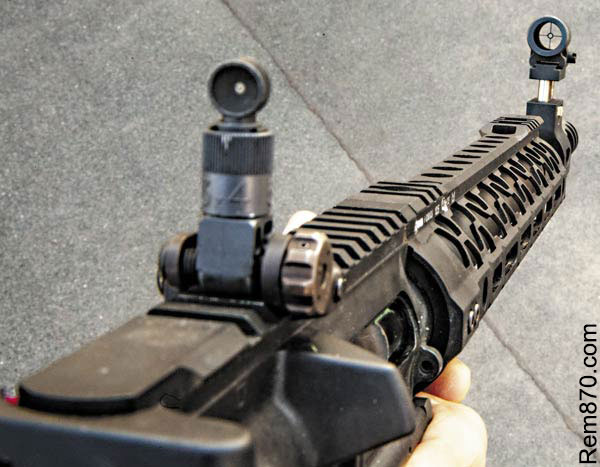 They have a similar purpose but very different construction. They enable shooters to hit targets up to 600 meters using adjustments. You need to zero your rifle and then check which adjustment you need for a particular distance. For example, I was able to hit a target at a distance of 365 meters using "4" setting of the KAC rear sight and Hornady Frontier 55 ammunition. Of course, settings will be different for other types of ammunition.
Both sights are robust and made of steel. They are made for military guys and you can be sure that they can take a lot of abuse.
Some shooters prefer MaTech's drum adjustments and others prefer KAC's sight drum. Just a question of personal preferences.
Both sights have simple zeroing instructions, you will need a 25-meter zero target.
Choose the one you like more; they are similar and enable shooters to have rock-solid backup sight.
Related post: Best AR-15 Rifle Scopes for Dynamic Shooting (IPSC, 3-Gun)