JP Low Mass Operating System (LMOS™) Bolt Carrier Group Review
There is an article on how to Reduce Recoil on AR-15 Rifle, which covers upgrades to reduce the recoil of your AR-15.
One of the upgrades required for a competition gun is a lightweight Bolt Carrier Group. In order for the recoil felt by the shooter to be reduced, several components must be changed in the AR-15 rifle. One of these is the bolt carrier (Bolt Carrier Group). If the mass of the parts that roll back after the shot decreases, then the recoil effect on the shooter will probably become less noticeable (this is true only with the correct setting of the gas block and buffer spring).
How do you lighten the mass of moving parts? It couldn't be easier. JP Enterprises LMOS Bolt Carrier is a lightweight bolt carrier from the well-known manufacturer that produces ready-made AR-15 rifles, and a whole bunch of individual spare parts and tuning elements.
The JP bolt carrier looks like a real piece of art: polished metal, well-finished parts.
Installation
Installation is extremely simple: you just need to remove the factory BCG and install the lightweight JP bolt carrier group into the rifle – and you can go to the shooting range. Cleaning the LMOS bolt carrier after firing is also very simple: powder carbon is easily erased from the polished steel surface.
Reduced weight
If we compare the weights of the standard bolt carrier of my DPMS 3G1 carbine, the JP lightweight frame, and another Brownells' lightweight frame that I got my hands on, we get the following results: 9.45 ounces (268g), 6.67 ounces (189g), and 6.1 ounces (173g), respectively. Where did the difference of 0.56 ounces (16g) between the lightweight frames from JP and Brownells come from can be seen with the naked eye: if at JP, removing excess metal, they tried not to weaken the structure too much at the same time, then at Brownells, judging by the look of the frame, they simply cut everything they could.
DPMS 3G1 standard bolt carrier (left) and lightweight frames from JP and Brownells: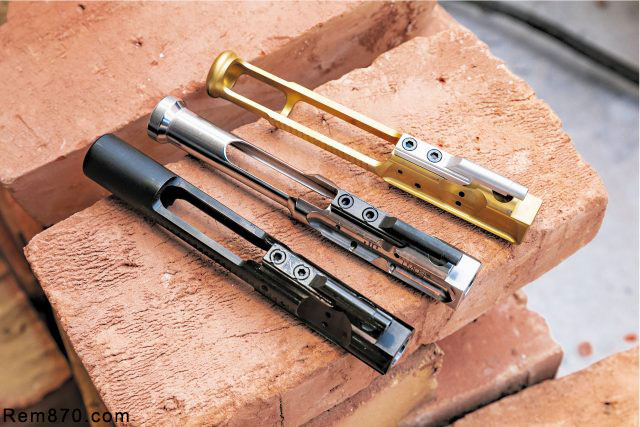 With the lightweight Bolt Carrier Group and the correct adjustment of the rest of the rifle, the recoil is really much softer. If earlier, in order for the split shots to come out accurate and fast, I had to hold the carbine firmly, now everything happens by itself!
JP Enterprises Enhanced One-Piece Gas Ring
When I opened the box with a lightweight bolt, I did not immediately notice the included bag with some kind of washer. Later it turned out that this was not a simple gas ring, but a very special one.
An Enhanced One-Piece Gas Ring is also supplied with the JP LMOS Bolt Carrier Group Review. Due to its solidity, this ring minimizes the breakthrough of gases from the inner cavity of the bolt carrier, and its spring properties partially compensate for frictional wear, which prolongs its service life. Another bonus feature is that this gas ring cleans away carbon deposits during each recharge cycle. As you can see, even such a small detail can be improved.
Benefits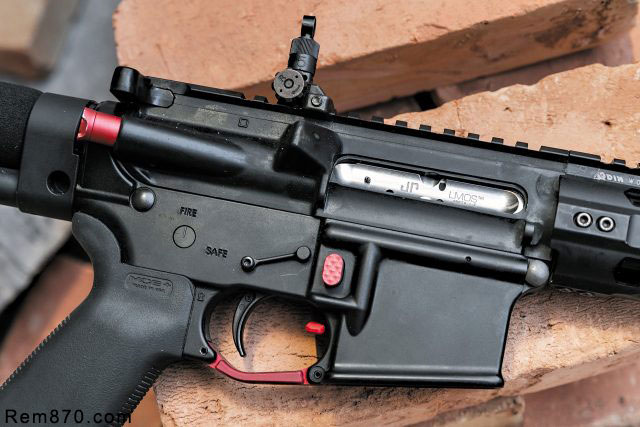 JP LMOS Bolt Carrier Group has numerous benefits:
Reliable and rock solid
Smoother and lighter recoil
Easier to clean
Conclusion
This is an excellent upgrade for any competition rifle. It reduces recoil and makes follow up shots easier. This can improve your time and result in 3-Gun or Practical Shooting competitions.
Please note that it doesn't have a forward assist feature if it's important for you. But JP LMOS BCG is a perfect choice for upper receivers without forward assists.