Choate Night Manager – Remington 870 Magazine Extension
If you own a Remington 11-87, 870, or 1100 shotgun, then you have a new way of adding a flashlight, the Choate Night Manager Magazine Extension. This is a unique type of magazine tube extension for these shotguns because it does more than just increase their shotshell capacity. It also includes an accessory mounting system which lets you adding a laser sight or flashlight to your shotgun too.
At first Choate Night Manager looks like regular magazine extension but with external threading: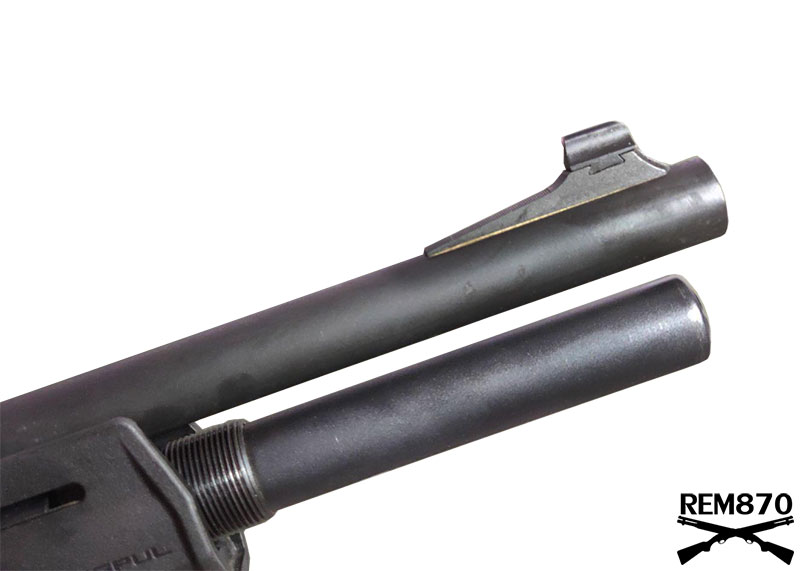 But then you can install additional aluminum outside tube which has slots for rail installation. Rail included.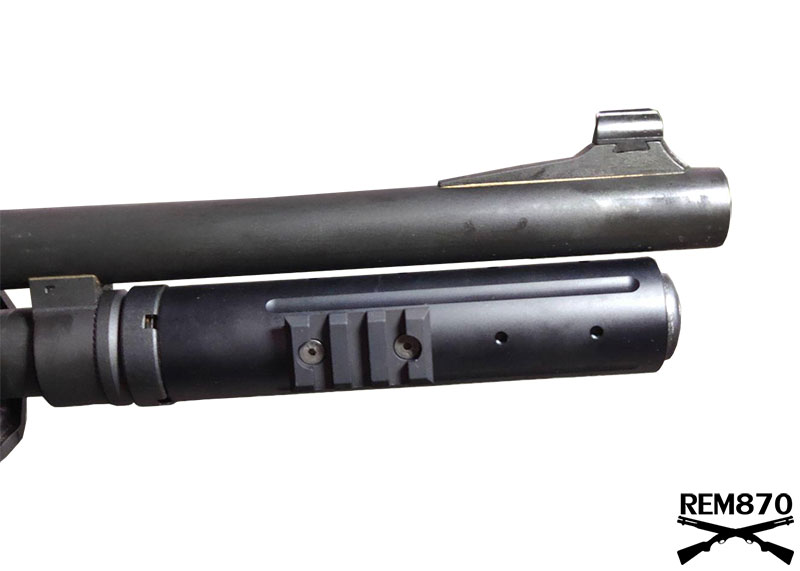 After rail installation you can install flashlight, for example Olight Valkyrie PL-2: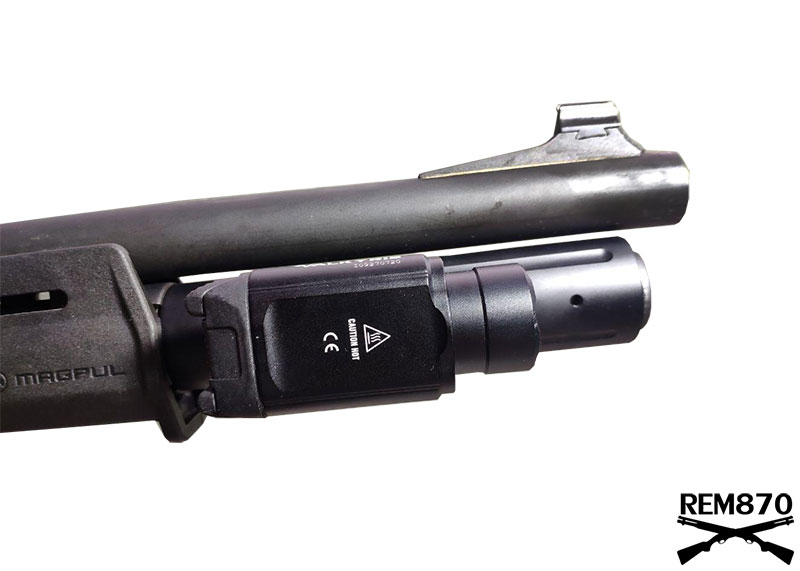 The Night Manager lets you add 2 more shells to your shotgun's ammo capacity, these two shells can make all the difference in the world if you're in a tactical type of situation. Plus, the Picatinny rail sections can enhance your tactical advantage by allowing you to add helpful lighting and laser sighting. Then you can see what you're shooting at better and increase your accuracy as well.
Don't worry about the construction of the Night Manager because it is made of 100% solid steel. When you're ready to mount the Picatinny rail, there are specially designated sections that are already drilled and tapped on the outside tube. You can easily rotate the shroud to align the Picatinny rails in the position where you want them to be. Once you're done aligning the rail, you can lock the outside tube down with the same castle nuts used on AR-15s.
Now you may think that a tactical setup like this is only useful for law enforcement officers and military soldiers. While they'll have more use for the Night Manager than laypeople, this doesn't mean that you can't use it for home defense purposes. The Night Manager is obviously designed to be used at nighttime or in dark environments. It may very well be nighttime when when you need to defend your home from an intruder. In these cases, you can have a light attachment to see your target and a laser sight to ensure that you don't miss when you shoot.
The Night Manager is compatible with 12-gauge versions of the Remington 11-87, 870, and 1100 shotguns. There are also versions for other shotguns: Mossberg 835, 590, Fabarm FP6, Benelli NOVA, Franchi 912 and 612 Franchi, H&R Excell auto 1871, Tri Star Cobra, Raptor.
You can purchase the Night Manager for $92.77 on Riflestock.com. The flashlight and laser sighting are sold separately.