Must Have Beretta 1301 Upgrades and Accessories
About Beretta Company
Beretta is one of the oldest gun manufacturers in the world with a rich history spanning over 500 years. Here is an overview of the history of the Beretta gun manufacturer:
Beretta's origins can be traced back to 1526 when Bartolomeo Beretta was considered a master barrel maker in Gardone Val Trompia, Italy. In 1903, Pietro Beretta, patriarch of the Beretta family, founded Fabbrica d'Armi Pietro Beretta, officially marking the beginning of the modern Beretta company. Beretta began supplying firearms to the Italian Army in the early 20th century.
In addition to military orders, Beretta has expanded its product range to include hunting and sporting shotguns, civilian pistols, and other firearms for various purposes.
Today, Beretta continues to innovate and manufacture a wide variety of firearms, including pistols, shotguns, rifles and accessories.
What is Beretta 1301?
The Beretta 1301 is a semi-automatic shotgun made by Italian gunmaker Beretta. It is designed for a variety of uses, including self-defense, law enforcement, and competitive shooting. This shotgun is known for its reliability, fast timing, and smooth operation, making it a popular choice among shotgun enthusiasts and professionals alike.
The Beretta 1301 features a gas-operated system that reduces recoil and improves overall control. It features a lightweight design, typically with a synthetic stock, and is available in a variety of barrel lengths and configurations to suit different shooting preferences and purposes.
Beretta Holdings, the parent company of Beretta owns following brands: Benelli, Franchi, Sako, Tikka.
Overall, the Beretta 1301 is a versatile and reliable semi-automatic shotgun for a range of shooting applications from home defense to competitive shooting.
Beretta 1301 Comp – New Semi-Auto Shotgun for 3-Gun and Practical Shooting
Photos by Roberto Vezzoli
One of the advantages of participation in competitions is that you can see the latest techniques and equipment used by other competitors.
This post is about very interesting new shotgun from Beretta. I had a chance to see it on the World Shotgun Championship 2012 for the first time. Roberto Vezzoli, Champion of Italy in Standard division used Beretta 1301 Comp on the match.
Beretta 1301 Comp designed especially for 3-Gun and practical shooting. It has many features which make it one of the best semi-autos for competition shooting. And the best thing is that you can use it immediately after the purchase – all competition upgrades are already installed.
ARIDUS INDUSTRIES LLC Beretta 1301 Latch & Shroud
Fixes common problem with the factory Beretta 1301 latch and improves reliability.
Click here for more details and order via Brownells.com
Beretta 1301/Mossberg 590 SGA Stock Adapter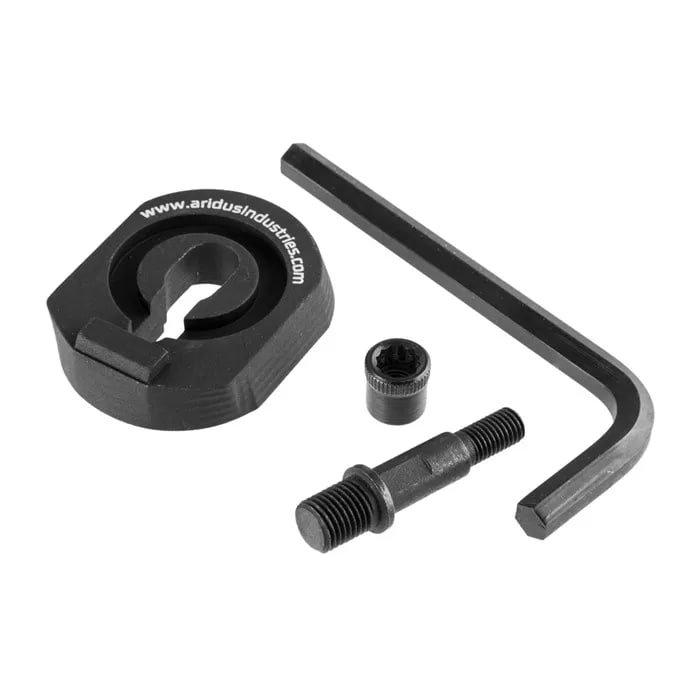 Click here for price and ordering via Brownells.com
BERETTA 1301 COMP
Roberto was very kind to answer questions about Beretta 1301 Comp shotgun. He was very satisfied with it. I've had a chance to see it and I want to tell you that this shotgun is great and ready for competition out of the box.
Beretta 1301 Comp has improved ergonomics such as oversized Safety, Bolt Release Button and Bolt handle:
These parts are usually upgraded by competition shooters. Now you have them improved out of the box. This is really good because you don't need to spend money buying them and time installing them. Factory upgrades are really good and well thoughtout.
Beretta 1301 Comp Versions
You can get Beretta 1301 Comp with magazine extension installed.
Beretta 1301 Comp Magazine Capacity
Extended version is the best for competition and 3-Gun shooting. Magazine capacity is enough. Actually 10+1 would be better for practical shooting but this would make shotgun longer.
Another good advantage is that edges of the receiver in the shotgun's loading port are extended to make it easier to load rounds.
Beretta 1301 Comp is really good semi-auto shotgun which was designed especially for practical and 3-Gun shooters. I am sure that it will be one of the most popular shotguns in Standard division in Practical Shooting and in 3-Gun matches. Beretta 1301 Comp will enable you to participate in competitions immediately after the purchase. You have all the must have competition upgrades installed from the factory.