Shotgun Carrying Cases
As requested by Steve on Facebook – here's the post about gun cases.
Let's have a look at the shotgun carrying cases available on the market today…
Cordura Nylon Shell Shotgun Cases
I haven't found the nylon case I really liked. Most of them are too big and have too many bells and whistles I don't need. Many of them good but they are just too bulky for me.
Eberlestock backpack looks like a good solution when you can carry both your shotgun and ammunition in one case but they are too expensive.
Nylon shotgun case is very good variant for carrying your shotgun on a range. It protects your shotgun from sand, rain and enables you to carry your shotgun comfortably on your shoulder.
Plastic Shotgun Cases
Plastic shotgun case is very good variant when you travel a lot. It is not as heavy as aluminum cases but protects your shotgun much better than soft nylon case.
Such cases are extremely good when you need to transport your shotgun via airplane. Just be sure to protect plastic locks with tape because it is easy to lose them.
More information: http://tinyurl.com/9gr5qgz
Aluminum Shotgun Cases
This is the toughest case you can buy. Aluminum shotgun case provides the best protection for your firearms and it is the most reliable one.
But the main disadvantage is huge weight, the case itself weighs about 18 lbs. (8 kg). Such type of case is good during transportation on airplane. But I don't recommend taking it to competitions because you will be tired as hell carrying it from stage to stage.
More information: http://tinyurl.com/lvh997g
Shotgun Scabbards
Shotgun scabbards look very cool but they are not that good. They don't protect your shotgun from sand and rain. They cannot protect open parts of your shotgun at all.
I think that shotgun scabbard will be good choice for somebody who needs shotgun as secondary or breaching weapon. So it will work good for military or law enforcement units.
Not sure what is the real purpose of such shotgun scabbard… maybe zombie apocalypse?
ATTENTION: If you have tactical light or sidesaddle installed on your shotgun, you may not fit your shotgun into a scabbard.
Custom cordura shotgun cases
I ended up ordering a custom cordura shotgun case with fully padded interior. I wanted something simple and effective. I have ordered rectangular case which holds my Remington 870 with 20 inch barrel really tight:
Length: 41 inch
Width: 7.88 inch
That way, I don't need any straps to hold a shotgun in place inside.
My case has internal zipped pockets for timer, chokes, choke tool, multi-tool and shotgun parts.
Pelican Case Customization for Remington 870
nsutherl posted nice pics of his Pelican Case customized for Remington 870 on Forum of Remington 870 Owners:
Remington 870 Police with Carrying Bag
Remington 870 Police from Remington 870 Forum:
Tripod Case as a Discreet carrying case for shotgun
BlackWhiteGrey posted interesting pics of his tripod case which he uses as a discreet carrying case for shotgun. Very clever idea!
Like most of you i've got a variety of ways to carry guns to and from the range, or wherever they're heading. My shotguns however are a bit longer than most of my carbine cases. At best I can get one diagonally in a Blackhawk discreet case, which is still a big ole rectangle.
I live in an apartment building in a dense neighborhood with street parking only. I often worry about people seeing me shuttling firearms in and out of my building as I don't want to draw unnecessary attention to myself, or make myself a theft target.
I've got a couple of 'break-down' cases for ARs that i like as they look pretty inconspicuous but I couldn't find anything like that for a shotgun. Sometimes I want to throw the shotgun in the car but I want to be able to carry it and stowe it with some concealment.
I did a lot of Googling and searching around Amazon and i couldn't find that anyone specifically made a product that was specifically marketed to this task. I figured something that looked less like a rifle case (big rectangle) would be better. I started searching for carrying cases based on dimension, rather that application, and I started to get somewhere. There were a lot of tripod carrying cases for pretty inexpensive and just from looking at the pictures they didn't look for "assuming."
I ended up going with a pair (yup, sold in pairs) of these Ruggard padded tripod cases, 42″ in length, from Amazon:
Ruggard 42″ Padded Tripod Case:
They arrived quickly, thanks Amazon, and I checked them for fit. No problems. Shotgun fits in there with room. Enough room in fact that it's pretty easy to store extra ammo around the shotgun. The small zippered pouch on the side even works well for loose rounds, like the ones that come out of the gun when you unload it for transport.
Here you can see an 18″ shotgun with a 12.5″ LoP stock fits in with some room. Between the loose rounds in the zippered pouch(7th round went missing….) and the rest of the ammo in the case, that's 31 rounds of 12ga. At least as pictured. If I preferred I could carry less, or stick to shotgun cards and carry more, or keep a separate dump pouch with 50rds in it. It's whatever you want.
The bag is self feels cheaply made, the shoulder strap is non-padded and non-adjustable, but it works. Carried vertically and slung over the shoulder it goes from my shoulder down to about my knee and keeps pretty close to the body. Throw it in the back of the vehicle and off we go.
Types of shotgun carrying cases, advantages, disadvantages
Shotgun carrying cases are good to have when carrying your shotgun and shells around with you. There are all different kinds of cases available. There are cases that look like other kinds of cases, such as guitar cases, in order to conceal the fact that you are carrying a shotgun. But if you don't want to conceal the shotgun then you could get a case that is shaped just like it, so that it can easily fit inside of the case. This is used more commonly for hunters or people who don't care to show off the fact that they have a shotgun. If you want to hide it then you will either need a bigger case that doesn't look like a shotgun or a case that is shaped differently on the outside in order to fool people.
Besides the shape of the case, the most important aspect of any case is the material it is made out of. There are advantages and disadvantages to various materials for your cases. For example, a soft padded case made of leather or polyester will be lighter and easier to carry around. They are also less costly than harder cases. However, these soft cases can get damaged easier on both the outside and inside. That is why some people might prefer a more expensive hard shotgun case, which is typically made out of composite or aluminum. It is still lightweight, but very sturdy and contains deep foam padding on the inside to securely hold the shotgun in place. That way if the case is treated roughly then the shotgun will be cushioned from any impact damage. These harder cases are also waterproof as well. The only disadvantage to the hard case is that it is bulkier and more expensive.
In addition to these cases, you will want to put a gun sock case over your shotgun. These are durable fabrics that stretch, such as acrylic or polyester. These socks offer additional protection against moisture buildup, dirt and dust. Most gun owners will use gun socks on their shotguns after they take it out of their main case and before they are ready to use it. For example, hunters put gun socks on their shotguns after they leave their vehicle with their shotgun and walk to the hunting area. That way any debris flying in the air won't fly into the interior of their weapon before they are ready to use it.
New Voodoo Tactical Shotgun Case
Here is review of the New Voodoo Tactical Shotgun Case from Chief Brody from Remington 870 Forum:
Hey guys, I wanted to show you a new soft case I just got from Midway. This is the Voodoo Tactical Enlarged Shotgun Case (Item no. 15-0083). After sitting on the fence for a while about ordering one, I am very impressed with the case. It is very sturdily built with 900D poly, large heavy duty zippers, lots of MOLLE, four shell pouches, another larger zippered pocket, more shell storage inside…Lots of well-thought out and nicely-executed features.
This is the case, with the detachable, padded shoulder strap above it. I don't see myself ever using that strap but some might so it's great that it's included.
Inside of the case. There are four velcro straps that slip underneath the webbing that runs the length of the case. I opted to use two of them for a secure fit of my 870P. The straps are fairly long, so you may end up folding them over to shorten them and keep the strap snug against the shotgun.
The muzzle compartment is designed to accept shotguns with tac lights attached – In this picture, my Streamlight TLR-1 is indeed mounted to the gun and the whole setup is very secure and protected in the case.
There are four shell pouches on the front of the case.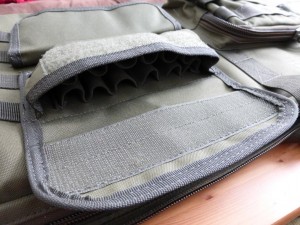 Each pouch holds twelve 12-gauge shells. It's a tight fit, but there they are.
The larger, zippered pocket.
Large, heavy-duty zippers. Worth noting here, there is no way to lock this case. Not really an issue for me, but some shooters may require that ability.
Close-up of the webbing and the velcro strap inside the case.
Embroidered logo.
This is a huge upgrade from the flimsy, no frills Plano gun case I've been using. I'm expecting the Voodoo Tactical to last a long time and see a lot of use. If any of you guys have seen these online and weren't sure about them, I hope I was able to help.
Thanks,
Steve
Inexpensive Soft Gun Case
Here is inexpensive soft gun case which I use to protect my shotgun from sand, rain, snow, sun, dust etc. on the range:
It is light weight but has pretty thick foam-padded and lycra interior lining. Use it for about a year, and very happy with it. It is very useful to protect shotgun from rain, snow, dust etc.
Price is just $9.99. Recommended.
Recommended Product:
Gun socks for shotgun, short and long and why you need both
Gun sock is a popular and inexpensive way to protect your shotgun during transportation and storage. I've bough two socks on Brownells. They are made by SACK UPS company which makes gun socks since 1985.
So, why do you need both long and short socks. I use long sock to transport my gun. Gun sock protects finish of my shotgun and also protects internal parts from dust, sand and dirt. Another good feature is that cotton cloth is treated with silicone and oil that helps inhibit rust. Gun sock will wick moisture away if your shotgun is wet. That is also important in cold weather when you can see condensate on your firearm when you bring it indoors.
Additional small but useful feature which is not available on many other gun socks is a label which is handy when you have more than one gun.
I use short sock during trainings or competitions when it's raining. You can easily put it over the barrel, when your shotgun is in the gun rack. The sock will protect the internals from the water.
Gun socks are inexpensive but very useful, they protect your shotgun from scratches, dirt, sand and water. Highly recommended to any gun owner.
What case do you use?
Please leave a comment and tell use what shotgun case do you use?