G.P.S. Tactical Range Backpack Review
The G.P.S. Tactical Range Backpack is the ideal mobile storage accessory to take with you on a shooting range and outdoor trips.
When nothing is attached, the backpack weighs just over 6 pounds. As you keep adding more items to the backpack, you won't need to worry about stability that much. There is a padded waist strap that you put around your waist to stabilize the load on your back. That way, you don't need to rely just on your shoulders to stabilize everything. And if you want to attach a name placard to the backpack, you can do so in the area where the hook and loop are located.
The backpack has a lot of additional ways to hold your gear. You can use plastic D-rings, straps, attach additional pouches. There are two straps to conveniently hold your paper targets.
My backpack with shotgun ammo (150 rounds), targets, earmuffs, shooting glasses, timer, stapler, tape, keys, Real Avid multi-tool, additional multi-tool, chokes, cleaning kit, gun oil, two pairs of shooting gloves, pen, notepad and knife. And it is not full, I can put more accessories there. Also, I have used straps to attach my Load-4 belt for practical shotgun competitions. Finally, everything I need for a shooting range in one backpack.
The backpack is available in black, coyote or ACU camo. The backpack material is 1000 denier polyester, which is a much thicker and more durable polyester material. There is also a Teflon coating applied to the polyester too. With this combination, the backpack is highly resistant to rain, wind, heavy impact, and more.
The G.P.S. Tactical Range Backpack is very easy to carry around. It comes with a triple stitched MOLLE webbing system. MOLLE stands for "Modular Lightweight Load-Carrying Equipment" and it's designed to be a tactical gear attachment system. Basically, the modularity of this system gives the user access points which make it easier to attach accessories and other gear. It won't take you long to find items in your backpack either because there is a visual identification storage system that simplifies finding things.
Rain Cover
I remember rainy days when I had to search for something to cover my range bag to protect documents, electronics and shotshells from water. That is very unpleasant especially when you are on competition and car is far. This backpack has rain cover in a small pocket on top. It is always with you.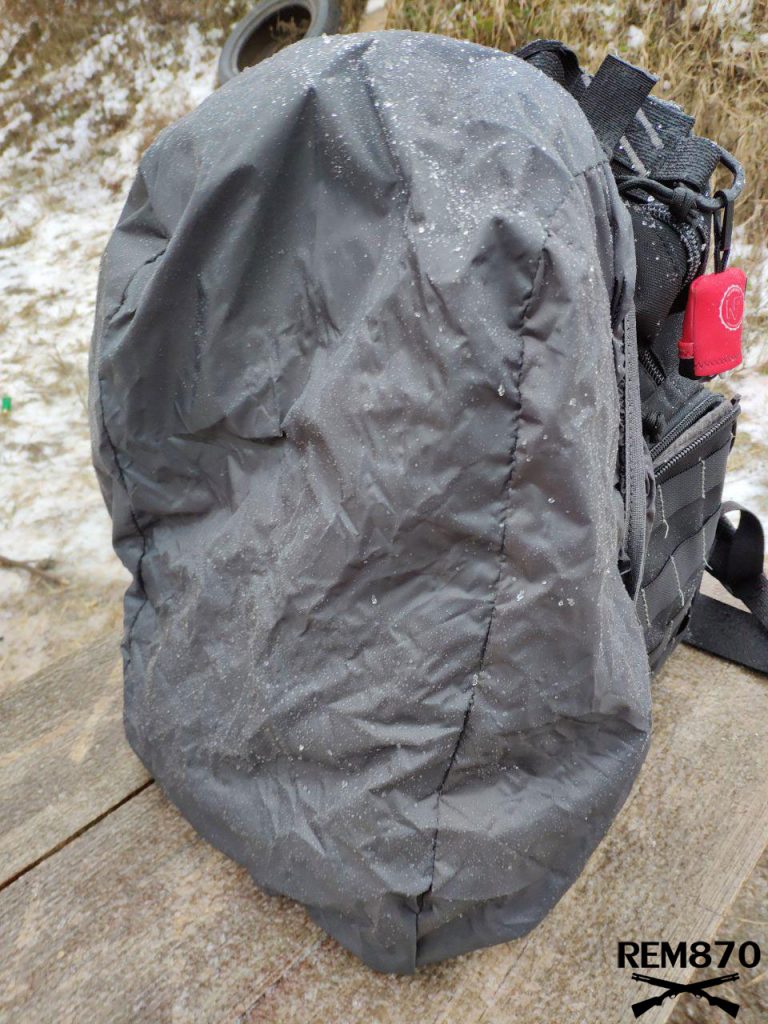 I have tested rain cover during rain and snow and couldn't be happier. It protects backpack and everything inside from harsh weather.
This is very good feature for serious shooters. For example, I never skip my range sessions because of weather. Shooting during rain or snow is a very good opportunity to test your guns and equipment.
Main Botton Compartment
There is one big bottom compartment which contains 3 storage cases in this backpack. Cases are designed for holding and securing your handguns. Each case also has room for magazine storage as well. On the outside of the backpack, there are 4 pockets which are suitable for storing additional ammunition as well as other types of firearm accessories. You can zip these pockets shut to secure the ammunition in them.
It is possible to remove storage cases and put there ammunition or equipment. It is big enough for my cat which loves it:
The price of the G.P.S. Tactical Range Backpack is $135.99. The dimensions of the backpack are 14" x 12" x 18". As you can see, it will not be too bulky on your back as you carry it around. Just put your handguns, magazine, ammunition, and a few other important accessories in your backpack. These items really won't weight it down that much at all. Also, if you prefer a lighter colored backpack, you can purchase the tan colored version for about the same price. This color might be good to use in desert environments instead of jungle or woods.
Top Compartment
Top compartment is divided into 3 parts. One of them has a key holder and lots of small pockets for ear plugs, glasses, notepad etc. Two other compartments are big enough to store other shooting accessories.
Front pocket
Front pocket has space for multi-tools, anti-fog drops, additional accessories. Tactical Range Backpack even comes with small plastic box for spare parts.
Side compartment
Side compartment for tape and stapler. But you can put there other things as well.
The Visual I.D. Storage System
Each pocket has a small icon which makes it easier to search for a needed item. Very good additional feature. It really saves time and enables you to find accessories faster.
Conclusion
This backpack is one of the best I'ver ever seen. It is made of high-quality materials and can withstand years of heavy use. It is big and can hold everything you need on the range.
Highly recommended! The price is just $135.99.