FREE eBooks, 80% Discount on Rem 870 Guide and List of the Best Gun/Tactical Deals on Black Friday
Black Friday will be on Friday, 25th November 2016. I really like sales and big discounts. What can be better than purchasing something with 50%, 60% or even 70% off? :) What can be better than buying $129 jacket for $30 or $200 firearm accessory for $80? Or buying a gun with big discount? We all love good deals and discounts that is why I decided to create a list with the best gun, firearms accessories and tactical clothing/footwear deals.
Black Friday is finally here!
Last year, Black Friday was the biggest day ever for gun sales and I think this time will be the same situation. The more responsible gun owners will be the better.
There are many websites which sell guns, accessories, upgrades, parts and tactical clothing, boots, accessories. But it would take too much time to check them all. Items with good discounts are sold out fast, so it is better to have a list of the best deals and discounts.
I don't want to post links which are too general and can be found everywhere, I want to have list of the firearms and tactical accessories related sites. Black Friday/Cyber Monday is the best time to buy guns, accessories, clothing and other products you want with very good discounts.
FREE Ebooks
Absolutely FREE ebooks for you:
80% Discount on Remington 870 Guide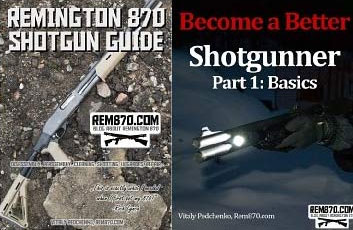 Get Rem 870 Guide with 80% discount and receive "Become a Better Shotgunner: Basics" for FREE.
$25

Just $4.99! Black Friday ONLY!

Complete Remington 870 Guide, PDF-version, Order Now!

Delivered via e-mail immediately after order.

2CheckOut.com Inc. (Ohio, USA) is a payment facilitator for goods and services provided by Rem870.com Blog.
---
Amazon Black Friday Discounts
Thousands of different deals and discounts.
Black Friday Deals in Outdoor Recreation
Natchez Shooting Supplies Discounts on Black Friday/Cyber Monday
One of the popular sites for:
-Ammunition
-Reloading
-Optics
-Shooting
-Hunting
-Camping&Survival
-Tactical
-Apparel
They plan to have really discounts on Black Friday. Be sure to check their website.
Slumberjack Deals on Black Friday/Cyber Monday
So, let's start with Slumberjack. This site sells:
-Hunting cloaks
-Sleeping bags
-Packs
-Furniture
-Tents and shelters
-Accessories
-Apparel
They are going to have very good discounts up to 50% on Black Friday/Cyber Monday.
Visit Slumberjack.com for discounts!
Cabela's Discounts on Black Friday/Cyber Monday
Next site in our list of Black Friday deals is Cabela's. They have huge selection of different things that you may like:
-Hunting
-Shooting
-Fishing
-Boating
-Auto & ATV
-Clothing
-Footwear
-Home & Cabin
-Hobbies
I regularly visit their site because there are some very good deals on clothing, footwear etc. But more discounts to come on Black Friday/Cyber Monday.
Brownells Savings and Discounts on Black Friday/Cyber Monday
Brownells is one of the biggest suppliers of gun parts, gun accessories and gun tools in the entire world. Brownells is my favorite online store where you can buy firearms, accessories, survival and preparedness items, ammo and many other items.
Here is full list of categories:
-Firearms
-Rifle Parts
-Handgun Parts
-Shotgun Parts
-Magazines
-Ammo
-Reloading
-Shooting Accessories
-Gunsmith Tools
-Optics
-Gun Cleaning
-Emergency & Survival Gear
They offer very good discounts and deals for the Black Friday/Cyber Monday, so be sure to check their website.
Visit Brownells and find out about special deals!
Under Armour Discounts on Black Friday/Cyber Monday
Under Armour manufactures clothing and footwear with very interesting features. UA clothing enables you to stay cool during hot days and warm during cold weather.
I have their products and really happy with them. Buy them for your next visit to a shooting range or gym. They have special Tactical and Military line with products designed especially for hard use.
The Under Armour clothing and footwear is rather expensive, so Black Friday is the best time to buy them with big discounts.
PatriotOutfitters Deals on Black Friday/Cyber Monday
PatriotOutfitters is another online shop that sells a lot of different goods:
-Guns
-Ammo
-Clothes
-Eyewear
-Footwear
-Weapon Accessories
-Optics
-Knives
-Gear
They will have some very good deals and discounts on Black Friday. Be sure to check their website as well.
Visit PatriotOutfitters for more information about discounts.
Wise Company (Food for Preppers) Deals on Black Friday/Cyber Monday
Wise Company specializes on food and supplies for preppers:
-Long-term Food Kits
-Emergency Food Kits and Supplies
-Meats, Fruits & Vegetables
-Camping
-Power
-Everyday Meals
Visit Wise Company for discounts on food for preppers
Good luck finding the best deals! Check this list on Black Friday to get the best discounts possible :) I have list of things that I plan to buy on Black Friday. Make the same list to buy only something you really want and to not buy something you don't need.