Remington 783 – New Rifle From Remington!
Have you seen new rifle from Remington? It is Remington 783! It looks like it would be cheaper than Remington 700.
What do you think about it?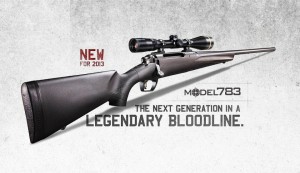 From Remington website:
Remington 783 OVERVIEW:
Custom-grade accuracy is now within reach of virtually every hunter. Using the expertise that's dominated bolt-action technology for more than 50 years, the engineering team started from scratch and combined their most advanced, accuracy-enhancing features to create an all-new platform. This sleek, hardworking tack-driver is even built differently.
Crafted in our newest manufacturing facility using proprietary methods that create the tightest tolerances from rifle to rifle, by the most efficient means possible. Perhaps the first thing you'll notice are the striking lines of the new stock design. Inside, it's a true performance-enhancer, with a dual-pillar bedding platform that free-floats the barrel for the ultimate in shot-to-shot consistency. Also helping deliver those inherently tight groups is a precision button-rifled barrel. For shot control, it's equipped with the crisp new CrossFire™ trigger system that's user adjustable to suit your preferences. Like with all Remington bolt actions, expect a lifetime of rock-solid reliability. From the next generation in a legendary bloodline.
Remington 783 KEY FEATURES:
New CrossFire™ trigger system, factory set at 3 1/2 lbs. and user adjustable from 2 1/2 to 5 lbs.
Carbon steel magnum contour button rifled barrel
22″ standard chamberings and 24″ on magnums
Pillar-bedded stock and free-floated barrel
SuperCell™ Recoil Pad
Model 783 accepts two Model 700™ front bases
Related post: Best Remington 700 Triggers