Remington 870 in Greece (Sights, Scope Mount, Swivel Stud, Swivels)
Remington 870 in Greece (Sights, Scope Mount, Swivel Stud, Swivels,
Received very interesting letter from Greece. Owner of the Remington 870 shares his experience and photos.
Theodore, thank you very much for the very interesting information!
From Theodore:
Here in Greece it is only permitted to own smooth bored shotguns and they are mainly used for hunting. Red-dot scopes also require special permits (which I have) and are only issued to registered marksmen and only for use on a shooting range. You are not allowed to hunt with ANY type of scope enhancements. I only fire my gun at the range and 99% of the time I shoot slugs.
Remington Model 870™ Express® Deer Gun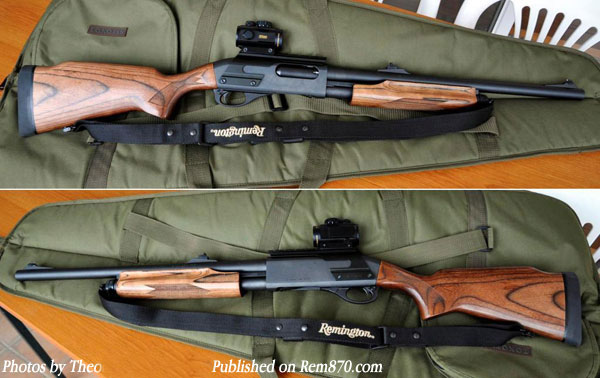 12 Gauge, 4 Mag. Cap., 20″ Fixed Improved Cylinder Barrel. (SKU 25565). This is one of the best smooth bored slug hunting guns one can buy for use with rifled foster or brenneke type slug. It can also be used with all types of shot. It is not very effective with sabot slugs. Sabot slugs should only be used with the rifled barrel version of this gun and are a little more accurate and effective to approx 150yrds, but it not as versatile. The IC smooth bore is extremely effective and accurate up to 100 yrds with all types of foster or brenneke slugs – it is not at all brand specific and grouping is always very tight. It is as accurate as my 6MOA red dot sight allows me to be. After all most shots extend max to 50-75yrds allowing respective accuracy of approx 3-4MOA at that range. I have zeroed my gun at 75yrds.
Nikon Monarch Dot Sights
30mm objective diameter with fixed 6 MOA dot size & 12 position dot intensity adjustment. Parallax setting 50 yds, 1 click = 1 MOA @100yds, Field of View @100 yds = 47.2 feet at 3" eyerelief, Nitrogen flushed & waterproof. (SKU 6606: Black Matte). This is NOT the VSD version – which is probably better as I would have preferred a 3MOA dot. Regardless, quality is superb, field of view is massive, the dot does not bleed, and light enhancement is unbelievable.
Remington Shotgun Saddle Scope Mount
X-Ring accuracy, precision matched highest grade aircraft aluminum (SKU 19440). If you need to fit this accessory I would not look anywhere else other than Remington. Fit, quality, finish is phenomenal. It also comes with a Lifetime warrantee.
Remington Universal Magazine Cap w/ Swivel Stud (SKU 19462)
The Deer gun does not come with any swivels for sling attachment. This is a great quality product, but the strange thing is that the replacement magazine cap is actually a much heavier duty and better quality cap than the original.
Remington Quick Adjusting 1,25" Sling with easy-attach swivels and thumb loop. (SKU 18641)
Good quality and practical piece of equipment. Well displayed brand name "Remington" which really adds oomph!! to the gun.
Planned next upgrades – SuperCell™ Recoil Pad. (SKU 19471). The reason is the gun kicks like a mule with slugs.
Theodore, thanks again for the interesting information and photos. Very nice shotgun!
Related Post:
How to Mount a Red Dot Scope to a Remington 870