Evacuation, Bug Out Bag and Vehicle – Russian war Against Ukraine 2022 Experience
War in Ukraine was predicted by US intelligence but most people didn't believe in it. It's hard to believe in a full scale invasion with rocket and bomb strikes in a 21st century! But thousands of Ukrainian civilians are dead, cities are destroyed and Russia continues to kill more innocent people and children every day. Today (16th of March) Russians bombed Mariupol theater where hundreds of woment and children had taken refuge.
This is tragedy for Ukraine and our people but our Armed Forces are fighting hard and protecting our homeland. You will find information on how to help Ukrainian army in the end of the article.
Evacuate or Stay?
When war started it was too late to prepare for evacuation. That's why this article is intended to help people to get ready for dramatic changes which can happen nowadays.
Nobody thought that Belarus will allow using their territory to attack Ukraine. And people which were far from Russia's border felt that they are in relatively safe zone. But when Russian military convoys moved to Kyiv, that territory quickly became the hottest war zone with the fiercest battles. That means – no water, food, medications or medical help, electricity and connection with the outside world.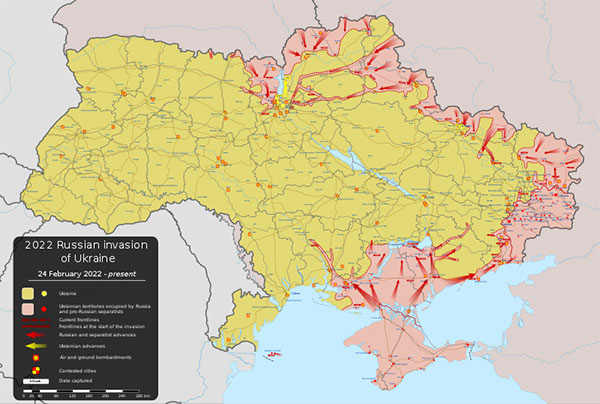 We talk about Hostomel, Bucha, Irpin. They lived in a constant battle around them. Most of the houses were damaged; small cities were under control of both sides: Russian invaders and Ukrainian defenders.
Evacuation was really difficult. There are numerous evidences of invaders shooting at civilian cars (even with white flags or "children" stickers). They used not only light weapons but tanks and Armored Personnel Carriers to destroy civilian cars and kill civilians inside.
Russian military often used cease fire and humanitarian corridors to attack Ukrainian forces. That led to chaos and more civilian deaths.
You can understand seriousness and hopelessness of their situation knowing that people had to bury 42-year mother and her 12-year son in the yard of an apartment building. There was no way to evacuate bodies.
People in Mariupol are buried in mass graves because Russians killed more than 2,000 of civilians in 20 days of war.
Not speaking about war crimes such as looting, rapes, murders.
That's why answer is simple – you will need to evacuate from the war zone as fast as possible. Some people listened to warnings of the US intelligence and could fly away abroad just days before the war. Analyze information and be ready to leave before war starts or as soon as it starts.
Survivalists are wrong. Your main task is not to survive for weeks, your main task is to evacuate your family to safety as fast as possible.
Bug Out Bag
The first rule for the war zone is to stay away from tactical or military equipment. Russian invaders are killing everyone they don't like, especially when ther are no cameras or people around. Look for casual looking bags and equipment.
There are several things that you must have:
1. Money
2. Documents
It is even more important to have money to find food, water and temporary shelter. But having documents are really help too. It's a really good idea to have scanned documents in Dropbox or flash memory.
3. Phone with GPS and good battery.
4. Water
5. Food
6. Power bank
You are going to use your mobile phone a lot! To read news, to call relatives, to find routes to a safe place. Traffic jams will be horrific. Imagine tens of thousands of inhabitants trying to leave the city. People used curbs and oncoming lanes to drive from danger! That's why your phone must have good battery, GPS and navigator.
Be sure to have water and food for your whole family. My friend was stuck in a middle of nowhere for hours. Cars didn't move at all! So it's good idea to have water, food (MREs or dehydrated food for camping), gas stove and gas. Don't forget about food for children. Make sure you get something tasty because long hours on the road are really stressful for kids.
Power bank will be really useful to charge your phone or phones of your family members.
7. Clothing and boots.
No military or tactical clothing to not drive unwanted attention. You may be going through friendly, enemy or even improvised (local) checkpoints. And it's important to drive through them safely. Have enough warm clothing and boots. Remember that you may not have any other clothing for a pretty long period. Get comfortable things which will make your evacuation comfortable.
8. Gun with permit
Gun will help you to protect you and your family from looters. Believe me, those Just be sure to tell about gun and permit on all checkpoints to avoid any problems.
9. Phone or tablet with cartoons
Again, road will be difficult and stressful for your kids, have something to help them overcome a long way to safety.
10. Pet carrier
Pet carrier is a must have if you want to evacuate animals. Don't forget about food for them.
11. Flashlight
12. Blanket
These small things will help you in many situations. You may need them in a bomb shelter and in many other situations.
These things can make your evacuation easier.
Bug Out Car
Car will be priceless during evacuation. Yes, you will be stuck in traffic jams but you will have roof and comfort inside. We saw hundreds of people trying to leave the city on foot with bags and suitcases.
Hearing news about possible invasion I changed filters and oil beforehand and filled up gas tank full each day. That helped to avoid queues on gas stations which could delay your for 30-60 minutes.
1. Good condition
2. Full tank
Big enough car to carry family, animals and everything you will need. Remember that it must not look like military one. For example, camouflage is the worst choice because your car may be identified as military vehicle which is really dangerous.
3. SUV or car that can drive through bad roads
SUV will give you some advantages if you will have to drive through country roads. Remember that main roads will have traffic jams.
4. Phone Charger
You will need it to charge your phone all the time you drive and use it as a navigator or for communication with your friends and relatives.
5. Tire Compressor
Tire compressor isn't expensive but it can be critical when you have a flat tire in a middle of nowhere. Remember that you won't find any help in critical situation with thousands of refugees around.
6. Car Booster (Battery Jump Starter)
Yes of course, you need a good car battery but everything can happen. Just imagine that you cannot start your car in critical situation! That's when you need Car Booster to start your car even if your car battery dead.
7. Gasoline Canister (with gas)
As I said earlier, queues on gas stations will be really long. 20-30 cars waiting to fill up a gas tank was normal situation. Some gas stations were out of gas. Make sure you have several full gasoline canisters ready.
Hope this information will be helpful. Next article will be about guns. What guns used and how they changed after the start of war.
You can support Ukrainian Armed Forces using the following information:
The National Bank of Ukraine has decided to open a special fundraising account to support the Armed Forces of Ukraine. The number of the special account: UA843000010000000047330992708
You can help my family using Patreon website (I have added several additional levels of help but you can choose any of them):
https://www.patreon.com/rem870
or PayPal transfer: info@rem870.com
---
Amazon Associates disclosure: Rem870.com is a participant in the Amazon Services LLC Associates Program, an affiliate advertising program designed to provide a means for sites to earn advertising fees by advertising and linking to Amazon.com.