Savage Stevens 320 Security VS. Winchester SXP Review 2020
History
Both shotguns are based on the iconic Winchester 1300, which is based on the Model 1200. Winchester Model 1200 was designed in 1964. The United States Army had a small number of these shotguns. They had special accessories: ventilated handguard, sling swivels, and a bayonet lug.
The Model 1200 was replaced by the Winchester 1300 in 1983, and it had minor improvements. The Manufacturing of the Model 1300 ended in 2006 with the bankruptcy of its manufacturer, the U.S. Repeating Arms Company. There were about 1,900,000 shotguns built.
Winchester SXP (Super X Pump) shotguns are currently made in Turkey, while the Savage Stevens 320 Security is made in China.
Stevens 320 (top) and Winchester SXP: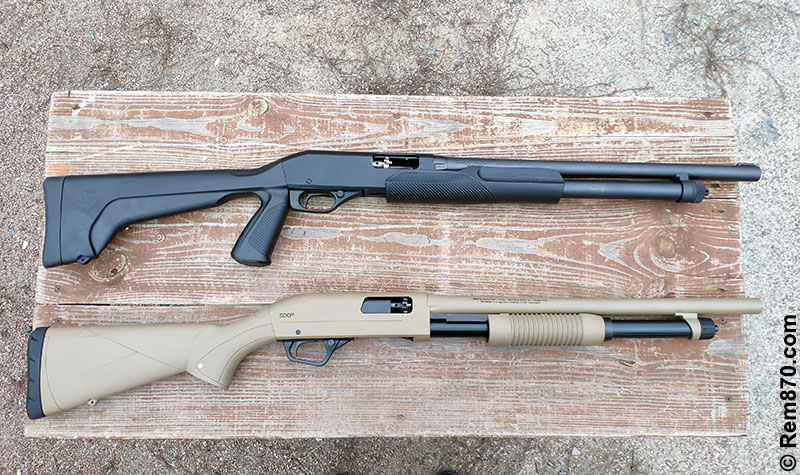 Construction
The construction of both shotguns is almost the same, with light differences. The rotating bolt mechanism is a unique feature that distinguishes the Winchester 1200/1300/SXP shotguns from the crowd. And it is also advertised as a feature that makes this shotgun faster. I really like the ejector because it ejects fired shotshells extremely well!
Rotating Bolt on Winchester SXP: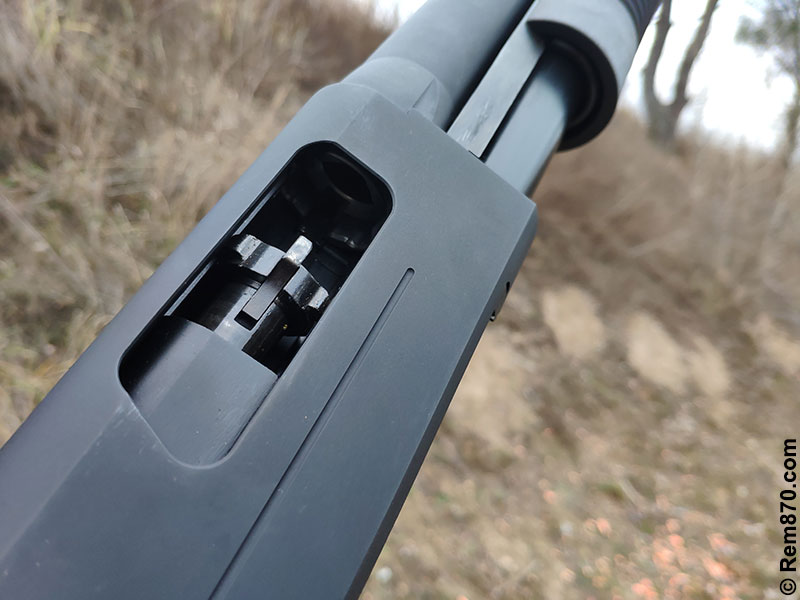 The trigger isn't as crisp and light as I would like but still pretty good. The action release button is located on the back of the trigger like Mossberg 500 shotguns and not the most convenient place, especially if you want to use a pistol grip stock.
Savage Stevens 320 Security and Winchester SXP barrels are not interchangeable. But their magazine extensions have the same threading which means that Winchester magazine extension can be installed on Stevens 320.
Both shotguns are lightweight and have good balance.
Disassembly and reassembly are pretty simple because only one pin holds the trigger group in place. All you need to do to disassemble these shotguns is to remove the magazine extension/cap, remove the barrel, remove the pin, remove trigger assembly and pull out the forend with the bolt. That's it!
It looks that Benelli engineers were inspired by Winchester 1300 when they made Nova and Supernova shotguns. Bolt and trigger group construction look similar.
Winchester SXP
Winchester SXP is advertised as the fastest pump-action shotgun. I decided to check this fact and used a shooting timer to measure the time between shots. The fastest time I could get was 0.25-0.30 seconds, and I could get the same time with my Remington 870 and even with a budget Hatsan pump. So, this shotgun isn't the fastest pump but you can shoot pretty fast.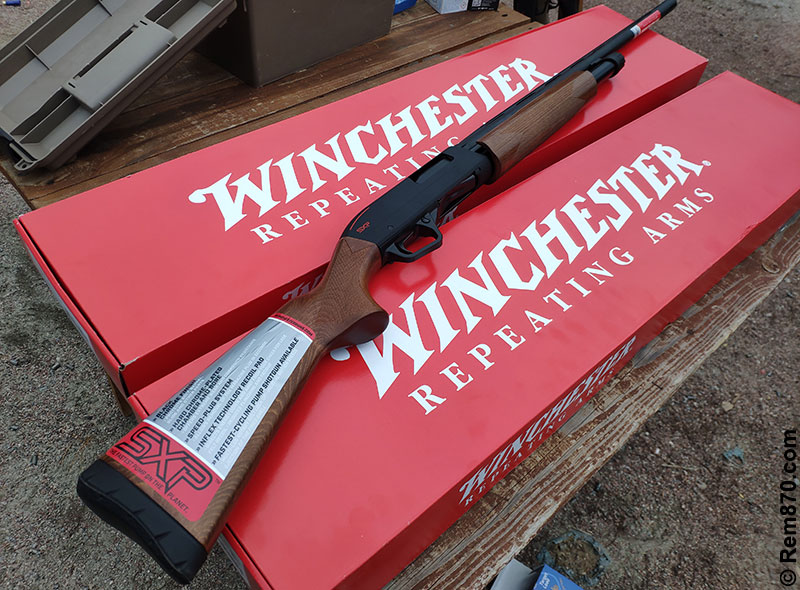 The main difference from Stevens 320 shotgun is a chrome-lined barrel. It makes cleaning and maintenance much easier. Also, it makes shotguns more reliable with fewer chances of stuck shotshells.
The action is smooth and I enjoyed shooting it. You can shoot and reload Winchester SXP really fast.
It is easy to aim at your targets with both short and long barrels. The long barrel is 28″ and has a vent rib with a brass bead, and I prefer installing the long light-gathering sights on such barrels.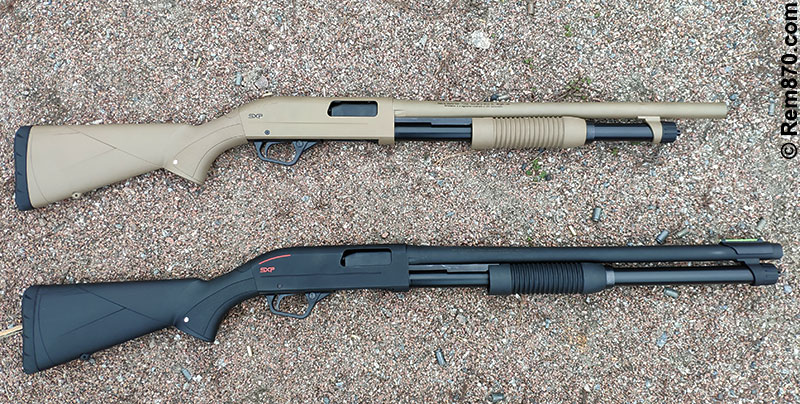 Short 18″ barrel comes with a simple brass bead, but additional light-gathering clamp-on sight comes with a shotgun.
The safety button is stiff and you may need to oil it for smooth operation.
What's interesting, some of the shotguns with short barrels come with a screw-in choke tubes feature! Winchester SXP with long barrel comes with Improved Cylinder, Modified and Full choke.
It is possible to attach a sling using the mounting point molded into the stock and a swivel stud at the end of the magazine tube cap.
Short barrel versions come with a short, tactical forend. Winchester SXP with a long barrel comes with a long forend. You can choose a synthetic or wood stock and forend. The recoil pad is soft and reduces felt recoil.
Loading is easy and simple. The spring is soft, carrier and loading port enable the shooter to load shotshells fast.
They are made in Turkey. But I cannot complain about quality; the shotgun is well made of quality materials and has a good coating of external parts.
Price starts from $329.99
Savage Stevens 320 Security/Field
When I first took Savage Stevens 320 into my hands, the first impression was a cheap, budget gun.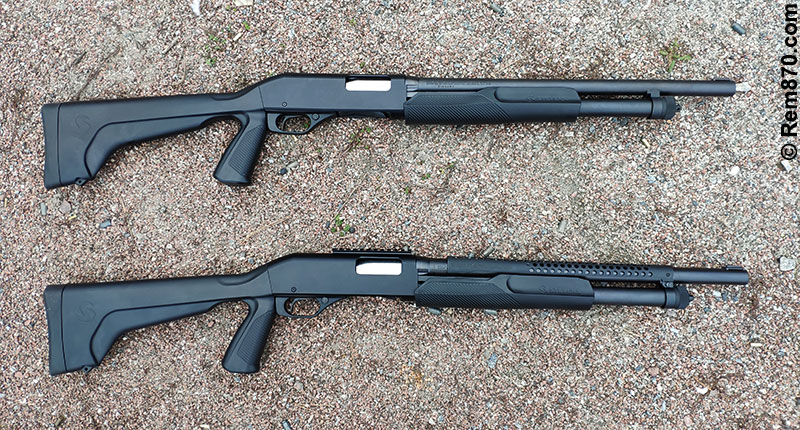 The barrel isn't chrome lined, so cleaning and maintenance are more time-consuming. The coating is good but it also looks very simple.
I had a Security version with an 18 1/2-inch barrel and pistol grip for my tests. The grip is thin and the stock is compact. I recommend trying it before buying. It may not suit shooters with longer hands. The field version has long 28-inch barrels. Field/Security combo comes with interchangeable 18 1/2- and 28-inch barrels. The more expensive Security version comes with a barrel shroud and a Picatinny rail on top of the receiver.
Ready for Red Dot Sight: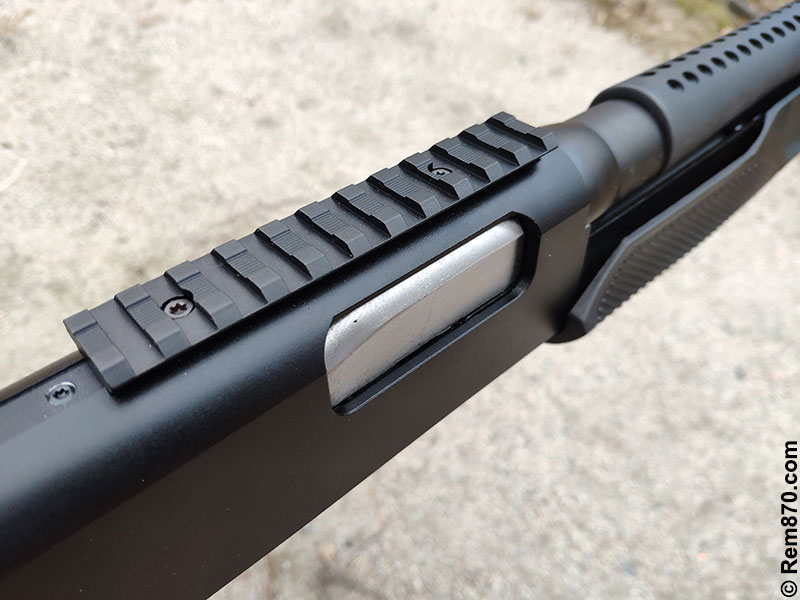 Barrel Shroud: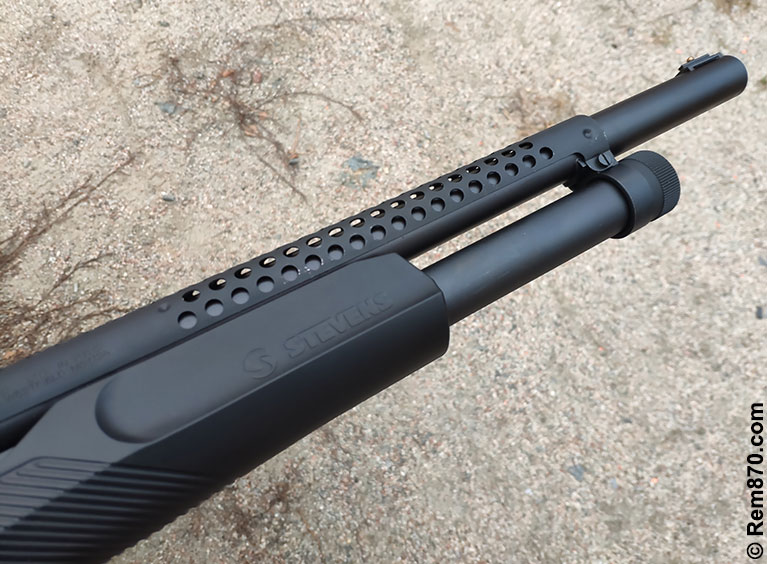 The action is stiff but maybe the shotgun needs some break-in time. The safety is soft and easy to disengage.
Bright orange magazine follower makes it easy to identify the empty magazine. Loading is very simple.
Made in China to make this shotgun as affordable as possible. Price starts from $229.99
Conclusion
Both shotguns work properly but I liked the Winchester SXP more. It has a smooth action, nice coating and a chrome-lined barrel. Savage Stevens 320 Security is a shotgun that works well but you cannot demand much from a budget firearm.
Where to Buy
Brownells
Click here!
Guns.com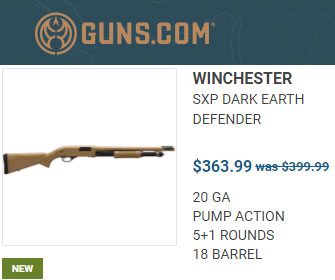 Click here!