7 Must Have Upgrades for Lever-Action Rifles Marlin Model 336, 1895
Marlin Photos by Victor Lytovchenko
What is Marlin Model 1895?
I wanted to review the Marlin rifles for a long time. And I want to say that I had a lot of fun on the range this time! I couldn't stop smiling shooting those cowboy-style guns! I had expected heavier recoil from 45-70 rounds, but it was ok. 30-30 recoil wasn't heavy at all.
These lever-action rifles are easy to use, have good stopping power, and enable you to have precise shots. Standard rifle sights are good enough, but you can easily upgrade them with aftermarket sets. I could easily hit targets up to 110 yards; that was the longest distance on a shooting range where I was.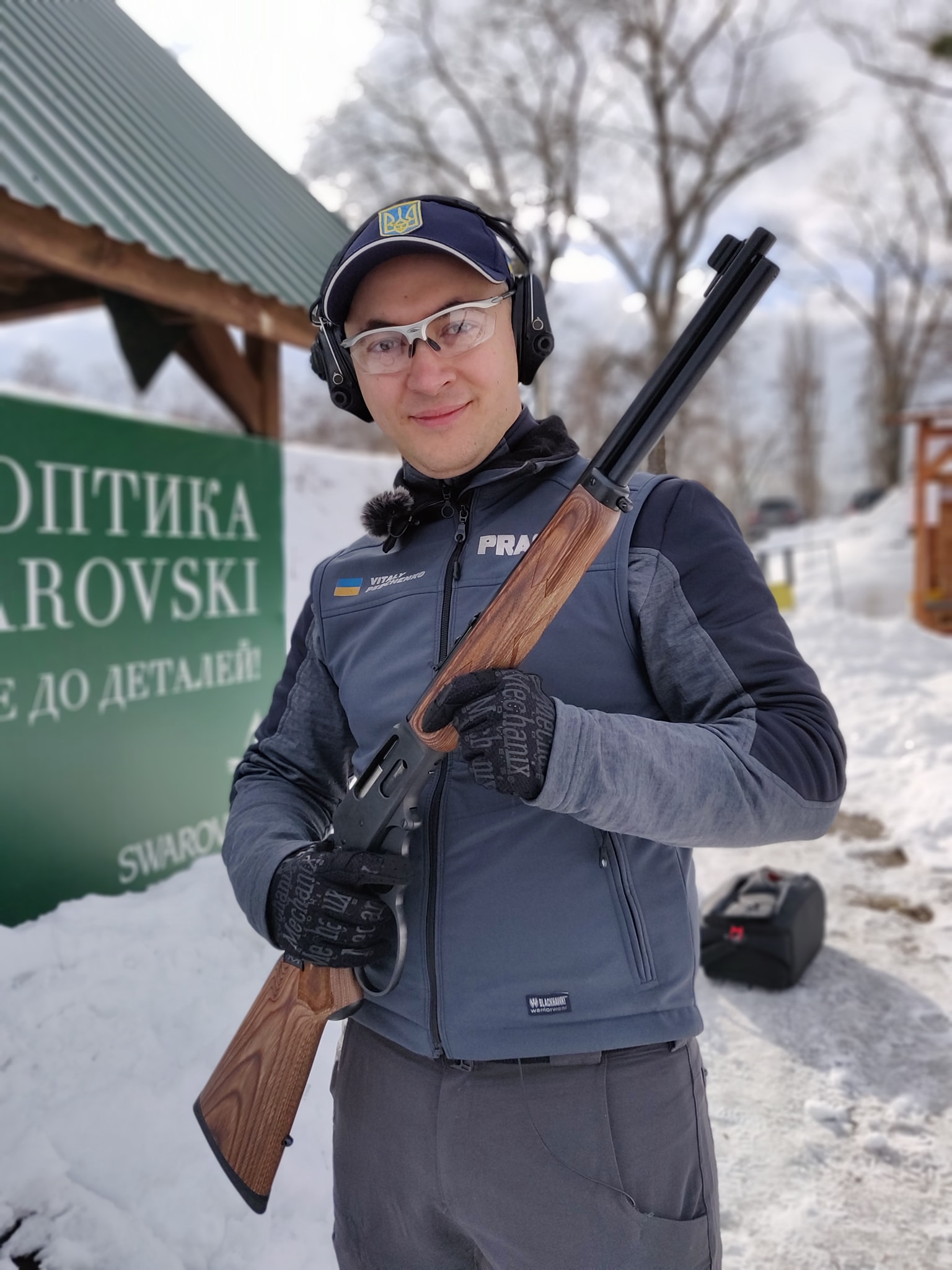 A lot of people know this rifle because of the Jurassic World and Wind River movies. Big bore Marlin Model 1895 is a lever-action rifle based on Marlin Model 336. It has huge knockdown power, and it is fun to shoot. Many people buy them just for fun shooting, but they can also be used for hunting or even tactical shooting. They have unique construction when using the lever to eject the fired shell and load the next round. You can cycle that lever gun pretty fast with proper training.
Did you know that the official Marlin site had a T-rex icon on the Model 1895 product page for a long time? I don't know if you want to hunt dinosaurs, but I am pretty sure that 45-70 would stop one of them!
This rifle is one of the most popular and the most recognizable weapons. It is reliable, compact, and used by many shooters. Some versions have Picatinny rail, and it is possible to attach a Red Dot or optic sight. That makes them easier to use at longer distances.
Laminated hardwood version with XS sights and big loop lever which makes cycling easier: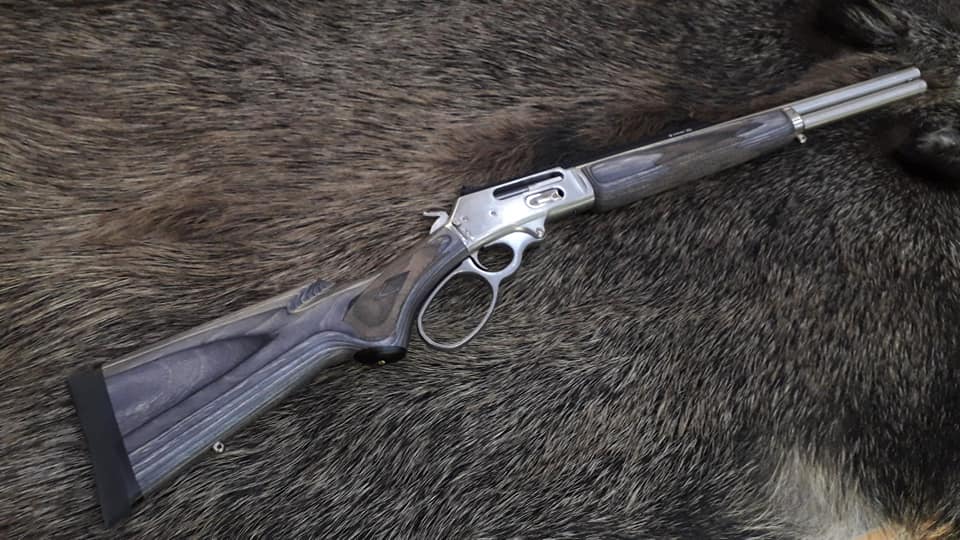 Loading is a little tricky for the first time, but it becomes easier when you get used to it. Loading port on the right side of the firearm: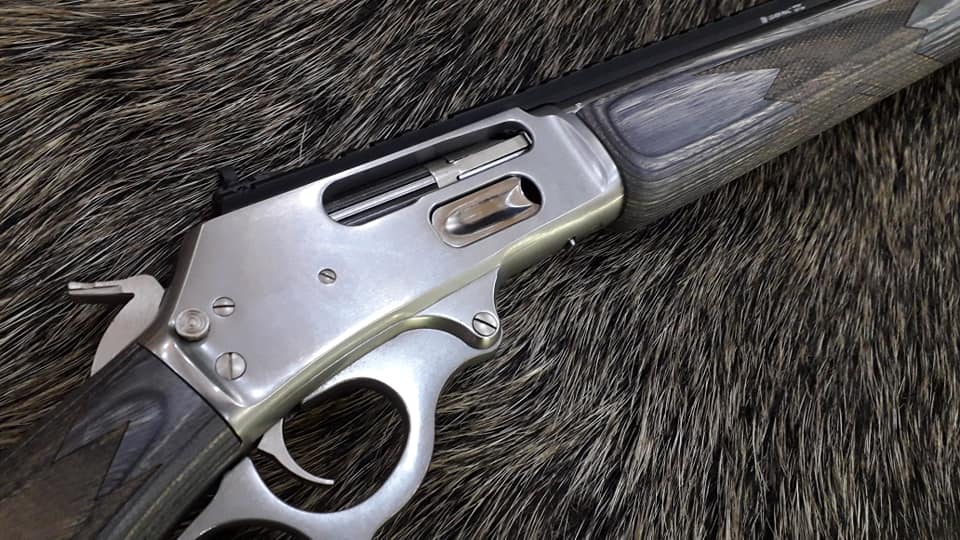 The stainless steel version is corrosion resistant and can withstand harsh weather conditions: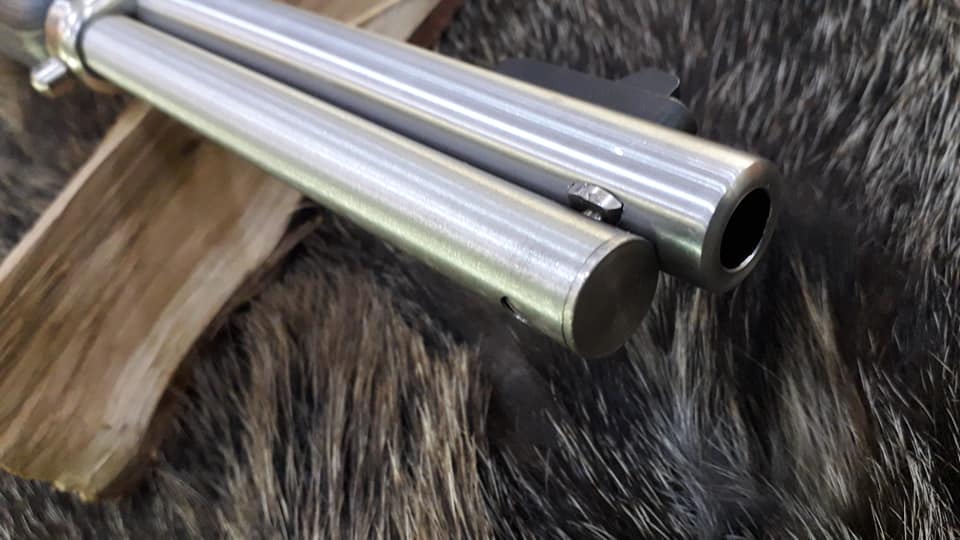 There are lots of new guns, but this one is fun to shoot. Lever-action rifles give you unique emotions and feelings. It is great to own one, and you are sure to have attention on the range.
The rifle is easy to operate, and you can easily hit targets thanks to a very nice set of XS sights. The big loop lever enables the shooter to reload and shoot really fast!
You can purchase and install those upgrades yourself. That makes the experience with lever-action rifles even better.
Marlin 1895 Lever Rail Sight System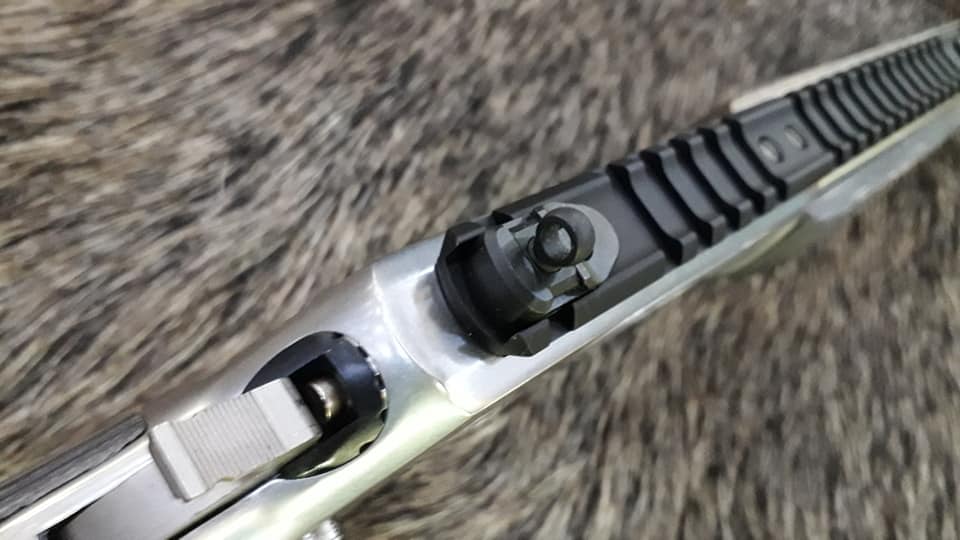 Installation is easy and doesn't require gunsmithing or drilling and tapping.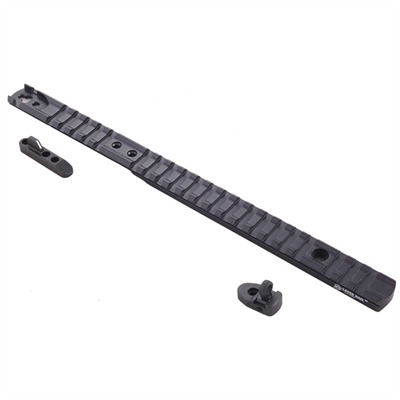 The rifle pictured above has a short barrel and is made of stainless steel. It has huge stopping power with 45-70 Government Caliber. It is also optics ready with the XS Lever Rail Picatinny rail section from the receiver to halfway along the barrel.
It depends on the purpose of the gun and the accessories you plan to install. You can choose Lever rail alone or Lever rail with ghost ring sights. Rail will be needed if you want to install some on your Marlin.
Price: $63.90 for Lever Rail, $162.00 for Lever Rail with Ghost Ring Sights
Recommended Product:
Recommended Product:
XS Sight Systems – Marlin 1895/336 Sight Set
XS sight set can be installed without additional XS Lever rail. All you need to do is to buy the set for the Model 1895 or 336. There is a set available for a particular model.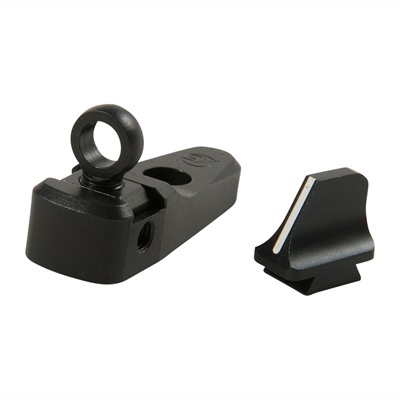 The ghost-ring rear sight is the easiest and fastest to use. It allows fast target acquisition together with a pretty big post front. Good for any purpose, from hunting to tactical shooting. It makes the first shot and transitions much faster. It makes it easier to aim even for beginners holding the gun for the first time. The front sight has a vertical white line for easier aiming.
Rock-solid steel construction can withstand any conditions and long years of use.
Price: $85.99
XS Sight Systems – Marlin 1895 Winged Sight Set
The same sight set but with extra protection. Durable steel wings protect the rear sight from damage.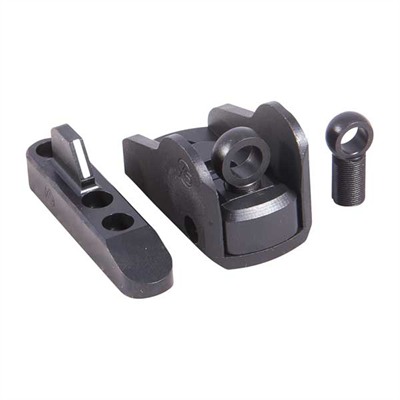 Price: $133.99
What is Marlin Model 336?
Iconic Marlin Model 336 is a lever-action rifle designed in 1948 by L.L. Hepburn and T.R. Robinson Jr. It was manufactured by Marlin Firearms which was purchased by Remington Arms.
Marlin brand was sold to Ruger in 2020. The Model 336 was ranked the #2 best-selling rifle in the U.S. in 1983, with over 3.5 million sold. This rifle is commonly chambered in .30-30 Winchester.
Marlin 336 is a 30-30 caliber lever-action rifle. It is lighter than Marlin 1895 and has less recoil. I had a lot of fun shooting it.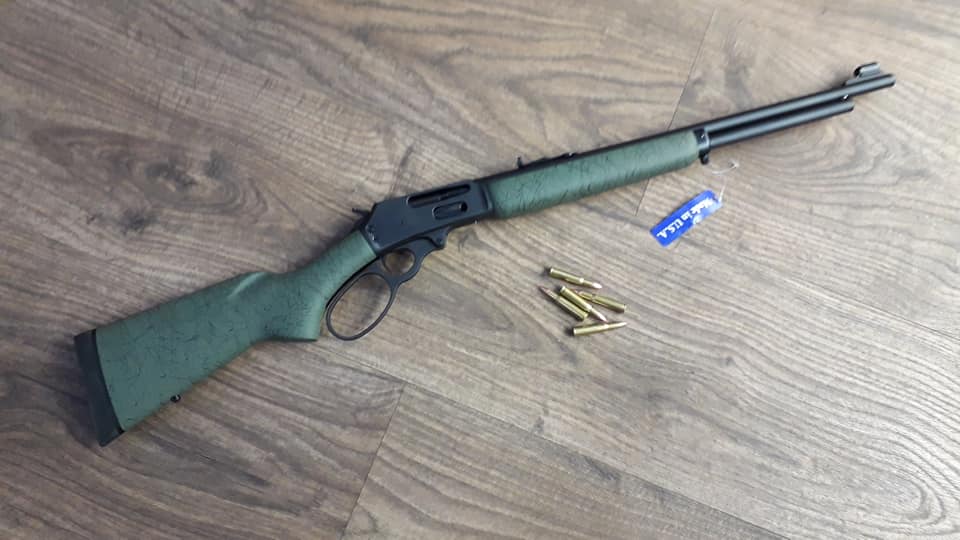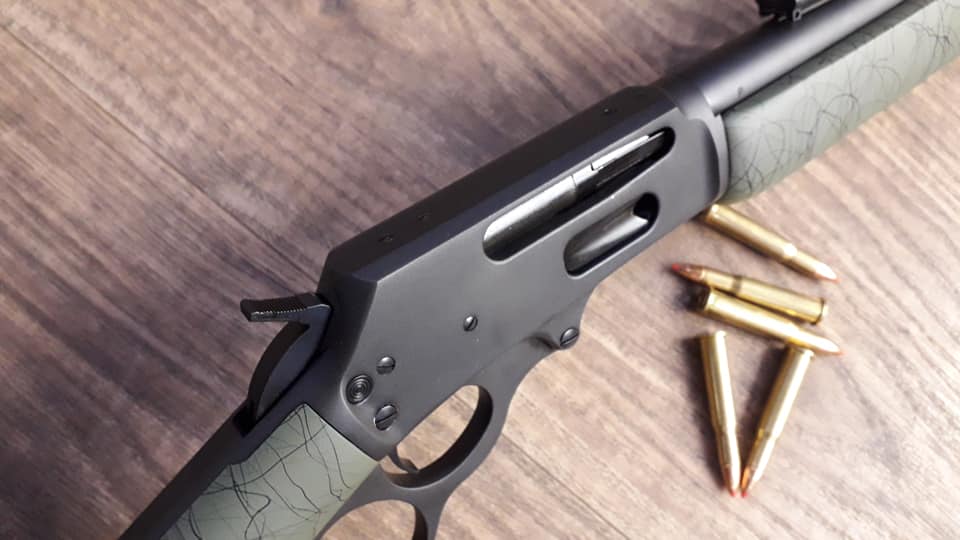 Standard rifle sights are good enough to place accurate shots up to 100 yards and even more:
Marlin 336 Serial Number Lookup (Year of Manufacture)
Serial number prefix can be used to date the year of manufacture of a Marlin 336. It is also correct for the most other Marlin firearm build dates from 1946 to the present.
You can find out Marlin 336 years of manufacture using the following table of letter/numeral prefixes to the serial number:
| | | |
| --- | --- | --- |
| Date | Prefix(s) | |
| 1946 | C | |
| 1947 | D | |
| 1948 | E | |
| 1949 | F | |
| 1950 | G | |
| 1951 | H | |
| 1952 | J | |
| 1953 | K | |
| 1954 | L | |
| 1955 | M | |
| 1956 | N | |
| 1957 | P | |
| 1958 | R | |
| 1959 | S | |
| 1960 | T | |
| 1961 | U | |
| 1962 | V | |
| 1963 | W | |
| 1964 | Y, | Z |
| 1965 | AA | |
| 1966 | AB | |
| 1967 | AC | |
| 1968 | AD, | 68 |
| 1969 | 69 | |
| 1970 | 70 | |
| 1971 | 71 | |
| 1972 | 72 | |
This system was changed in 1973. The year of manufacture for the guns produced after 1973 can be determined by subtracting the first two digits of the serial number from 100: Example: SN 1612345 would have been made in 1984 [100 – 16 = 75]. Anyway, it is very simple to find out when your Marlin firearm was made.
Micro-Groove Rifling
A very interesting idea which made manufacturing cheaper and firearms more accurate and reliable. The micro-Groove rifling system uses a bigger number of relatively shallow rifling grooves. It is advertised to provide uniform bore dimensions and a smooth bore finish designed to improve accuracy, prevent gas leakage, and reduce bore fouling.
The Model 336 can be easily disassembled for cleaning, lubrication and maintenance.
Lever-Action Rifle Ammo
Marline lever-action rifles are available in several calibers. For example, 30-30 ammo has lower recoil and lower price. At the same time, 45-70 Government Caliber has better stopping power but heavier recoil and higher price. You can choose what you like.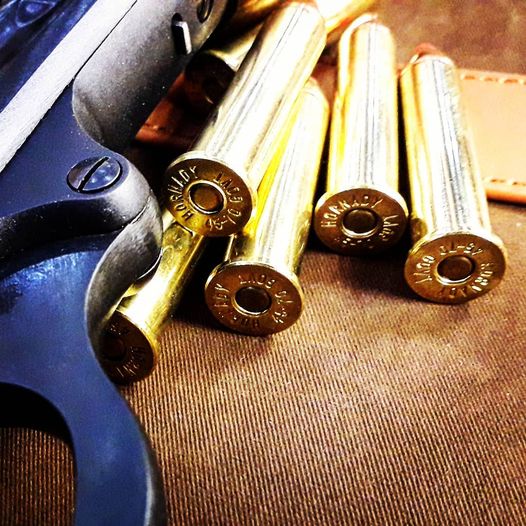 Marlin lever-action firearms have a tubular magazine that requires flat point bullets for safety in tubular magazines. Modern ammo manufacturers like Hornady offer special ammunition with plastic shock-absorbing tips. Lever-Action Rifles with tubular magazines require special ammo, so be careful when choosing ammunition for your gun.
30-30 Caliber
Good for whitetail and black bear. 30-30 range is typically limited to 200 yards.
45-70 Caliber
You can easily hunt elk or whitetail up to 300-400 yards if you know the trajectory.


Photo from Hornady website.
10 Must Have Upgrades for Lever-Action Rifles Marlin Model 336, 1895
Midwest Industries Marlin M-LOK handguard for Marlin 1895, 1894, 336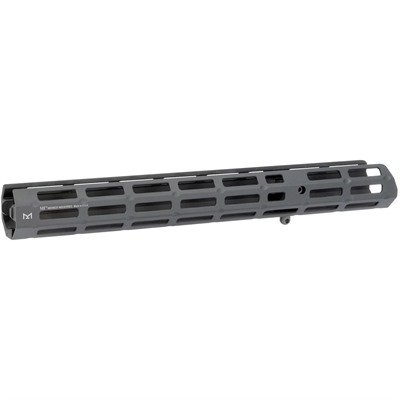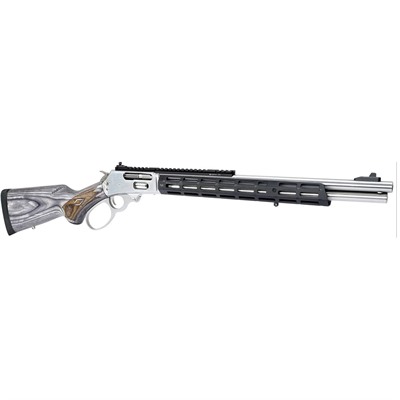 Marlin M-LOK Handguard enables the owner to attach numerous accessories. You can have an ammo holder, tactical flashlight, laser, forend grip, etc. Also, it looks really nice and enables the shooter to have a good grip.
The MI M-LOK handguard for Marlin is machined 6061 T6 aluminum, which makes it lightweight and sturdy. It has a black hard coat anodized finish.
Installation is simple, and there is no need for permanent modifications to the rifle.
Price: $163.99
Wild West Guns, Marlin Trigger-Happy Kit
This upgrade won't change the look of you, Marlin, but it will definitely make your experience better. Light, crisp, and clean trigger pull. The standard trigger pull weight is about 7 lbs. The upgraded trigger has a 2 to 3-pound trigger pull weight. Installation requires complete action disassembly.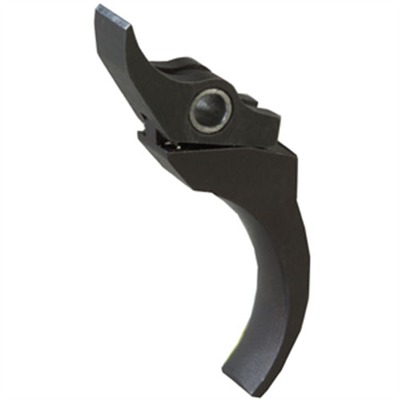 I think that this upgrade is the most important. It makes shooting easier and more accurate, even at long distances.
Price: $121.99
It Will only replace Marlin 2 piece triggers, does not fit early Marlins with a 1-piece trigger.
Wild West Guns Aluminum Magazine Follower for Marlin 1895 (.45-70)
Replaces factory synthetic follower and improves feeding.
Price: $32.99
Wild West Guns, Marlin 1895G Loop Lever (Stainless Steel or Blue)
Faster cycling even under stress or when wearing gloves.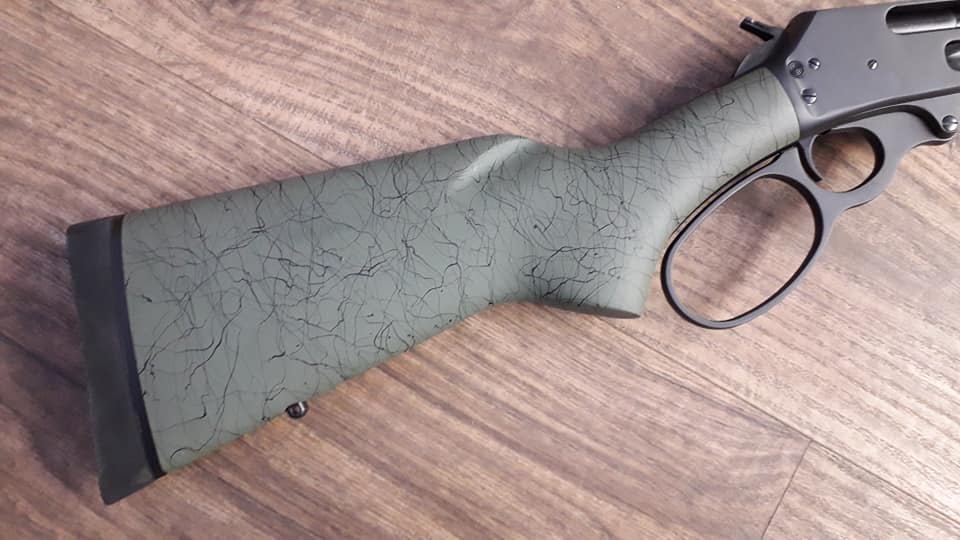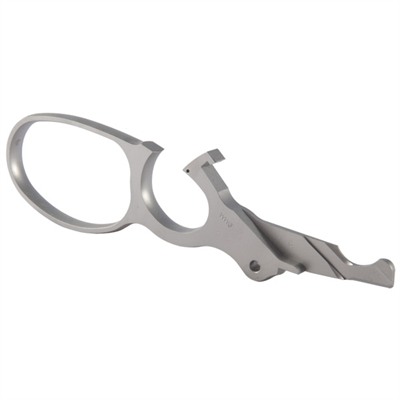 Big oval loop has enough space for shooters with larger hands or those who use their 1895s wearing gloves. It makes use of the lever-action rifle much more comfortable. It may require minor fitting.
Bonus: Marlin 1895 DARK
1895 Dark is one of the best-selling models. It is based on the standard 1895 but looks fantastic.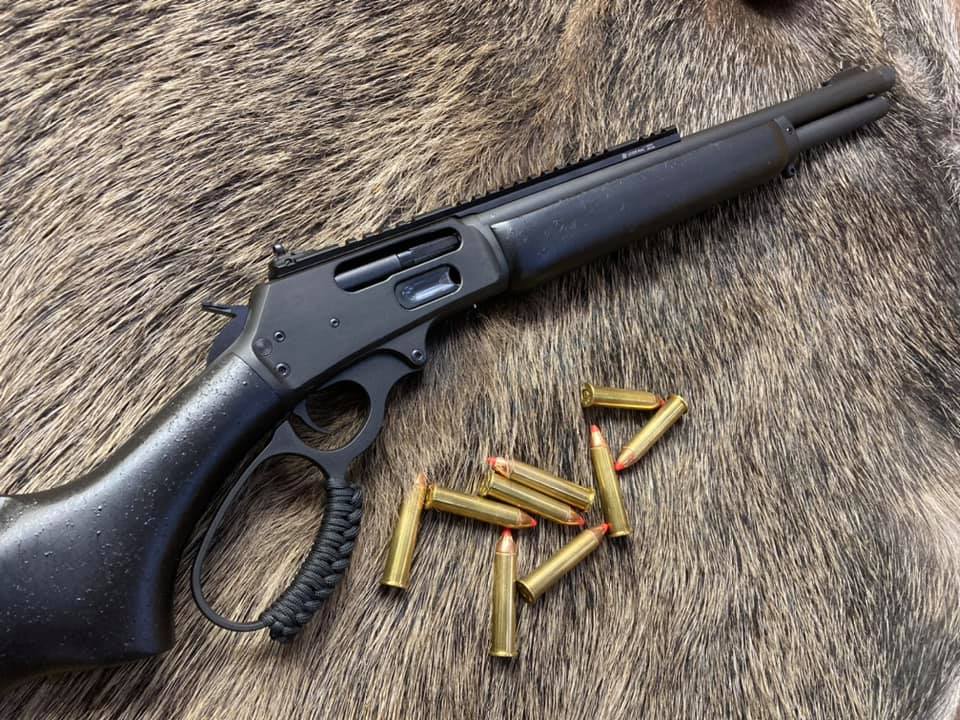 Ejection port machined into the side of the receiver: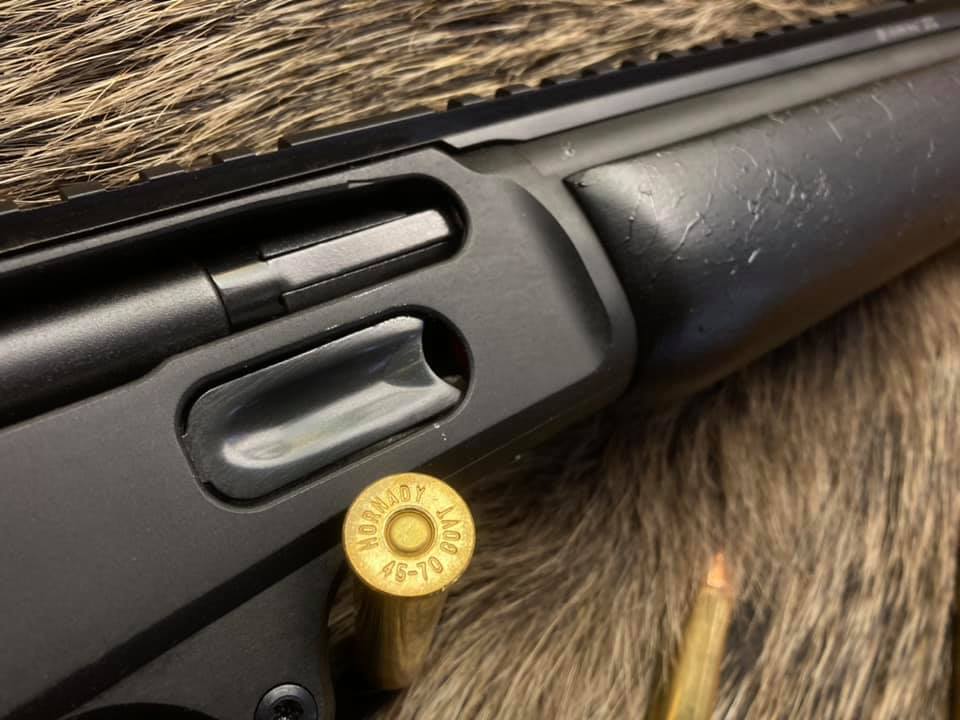 Big oval lopp lever: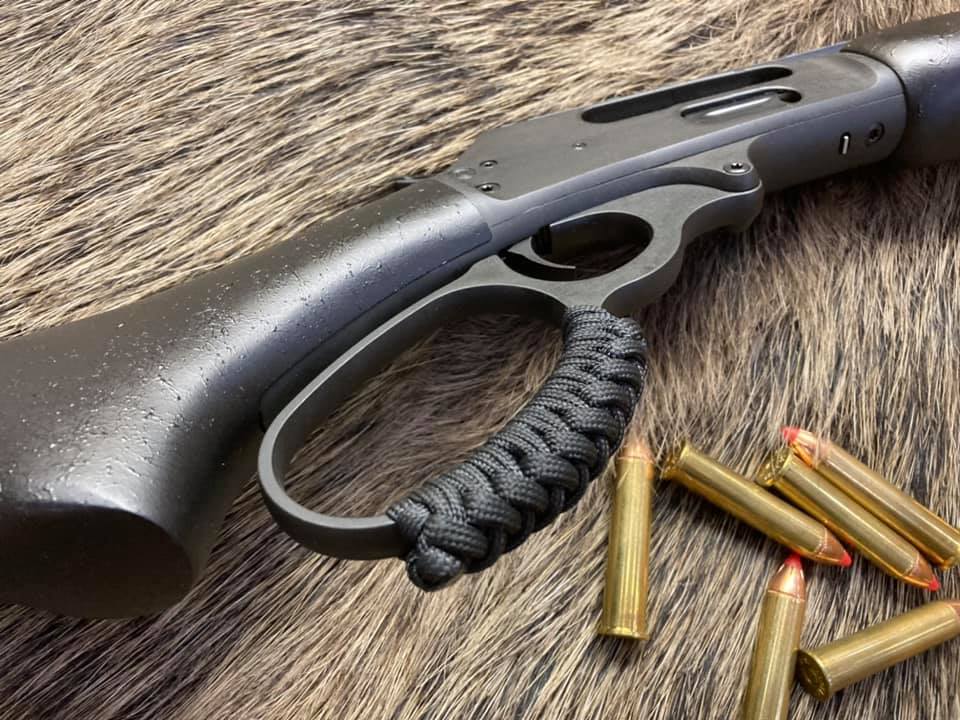 XS front sight: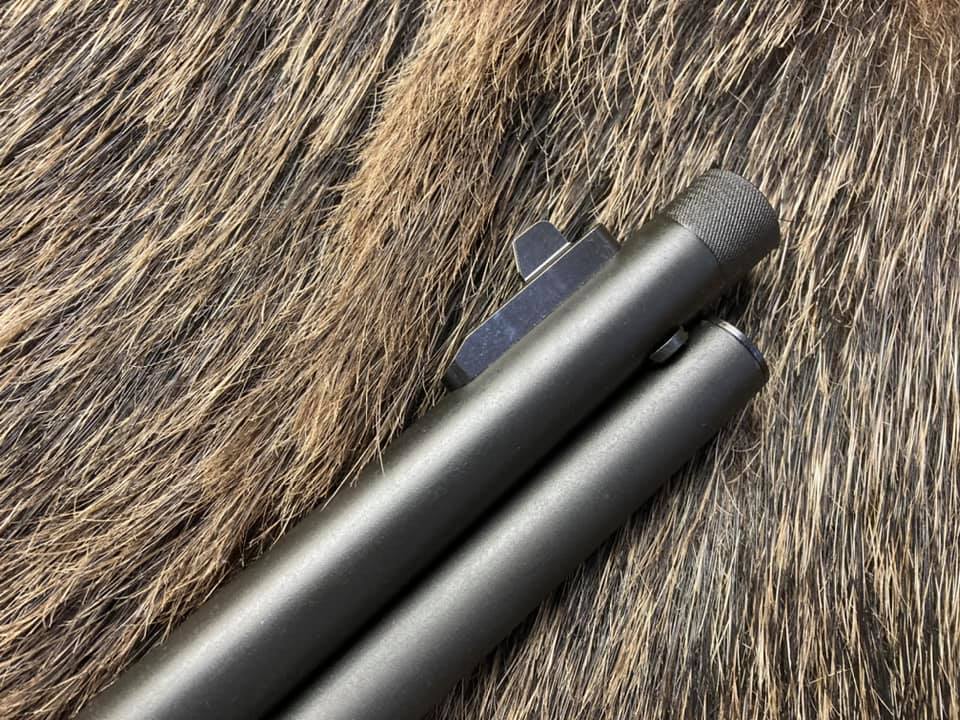 XS Lever rail: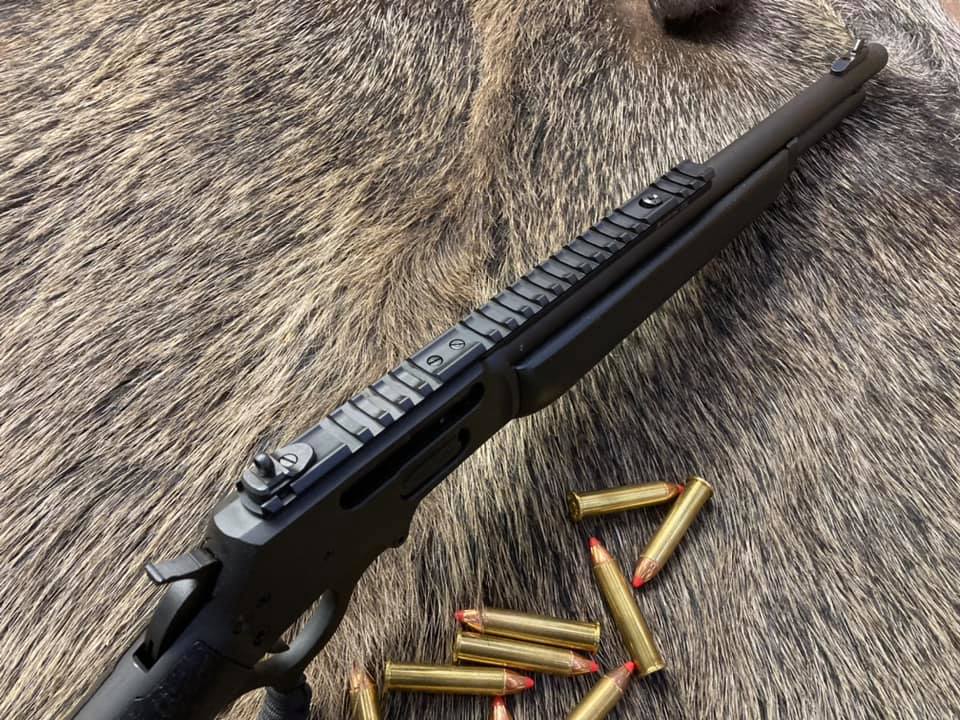 Marlin 1895 DARK with XS Lever Rail and Sights
XS rear sight: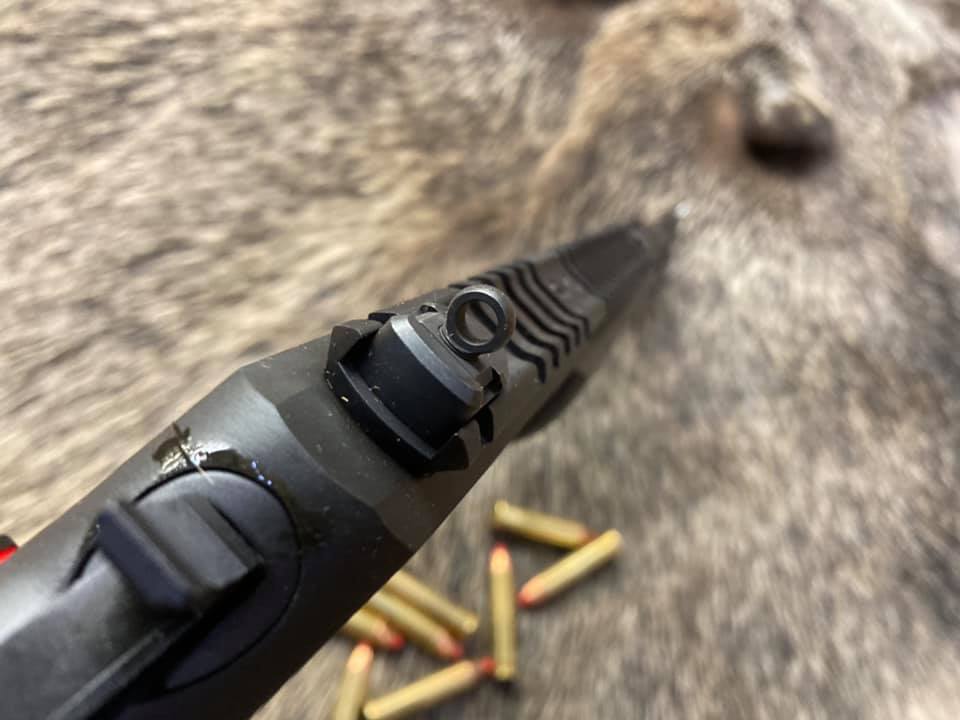 Marlin 1895 DARK with XS Lever Rail and Sights
Conclusion
Marlin lever-action rifles aren't only for those who like western movies or want to hunt T-Rex dinosaurs. With all of the tactical upgrades available, you can use it for almost any purpose. Chris Costa, a famous firearms instructor, built a really cool tactical lever-action rifle; for example, .45-70 rifles have enough stopping power even for a big game.