Olight Warrior X Pro Flashlight Review
As a shooter and an avid camper, I have seen and used many different flashlights. I've learned over the years which features are important to me and which I can do without. When I got a chance to take the Olight Warrior X Pro on a camping trip recently, I jumped at the chance.
Review of Olight Warrior X Pro
I love the Warrior X Pro. It's built tough enough to survive any deployment and has all of the right features. It has a super bright light that seems like it shines for miles. The rechargeable lithium-ion battery will save you money on replacement batteries. My favorite feature has got to be the magnetic charging cable. Simply place the charger near the metal end cap and "Snap!" it clicks into place and starts to charge.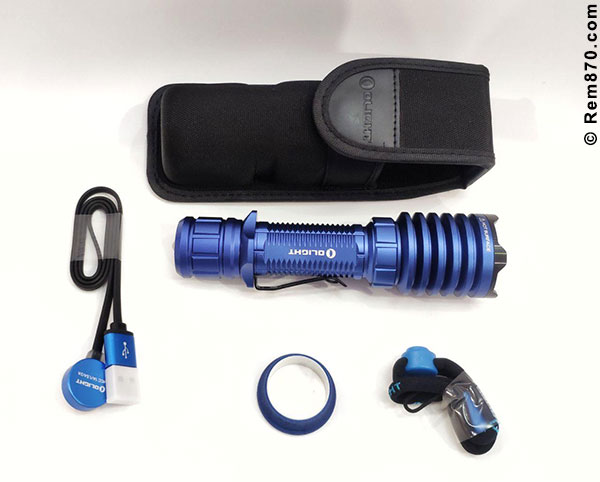 Flashlight Design
The Warrior X Pro is designed to be tactical. Police and military will love the tactical feel of this flashlight. It's designed with first responders in mind. It has a solid aluminum body with ridges along the body to ensure a solid grip. The design of the body allows for a sure grip with the thumb positioned on the thumb cap on/off button. I never worried about dropping this flashlight while I was camping. Even wearing gloves the flashlight is easy to grip. And when you're not using it, the heavy-duty clip provides excellent retention in your pocket or on a belt. The end cap on/off button has two positions, hard press for Level I mode which gives you all 2,250 lumens, or you can half-press for Level II mode, which produces 300 lumens. I suggest using it in Level II most of the time unless you really need that extra boost. Using Level I mode severely drains your battery life and runtime.
Lumens
The Warrior X Pro from Olight produces an amazing 2,250 lumens that can shine a maximum distance of up to 600 meters. I was camping with this flashlight on the shore of a pretty large lake, and at night it could shine from one side of the lake to the other. In most situations, the 300 lumen Level II mode will be adequate. However, if you're a police officer and this is your duty flashlight, I could see using Level 1 (2,250 lumens) to temporarily blind a suspect.
The brightness of 2,250 lumens is hard to describe without seeing it. The average camping flashlight is between 150 – 300 lumens, and that's more than adequate to light up your campsite. At its brightest, the Warrior X Pro is 10-15 times brighter than the average flashlight. You can be in the middle of a forest with no star or moonlight in the middle of the night and this flashlight will light up everything around you as if it were the middle of the day. The spread of the flashlight also illuminates a wide path as opposed to a narrow beam, so much so that the light sometimes seems to shine behind and around trees or other obstacles.
Battery / Runtime
With the Warrior X Pro you get nearly twice the runtime of the Warrior X. Up to a full 8 hours on a single charge with the included 5000 mAh lithium-ion rechargeable battery. Charging is simple with the magnetic clip-on charger. A full charge takes about 2 hours.
If you plan on using the full 2,250 lumens at all, it's advisable to always keep the Warrior X Pro fully charged. The Level I (full lumens) is really only meant to be used for short blasts, 1-2 seconds at a time. Olight says that the battery will last only 2 minutes on Level I, so be sure to use it sparingly.
Other Features
One of Olight's trademark features is the magnetic charger. To charge the lithium-ion battery, simply connect the MCC3 fast magnetic charger to the metal endcap and it snaps into position and begins charging.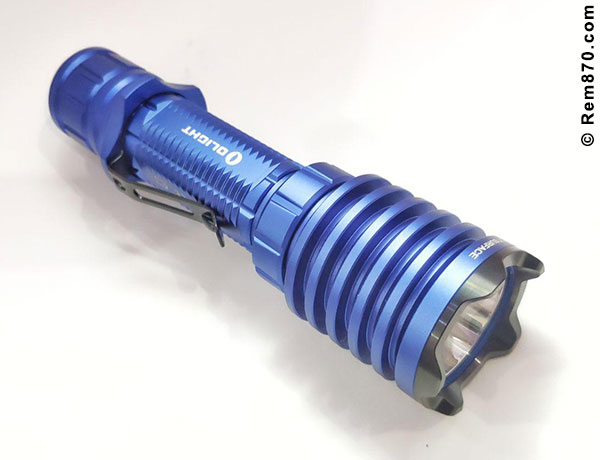 One of the best features of the Olight Warrior X Pro is its durability. It can withstand repeated drops from a height of 3 meters with no damage whatsoever. Anyone who has routinely used flashlights knows that you will end up dropping them from time to time. Dropping your flashlight shouldn't be a death sentence for the light, that's why Olight designs their flashlights to pass strenuous drop tests from heights up to 3 meters. If you drop your flashlight at night and it goes out, you are S-O-L. Trust the durability of the Olight to keep you in the game.
Speaking of durability, the Warrior X Pro is also rated IPX 8 for water resistance. This means that the flashlight can be submerged into water at depths past 1 meter and still function properly.
Conclusion
A good flashlight can be a lifesaver. Police, military, campers, hikers, and numerous other people all rely on a dependable source of light to keep them safe. With the Olight Warrior X Pro, they will never have to worry about illumination again. Keep your Warrior X Pro charged during the day and it will provide you with up to 8 hours of illumination each night. The ultra-bright 2,250 max output is enough to temporarily blind any adversary or to reach deep into the night to light the way during a search and rescue.
The Olight Warrior X Pro is full of features that make it extremely user-friendly. It also has the durability and reliability that police and military can rely on. If you're looking for a dependable, high output rechargeable flashlight that won't break the bank, check out the Olight Warrior X Pro.
High Lumens Tactical Flashlight | Olight Store