Tritium Night Sights for Shotgun
What is Tritium night sight?
If you are someone who wants to have better shooting sight with your shotgun at nighttime, then Tritium night sights are what you'll want to install onto it. These particular sights have the ability to illuminate on their own by relying on a small amount of tritium gas that glows. This glowing gas creates a bright dot which you can see in dark or dim areas. The tritium gas should be able to last you for 10-12 years before you have to replace it. Tritium night sights are the opposite of fiber optic sights, which are helpful for aiming in the daylight. The night sight can replace the current front sight of your weapon and give it a focusing ability that it didn't have before.
One of the biggest benefits of having a tritium night sight for your shotgun is that you don't have to use batteries with it. This will save you a lot of money if you frequently go shooting at night. Other kinds of sights, like red dot sights, cost people a lot of money each year in batteries alone. Plus, they need to be switched on when you want to use them and the tritium night sights glow all the time. Tritium night sights do not require any light exposure and their exterior is durable enough to sustain many harsh environmental conditions. Most of the tritium night sights are made in the United States by American gun parts manufacturers. So, you can be sure you're getting the very best sight possible.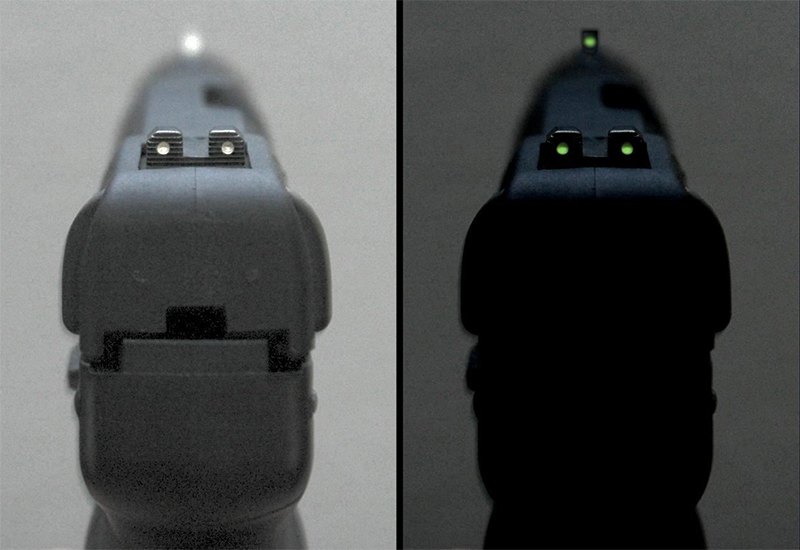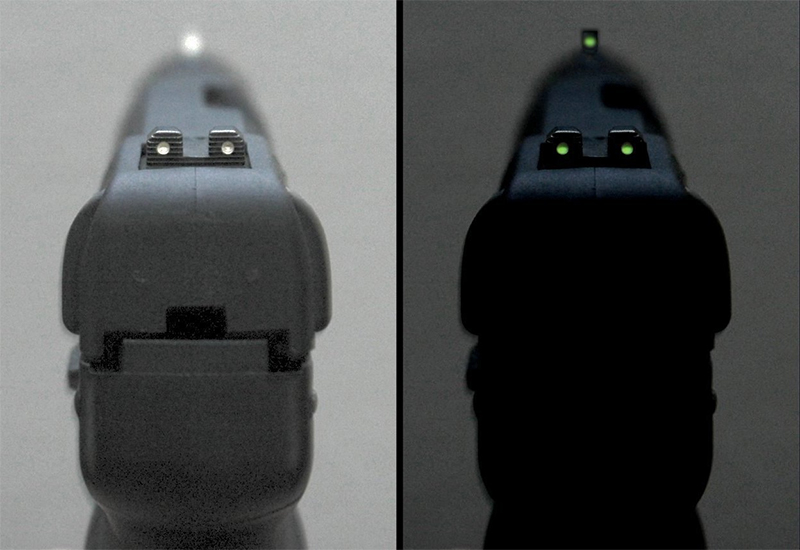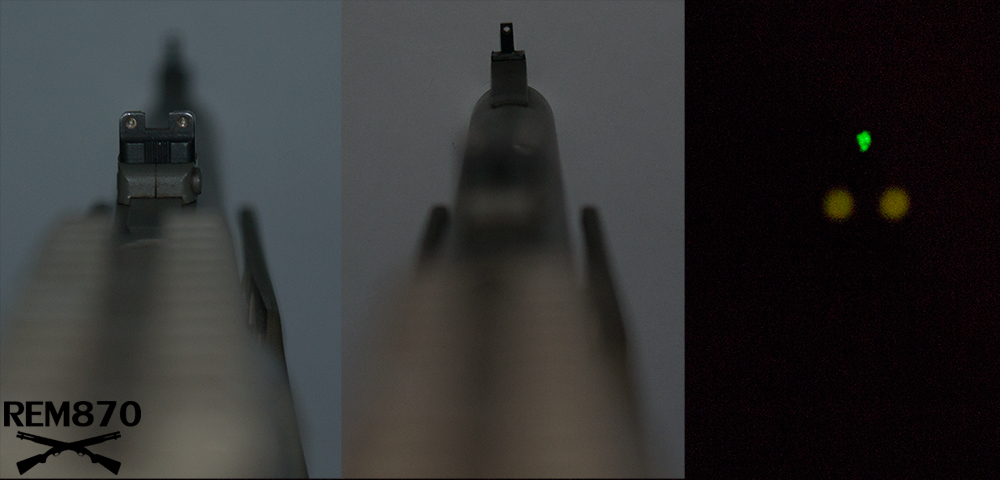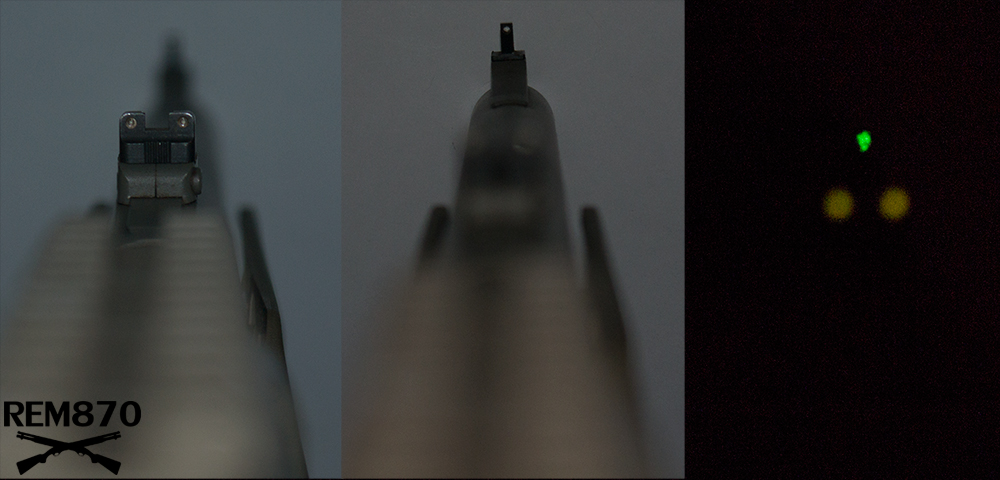 Why you need night sight on your shotgun?
If you go shooting at nighttime with your shotgun, then it will be a big challenge to see which direction you're shooting at. Fortunately, there are night sight accessories that you can attach to your shotgun so you can see where you're pointing your weapon. Now some people might complain that you still can't see your target in the dark with a night sight. However, what it does allow you to do is aim your weapon in the dark because the night sight will emit a small green light from the tritium gas inside of it. So, for example, if an intruder were to break into your home and cut the power in the house, you'd still be able to aim your weapon with the night sight on it. Remember it is not powered by batteries so the light will always stay on. Just make sure you keep the night sight attached to your shotgun at all times and you will be able to aim it whenever you need it.
Night sights are very small attachments that can go on the front or rear of your shotgun. They are also very lightweight so it won't make your shotgun any heavier when you're carrying it around. All this convenience makes it easy to add on other attachments to your shotgun, such as a tactical flashlight. With the night sight and flashlight on your shotgun, you would be able to both see your target and aim precisely at it. Night sight it can be seen in both darkness and daylight environments.
If economics is a factor in your decision to purchase a shotgun accessory, then rest assured that the tritium night sight will not break the bank for you. The average tritium night sight costs anywhere from $40 to $100. That is considered to be very cheap as far as sight accessories go. Best of all, they are easy to attach to your shotgun and won't require you to go to a gunsmith or learn any special skills with firearm assembly. But just in case you still have problems, the sights come with instructions that are easy to understand.
Meprolight Shotgun Night Sights for Benelli, Remington 870 and Mossberg 500/590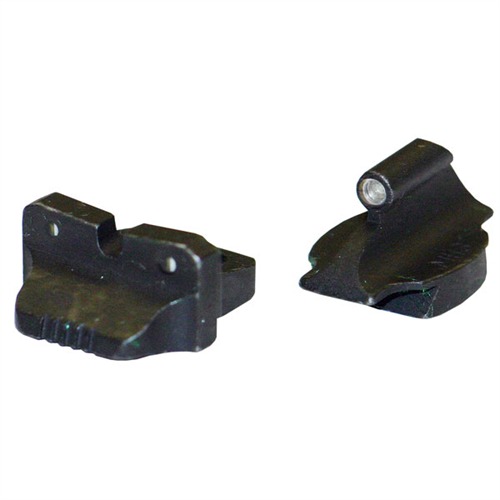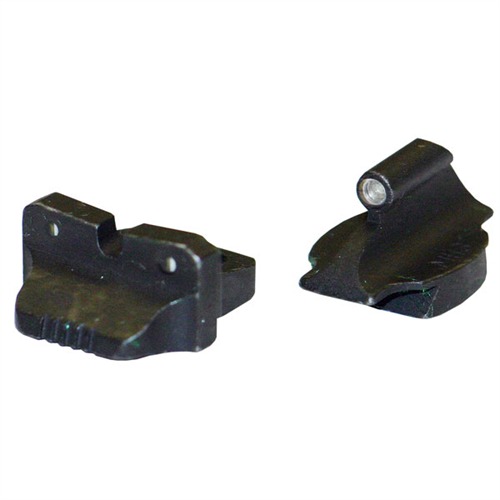 The Meprolight Tru-Dot Sight Set replaces factory Remington 870 rifle sights. This is one of the best solutions for adding night sights to your Remington 870, Remington 1100, or Remington 11-87 shotgun. These night sights use tritium gas to create a bright green dot that can be seen in darkness. But what makes the Meprolight particularly special is its brightness level. When compared to other standard tritium night sights on the market, the Meprolight shotgun night sight is 20% brighter. This will make it much easier for you to aim weapon in the dark. Also, don't worry about running the lights with oils or solvents because the light tubes inside of the casing are sealed tight through a special bonding process that is patented by Meprolight. This bonding process involves the use of blue steel, which ensures that the night sight can sustain tough environments without any risk of damage to it.
The Meprolight night sights are sold in a set of two. One night sight attaches to the front sight area of your shotgun while the other night sight attaches to the back as a rear sight. You will notice right away that the light of the front sight dot is a little bit brighter than the light of the rear sight dot. This is how the shooter will be able to focus and aim at their target effectively. All Meprolight Tru-Dot night sights can be purchased with a 10-year warranty on its illumination ability. This means if the illuminating light of the night sight stops working within the 10-year period after you purchase it, then you can get it replaced for free by the manufacturer.
The Meprolight Tru-Dot night sight is priced at around $101. This is a little bit more expensive than the average tritium night sight but it is well worth the money. The night sight is compatible with three different models of the Remington shotgun. Plus, it will also fit multiple versions of each model as well. Just make sure that you have barrel with rifle sights. For example, if you own a Remington 870 Magnum Express or a Remington 870 Tactical, the Meprolight night sights can attach to either one of these weapons. All you have to do is make sure it is a Remington 870, Remington 1100, or Remington 11-87. Best of all, the attachment process can be done within minutes and you don't need any experience to do it either. You can read the instructions quickly and learn everything you need to know from there.
Scattergun Technology – Remington Trak-Lock Ghost Ring Front Sight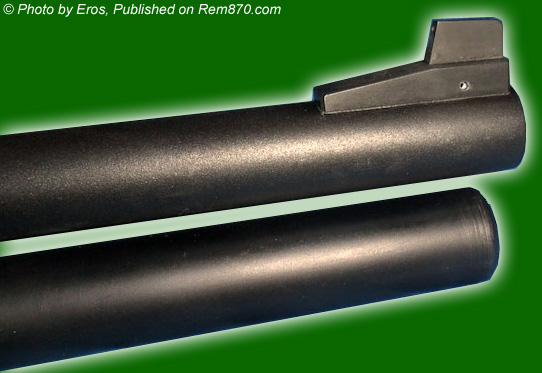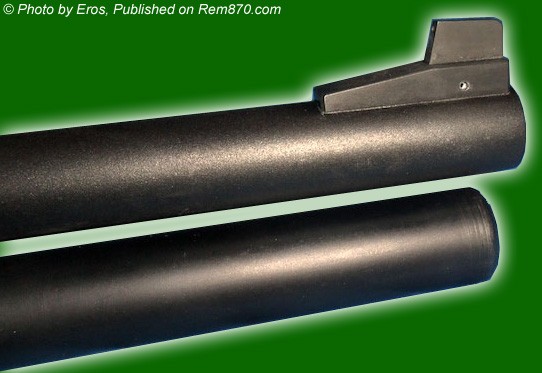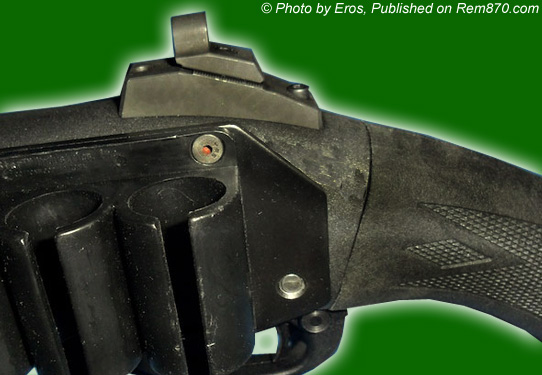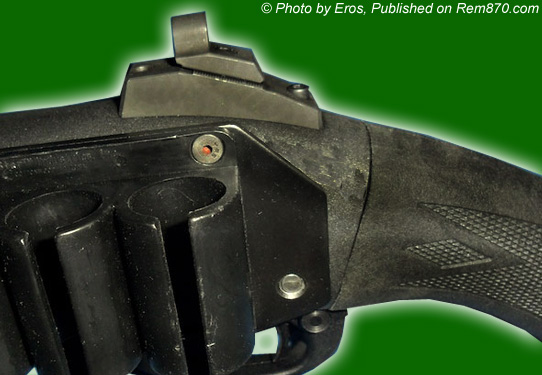 The Remington Track-Lock Ghost Ring Front Sight by Scattergun Technology is one of the best sight attachments you can ever put on your shotgun. What makes this sight particularly special is that its light source comes from tritium gas rather than from a battery, laser, or bulb. This tritium sight is self-illuminating so you never have to worry about turning it on or off. That way, the light can always be seen in the dark no matter if the gun is in your possession or not. This makes it perfect for virtually any type of use. You will benefit from having this front sight no matter if you're a hunter, law enforcement officer, military officer, competitive shooter, or recreational shooter.
The Track-Lock Ghost Ring is compatible with the Remington 870, Remington 11-87, and Remington 1100 shotgun. It is made to be a front sight attachment for your Remington shotgun, which is far superior to the standard OEM front sight that comes with your weapon. Just make sure you have a 12-gauge shotgun because it can only fit on barrels with this gauge. There is no epoxy accessory that comes with this sight either, so you have to purchase them separately. This is the only downside though because everything else about this front sight is great. Not only is it easy to install onto the shotgun, but it is aesthetically pleasing to the eye and totally safe to use.
Scattergun Technology makes all their Remington Track-Lock Ghost Ring Front Sights in the United States of America. This can reassure Remington owners that they're putting a quality front sight attachment onto their shotgun and not some knock off made in China. The price of this authentic tritium front sight with standard rear sight is $119.99. Tritium fron sight with tritium rear sight set is $149.99. You can find it for sale at almost any sporting goods website or retail store that sells gun parts. It currently only comes in a black color, but that should be fine because most Remington barrels are also black and they will blend together perfectly.
The Track-Lock Ghost Ring comes with instructions on how to install it to your shotgun as a front sight. It is very easy to do and you don't need to be a gunsmith to figure it out. After you install it, you won't ever want to take it off because it makes aiming at your target so much easier to do.
Drilling and tapping of the Remington 870 Receiver required to install the rear Scattergun Technologies rear sight.
Related post: Scattergun Technologies Trak-Lock® Ghost Ring Sight System Installation
XS Sight Systems – Remington Shotgun Tactical Ghost Ring Sight Set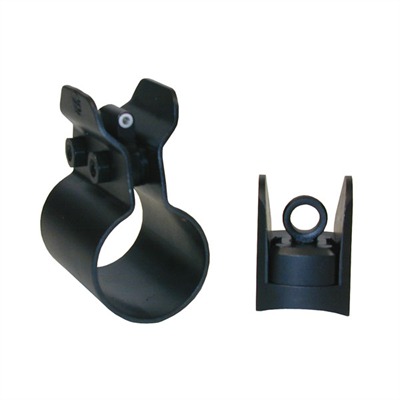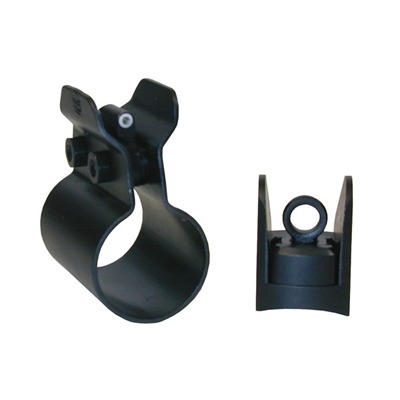 The Remington shotgun tactical ghost ring sight set by XS Sight Systems is the perfect solution for converting the front sights on your Remington shotgun into ones that will let you see in the dark or in low lit environments. This set contains banded front sights and a ghost ring rear that will surely give a tactical upgrade to your existing front sights. This ghost ring sight set is compatible with the Remington 11-87, Remington 1100 and Remington 870 shotgun. It is very easy to install and can be done in a matter of minutes. The sight set comes with shims which allow the clamps of the barrel band to firmly fit on the muzzle and secure the sight in place. By doing this, the sights will be able to handle the impact of the heavy recoil that comes from firing the weapon. Instructions are included with the ghost ring set in case you have any questions about the installation process.
The sight itself emits a green dot which is generated from the tritium that exists inside it. A thin white ring surrounds the green dot so you can easily see it both night and day. There are also steel side wings on the sights which protect its front blade from any accidental damage that may occur. Sometimes people will drop their shotgun or bang it into something accidentally, causing unforeseen damage to their accessories. Fortunately, you won't have to worry about that with this ghost ring sight set because it is durable enough to sustain all kinds of heavy impact. That is why it is a tactical-grade sight. In addition, there is a rear sight base that comes with this set and it can fit onto the shotgun's receiver. However, you will need to do some drilling and tapping for this installation to be successful. If you are not comfortable performing these actions on your shotgun, then it may be better to have a gunsmith or an experienced professional do this for you.
The cost of the Remington shotgun tactical ghost ring set is $166.50. If you are just interested in purchasing the banded front sight only, then you only have to pay $81. Someone who is a beginner will probably just want the front sight because it is easier to install. But if you are more experienced and want the full benefits of this ghost ring sight, then choose the full set and see what it can really do for you.
XS Sight Systems – Shotgun Big Dot Tritium Front Sight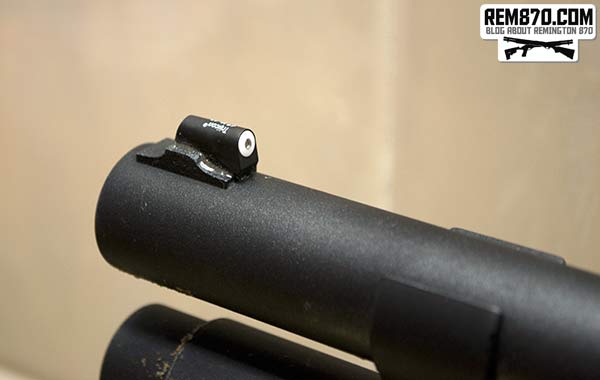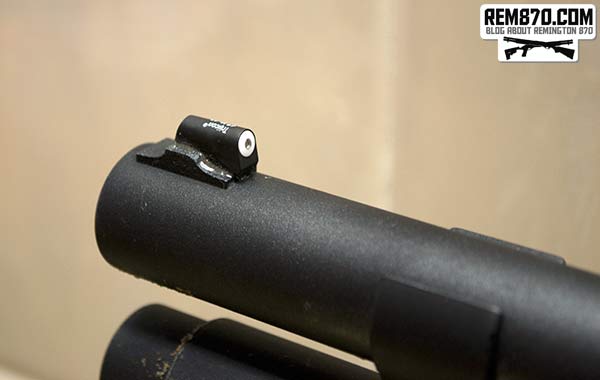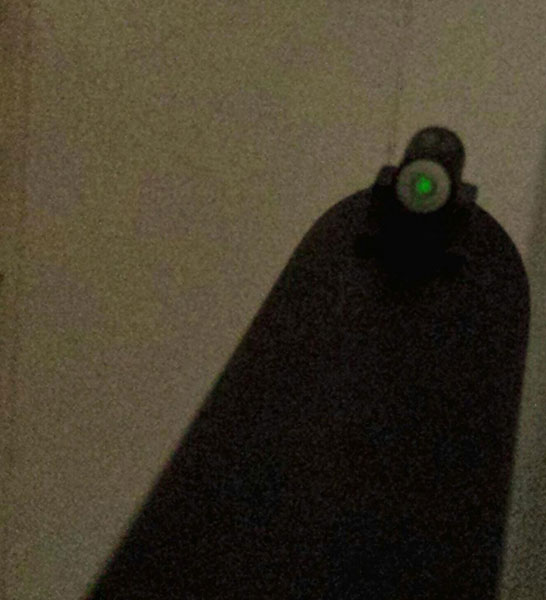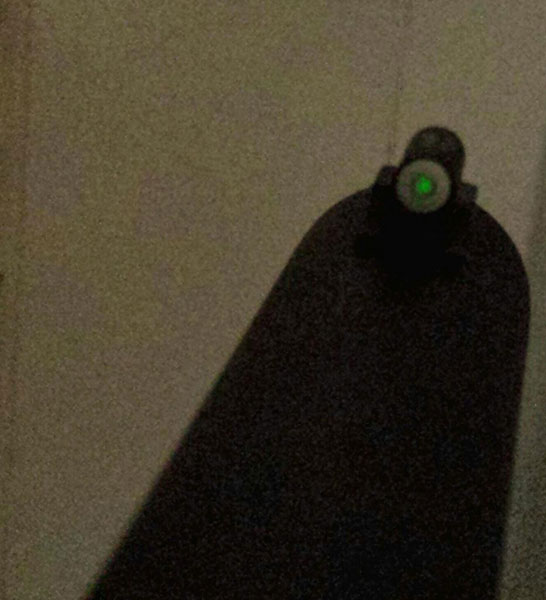 The Shotgun Big Dot Tritium Front Sight by XS Sight Systems is a tritium based front sight for your Remington 870 shotgun. It can easily be installed right over the front bead sight which came with the weapon. The tritium produces a green dot on your front sight with a large white ring that surrounds it. This will improve the focus of your target and will make it much easier for the shooter to see in the dark or in low light environments. But even if you happen to be in the daylight or some bright room, you will still be able to see the large white ring that surrounds tritium element. The best part is that it is self-illuminating and you will never have to worry about buying batteries for it.
To install this tritium front sight attachment, the front sight beads on your shotgun need to have a diameter from .125 inches to .140 inches. You will also need an epoxy to install the sight. Brownells Acraglas Gel would be perfect for this. After you fill the cavity, place the sight over the front sight bead and press down until it fully cures. If the existing bead on your weapon is too big or too small, replace it with one which matches the diameter size that was just mentioned. You may even have to do some drilling and tapping on certain shotgun barrels.
There are three versions of the Shotgun Big Dot Tritium Front Sight that you can choose from. The Remington Pedestal version can fit onto the barrels of any Remington shotgun that have a front sight pedestal. The cost of the Remington Pedestal is $58.50 and the sight color is green tritium with white ring. The Vent Rib front sight version can fit on the barrels of any shotgun that have ventilated ribs. This one also costs $58.50 and has a green color tritium element with white color ring. The Plain Barrel front sight version can fit on the shotguns that have round barrels to them. Same price and color sight as the previous two.
The Shotgun Big Dot Tritium Front Sight is easy to install as long as you pay attention to the front bead sizes. Make sure you follow the instructions if you have any doubts about what you're doing during the installation process.
Related post: Installation of the XS Remington 870 Pedestal Big Dot Tritium Sight