6 Must Have Beretta 1301 Shotgun Upgrades and Accessories
In the wide and exhilarating world of shotguns, Beretta 1301 has established itself as a firearm par excellence. As you endeavor to enhance your Beretta 1301 to match your specific needs and preferences, it is pivotal to understand the upgrades that can make a substantial difference in its functionality and performance. Here, we delve into a detailed exploration of the top 10 upgrades and accessories that can redefine your Beretta 1301 experience.

The Legacy of Beretta
Delving into the rich tapestry of firearm history, we encounter Beretta, a beacon of quality and precision, orchestrating the symphony of gun manufacturing since 1526. Founded in Gardone Val Trompia, Italy, it stands as the oldest active manufacturer of firearm components in the world. Driven by innovation and a ceaseless pursuit of excellence, Beretta has been at the helm of numerous groundbreaking advancements in firearm technology. The company has etched its name into the annals of history, serving armed forces and law enforcement agencies around the world with its unparalleled craftsmanship and a robust range of products that speak volumes about its commitment to quality and reliability. When you wield a Beretta, you are not just holding a firearm; you are inheriting a legacy steeped in history and honed through centuries of dedication and expertise. It's a journey through a story of uncompromising quality, guided by the vision of delivering the best to the shooter, whether a seasoned veteran or a budding enthusiast.
Beretta 1301: The Shotgun Par Excellence
In the illustrious lineage of Beretta firearms, the Beretta 1301 occupies a place of reverence, a testament to Beretta's ingenuity in crafting firearms that resonate with excellence and efficiency. Released to the market in the early 2010s, this semi-automatic shotgun quickly gained traction among firearm aficionados for its reliability, speed, and impressive performance. The 1301 series, which includes configurations like the Tactical and Competition variants, offers a versatile platform for both defensive and sport shooting roles. Its gas-operated system ensures a low-recoil, fast-cycling action, which is nothing short of a boon for shooters aiming for quick follow-up shots. Moreover, the shotgun boasts an optimized blink gas operating system that enables it to shoot four shots in less than one second, setting a new benchmark in speed without compromising on reliability and accuracy. As you embrace the Beretta 1301, you walk a path that is a blend of tradition and modernity, where every shot is a harmonious symphony of speed, power, and precision, promising an unmatched shooting experience.
1. Extended Magazine Tube
Advantage: Enhances ammo capacity.
Consideration: May affect balance due to added weight.
Price: $$
Ease of Installation: ★★☆
Advantages: By opting for an extended magazine tube from renowned providers like Nordic Components, you significantly enhance the shotgun's shotshell capacity. This upgrade not only augments your firepower but also reduces the frequency of reloads, thus ensuring that you can maintain a defensive posture for a longer duration during critical situations.
You can choose the Nordic Components magazine tube. Just remember that you need: nut, tube, end cap and spring.
2. Tactical Stock
Advantage: Tailored fit for individual physiques and Close Quarters Battle.
Consideration: May be not suitable for hunting or clay shooting.
Price: $$$
Ease of Installation: ★★★
Incorporating a stock such as the Mesa Tactical Urbino Tactical Stock System ensures a custom fit, catering to various body types and shooting styles. This customization promotes better gun control, reduces recoil impact, and enhances shooting accuracy, offering a personalized and comfortable shooting experience.
MESA TACTICAL PRODUCTS, INC. URBINO PISTOL GRIP STOCK FOR BERETTA 1301
For Beretta 1301 semi-automatic shotguns, Mesa Tactical sells a stock with a shorter length of pull known as the "Urbino" stock. Due to the shorter length of pull, which enables the user to wear body armor or thick clothing without extending their reach, the Urbino stock kit is highly well-liked in the police enforcement sector.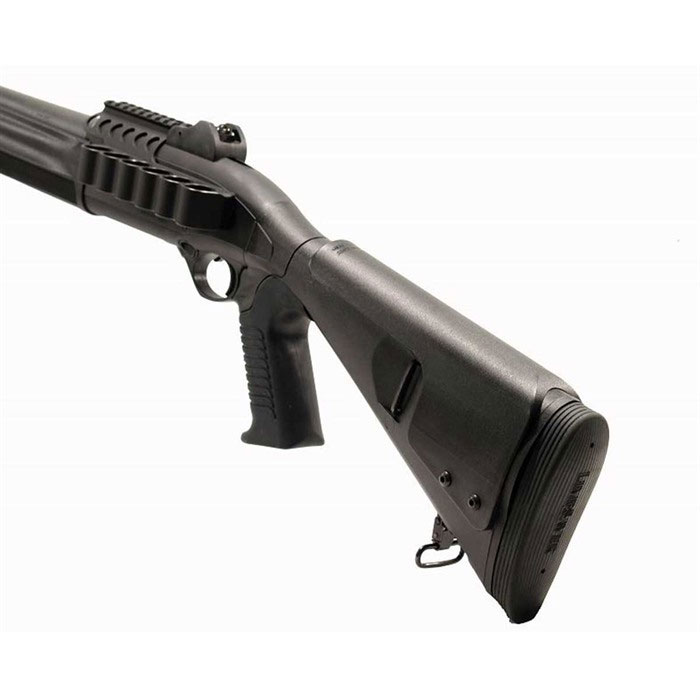 The Urbino is the first genuinely tactical stock for the Beretta 1301 tactical shotgun thanks to the shorter length-of-pull (LoP). The Urbino Tactical Stock is a glass-filled nylon injection-molded fixed-length pistol grip shotgun stock. The tough Urbino Tactical stock has a 12 1/2′′ LoP, soft urethane rubber grip and was designed to suit the demands of law enforcement and military users. No gunsmithing is required for installation; all hardware is included
3. Enhanced Bolt Release Button
Advantage: Quick reload times. Fixes possible malfunction.
Consideration: Increased risk of unintentional releases.
Price: $
Ease of Installation: ★★☆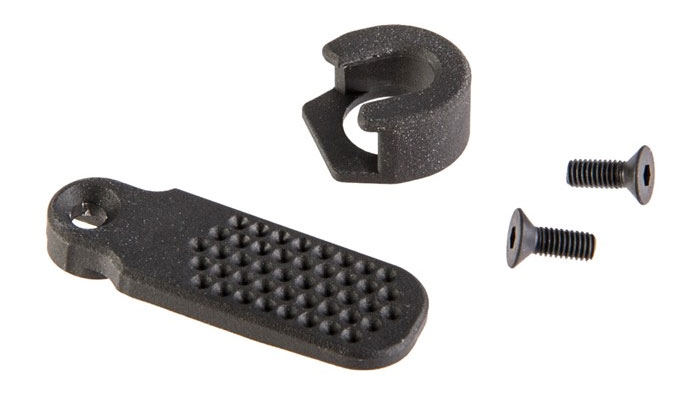 Introducing an enlarged bolt release button, such as options from Aridus, facilitates smoother and faster reloads. This is crucial in high-pressure scenarios where every second count. It helps in avoiding fumbling during reloads, thereby increasing the speed and efficiency of the operation.
4. Improved Charging Handle
Advantage: Grants a substantial grip.
Consideration: Might snag on clothing due to more pronounced profile.
Price: $
Ease of Installation: ★☆☆
Advantages: A tactile charging handle from established brands like GG&G ensures easy grasping, facilitating smooth operation, and quick cycling of shells. Especially in high-pressure situations, being able to reliably chamber a round can potentially be a life-saving upgrade.
Beretta 1301 Comp Pro has Improved Charging Handle from the factory.
5. Enhanced Safety Button
Advantage: Ensures safer use through better accessibility.
Consideration: Might induce unintentional disengagements.
Price: $
Ease of Installation: ★☆☆
Advantages: Upgrading to an enhanced safety button from Taran Tactical Innovations ensures rapid engagement and disengagement, promoting safer and more confident firearm handling. It fosters a swift transition between safety and firing modes, enhancing responsiveness in dynamic shooting environments.
Beretta 1301 Comp Pro has Enhanced Safety Button from the factory.
6. ARIDUS Industries LLC Beretta 1301/Mossberg 590 SGA Stock Adapter
Advantages: This upgrade not only facilitates the attachment of Magpul's versatile SGA stock to your Beretta 1301 but also to the Mossberg 590. It thereby extends the customizability and ergonomic benefits of the SGA stock, renowned for its adjustability and durability, to your shotgun, enhancing both comfort and control.
The Magpul SGA shotgun stock has become a favorite among shotgun enthusiasts nationwide, especially those with Mossberg 590s. However, for Beretta 1301 owners, accessing this popular design was previously out of reach. Enter Aridus Industries and their game-changing solution—the Beretta 1301/Mossberg 590 SGA Stock Adapter.
Crafted from high-quality 6061 aluminum with a military-spec hardcoat-anodized finish, this adapter from Aridus Industries is a game-changer. The precision machining ensures durability, and the adapter is paired with a custom-designed fastener made from robust 4140 steel. This combination allows for the seamless attachment of the coveted SGA stock to the Beretta 1301.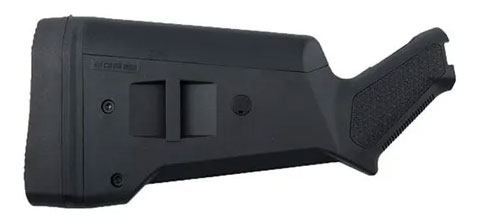 The advantages are clear: owners of the agile and lightweight Beretta 1301 can now experience the enhanced ergonomics of the Magpul SGA shotgun stock. The SGA stock brings with it features such as length-of-pull adjustments, sling-mounting points, and more. With Aridus Industries' innovative adapter, Beretta 1301 users can finally enjoy the same benefits that shotgunners across the nation have been raving about.
Conclusion
Each of the upgrades and accessories outlined above brings a unique set of advantages to your Beretta 1301, taking its functionality, safety, and efficiency to new heights. Leveraging these enhancements can lead to a much-improved and personalized shooting experience. Be it the seasoned veteran aiming for the perfect shot or the newcomer eager to make a mark, the Beretta 1301, rich with potential and backed by the towering legacy of Beretta, offers a canvas ripe for customization, promising an adventure that is exhilarating, safe, and precisely tailored to meet the shooter's desires.