You Can Now Buy Remington 870 Online
You can now purchase firearms online at Cabelas.com! Including many models of the Remington 870:
Buy Remington 870 Online
When you purchase a Remington 870 shotgun online, it is best to purchase from a reputable retailer that has a long history of selling weapons and other outdoor sports related merchandise. That is why there is no better retailer out there for purchasing a Remington 870 than Cabela's. They have a wide selection of pump action shotguns like the Remington 870 that you can choose from. The brilliant thing about searching for a shotgun on Cabela's website is they let you narrow down your search to the brand that you want. This makes it easy to filter your search results so you only have Remington 870 shotguns listed.
When you search the "Firearms" category of their website, you will be given plenty of filter options to narrow down your search. First, you will want to click on "Shotguns" for the main category and then "Pump-Action" for the subcategory. After that, you can narrow down the search even more by choosing the brand you want. While you may see other shotgun brands like Benelli and Mossberg listed there, Remington is the brand you'll want to choose. Once you do that, the search results will list over ten Remington 870 models that are available for sale. This includes the Remington 870 Express Synthetic Tactical, 870 Express Compact, 870 Express Super Mag Waterfowl, 870 Express Super Magnum Hardwood, 870 Express Hardwood, 870 American Classic and the 870 Slug. You'll find the prices of these weapons range from $399 to $1,500, depending on the version you want. Plus, some of the listing pages have reviews and star ratings associated with the weapons from other customers who had purchased them. This will give you a firm idea as to which weapon is worth investing in and which one is not.
If you want to narrow down your search even more, you can even filter the gauge of the Remington shotguns. The two choices listed are the 20 Gauge and 12 Gauge, which are the two most powerful gauges for any shotgun. As for the tactical versions, they typically hold more rounds and they have synthetic stocks which are weatherproof. You can even purchase an upgrade to the Tactical version by adding Ghost Ring sights to it too. And right now, when you purchase ammo on Cabela's, you only have to pay $5 for shipping if your order is at least $99. So, if you end up purchasing ammo for your Remington 870 through Cabela's then look out for that amazing deal as well.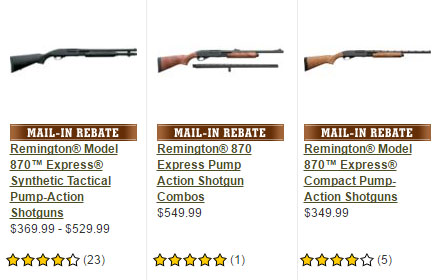 -Remington® Model 870™ Express® Synthetic Tactical Pump-Action Shotguns
-Remington® 870 Express Pump Action Shotgun Combos
-Remington® Model 870™ Express® Compact Pump-Action Shotguns
-Remington® Model 870™ Wingmaster® Pump-Action Shotguns
-Remington® Model 870™ Express® Super Mag Waterfowl Pump-Action Shotgun
– Mossy Oak® Duck Blind®-Remington® Model 870™ Express® Super Magnum Laminate Pump-Action Shotgun
-Remington® Model 870™ Express® Synthetic Pump-Action Shotguns
-Remington® Model 870™ Express® Laminate Pump-Action Shotguns-Remington® Model 870™ SPS SuperSlug Pump-Action Shotgun
-NEW! Remington® 870™ Commemorative Shotgun-Remington® Model 870™ Express® Super Mag Synthetic Pump-Action Shotguns
-NEW! Remington® 870™ Wingmaster 200th Anniversary Limited Edition Shotgun
-Remington® 870 SPS Super Mag Turkey/Predator Pump-Action Shotgun with TRUGLO® Red/Green-Dot Scope