CDM Gear MOD-C Flashlight Clamp for Shotguns (Remington 870 and Mossberg)
I decided to write one more article about CDM Gear MOD-C Flashlight Clamp after night shotgun training I participated recently. Tested several clamps and flashlights and was impressed by CDM Gear MOD-C Flashlight Clamp again. I have it on my shotgun but this was the first time when I spent several hours working with it and shoot many night drills with flashlight.
There were several other shooters with different flashlight clamps. All I can say is that magnetic clamps are not 100% reliable, there is always a chance of such clamp falling off under recoil. If it won't fell off under recoil you may hit something with your flashlight and it will fall off anyway.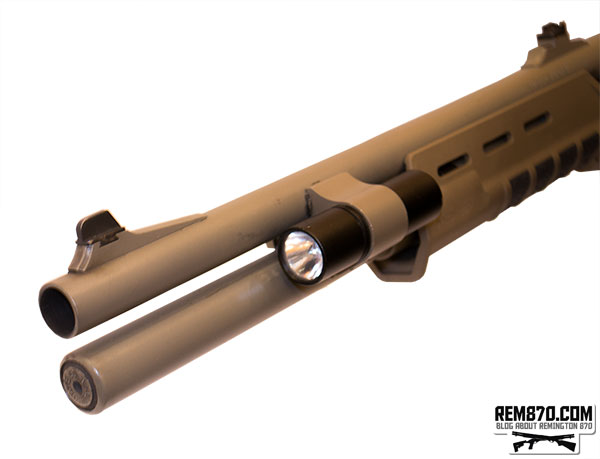 There are many other shotgun flashlight clamps which you can use. Some are made of plastic like the Elzetta flashlight clamp some of made of aluminum like CDM Gear MOD-C Clamp. I prefer aluminum magazine clamp because it's sturdy, lightweight and low profile.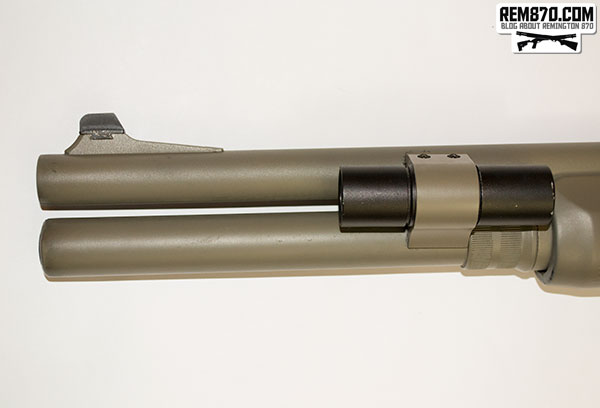 So, what was the main problem with flashlight clamps on a night shotgun training? They were moving under recoil or even falling off. Scratches on a magazine tube and a barrel weren't the biggest problems. The biggest problem is that you cannot be 100% sure in such flashlight holders. You need something rock solid you can rely on. That is why I really liked how my Remington 870 with CDM Gear MOD-C clamp was functioning. No movement under recoil, no scratches because 3M polyuerathane pads were attached to the clamp. Such pads are included and not only protect finish but also eliminate any movement.
Some people don't know but you can attach quick detach swivels on the other side of the CDM Gear MOD-C clamp. This feature is very handy when you need to attach a sling.
CDM Gear MOD-C Flashlight holder is not only holds your flashlight reliably but also works as a barrel and magazine clamp. So it has lots of features which you receive in a low profile, light weight, compact and reliable piece of equipment.
I communicate with Scott from CDM Gear often and always wait for new innovative products from him. Also read an interesting story of creation of the CDM Gear flashlight clamps.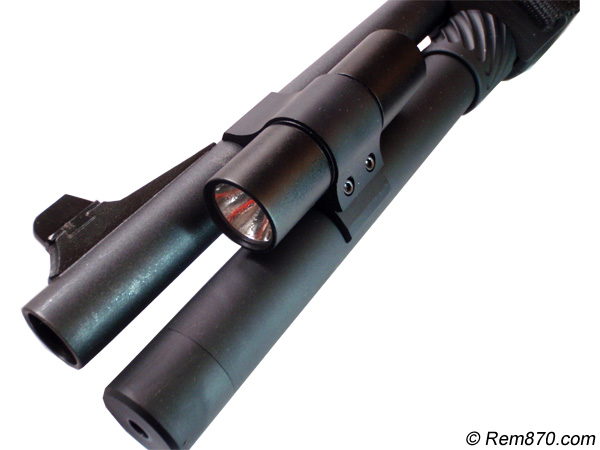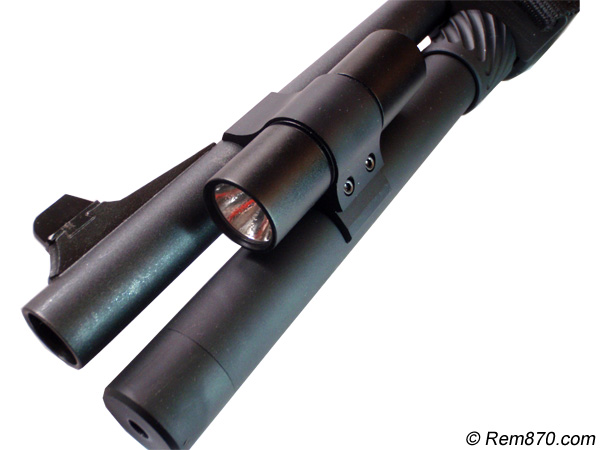 The only small problem I can see is that I may need new screws because of the wear caused by installation and removal of flashlight and clamp. I do it often because I test new flashlights regularly, you may not see any wear if you don't change flahslight often.
Comment from Scott from CDM Gear:
"Because of high wear we now use a single 8-32 screw instead of the 4-40 screws. Our threads are also now formed (pressed in), instead of cut, which, along with mul spec hard anodizing, makes for a harder thread. All our newer updated products have this feature."
And that is why I like CDM Gear. Scott constantly improves his products.
This is my favourite way of attaching flashlight to a shotgun. I highly recommend it to any shotgun owner. And remember that flahslight is one of the most important upgrades you can get for your home defense or tactical Remington 870.
P.S.: CDM Gear flashlight clamps available only in black color. I have painted mine with Gun kote gun paint.
P.P.S.: I use MOD-C clamp with FAB Defense Speedlight, it is compact, bright and works very good under heavy shotgun recoil.