Remington 870 or Mossberg 590, What is Better?
One of the frequently asked questions. Both shotguns are used by military and law enforcement. Remington 870 and Mossberg 500/590 are produced in hundreds of thousands and well known around the world. Each of them has its own advantages and disadvantages.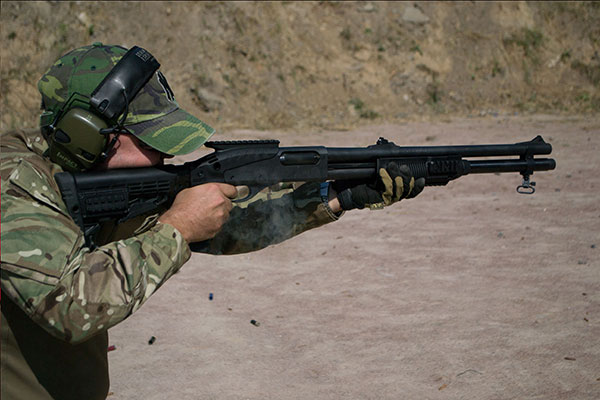 .
What is better: Remington 870 or Mossberg 590? This is very simple question if you fan of Remington 870 or fan of Mossberg 500/590 but very difficult when you try to answer it unprejudiced.
It is difficult to say which one is definitely superior over the other one. So, let's have a closer look at advantages and disadvantages of each shotgun.
So what are the advantages of Remington 870?
-steel receiver
-all parts are tight and solid
Advantages of the Mossberg 500/590 shotgun:
-shell carrier (lifter) comes down when it need to lift a round. All the other time it is hidden and it is easier to load rounds into a magazine tube
-two extractors
-easier replacement of the ejector
Disadvantages of the Mossberg 500/590 shotgun:
-aluminum receiver
-it is impossible to isntall longer magazine tube on Mossberg 500 shotguns without buying kit with new barrel and magazine tube
-you don't have that feel of solid shotgun when you rack it, forearm rattles
-plastic safety
Disadvantages of the Remington 870 shotgun:
-rough chamber on the newer shotguns
-two dimples in magazine tube
-difficult procedure of ejector replacement
There are also questionable features which may look like advantage or disadvantage depending on what you are looking for:
Safety button
Safety button located on top of the receiver on Mossberg 500/590. Left handed shooters find safety button on Mossberg much more convenient than on Remington 870 shotguns. But it is absolutely impossible to use Mossberg safety comfortably if you have pistol grip stock installed. Remington 870 safety is located behind the trigger guard which is good but not the best location.
Advantages of both Remington 870 and Mossberg 590
There hundreds of accessories available for these shotguns. Remington 870 and Mossberg 500/590 are so popular and easy to customize so many companies manufacture stocks, forends, sidesaddles and other upgrades. Parts are easy to find and available on many sites. It is much more difficult to find accessories, upgrades and parts for less popular shotguns.
Read also: Infographic: Remington 870 vs Mossberg 500