New Voodoo Tactical Shotgun Case
Here is review of the New Voodoo Tactical Shotgun Case from Chief Brody from Remington 870 Forum:
Hey guys, I wanted to show you a new soft case I just got from Midway. This is the Voodoo Tactical Enlarged Shotgun Case (Item no. 15-0083). After sitting on the fence for a while about ordering one, I am very impressed with the case. It is very sturdily built with 900D poly, large heavy duty zippers, lots of MOLLE, four shell pouches, another larger zippered pocket, more shell storage inside…Lots of well-thought out and nicely-executed features.
This is the case, with the detachable, padded shoulder strap above it. I don't see myself ever using that strap but some might so it's great that it's included.
Inside of the case. There are four velcro straps that slip underneath the webbing that runs the length of the case. I opted to use two of them for a secure fit of my 870P. The straps are fairly long, so you may end up folding them over to shorten them and keep the strap snug against the shotgun.
The muzzle compartment is designed to accept shotguns with tac lights attached – In this picture, my Streamlight TLR-1 is indeed mounted to the gun and the whole setup is very secure and protected in the case.
There are four shell pouches on the front of the case.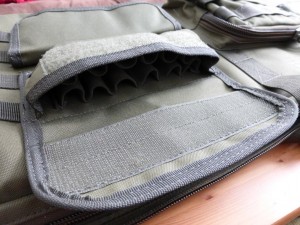 Each pouch holds twelve 12-gauge shells. It's a tight fit, but there they are.
The larger, zippered pocket.
Large, heavy-duty zippers. Worth noting here, there is no way to lock this case. Not really an issue for me, but some shooters may require that ability.
Close-up of the webbing and the velcro strap inside the case.
Embroidered logo.
This is a huge upgrade from the flimsy, no frills Plano gun case I've been using. I'm expecting the Voodoo Tactical to last a long time and see a lot of use. If any of you guys have seen these online and weren't sure about them, I hope I was able to help.
Thanks,
Steve