Positive Review of Remington 870 Guide from Dr. Bruce N. Eimer
Received positive review of Remington 870 Guide from Dr. Bruce N. Eimer. I can't tell you how important this feedback for me because I respect Bruce and really like his work.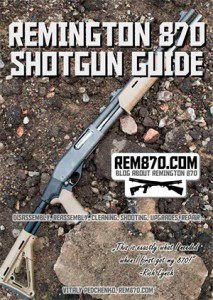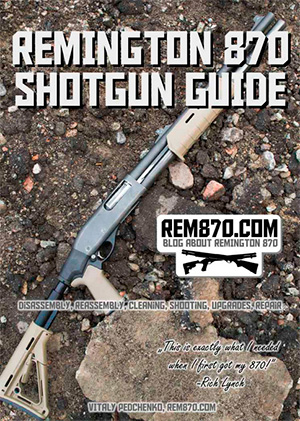 Remington 870 Guide Review from Dr. Bruce N. Eimer:
"This e-Book is a treasure trove of information on the Remington 870 shotgun and most of its variants.
The 870 is the most used American police shotgun for a reason. It is durable, it works reliably and smoothly and packs a solid punch. It is like the AK of shotguns but it has the finesse of an M-16.
This book by Vitaly Pedchenko is THE book to own AND read thoroughly if you have or are contemplating purchasing a shotgun–870 or not. However, after reading this information packed bopok, you'll probably buy an 870.
In this book you will learn what this amazing weapon is capable of doing for you–how to handle it, manipulate it safely, shoot it effectively and maintain it so that it lasts you for years. If you invest at minimum 300. on a 12-gauge pump, you would do well in investing in the $10.00 price of this guide book. After rweading this book, my knowledge of the 870 increase at least by 100%.
Highly recommended. There is no fat in this book. It is all meat.
Read it, refer to it, and learn everything you need to know about the Remington 870."
Bruce N. Eimer, Ph.D.
Licensed Clinical, Forensic and Police Psychologist (PA & NJ)
NRA Certified Law Enforcement Firearms Instructor
Pennsylvania State Police Certified Law Enforcement Firearms Instructor
Column Editor of the Legally Armed Citizen, Concealed Carry Magazine
President and CEO of www.PersonalDefenseSolutions.net and www.Act235Testing.com
Founder of the www.DefensiveHandguns.com
Author of ARMED: The Essential Guide to Concealed Carry. Iola, WI: Gun Digest. 2012. www.ConcealedCarryBook.com
Author of The Essential Guide to Handguns. Flushing, NY: Looseleaf Law Publications.
Armed: The Essential Guide to Concealed CarryEssential Guide to Handguns: Firearm Instruction for Personal Defense and Protection
If you don't know Bruce, I highly recommend visiting his site: http://www.personaldefensesolutions.net