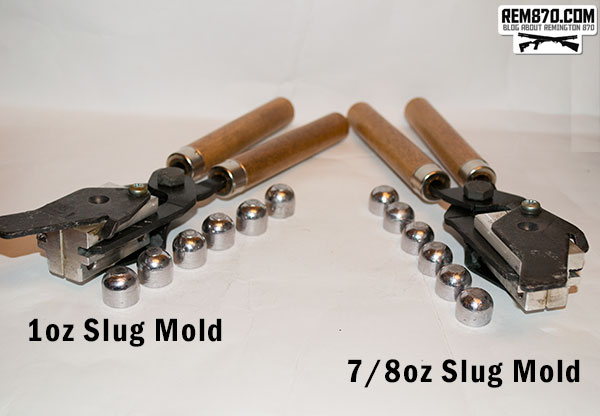 Inexpensive and easy to use. Do you have experience with Lee Slug Molds?
---
Hello Vitaly,
I do have some experience with the Lee 1oz slug mold in 12 gauge. I cast the slugs out of pure lead and load two different loads. The first load is the one recommended by Lee in the data sheet that comes with the mold. The load that I used was-
1 oz Lee cast slug
Hull-Remington STS 2 3/4" Premier hull
Primer-Win. 209 primer
Powder- 38.5 gr. Accurate #5
Wad- Claybuster copy of WW12SL
The data sheet lists the velocity of this round at 1535 fps, I believe it! This round is meant for deer hunting, it is very powerful. I made a few boxes, I don't think I will make any more. I was looking for a Cowboy Action style of slug load, something that was more like 1,000-1,100 fps. I asked a good friend of mine who is more experienced than me, he is a member on a few forums and he sent me this recipe. It is more like a light bird hunting load and is my go-to slug load now.
1 oz Lee cast slug
Hull- Remington STS 2 3/4" Premier hull
Primer- Win. 209 primer
Powder- 15.7 gr. Clays
Wad- Claybuster #CB1100-12
Here are a few pictures of the Lee mold and slugs, and my reloading set up.
[/ur

[URL=http://s997.photobucket.com/user/Killer ... .jpeg.html]
---
Elite Shotgunner
Posts: 3022
Joined: Fri Dec 28, 2012 8:04 am
Location: The Inland Northwest
Contact:
Gotta love those Remington STS hulls.

That reduced-velocity load sounds like it could be a good low-recoil choice for certain defensive roles. Have you tested its penetration/deformation in water or wetpack?
---
Rabbit, thanks for info and pics!

Love those shiny slugs!
By the way, me recent post:
How to Use Lee Slug Mold (Smoke, Lube, Cast Slugs)
---
Hello Synchronizor,
No, I have not tested the slug load. That sounds like it would be fun to try!
I believe that my friend George just substituted my 1 oz slug for the 1 oz of bird shot that was listed in the Hodgdon data manual. I am using this slug load in a Mossberg 590 with a cylinder bore. I am casting the slugs with pure lead and I really like the fact that this load has such low recoil. As I get older, I find I am drawn to the lighter loads, this load is so low recoil, you might think there is a string on the back of the slug! Don't get me wrong, I would not stand in front of this load, but you can shoot this round for a long time and not get fatigued.

Vitaly, I wish there was a "Like" button on this site like on Facebook, I would "Like" your Lee slug mold primer.
Rabbit
---
Rabbit, how long do you use MEC shotshell press, by the way? It is more expensive than Lee Load All, for example. Is it worth it?
---
Hello Vitaly,
I have had the MEC for years, I think it has been worth the money. I own two of them.

You might not believe this but I started with a MEC progressive that was gifted to me by a friend of my father when I was in high school. I did not like it, I traded it later for this model. The guy I traded with thought I was crazy but I don't shoot that much and the single stage was a better fit for me.

I recently decided to load for a .410 and I was looking for another MEC online. Man, have they gone up in price! I was watching E-Bay, and reading sites on line. A friend suggested buying the die set, MEC sells a die set to convert their presses to a different gauge and that is what I did. Here is a tip, when I called MEC to ask about the conversion, the guy I spoke to (Gordy) told me that sometimes MEC gets presses back that have been used. Maybe they used them in a store for demo, but when they get them back, they can't sell them as new. He told me he would look and see if they had one in .410. I was not lucky that day, Gordy thought it would be better to buy the MEC press already set up for a new gauge and leave it at that. I was willing, but just not lucky that day. Anyway, maybe you could give MEC a call and get lucky. Ask for Gordy, he really did go the extra mile for me.

The conversion is nice, but Gordy was right. It takes about 20-30 min. to make the conversion, I would not want to do it more than one or two times a year. But the MEC is a good machine, I think you would be happy with one. I like Lee products, some of there stuff is really good. I use there bullet molds a lot, but in all honesty, I think you would like the MEC better. Check out the MEC 600 Jr., that is the model I was looking at for my .410.

Rabbit
---
Rabbit, thanks for the info! I own Lee Load All but also considering to get MEC in future.
---
Who is online
Users browsing this forum: No registered users and 1 guest