Christmas Gift Guide (Ideas) for Gun Owner 2017
Christmas is the time when we all wait for miracles and presents! Sometimes, it is difficult to find a good gift for your friends or loved ones. But if you are looking for a gift for the gun owner, then this list will be useful for you.
This list has interesting Christmas gifts for gun owners which will be useful. Also, there are gifts from different price ranges to find the present that fits your budget.
ESS Crossbow Photochromic Shooting Glasses
Do you know what is the biggest problem with eye protection? You need to change the lenses all the time. The top branded glasses come with 3-4 lenses which you need to change depending on the environment. If it's early morning or late evening, it is better to use the yellow lens. Bright sunlight? Dark lens. Indoor or during the night? You need to install clear lens.
The ESS Crossbow aren't the only glasses that military and law enforcement personnel use. They aren't just shooting glasses that protect your eyes better than any other glasses. They also utilize the newest Photochromic lenses that darken when exposed to the light and then return to their clear state in the absence of activating light. There is no need to change lenses! Only one Photochromic lens is needed for all conditions!
This makes a very good gift which will protect the eyes of someone you care for. ESS Crossbow Photochromic Shooting Glasses will be the last glasses you are going to buy because they are perfect.
Real Avid Gun Tool Pro for Pistol, Rifle or Shotgun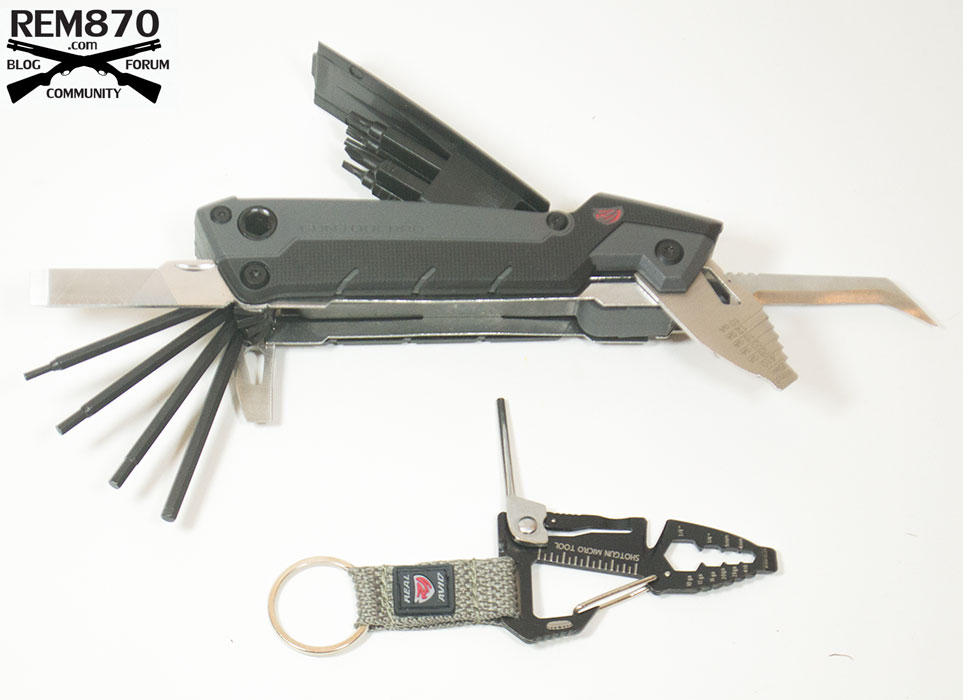 Real Avid makes the best multi-tools for gun owners. They have special tools for all types of guns: rifles, shotguns or handguns.
They are compact in size but have numerous tools. Real Avid multi-tools make the life of the gun owner much easier. They will be handy when you need to disassemble, reassemble or clean your firearm.
This multi-tool will be a popular companion for a gun owner and they will remember you every time they use it.
Awesome Christmas gift for any gun owner.
Voodoo Tactical Range Bag

This full-size two-in one range bag enables you to carry your handgun and magazines or numerous accessories. Removable center compartment has zippered, padded side panels to store two or more handguns and plenty of ammo. You can also use it to carry rifle magazine or shotgun ammunition. Adjustabe hook and loop dividers allow you to set this bag up exactly how you want it. Large external pocket and double zippers up to give you ample access to your stored gear. Overall size is 14″ x 9″ x 10″.
Good range bag is one of the things that will make any gun owner happy.
Price: $59.99
Streamlight TLR-2 HL Rail-Mounted Tactical Light with Red Laser
One of the best weapon-mounted flashlights.
Description:
C4 LED delivers 12,000 candela peak beam intensity; 630 lumens
Securely fits a broad range of weapons
One handed snap-on and tighten interface keeps hands away from muzzle when attaching/detaching
6000 series machined aircraft aluminum with anodized finish with high temperature, shock-mounted glass lens
TIR optic produces a concentrated beam with optimum peripheral illumination
Can be attached to virtually any gun.
Field Book Kit Rite in the Rain
Durable, All-Weather Log Books Made For Outdoor People
Rite In The Rain products are what their name promises: all-weather paper products that let you write anywhere in any weather conditions. A Rite In The Rain notebook is a guarantee that the critical notes you take in the field or at the range will be readable when you get home. Manufactured with virgin fibers for maximum durability, with an environmentally safe, water-repellent matte-finish coating, these paper goods are also fully recyclable. Exclusive Field Flex cover material will flex thousands of times but will not break down or tear. Pages are perforated for easy removal.
Price: $47.99
Aimpoint Micro T-1 Tactical Red Dot Sight
Red dot sights may look similar but they are all different. Aimpoint Micro is the same holographic sight which is used by Military and Law Enforcement. It is one of the most reliable tactical red dot sights.
Waterproof to 80 feet
Windage and elevation adjustable
13 brightness settings
One of the most wanted gifts for any rifle or shotgun owner.
Brownells/Otis Elite Kit
This kit has everything for cleaning of the different firearms.
The Complete Kit From Air Gun Tactical Pistol To Bench Rest Rifle & Shotgun
This is the only kit that cleans and maintains all rifles, shotguns, pistols and air guns from .177 caliber to 10 gauge. It completely eliminates the need for owning multiple, separate kits because this kit truly has it all, including a complete selection of high quality Brownells/Otis Bronze cleaning brushes for every caliber and gauge individually packaged in screw-top, clear plastic protective tubes. The more than 200 individual components contained in this do-it-all, clean-it-all kit are the finest quality, most functional products available.
Price: $118.99
More info and order: Otis Cleaning Kit
Howard Leight Impact Sport Electronic Earmuffs
Howard Leight Impact Sport Electronic Earmuffs are the most popular ones. I see them on many shooters on the range, they are top sellers in internet shops. This is because this earmuff is the best bang for your buck.
They are inexpensive, high-quality and good looking.
5.11 Tactical Rush 12 Back Pack
One of the best and the most sturdy backpacks. Good for taking to shooting range or just as everyday backpack.
Compatible with hydration systems up to 60 oz. 16 total compartments, pockets, and slots to stow and organize your gear. Large zippered Administrative compartment with 9 pockets and slots
Main compartment: 18″ x 11″ x 6″ Capacity: 1296 cu in/21.2 liters
Maxpedition Fatboy Versipack
Maxpedition Fatboy Versipack is one of the best Every Day Carry bags.
The Maxpedition Fatboy Versipack is more than a durable, ergonomic shoulder sling pack; it is the state-of-the-art portable gear organizer that provides secured containment for and rapid accessibility of daily equipment. The versatile main compartment has a huge 156 cu. in. of space with a water-resistant storm collar that can be deployed by pulling a cord-locked drawstring.
Maxpedition Spartan Wallet
Durable tactical wallet. It can be used for years. It has numerous pockets and sections.
Blackhawk! Long Gun Drag Bag
This Sniper Drag Bag is currently used by the Special Forces. It has hide-a-way/detachable padded shoulder straps to carry muzzle up or down.
Price: $284.99
Rifle Parts
Get rifle parts on Brownells now!
Handgun Parts
Get handgun parts on Brownells now!
Shotgun Parts
Get shotgun parts on Brownells now!
Magazines
Get magazines for guns on Brownells now!
Shotgun, handgun and rifle ammo
Get shotgun, handgun and rifle ammo on Brownells now!
Reloading equipment and supplies
Get Reloading Equipment and Supplies on Brownells now!
Shooting Accessories
Get Shooting Accessories on Brownells now!
Gunsmith Tools and Supplies
Get Gunsmith Tools and Supplies on Brownells now!
Optics & Mounting
Get Optics & Mounting on Brownells now!
Gun Cleaning & Chemicals
Get Gun Cleaning & Chemicals on Brownells
Emergency and Survival Gear