New Photo for Remington 870 Contest
New photo for Remington 870 Photo Contest:
Recently tactically modified 12 ga. Remington 870, purchased new, and never been fired. Picatinny rail on saddle over receiver; now holds red dot scope, but originally for reflexive sight.
Shot shell holder (screw mounted) on expansive stock. Rail saddle over receiver also screw mounted (through trigger assembly). Barrel changed for threaded suppressor. Picatinny rails at end of magazine with attachment fitted between barrel and magazine; holds flashlight. When attached, reflexive sight has red laser attached to right side. Bi-pod attached on end of magazine for tactical purposes; also helps for excessive weight of 870. Magazine pump unchanged… found to be most comfortable action, and best fit for bi-pod. Shorter barrels not considered; carry 12 ga. coach gun as well, if necessary. Also have Mossberg "street sweeper"style 12 ga. Was considering single point strap but decided against for weight of this piece.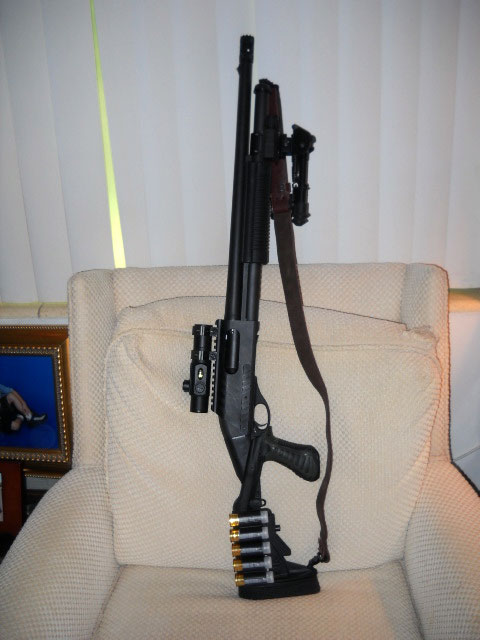 Related Posts:
Knoxx SpecOps Stock, Forend and PowerPak Review (Photos and Video)